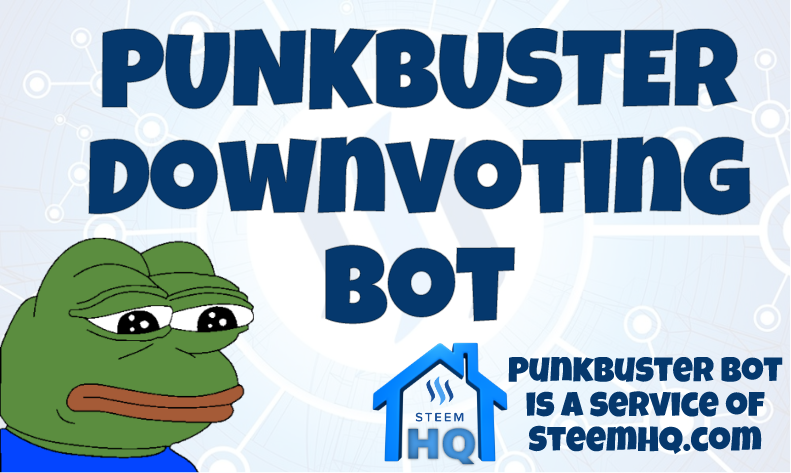 SteemHQ.com proudly presents it's second project on Steem: PunkBuster
What is PunkBuster?
@punkbuster is an automated bot that will downvote every 2.4h on content that received a bid in SBD or STEEM.
It's a simple way to remove larger amounts of upcomming rewards for a post. The bot is designed for Steemians who either don't have much Steem Power bound to their account or don't want to use their account for downvoting for whatever reasons.
Bid for Downvote a post
In order to place a bid for a Downvote from @punkbuster, simply send at least 0.1 SDB or STEEM to @punkbuster with the post url as memo. The bot will downvote every 2.4h and the strength will be proportional to your bid sent compared to all bids this round.
The overall downvote value of each round can be viewed here (Voting Value 100%): https://steemworld.org/@punkbuster
Investing and Supporting PunkBuster
Simply delegate any amount of STEEM POWER to @punkbuster and get 80% of all earnings with daily payouts.
If you need a tool for your delegation, just follow this link: https://steembottracker.com/delegation.html
Terms of Service
Use PunkBuster with care and only if you really think that a post deserves a downvote
Once you placed a valid bid, there won't be any refunds
PunkBuster leaves a comment after downvoting
Minimum Bid: 0.1 SDB or STEEM
Minimum age of posts: 0 minutes
Maximum age of posts: 6 days
Bid Window: 2.4 hours (100% Downvote)
Bidding for comments is allowed
Invalid biddings will be refunded
Why should anybody bid for downvotes?
That's a good question!
We think that Steem doesn't need anymore Upvote/Promotion Bots - so see it like a countermeasure. The project has a good chance to fail, but there is a free market and maybe there will be demand on payed downvotes, e. g. somebody doesn't have enough Steem Power and really want to make a statement with a stronger downvote for whatever reason.
The project starts with about 22,000 Steem Power delegated to @punkbuster - let's see how it turnes out.
Feel free to visit our website and don't forget to join our 1st project, the SteemHQ.com Community Witness.
Let the discussion begin and bust some punks!