Hello Steemians, we're the core team behind the Byteball project and we're excited to announce the BIG plans we have for Steemians! We've been learning a lot about your platform lately and are extremely impressed, not only with the technologies you have developed, but the community that has assembled around Steem. We think it's amazing and we want in!
That's why we're so excited to announce that we will be offering the 1,000,000+ Steem users free Byteball Bytes (the native token of the Byteball DAG) and more. This will be accomplished through our latest innovation: the Byteball Steem Bot. This is something we've been working on for a while now, which is why we're happy to announce that this will all be happening … TODAY!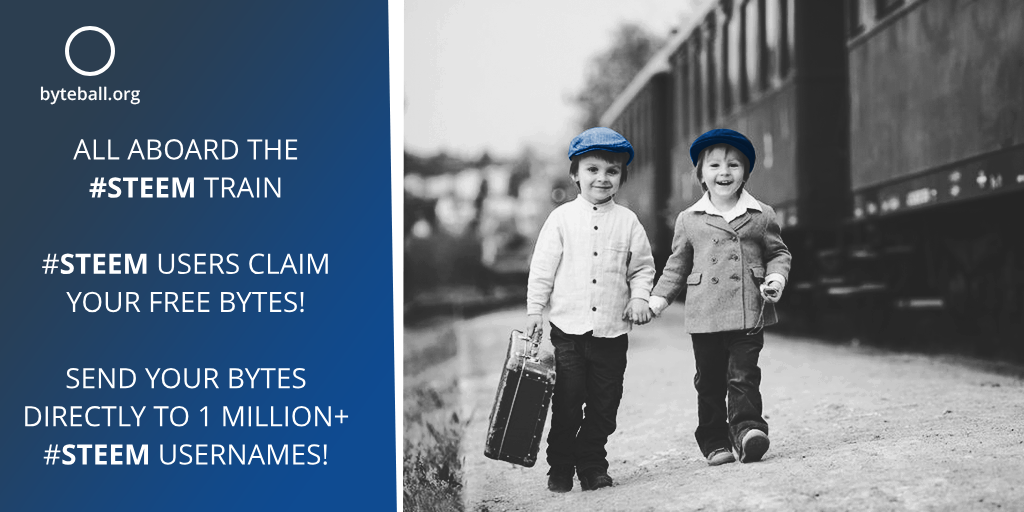 If you are one of the 1 million+ Steem users this bot offers you the following benefits:
Connect your Steem username to your Byteball wallet. Your username will be stored on the Byteball DAG as an attestation (basically proof of your Steem identity).

Byteball will pay you a reward from our undistributed funds for proving your Steem identity. We will also pay you for referring other users (see the 'Rewards for Steem users' breakdown below).

Send Bytes and Blackbytes to a steem/username instead of less user-friendly crypto wallet addresses. For those not familiar with the Byteball platform, the main currency is Bytes, whilst Blackbytes are the private currency. The feature to send money to usernames will also work for other Byteball-issued tokens.
The attestation record (proof of Steem identity) will also include the user's Steem reputation score. Applications on the Byteball platform will be able to offer some privileges to attested users depending on their reputation score.
For example, the ICO bot (Byteball is also an ICO fundraising platform) will include an option to offer a discount to users with high Steem reputation. Similarly, Steem users with high reputation that connect their real world identity to their Byteball wallet will also receive a discount on the attestation fee.
Rewards for Steem users
Byteball will pay you based on your Steem reputation score and for referring other users. The stronger your reputation the higher the reward.
The attestation rewards are as follows:
Steem reputation above 30: you get a $10 reward
Steem reputation above 40: you get a $20 reward
Steem reputation above 50: you get a $40 reward
Steem reputation above 60: you get a $80 reward
Steem reputation above 70: you get a $160 reward
All rewards are paid in Bytes and may be subject to changes particularly for the lower reputation scores.
Your reward is split 50/50 between cash and a smart contract, much like rewards are split on Steem between Steem Blockchain Dollars and STEEM.
This means that 50% of the reward is spendable immediately after attestation. The other 50% is paid to a smart contract that can be unlocked after one year. Once this time period is reached you will be able to withdraw the remaining 50% of the reward.
The referral reward depends on the reputation of the referred user, not the referring one and the reward for referring is split 75% to a smart contract and 25% immediately.
Why is Byteball doing this?
We want to engage large communities and bring crypto adoption to the masses through easy-to-use applications that are only possible on crypto platforms, and Steem is the largest, most vibrant crypto community out there uniting projects like Steemit, Utopian.io and Busy.org. We hope that Steem's huge community of amazing content producers will help achieve this goal.
To our knowledge, this is the very first time that Steem and its huge community is going to become an airdrop platform.
The Byteball team greatly admires the significant real world traction that Steem has achieved in such a short period of time. It is fair to say it is one of the few crypto projects that has managed to achieve significant real world traction.
We are determined to do for smart contracts and commerce what Steem is doing for online publishing: mass crypto adoption. We believe that Steem integration will help move us closer to our vision, which is why today's announcement is only the beginning of our Steem journey. We look forward to building more projects with the Steem community and creating even more opportunities for everyone.
How Steemians can participate in this first-of-its-kind airdrop
Download a Byteball wallet and follow these simple steps:
If you installed your wallet previously, make sure you selected a single address wallet. If you just installed the wallet, the default wallet will be a single address wallet.

Ask a fellow Steemian who already successfully completed the attestation, if you can borrow 0.0006 GB (Gigabytes) and have him send it to your wallet. As the user sending you the funds will receive the referral reward, it shouldn't be hard to find willing donors.

Click the "Chat"-button to the bottom right.


Click the "Bot Store" tab to the top right.


Scroll down to find the bot named "Steem attestation bot" and click that.


When added, the bot will greet you with a message explaining the process:

First it will ask you to enter the address of the wallet you want to attest. Simply click the small icon at the bottom left

and choose "Insert my address (Small expenses wallet)" and press the send button https://cdn.steemitimages.com/20x25/https://cdn.steemitimages.com/DQmQqBQAMVbhjQzjGgHCFGqjFNWQNx1pjzB4hwaGcVWkoNA/image.png to send it to the bot.
The bot will now generate a link to Steemconnect. Click this link and follow the login procedure.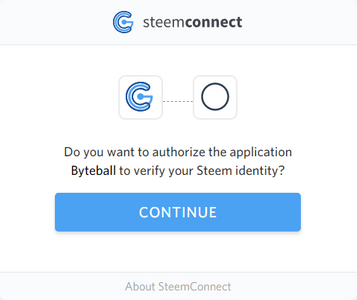 Click Continue
Click the account you wish to use and proceed to login to prove you are the owner.

The bot will then ask if you want to store your username private (in your own wallet and only a hash i published) or public (details visible in the Byteball DAG). To enable others to send funds to your username instead of your wallet address, you must choose public.
Finally, the bot will ask you to pay the attestation fee to cover the transaction fee of storing the attestation (private or public) on the DAG. Simply click the "Payment request 0.5 MB"-link and send the funds.
As soon as the payment is confirmed, the bot will let you know it received the payment and transfer your reward based on your Steem reputation. It will also show you the link to your attestation, so you can see how your attestation looks on the Byteball DAG. Clicking the link will take you to the Byteball explorer and show you the attestation unit.


Useful links
Byteball website
Invitation to join Byteball Slack
Extensive wiki on Byteball