This weekend, London was privilege to hosting the biggest street party in Europe, the world famous Notting Hill Carnival. Second in the world only to the carnival in Rio de Janeiro, this annual event always draws crowds in excess of one million people. The African & Caribbean-themed party is spread across two days, the first being children's day on a Sunday which features toned down music and dancing for a more family friendly affair, to the main event on Bank Holiday Monday featuring the no-holds-barred ultimate party festivities!
这个周末英国伦敦西区诺丁山举行了欧洲规模最大的街头文化艺术节,仅此于巴西的里约热内卢狂欢节。这个一年一度的活动吸引了超过一百万的人群。以加勒比海文化为主题的诺丁山狂欢节持续两天,周日是孩子们穿着盛装游行表演,而周一(公众假日)则是狂欢活动的高潮!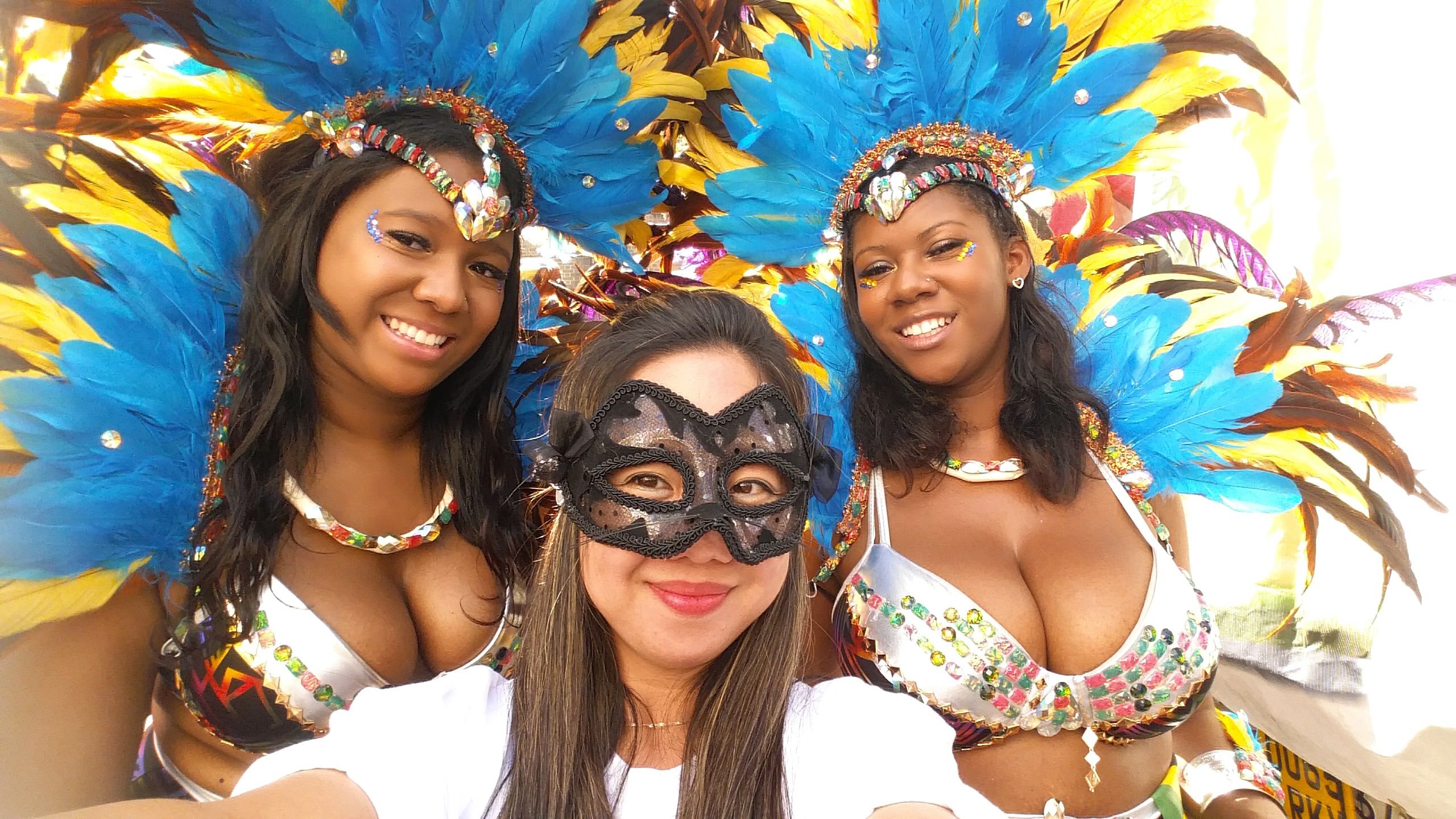 Starting back in 1964, this is the 52nd Notting Hill Carnival this year. The parade is replicated in the same format every year as they already have it perfected down to a tee. Famous celebrities such as Wyclef Jean, Jamiroquai and rapper M.I.A to name a few, have all flown in especially to perform there. And from what I hear, the after parties can be every bit as wild and crazy as the carnival itself!
诺丁山狂欢节起源于1964年,今年是第52届。游行每年重复着相同的模式,许多DJ明星如Wyclef Jean, Jamiroquai 和 rapper M.I.A都赶过来这儿表演。我听说,晚上各个酒吧夜店的继续狂欢要比白天的街头游行更疯狂更热闹,呵呵。
---
Parties Don't Get Much Better Than This / 没有比这更精彩的盛会
In total, there are over 40 floats which make their way round a specific area of West London. These floats are basically trucks with mini music stages attached to the back of them. The music played ranges from traditional calypso to dancehall to modern day hip-hop. The bass is something that has to be experienced to be believed. The whole street is literally vibrating to the beats causing an amazing feeling in your body. Loved every second of it!
总共有超过40辆彩车围绕着伦敦西部地区游行,其实就是大卡车连接着载有音响的舞台。来自世界各地的DJ 在车载调音台上尽情演绎传统加勒比海音乐或是现代的hip-hop音乐。现场音乐的震撼是无与伦比的,只有经历过才能切实感受到。参加游行的队伍在街道上载歌载舞,整条街都似乎在颤动,冲击着身体的每个细胞。感觉棒极了!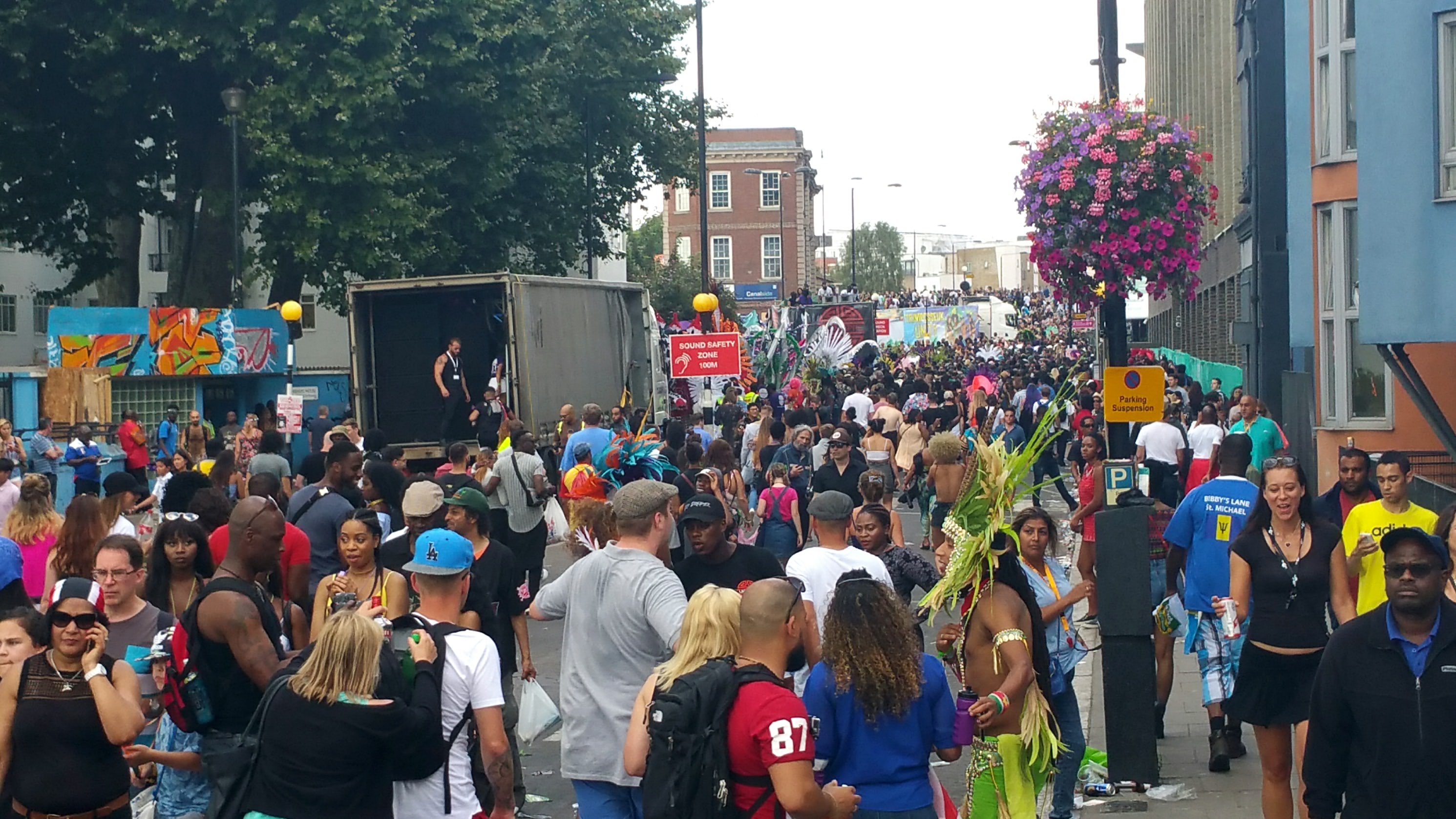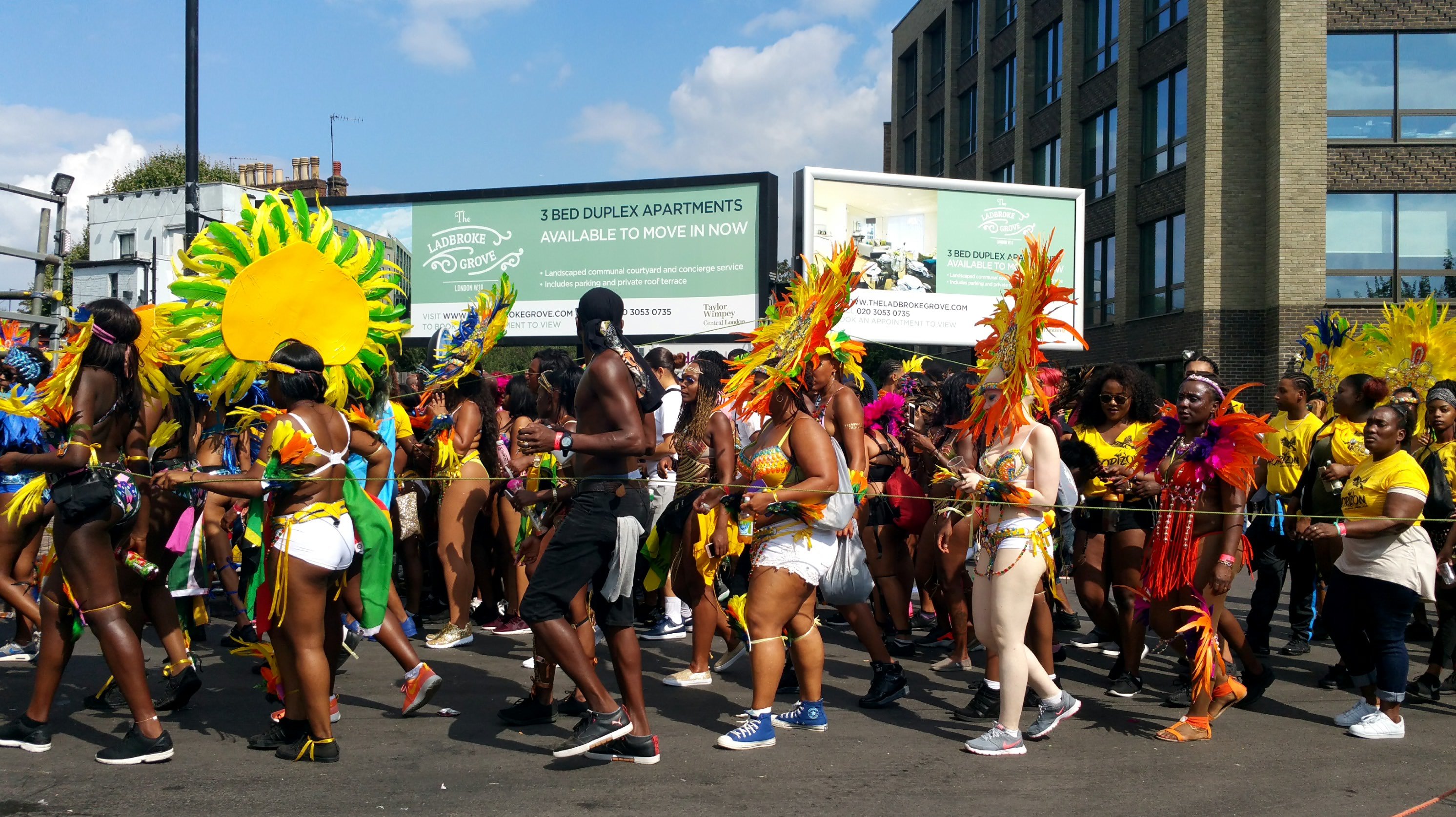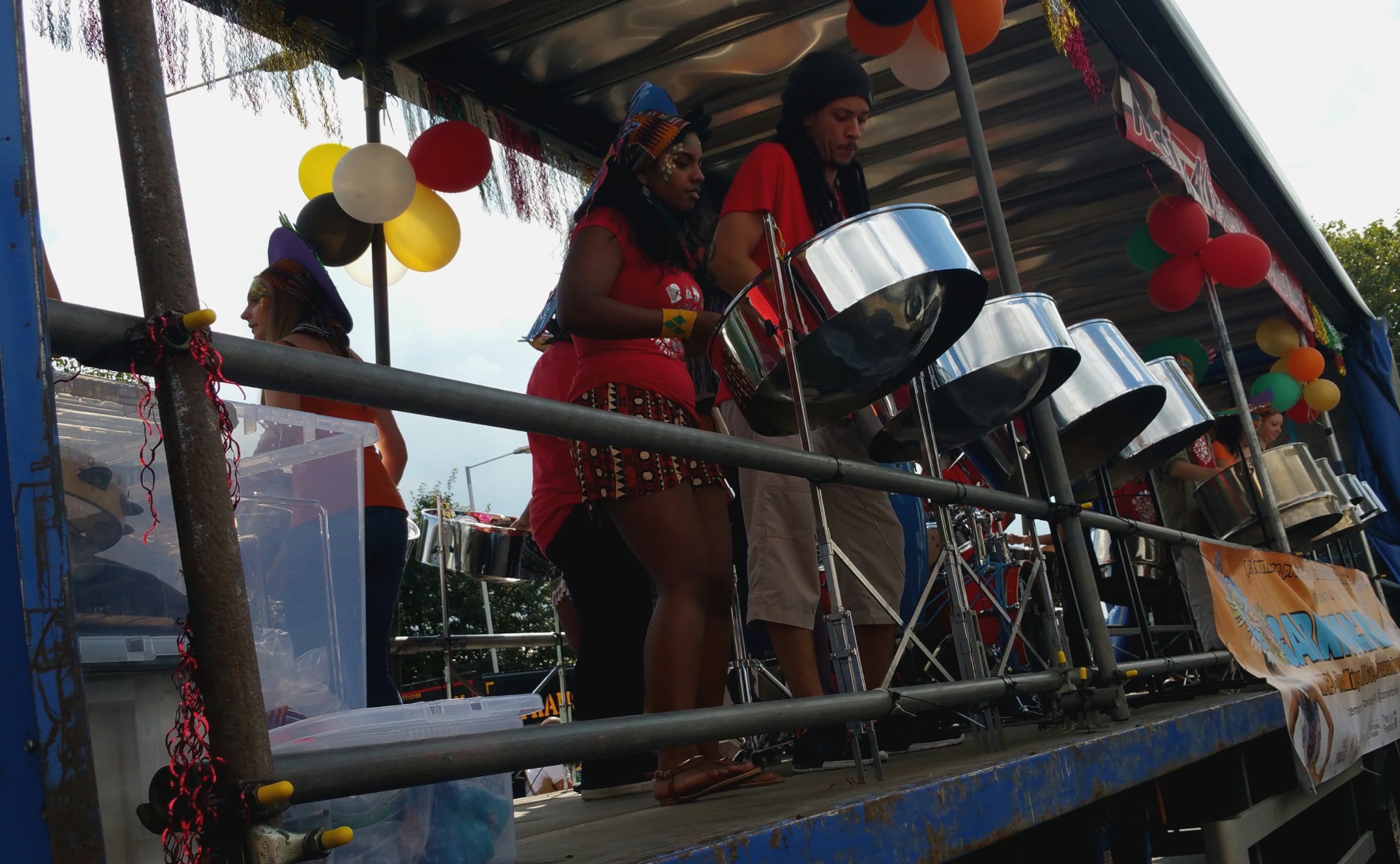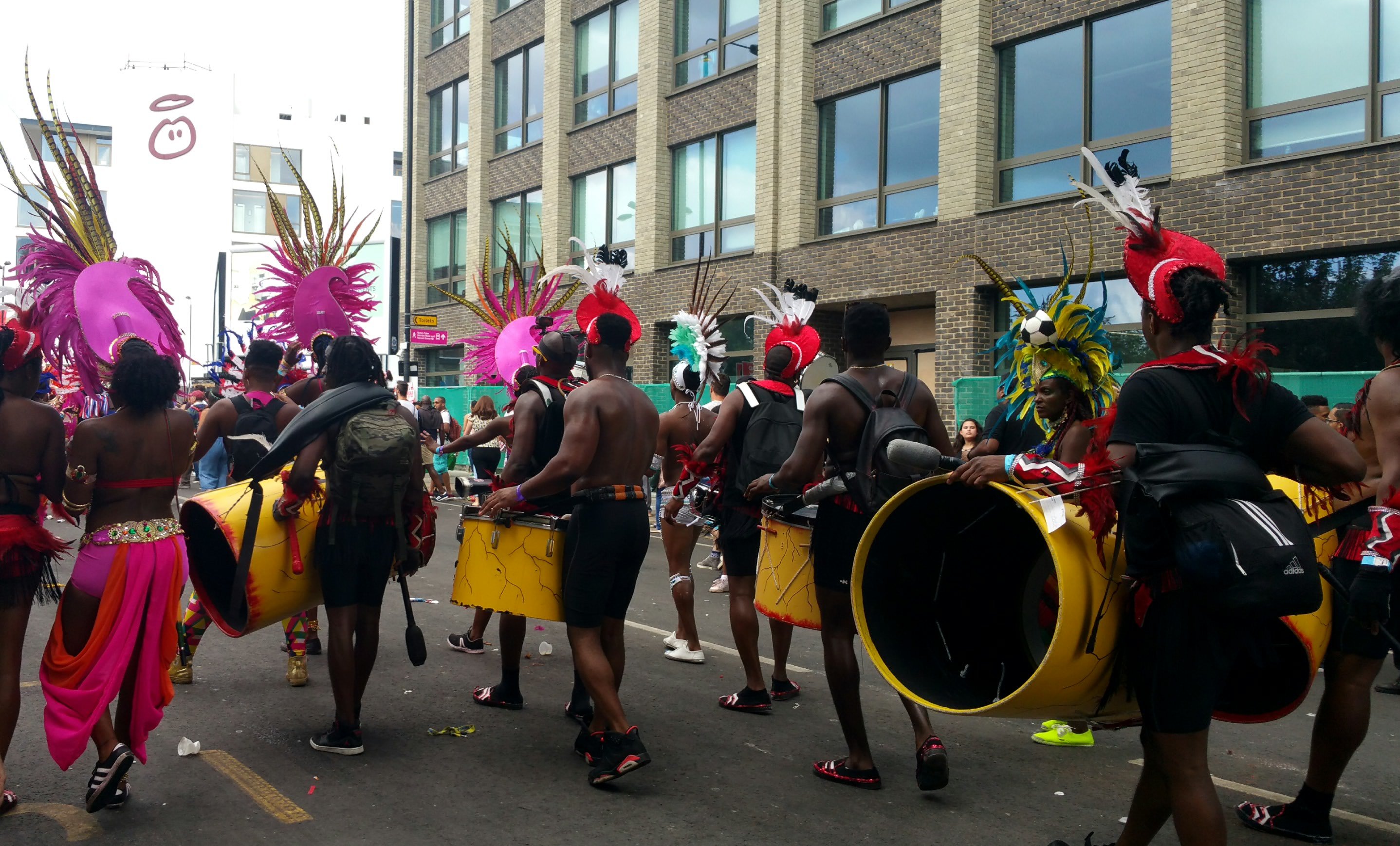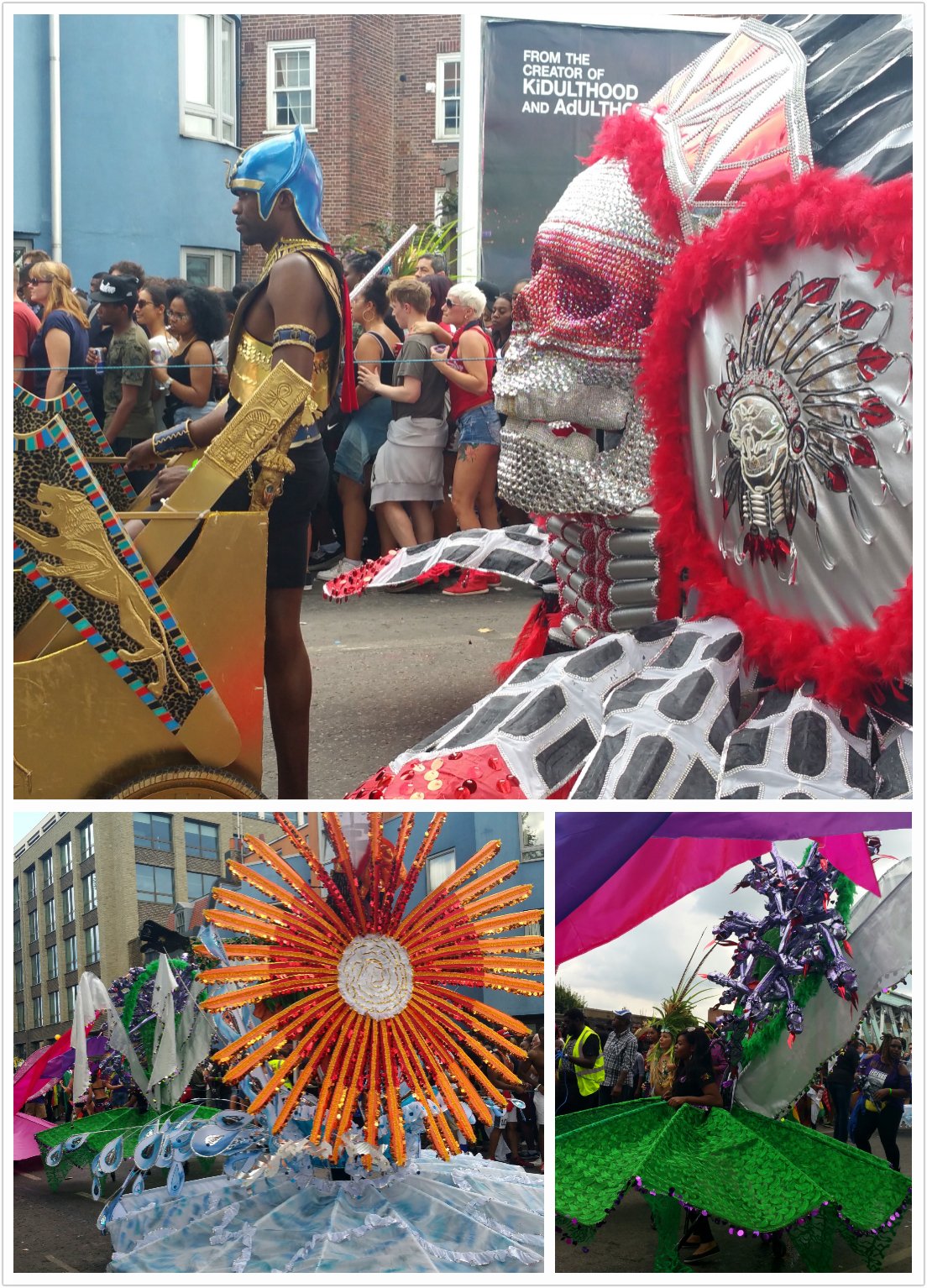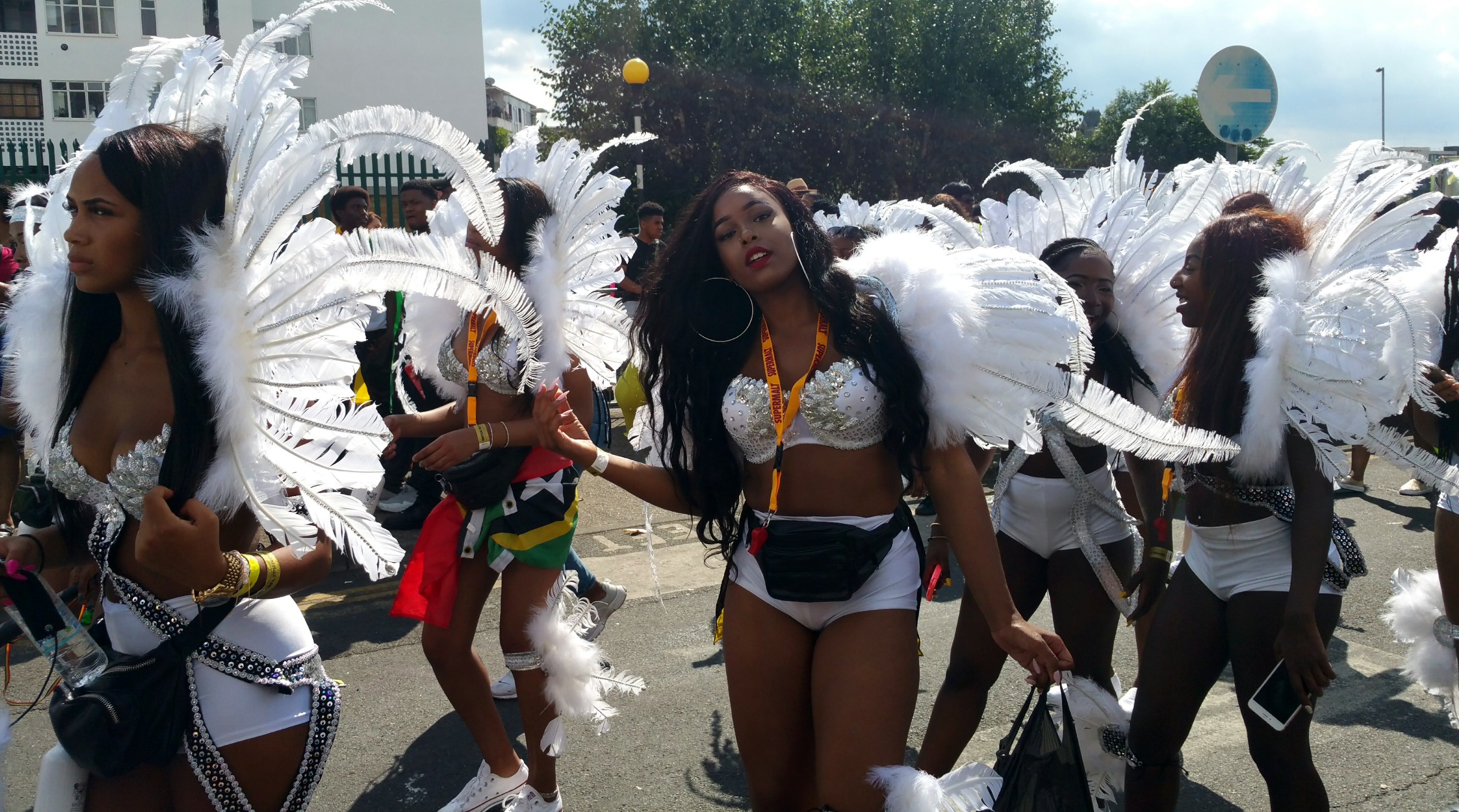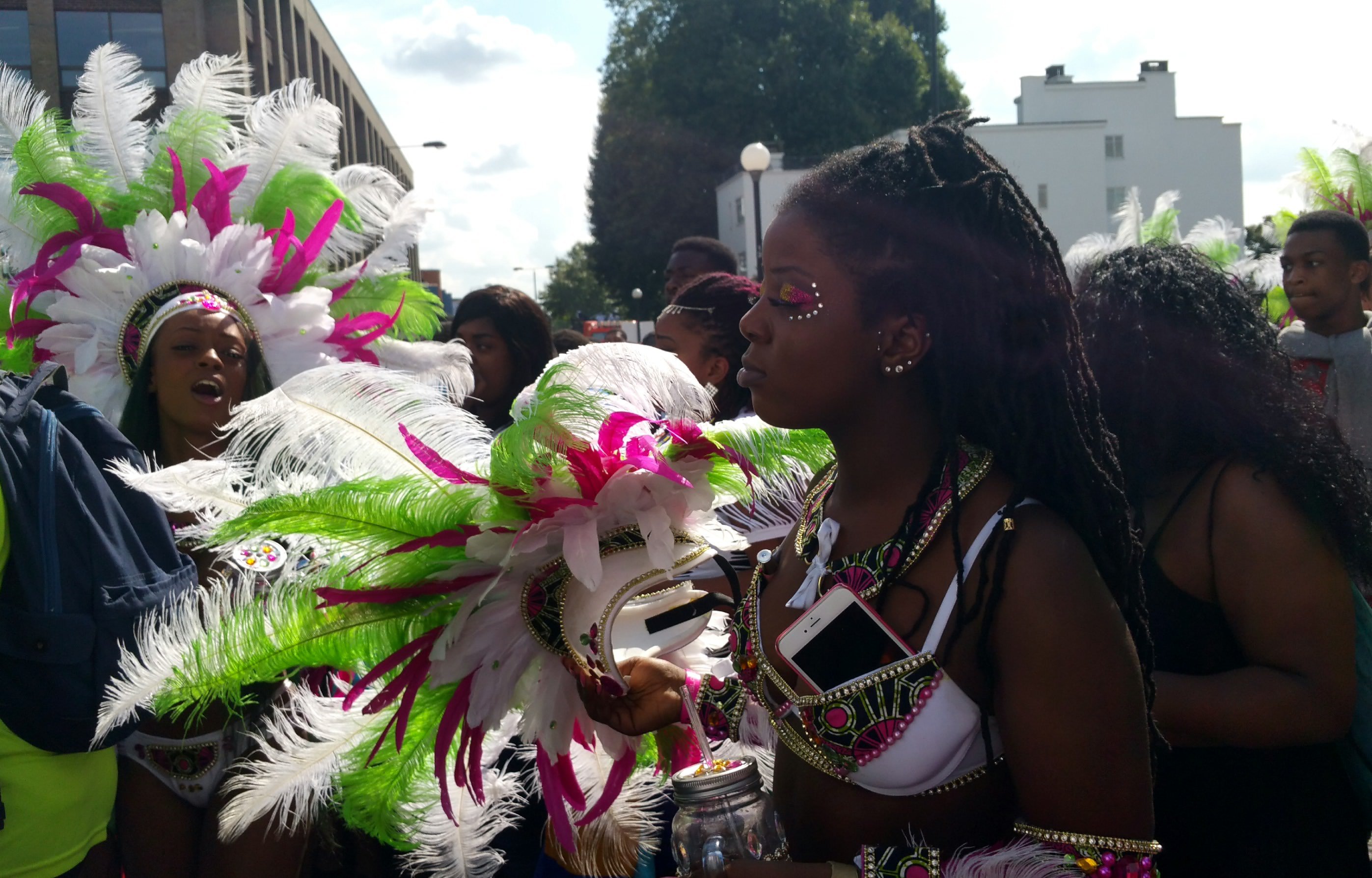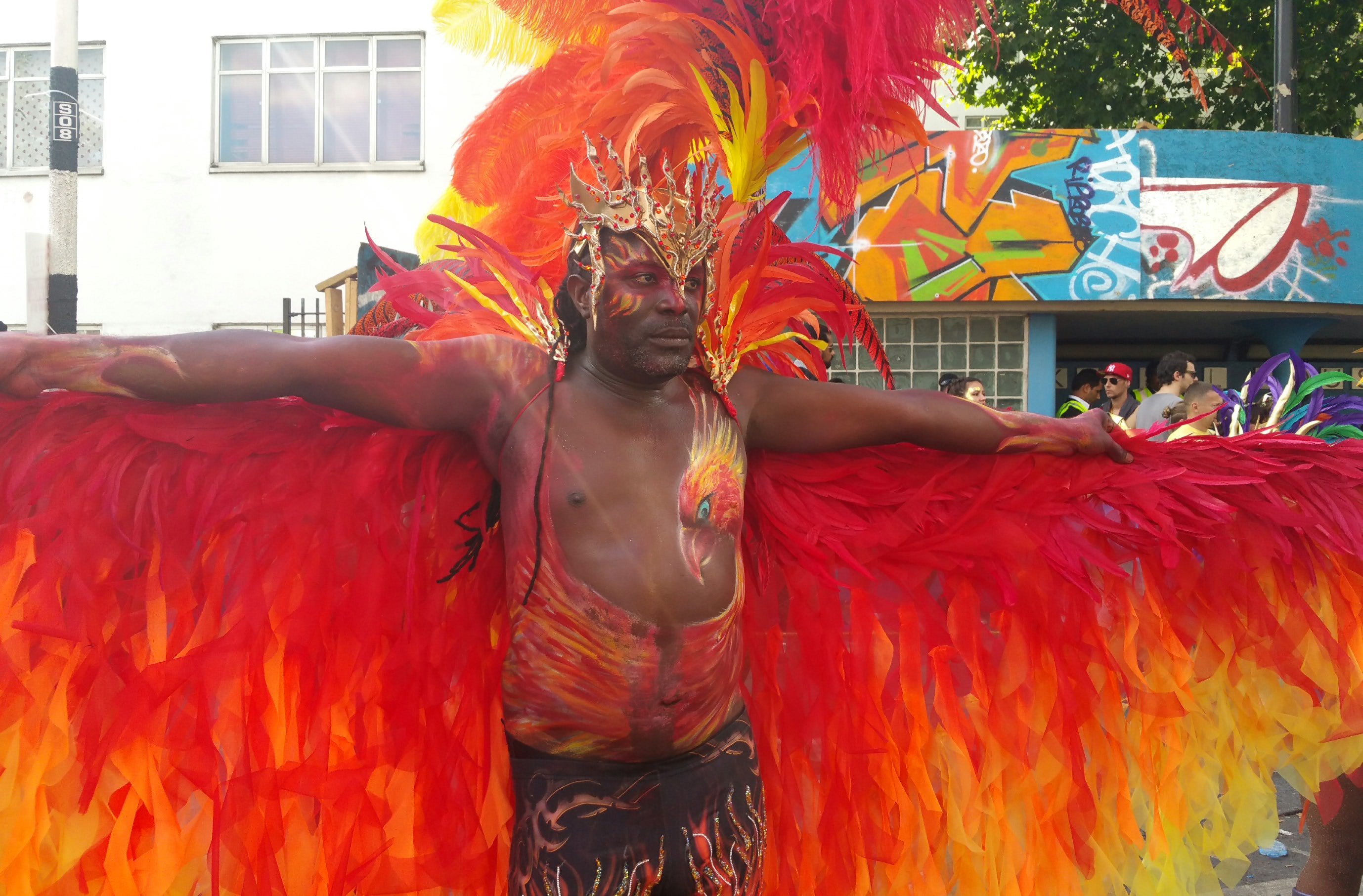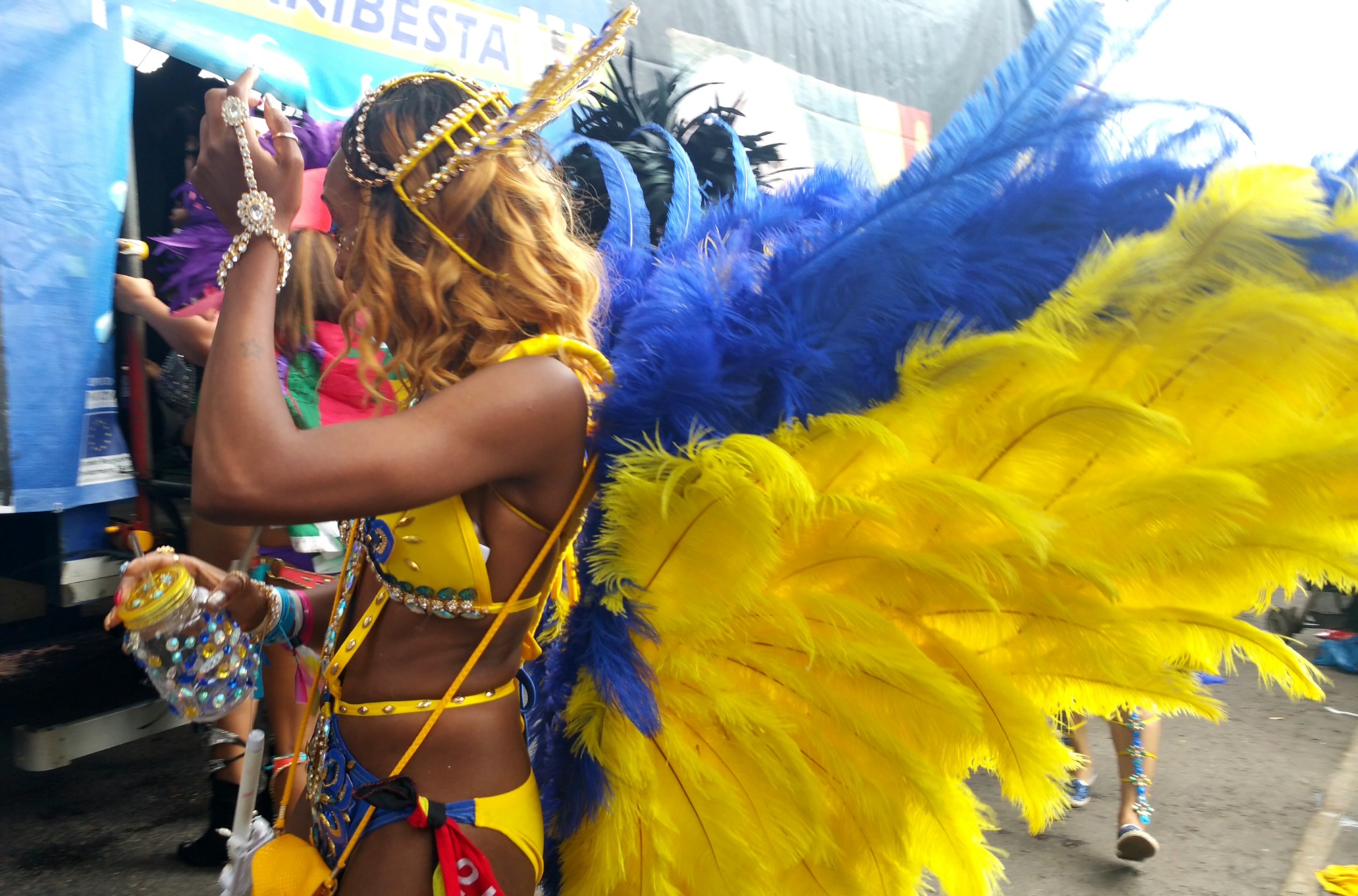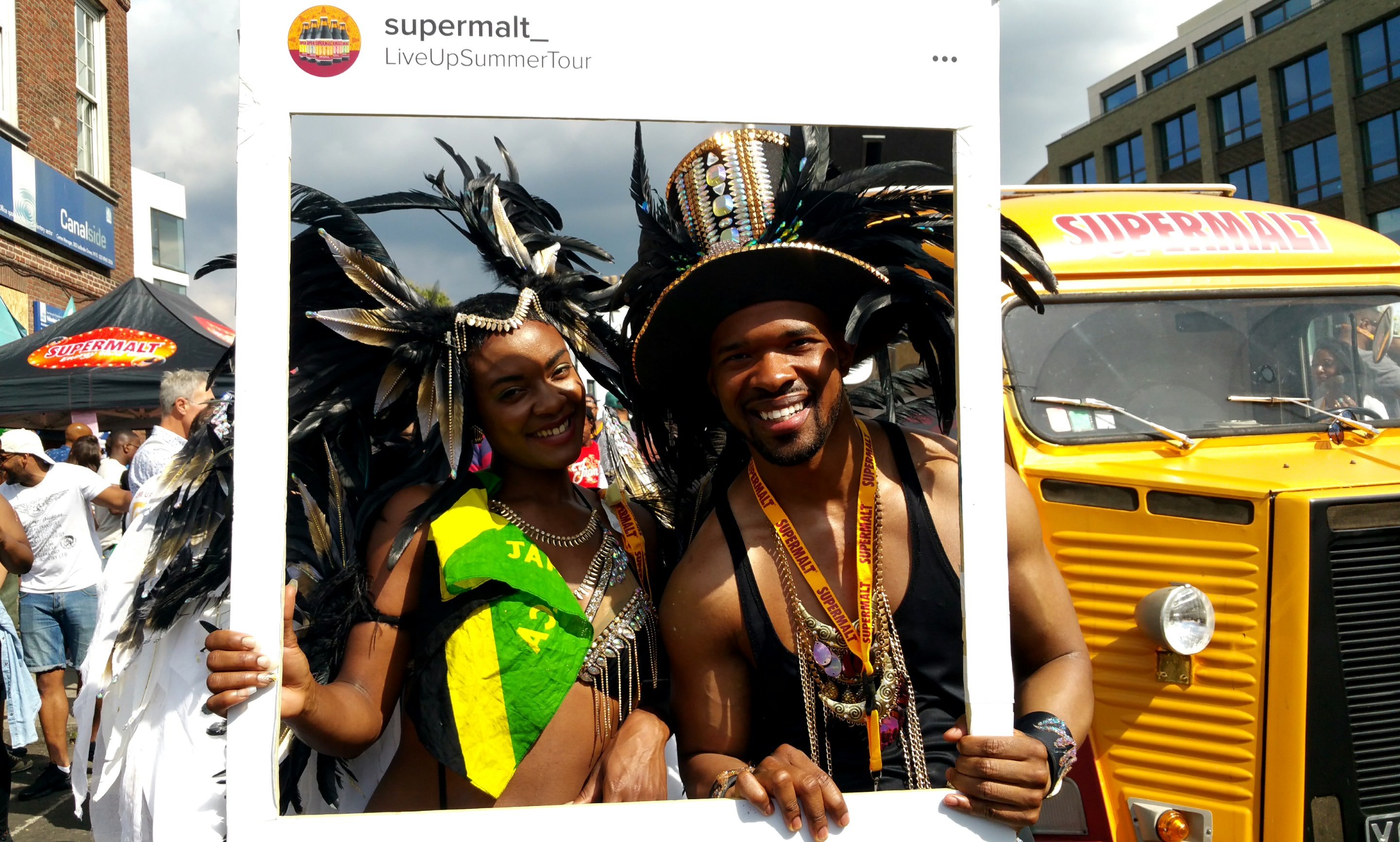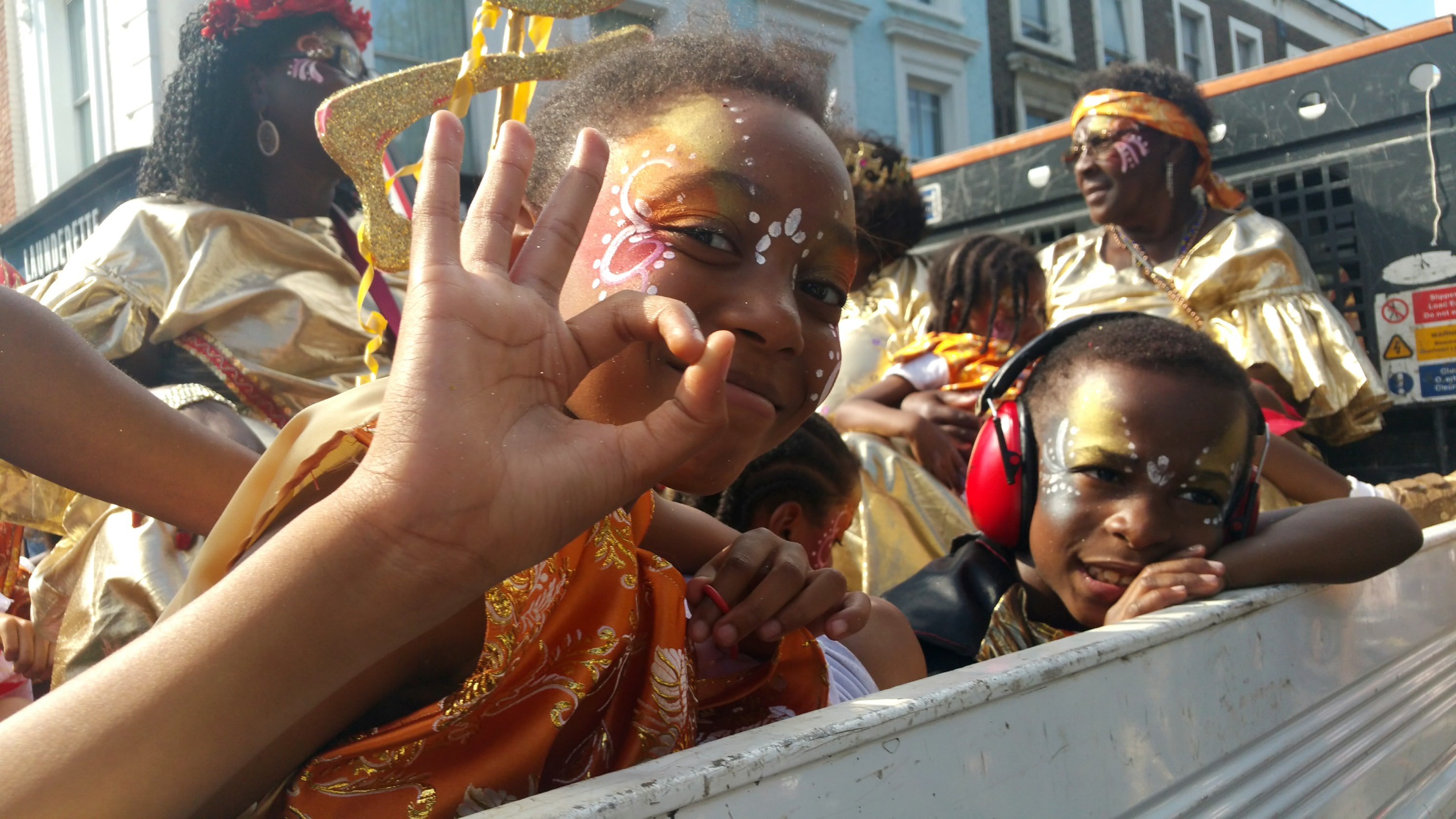 With this event attracting such a huge crowd, this can have the unfortunate side effect of a few unwanted acts of violence. So it was good to see the police out in force. I noticed that they didn't try to spoil people's fun, but rather just stayed in the background overseeing all the activities. On some rare occurrences, they even got involved in the carnival frolics, like this now famous "twerked" police officer! 
狂欢节吸引了如此庞大的人群,加上大量酒精的副作用,自然引起了一些不必要的暴力行为。所以当我看到大量警察守在街上还是感觉很安全的。我注意到他们并没有试图破环人群狂欢尽兴,只是在背后默默关注着街上所有活动。在少数情况下,他们还会与狂欢群众一起跳舞,呵呵。请看链接。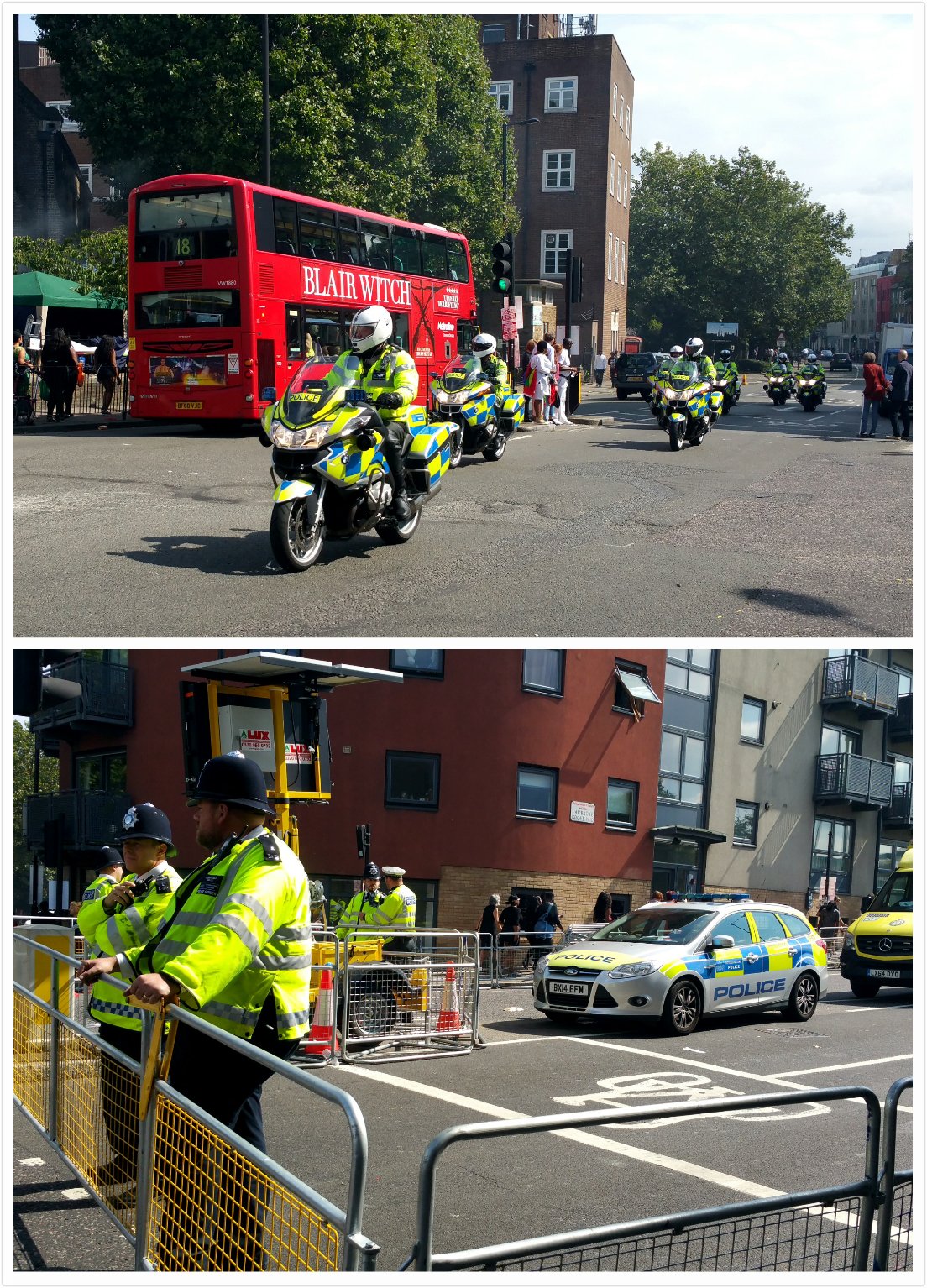 When I was there, the atmosphere was fun, friendly and very exciting! People would just come up to you and dance as well as you being able to join in their own parade celebrations. Joy and happiness to the max!  
街头充满了欢乐与喜庆的气氛,大家都非常友好,陌生人会走过身边和你一起跳舞!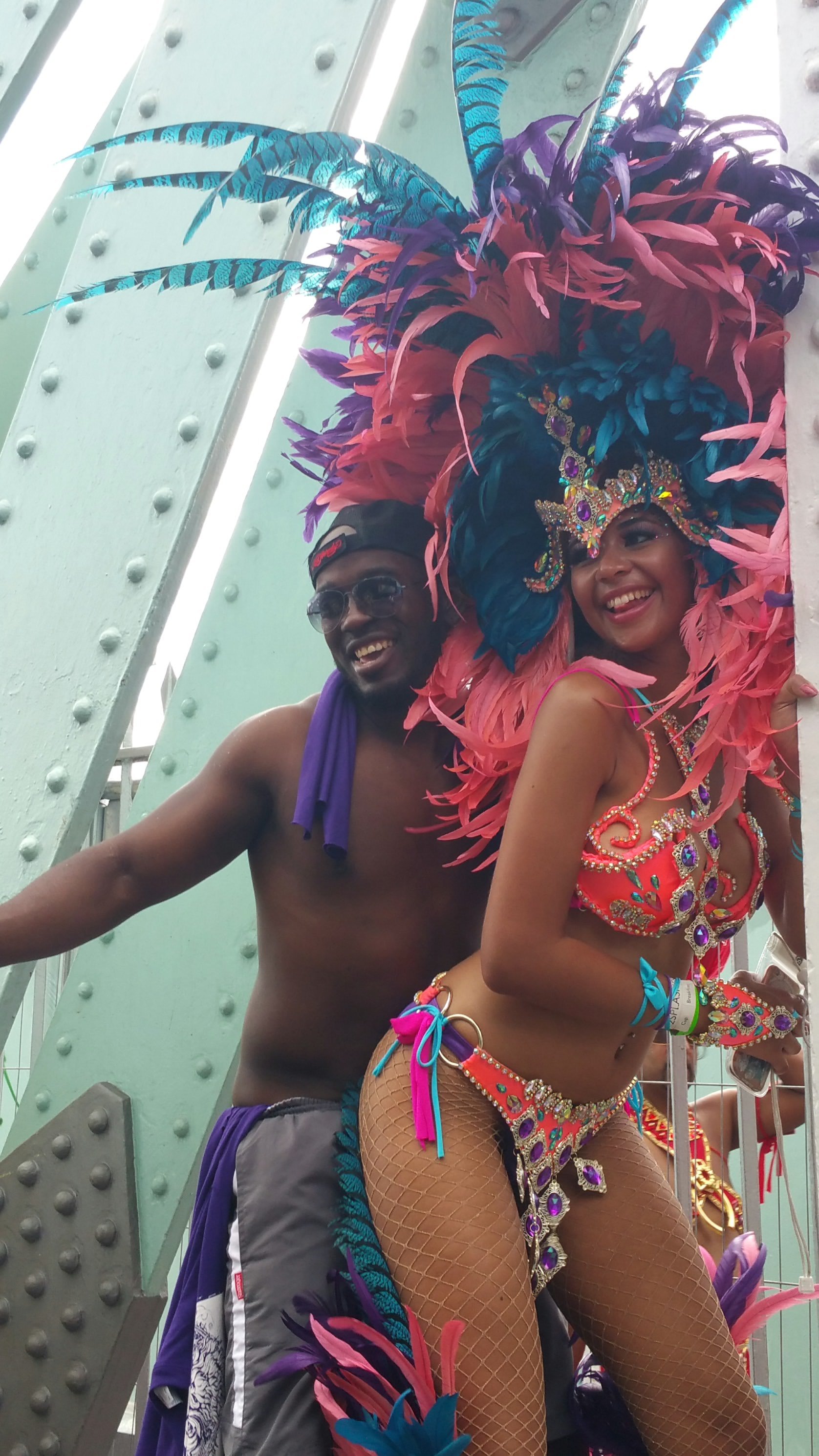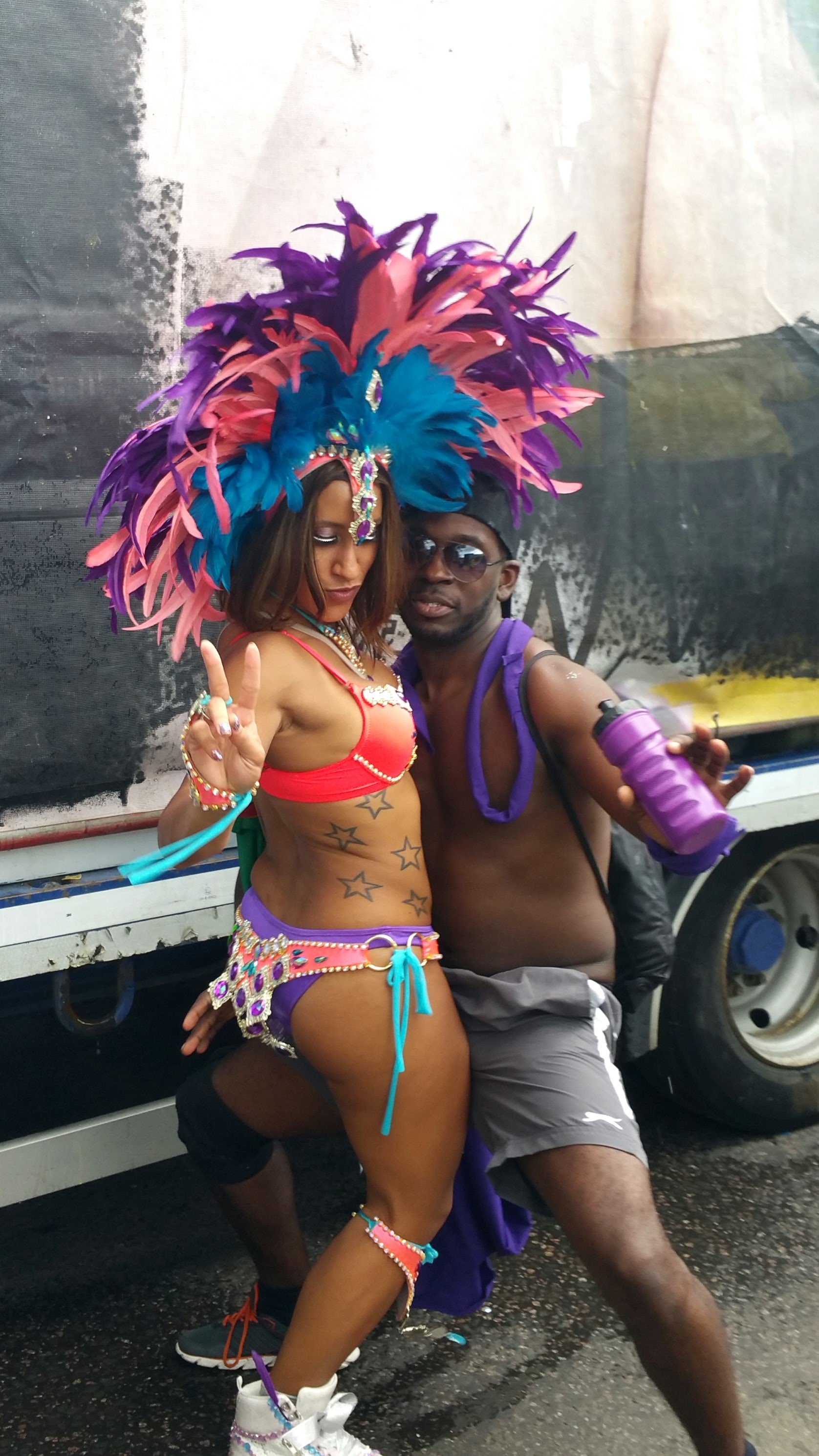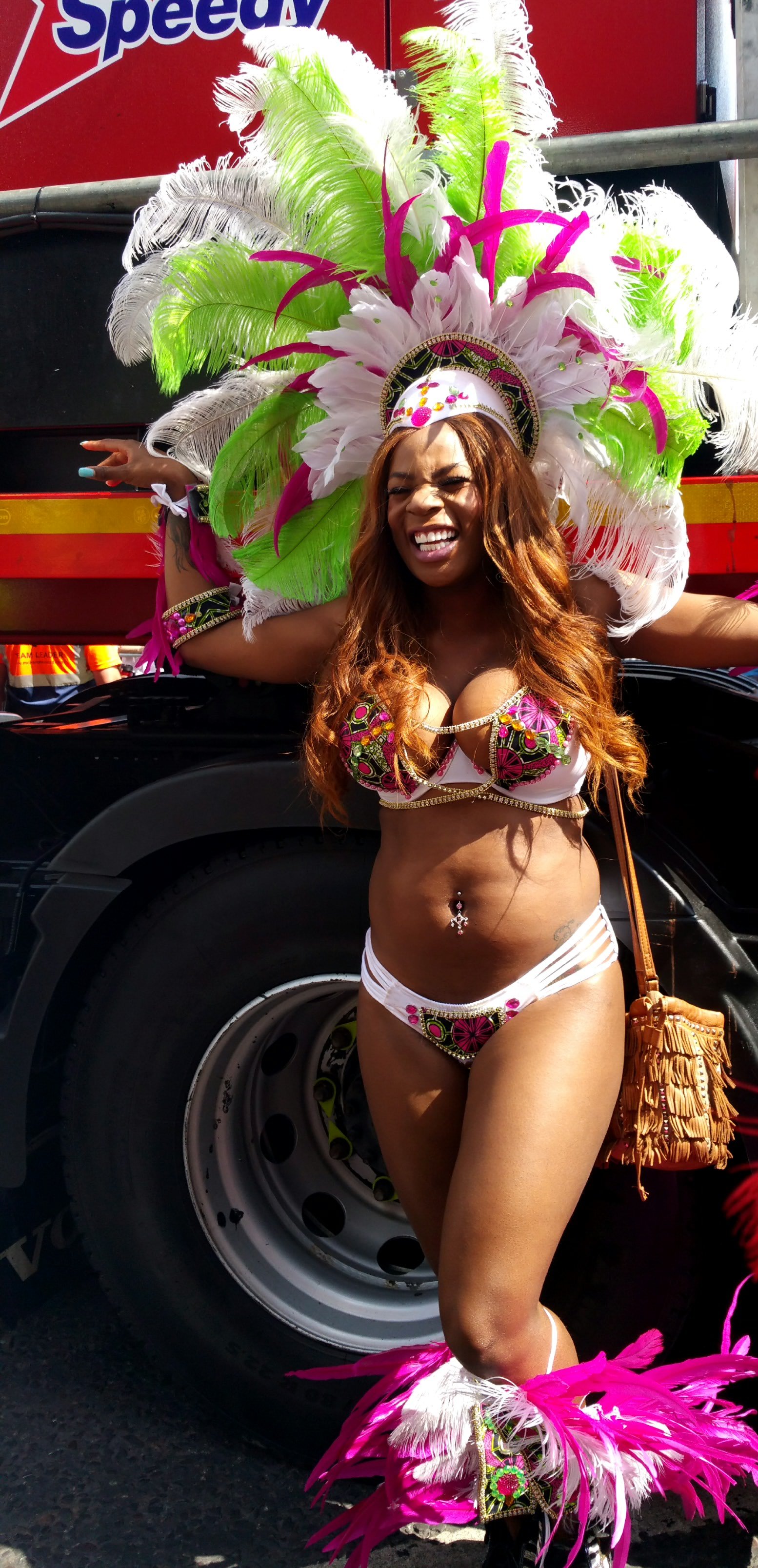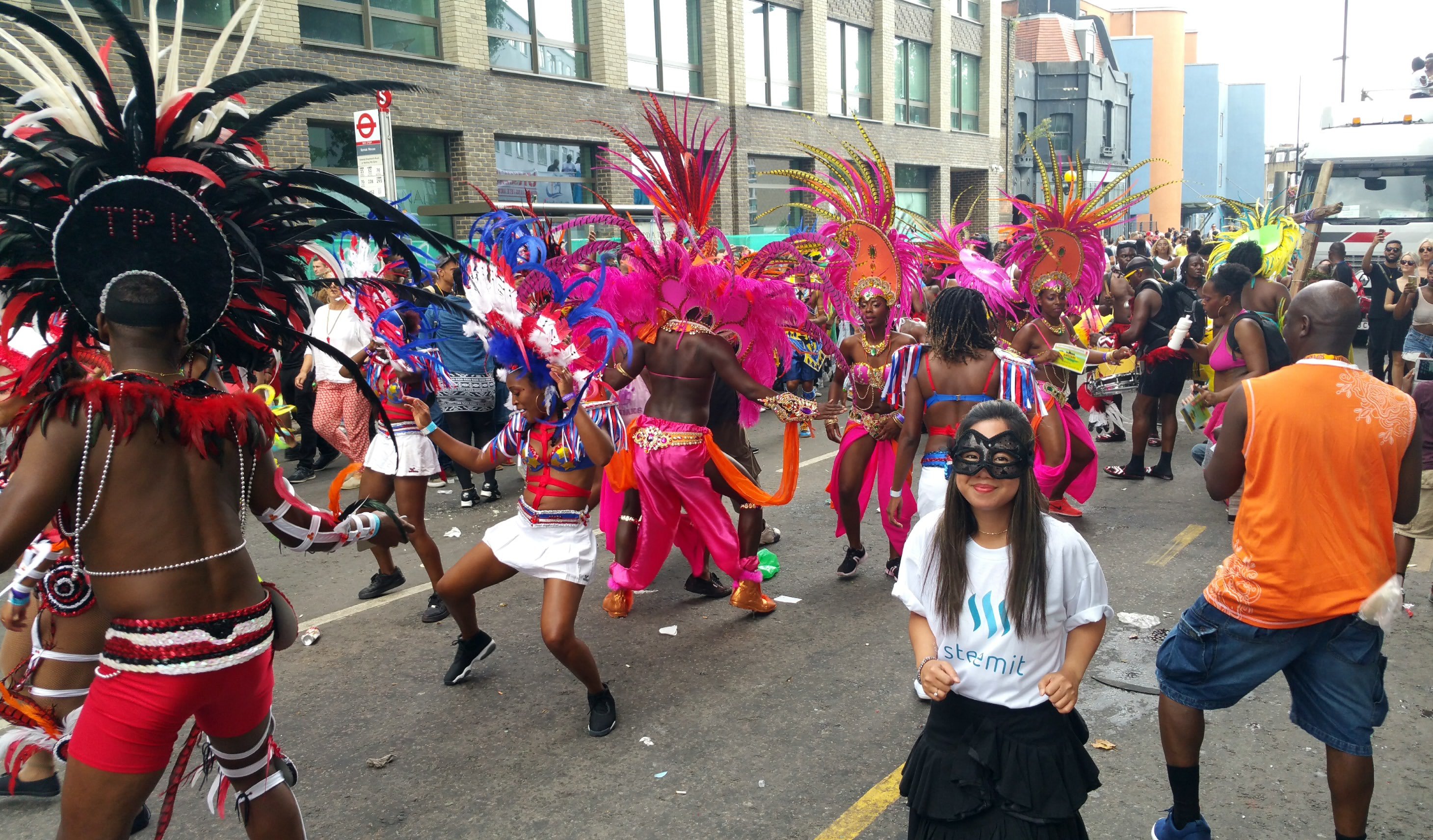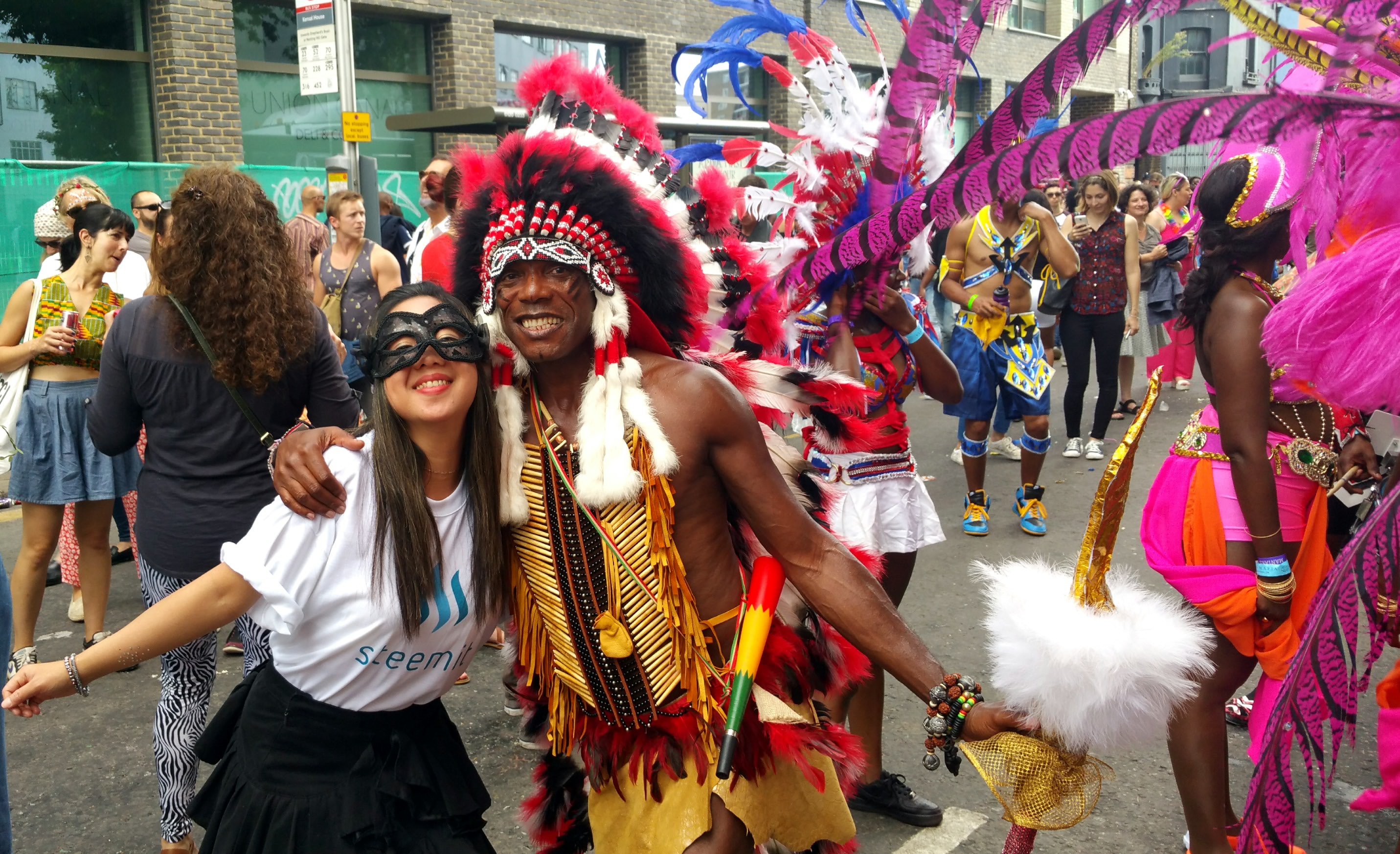 The costumes were absolutely incredible. The designs, the makeup, everything was first class. And for all you guys out there, there were literally half naked girls everywhere you turned, lol. But tastefully done I might add. People spent months in creating the most outrageous of the costume designs on show. The costumes themselves represent many historical themes showcasing the vibrant colours and exotic styles of the Caribbean and Trinidad, as well as highlighting some more serious issues like the abolition of slavery and the slave trade. Though I do love the way they mixed the messages of freedom and democracy through song and dance.
这里的奇装异服精美得令人难以置信,服装设计和化妆技术都是一流的。我可以想象有些是花了几个月时间为狂欢节特别制作。这些服装的鲜艳色彩和异域风格展示了加勒比海的文化风情,然而大部分也是庆祝其奴隶制和奴隶贸易的废除。我很欣赏他们通过歌声和舞蹈的方式来表达向往自由和民主的愿望。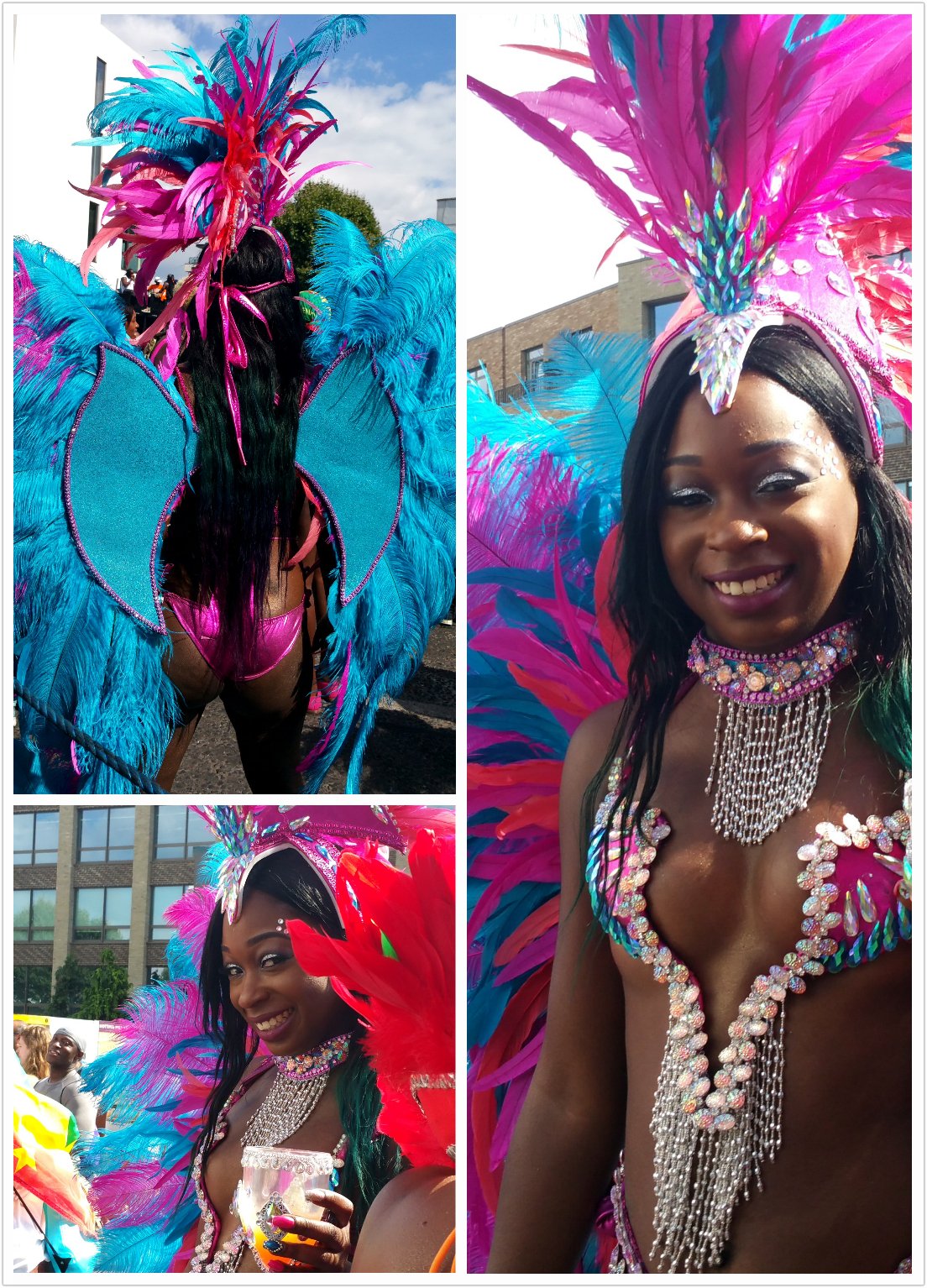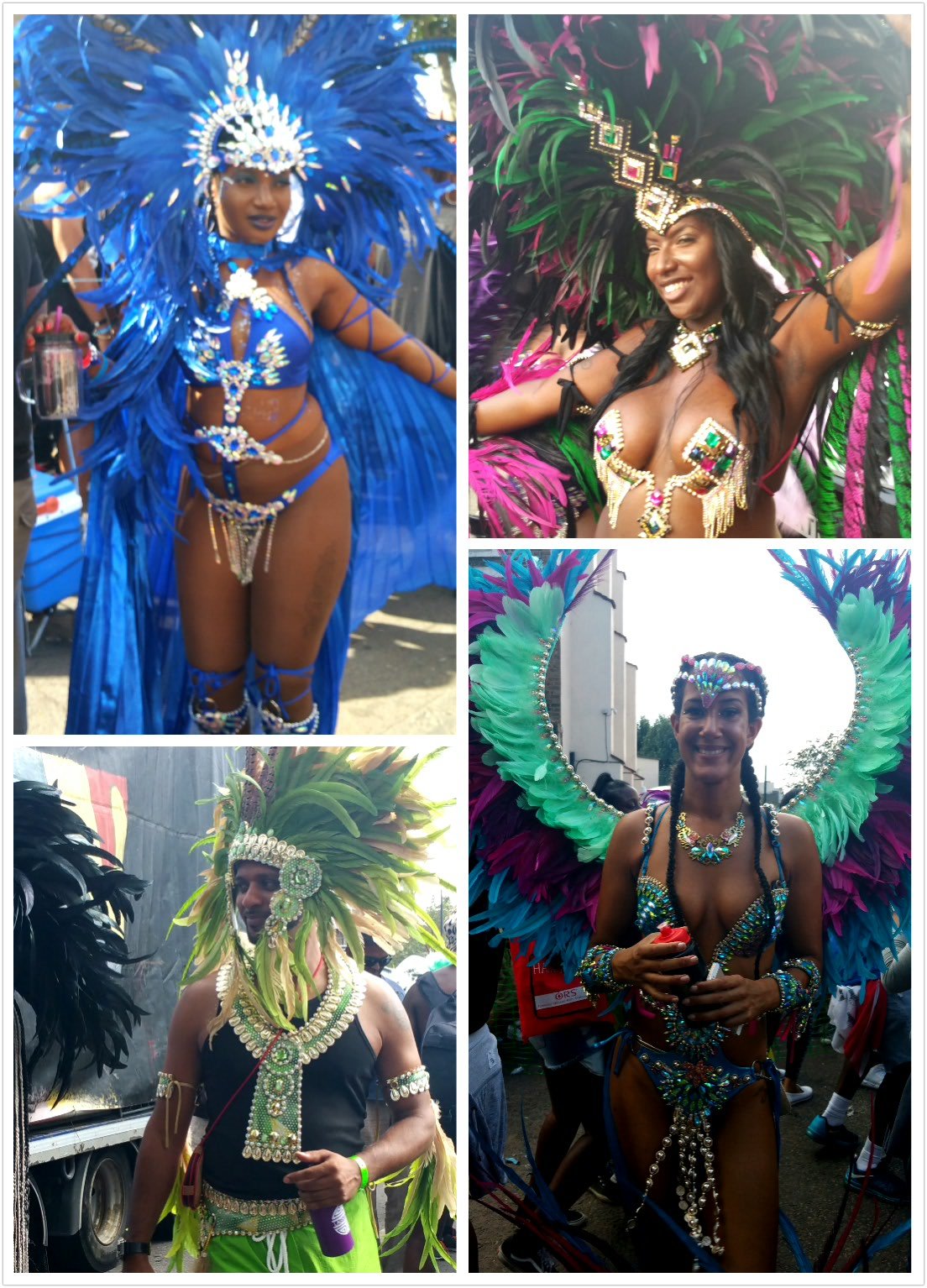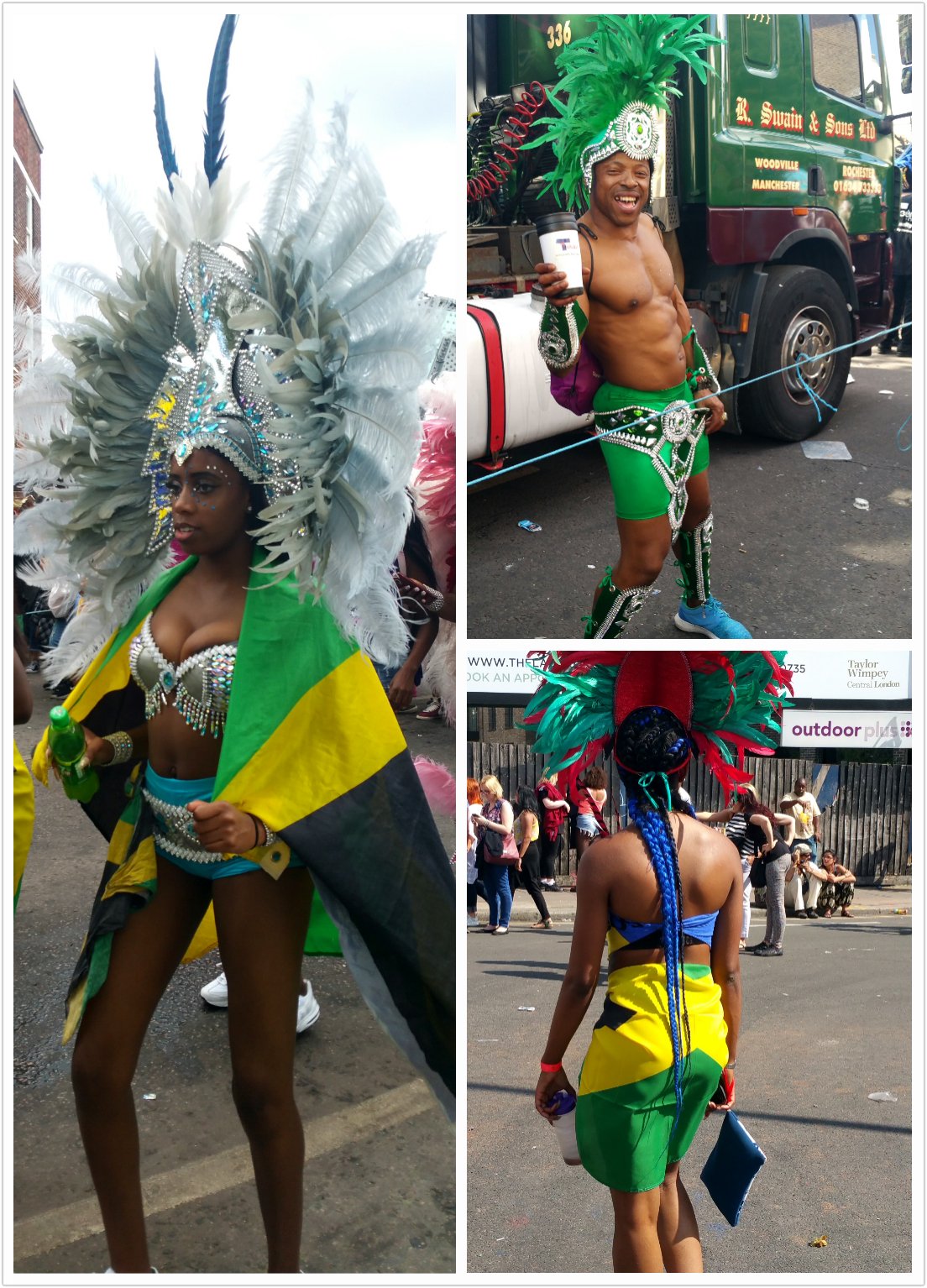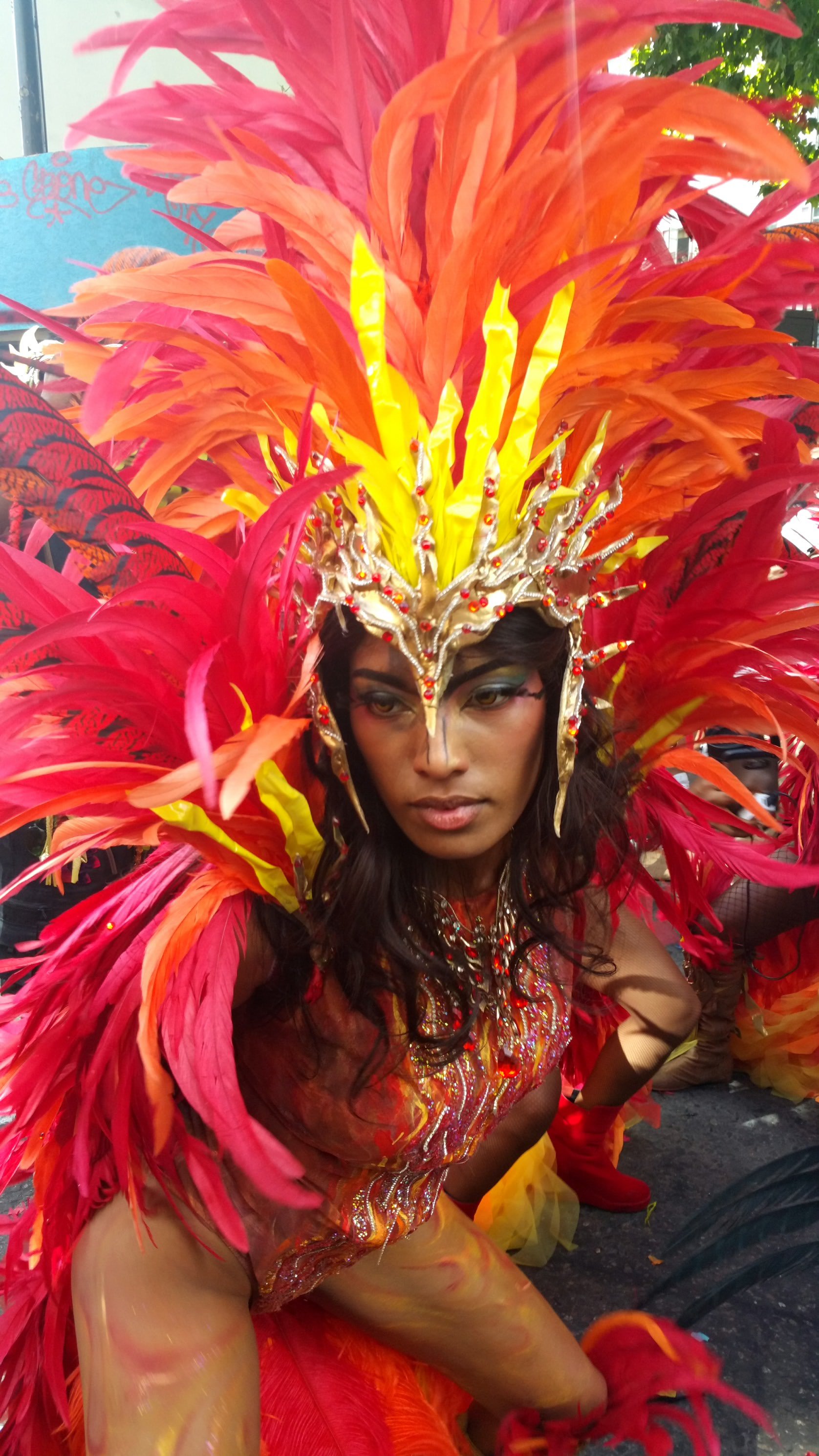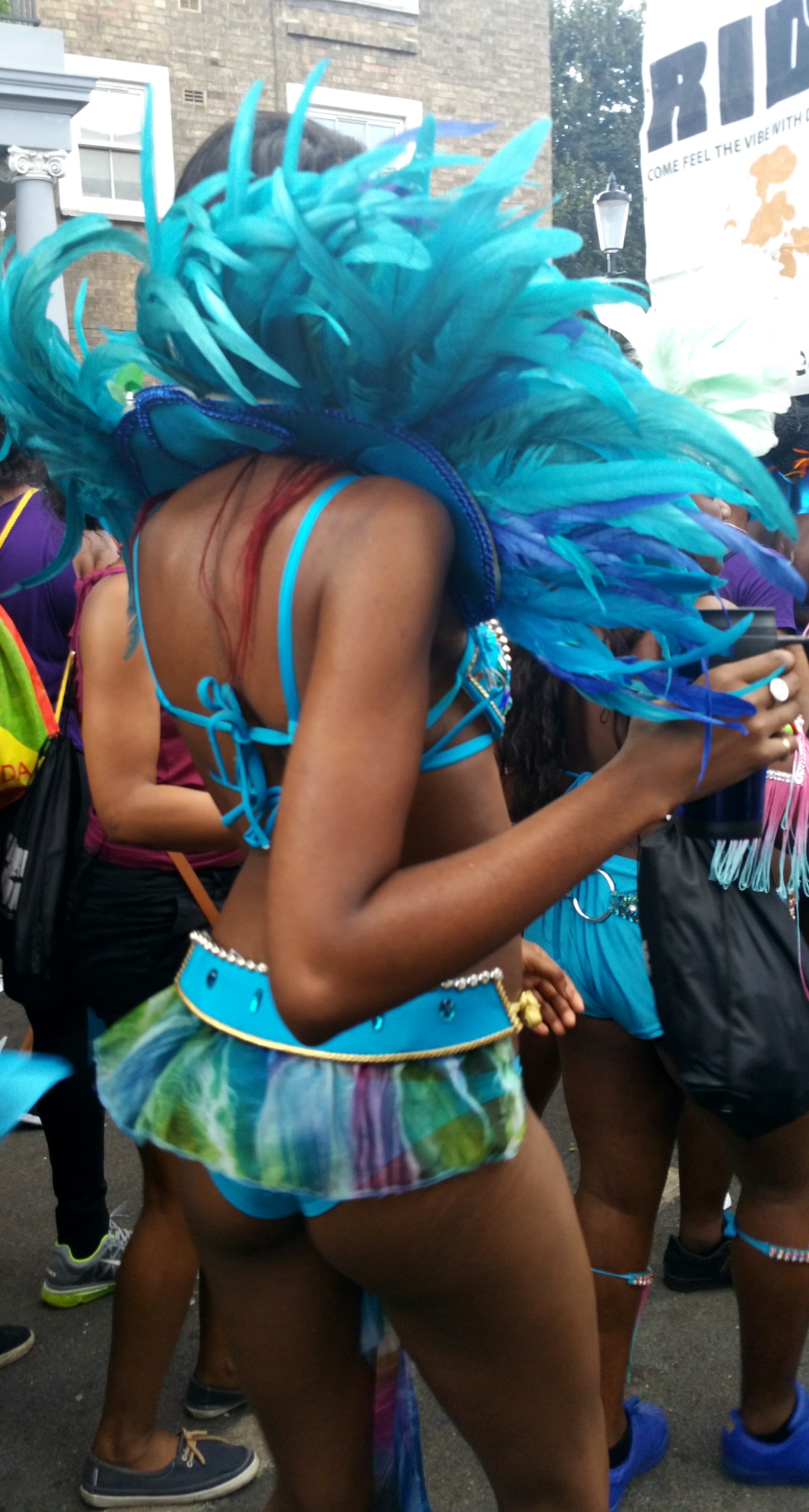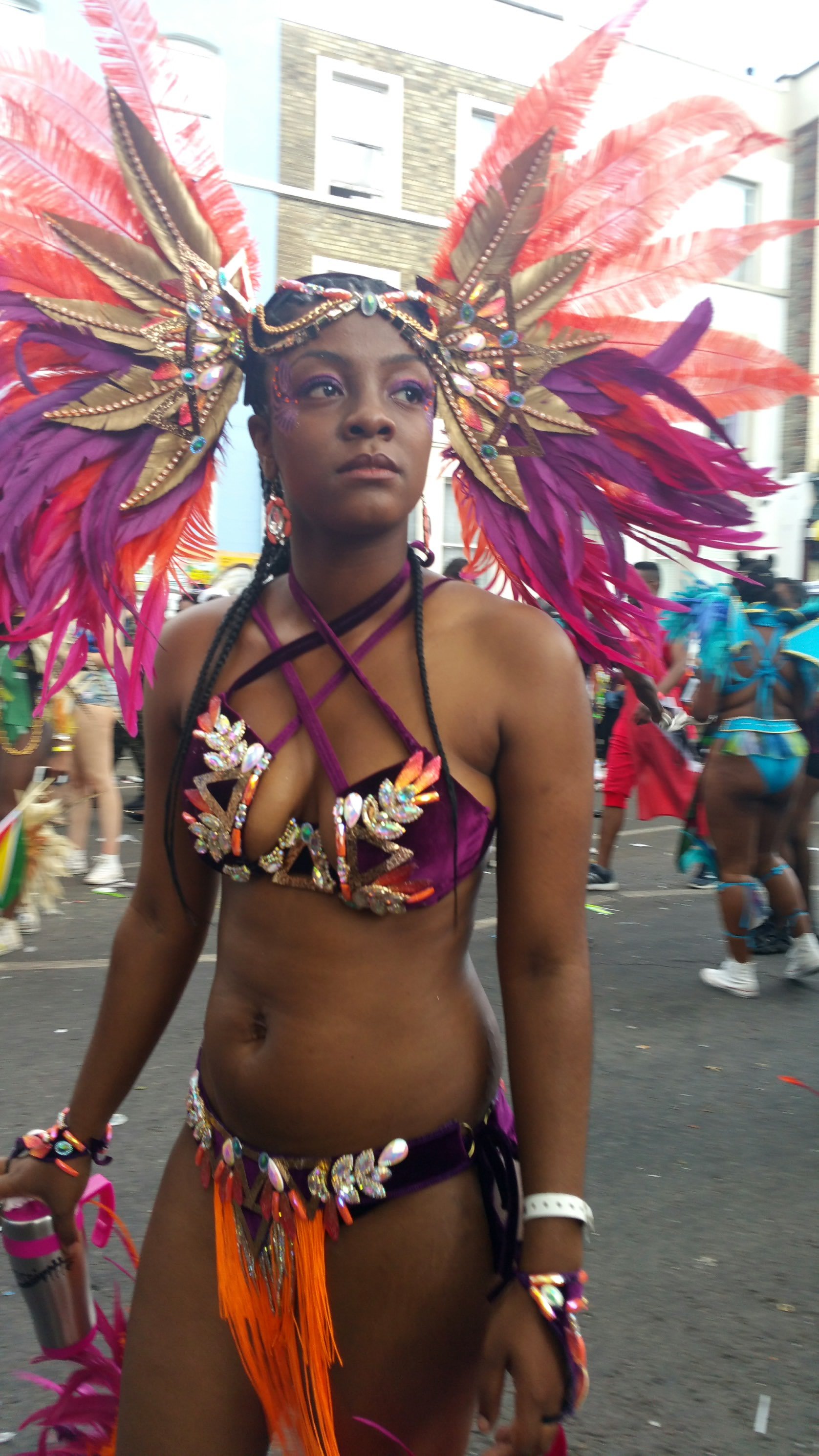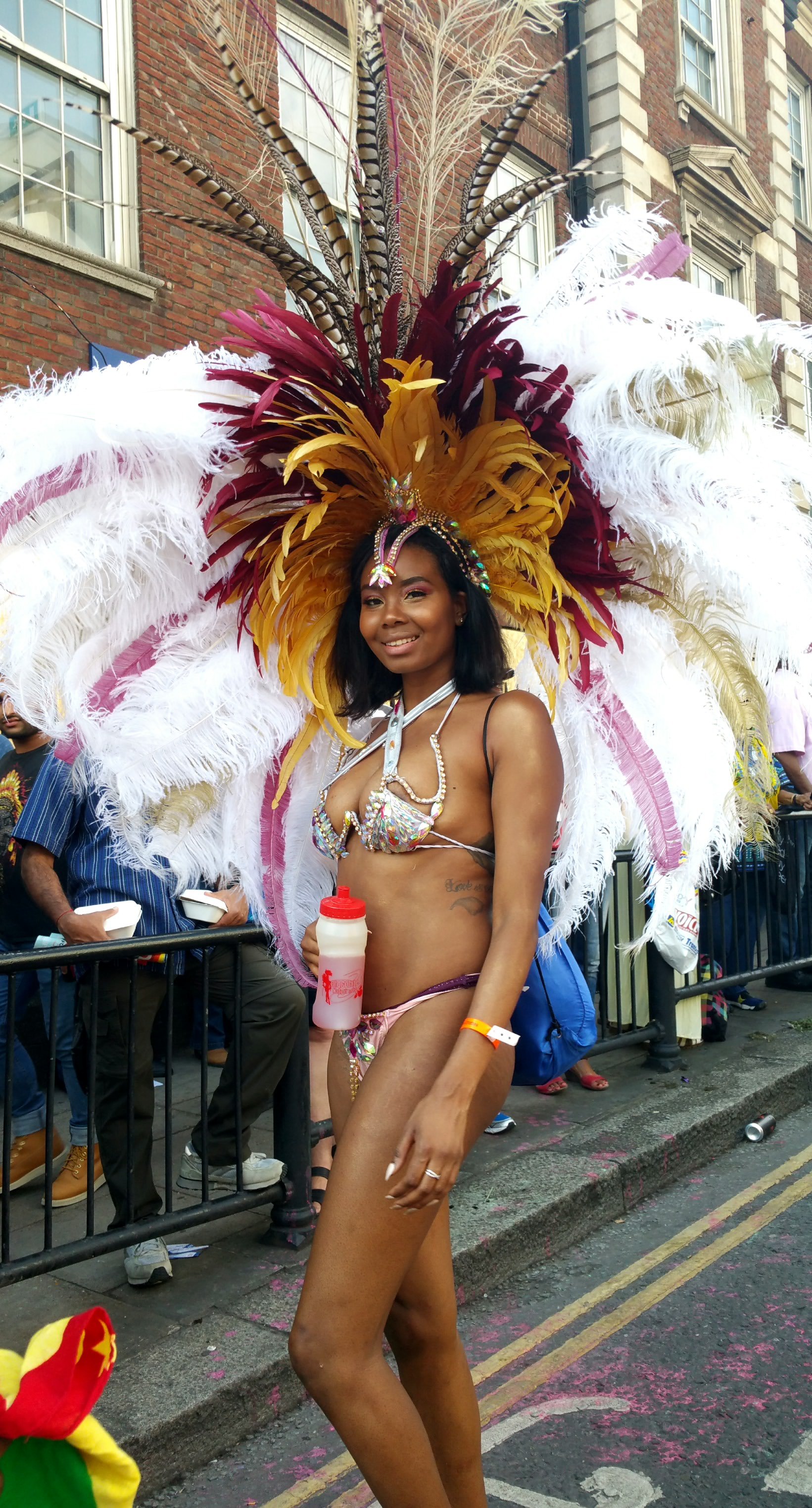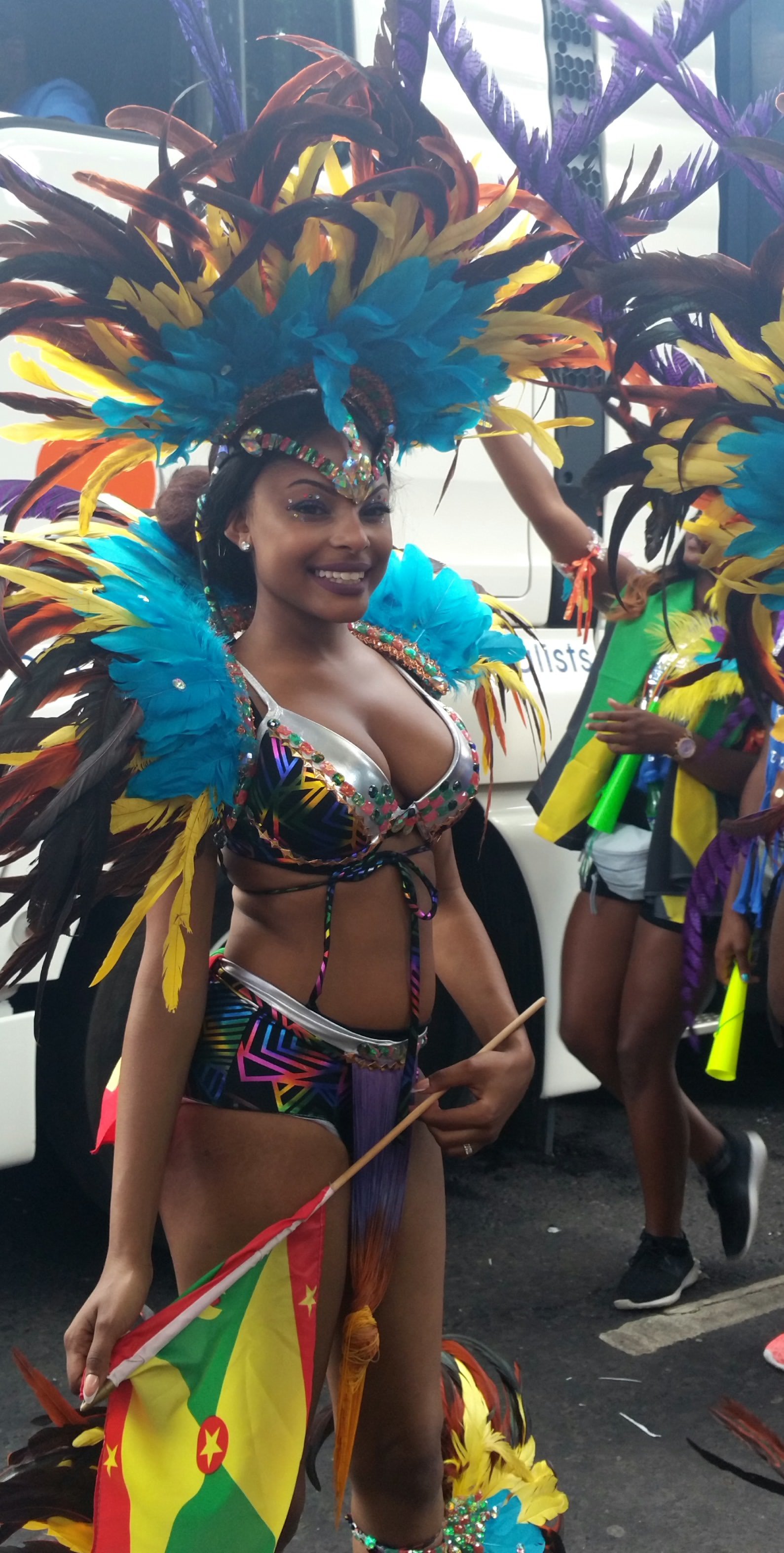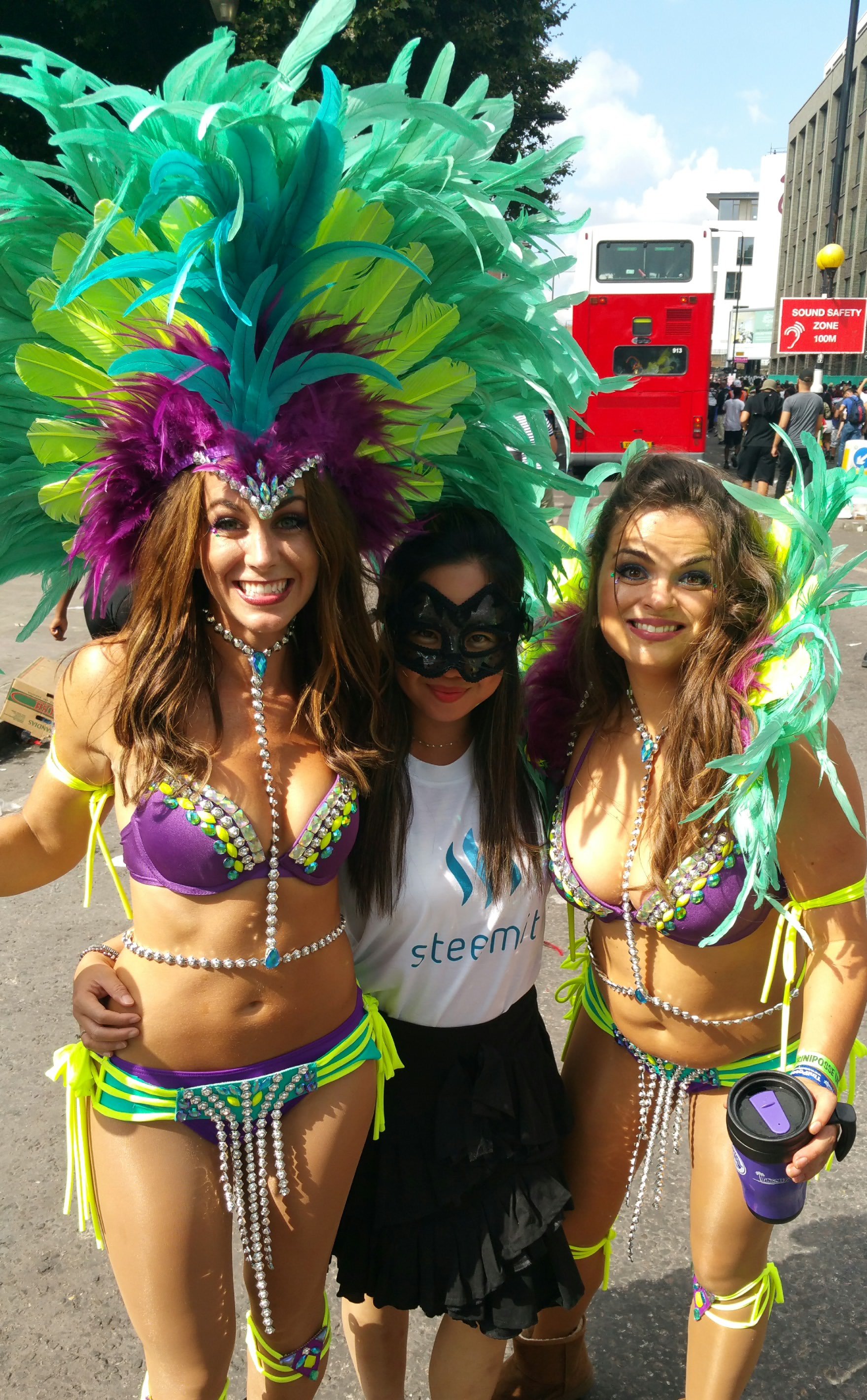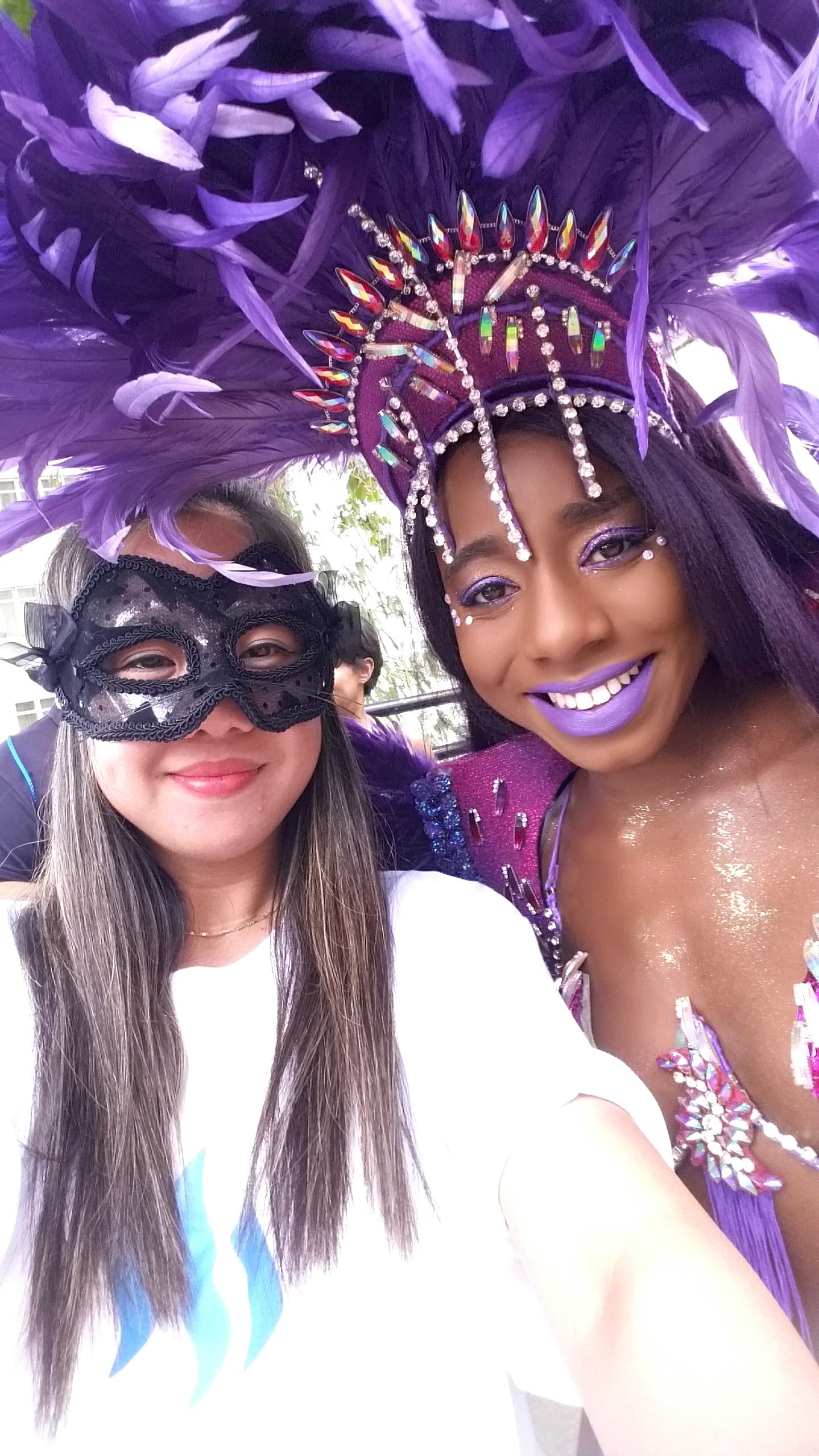 As well as enjoying the music, trying out some delicious Caribbean food on offer is a must. Lots of small stalls dotted the streets along the parade offering traditional Caribbean food, the most famous being Jerk chicken and goat curry, traditional Caribbean dishes. The smell of the barbecue food is guaranteed to make your mouth water. 
除了欣赏音乐,品尝美食也是诺丁山狂欢节不可缺少的部分。街上许多食品摊档提供传统加勒比风味烤鸡和咖喱羊肉等等。诺丁山各条街道边上都炊烟滚滚,香味四溢。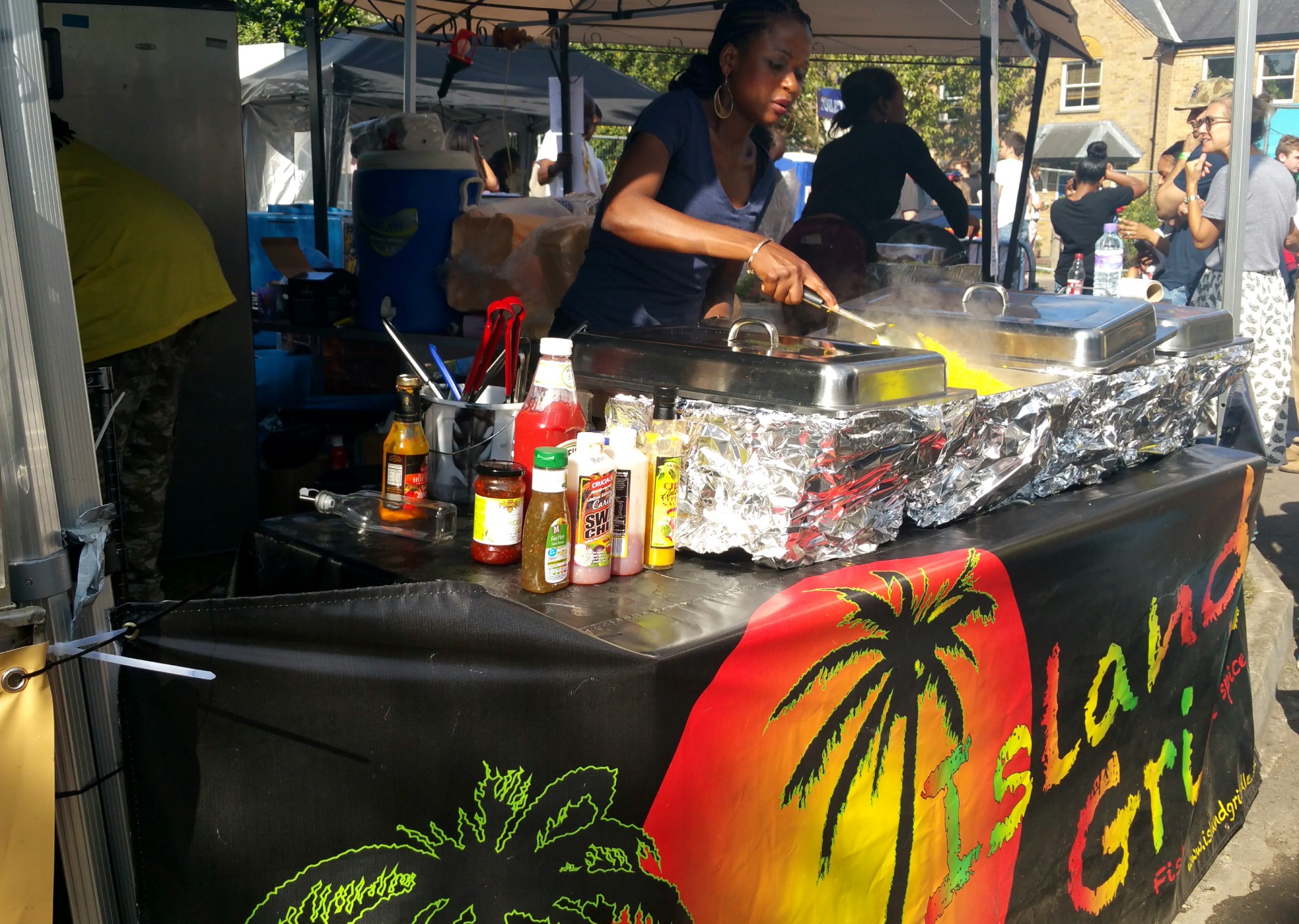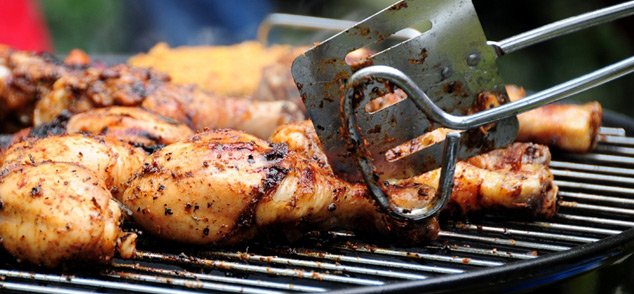 (Photo above accredited to http://good-cooking.co.uk)
---
All Good Things Must Come To An End / 天下无不散之宴席
(Above photo Monday just makes way for Tuesday, the cleaning process begins which is an unbelievable feat in itself, as you can imagine the rubbish left behind by over a million people. But, the local council, private cleaning services, even the residents of the streets surrounding the carnival all get to work to clear it all way. So, as people wake up the next morning for work, there will be almost no trace of what went on the day before. Simply astounding!
今晚午夜时分,街道的清洗工作就要开始了,这可是一项艰巨的任务。你可以想象超过一百万人留下的垃圾会有多少。地区管理员,私人清洁队,甚至是附近居民都要帮忙清除所有垃圾。但第二天一早人们醒来,几乎不能在街道上发现一点儿狂欢节的痕迹。这高效率简直令人咋舌!
The Notting Hill Carnival is a thing of true beauty. For two days, it transforms the normal streets of London into the ultimate dance party that has an unparalleled sense of energy and thrills. People fly in from all over the world just to take part in this unique experience. Hopefully anyone travelling to London can book an August visit so they too can enjoy the biggest street party Europe has to offer! 
诺丁山狂欢节的短短两天时间,把普通街道转变成无与伦比,精彩和有活力的嘉年华舞会。人们从世界各地纷纷前来参加并体会着这独一无二的街头盛会。如果计划8月来访伦敦的游客也能享受着欧洲最大的街头派对!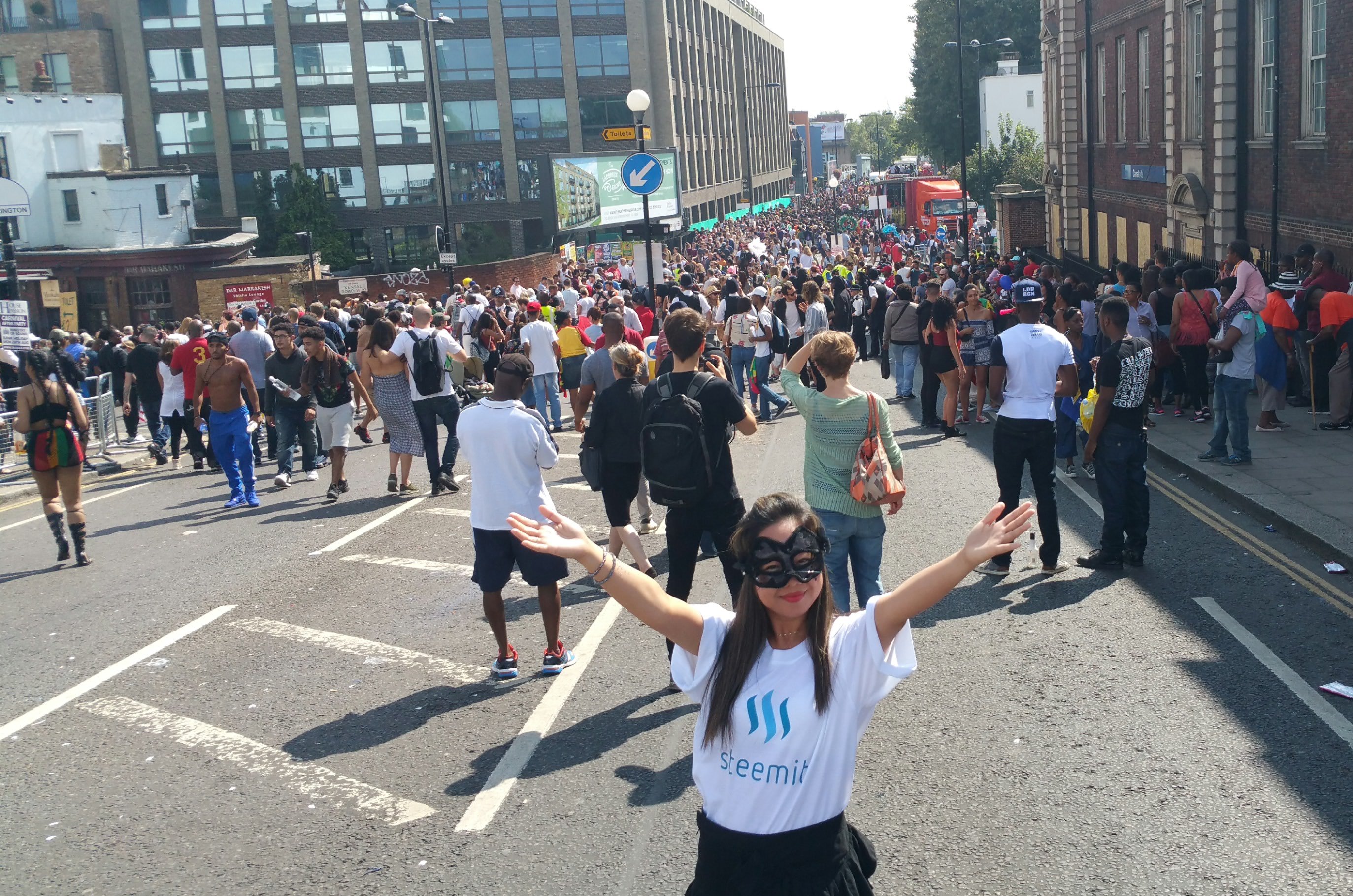 ---
Here are some useful tips for people who have never been here before:
如果你是第一次参加狂欢节,以下是一些注意事项:
1. You will need to do a lot of walking so wearing comfortable shoes is essential.
2. During the festival, many tube stations will be temporarily closed. Make sure you plan your travel route in advance.
3. Make sure you carry enough water and a carnival map for easy navigation of the various routes.
4. Be aware of your personal belongs all the times.  
5. If you bring children, I suggest you go on a Sunday for the much more family friendly carnival experience. It is quieter and more relaxed.
1. 步行一整天,建议穿着舒服的鞋子。
2. 狂欢节期间,很多地铁站都会暂时关闭,请提前规划出行路线。
3. 建议您准备足够的饮用水和地图。
4. 由于人数众多,请在游览过程中保持警惕,看管好自己的财务,小心走散。
5. 如果带儿童游览,建议在周日Family Day前往,这一天会有儿童组队游行,相比周一的活动更安静更放松。