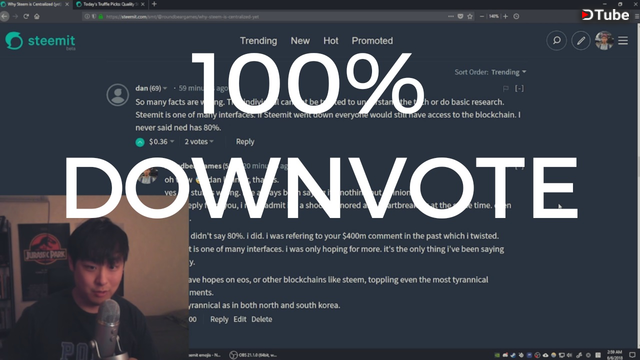 ---
Here's the youtube link if Dtube is slow.
Let me clarify on my last post:
Steemit.com is not the only interface, but if you bring down steemit.com, most average users won't be able to access their wallets because they rely on the webpage. Nobody knows exactly how many, but again, it's an opinion. I'm complaining because, in the Steemit community, there's nobody that can match Ned's influence, or Steemit Inc (maybe Dan but he's not part of Steemit Inc anymore). If there are multiple other interfaces that are as big or bigger than steemit.com I wouldn't say this.
As Dan was leaving, he said Ned "presides over $400m worth of steem. His actions are misappropriation of company resources for personal gain at expense of minority shareholders whose rights are frequently abused".
"80%" is just my bad math.
I'm sorry I won't reply to other comments there but I'll get back to my usual routine starting from this post (upvoting, commenting, everything).
So sad to receive the 2nd biggest downvote possible, but excited Dan has come down to the farthest corners of Steemit.
Thanks for watching.
---
▶️ DTube
▶️ IPFS