Ok, we all survived the transition to HF21 I guess. And with the inevitable bumps which have now straighten out, we can all say we have entered the HF21 zone safely.
What is changed?
We were promised a lot of better things. Like voting would be more honest, quality content would be more appreciated due to better voting and payout mechanisms. But is this all become true?
To me, it is uber obvious that the accounts who have a lot of steem benefit the most. They can watch from a distance and let their earned and/or bought Steem work for them. They were privileged to be the first on this platform and created a lot of effort in promoting the platform so off course they should benefit for that work. No doubt about that!
I am glad
I am happy @exyle once pointed me to this platform. And although I am not as huge account as him, I am pretty confident even with the Steem price being this low that I will benefit from being active for more than 2 years grinding my way through. Without receiving votes from those high-value accounts. I have done this myself! So with all the potential steem has I am sure it will be a great future for all Steem fishes!
Still beneficial
So, is it still beneficial to blogpost? Well, I compare it to facebook, have you ever received a single penny from posting there? Well, there you have it...a post with 1 Steem is still a post with 1 steem earned more than posting on Facebook!
Steem is very much alive!
---

Fellow Steemians, have the best day!
Life is for living, so live it! - @s3rg3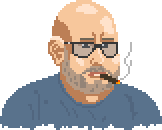 ---
I am part of witness @blockbrothers.
Please consider us for your witness vote if you think we deserve it here:
---
---
Vote for @blockbrothers via SteemConnect
Set blockbrothers as your proxy via SteemConnect
---
We are the creators of Steemify a notification app for your Steemit account for iOS.

Get it Here:



Join me in this new Free-To-Play game on the Steem Blockchain by clicking the image below


---