Dear Steemers,
Perhaps you already know this: Hardfork 19 is here.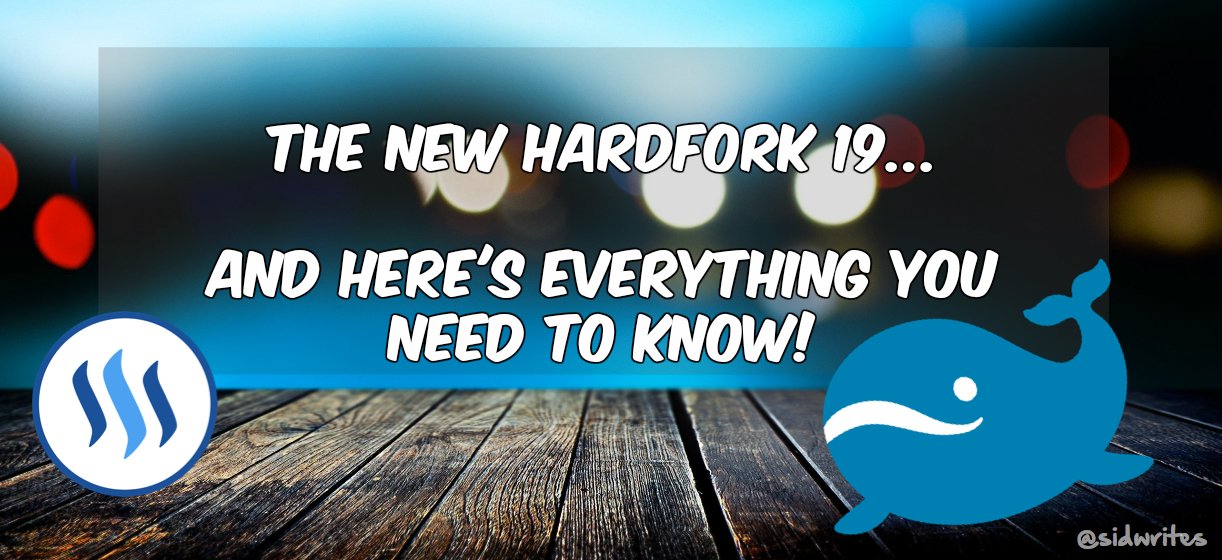 Some of you are jumping with joy. Some of you are silently observing. Yet a large percentage of us don't know what's going on.
That is what this guide is all about.
This guide will help you understand Hardfork 19 and why it matters to you. It will show you what's happening right now and what you should do next.
I am keeping this article newbie-friendly, so no technical talks. I will also be updating this article regularly, and I would love to hear your thoughts in the comment section below…
Let's get started with the basics:
---

---
To understand Hardfork, it is important to know what a fork is.
Simply put, fork is a software change. One can automatically or forcefully introduce fork to any network.
In our case, this fork was introduced forcefully by the developers.
Which means Steem developers have made the following changes:
They have made changes to the software
They have made changes to the rules
Both of which are packed in Hardfork 19. So, in a way, Hardfork 19 is really a software change introducing a new set rules (or algorithms).
Remember: Hardfork 19, though, must be accepted.
---

---
This Hardfork 19 must be accepted by the Steem Witnesses. We, as users, nominate these witnesses. Just think of all this as an election.
We are collectively making a decision here.
Fortunately, for us, this decision was already accepted. And today, as you read this post, Hardfork 19 has already been implemented on Steemit.
Question is: Why introduce Hardfork 19?
Because the goal is simple:
To effectively spread fairness around the community.
In the past, whales dominated this platform. They have controlled it. And with this new change, minnows (new users) have a little more control than before.
This control is limited as you will see soon.
For now, remember this is a positive change geared towards fairness because...
---

---
With Hardfork 19:
Your voting weight has changed
Now our voting weight should be 4 times more valuable.
For example: If my single vote gives you 3 cents, then the same vote should give you 12 cents.
At least that's how it should be.
However, our voting weight is now significantly higher as I type this. Why? I have no idea. My 3-cent-vote is now worth 40 cents and above.
It gives us enough power to vote and encourage other authors on the platform. It, unlike before, gives us enough control to not rely on "whale" upvotes anymore.
Your game is now simple:
Publish. Connect. Engage. And earn your fair share.
That's pretty fair, don't you think so?
---

---
Here is where you should know about Voting Power (VP). Every Steemit account comes with a Voting Power of 100%.
If you, for example, vote everything, then you are reducing your Voting Power.
In the past, one can easily vote 40 times a day without losing this power.
With Hardfork 19?
You are losing it a little too quickly. To simplify, you can vote 10 times a day at 100% Voting Power. This does not mean you cannot vote after 10.
You still can.
It is just that your voting weight (value) will be lower.
---

---
For many reasons:
Perhaps you have a friend here who wants your love.
Perhaps you read something interesting.
Perhaps you want to encourage good authors.
Or perhaps, the biggest of all, you are voting to earn curation rewards. Because, remember, you get paid to discover new content.
So you can cast your vote even after 10...
Or, as another way, you can change your voting weight percentage. (Discussed in Tip #2 below).
---
Tip #1: How to check your Voting Power:
Go to Steem DB. Enter your name in the search bar (top-right). Hit Enter. Then you will notice, under your name, your Voting Power in percentage.
Tip #2: Change your voting weight percentage:
If you have over 480 Steem Power in your account, you will get a voting slider every time you vote. It looks like this:

You can move this slider and decide your voting weight percentage. So, as an example, if you vote on 50%, you can cast 20 votes at full power.
---

---
As Hardfork 19 is active right now, you will notice a change in your current posting rewards.
All the rewards you have earned, in the last 7 days, have changed.
For many, your earnings have doubled or even tripled.
And for a tiny percentage — with posts earning well over $1000 — rewards have significantly dropped.
Rewards are actually circulated. They are going back to the less-powerful users.
Just look at this chart: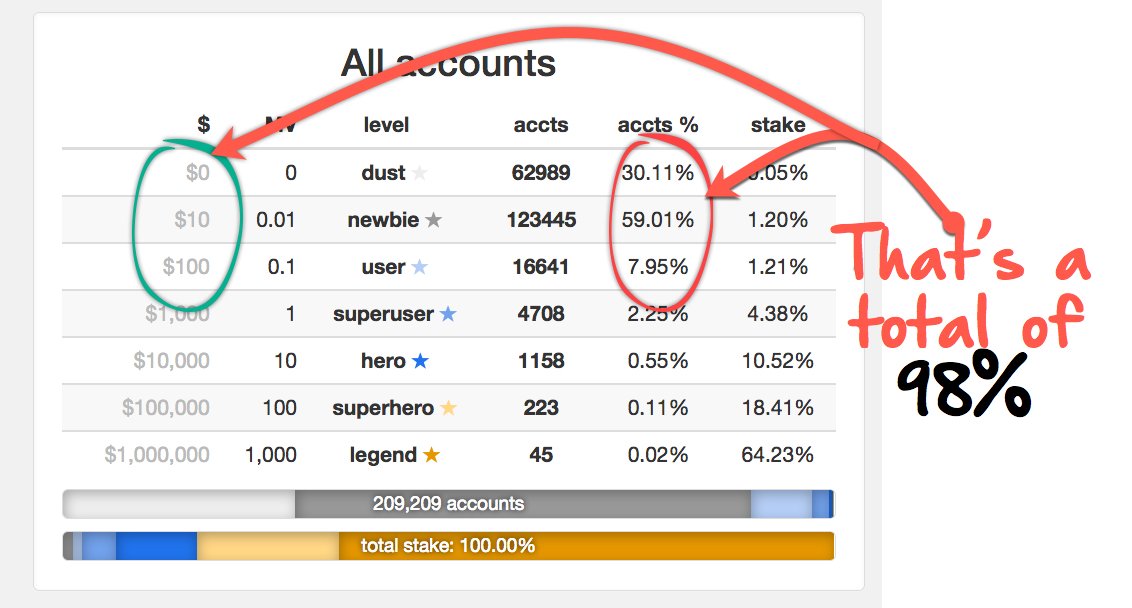 Here you can see 98% of the Steemers have less than $100 in their account.
Their votes were insignificant before. And now, with Hardfork 19, their votes are much more valuable. So it's safe to say Hardfork 19 was a much-needed change for the growth of this platform.
---

---
You have seen the definition of Hardfork.
Then you saw how it works...
And the changes it brings to Steemit.
You also saw how valuable your votes are right now.
Plus you saw why it is important to vote valuable content.
And then, finally, you saw how fair Hardfork 19 really is.
So my question to you:
What do you think of Hardfork 19?
Have you noticed it yet?
Any changes in you rewards?
Feel free to share your thoughts in the comment section below.
Cheers,
Sid
---
Liked this article? Feel free to comment and upvote and resteem.
---