Why?
I will tell you in a moment.
First:
Here's a car that @hilarski recently purchased. He is Steeming since August 2016.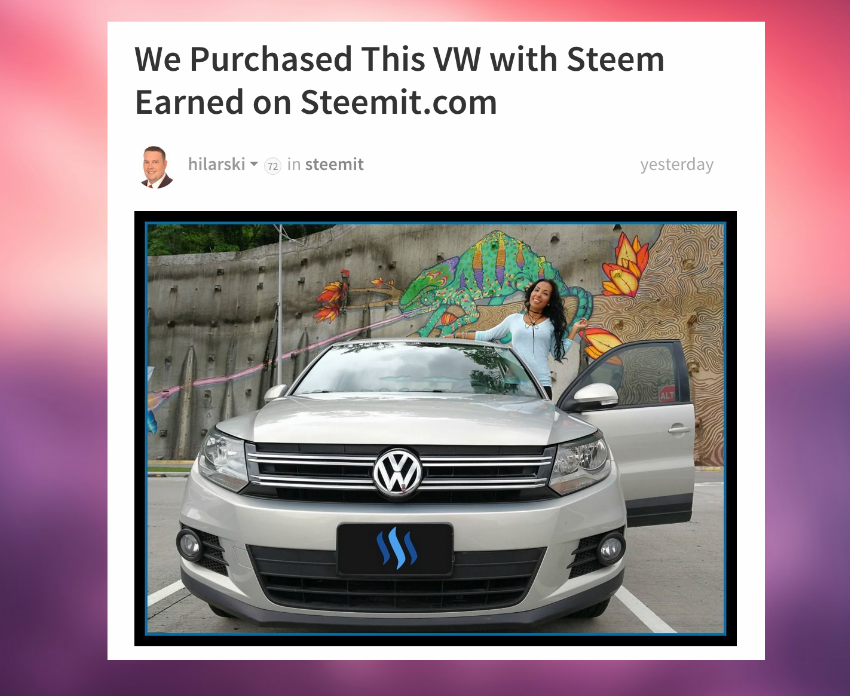 @Sykochica pushed her boundaries and bought a bunch of gadgets. She is Steeming since July 2016.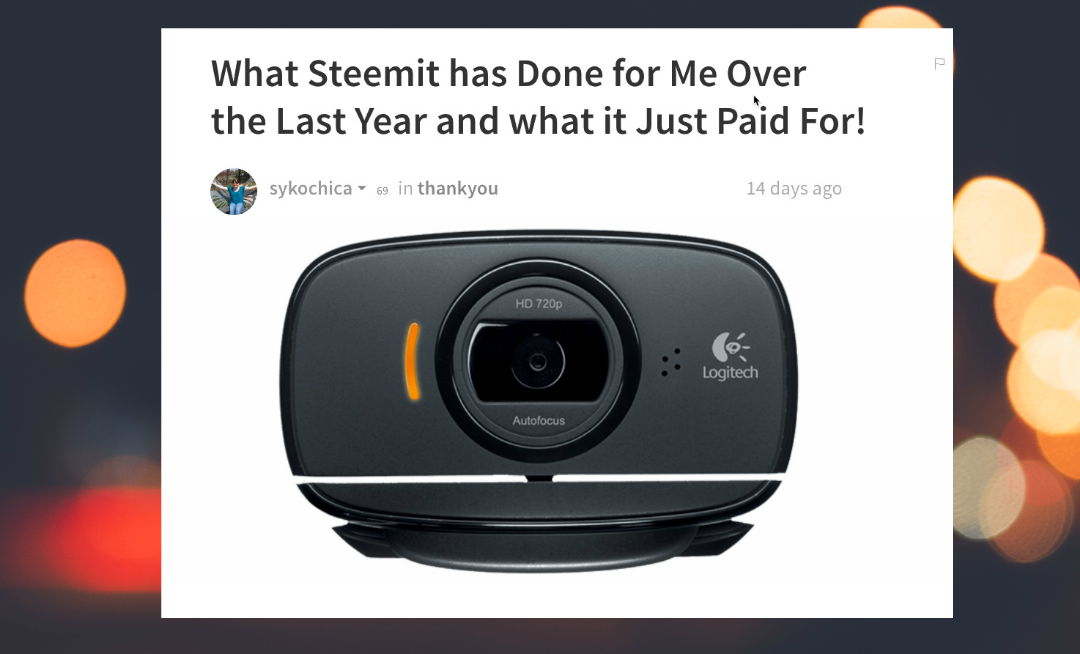 @karenmckersie got her first laptop this year. Plus, paid her rent. How? You bet! Since July 2016.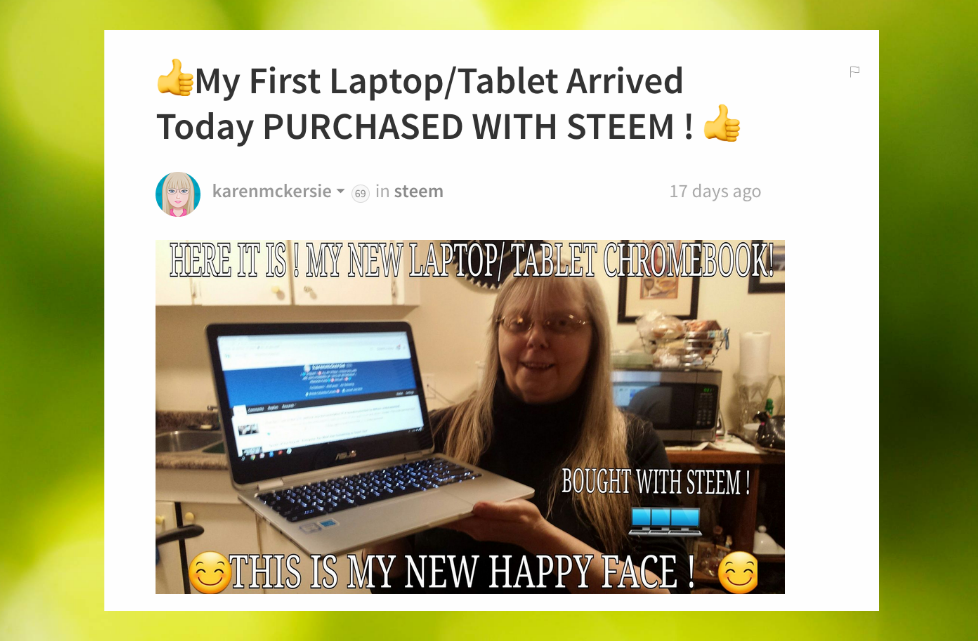 Do you see a pattern?
---
Each one of them are actively participating.
And then we have — perhaps hundreds and thousands of them — using Steemit to achieve a portion of their dreams.
It can be any dream.
They wish for it. And they get it.
This is where you may recognize:
---
@papa-peppers — @kaylinart — @trafalgar — @craig-grant — @acidyo— @firepower — @sauravrungta — @doitvoluntarily and many more folks...
---
They are here and they are popular.
And they are all producing quality content.
But do you also see something else?
Do you see a pattern?
See how long they have been here?
They Have Challenged Time
---
As you read this, you may have seen a significant drop in your earnings.
Your last and this week's rewards are lower.
Perhaps by a dollar or two.
Or even as significant as five to fifty dollars.
All because of the recent crash.

Not a pretty sight, right?
Which is why your $1 published post is worth 60-70 cents.
Your earnings have reduced.
For some of you...
Hopes demolished.
And dreams destroyed.
Despite all that, this is where it gets interesting because...
Your Existence Is Questioned!
---
With Steem value going down...
What are you going to do about it?
Are you going to say goodbye to everyone?
Or are you going to stick around?
Your time is valuable, isn't it?
So what is it going to be?
Your existence here is questioned.
So before you make that decision, I want you to sit back...
Read this post.
And ask yourself a simple question.
Just ask now:
---

---
You joined this platform for a reason.
Besides the rewards...
Why did you join?
Perhaps you thought you will be writing everyday?
Maybe you had a specific goal?
To reach 1000 followers?
Or share your photos?
Your paintings?
Or your thoughts?
Whatever the case is:
Question yourself.
Ask if you have pushed yourself to the core? If you gave your best shot? If you have achieved what you promised you would achieve when you first joined Steemit?
If your answer is YES?
And if you are done with Steemit?
It was nice meeting you!
If not, then you and I have some serious talking to do.
It's time:
---

---
Like each one of those Steemers you saw earlier.
It's time:
You do a little more.
Put in that extra effort.
Test yourself against time.
And truly push yourself.
Sounds FUN, isn't it?
Would you like to know HOW to do that?
Perhaps some advice from the experts?
So you can challenge yourself?
YES?
Fantastic!
Let's start with what's important:
#1: Forget Your Rewards!
---
For the next 30 days?
Do not think about your rewards.
Lock that thought in a box and flush it.
Instead, for your success at Steemit, do what @firepower says:

The idea is simple: Go long-term. If you look around, you will find all the top Steemers have been around here for months. They are actively curating, engaging, and contributing.
When you do that?
Rewards are a bonus. They will take care of itself.
For now:
Go long-term. And forget rewards!
#2: Be Consistent!
---
Consistency produces results.
In fact, it's the bridge between your goals and achievements.
You will find it inspiring to know @Sauravrungta has been consistently blogging here. He is now a full-time blogger.
I wish he was an overnight success.
The truth, however, is different.

The idea is simple: Be consistent. Seek discipline. Embrace the battle. And remember: In every battle, lazy warriors gets killed first.
Never be lazy.
Which brings us to our next point...
#3: Grind It Out, Baby!
---
Remember @hilarski and his car?
Here's something you will enjoy from him:

The idea is simple: Accept hardwork! Push yourself. And push yourself to the core. Because the more you work, the closer you get to your goals.
It really is a matter of doing it now. Or later.
Now is better, isn't it?
#4: Engage & Enjoy!
---
What's the purpose of a trip if you don't enjoy it?
At its core, Steemit is a community.
There are real people here.
You and I are real.
Which presents the opportunity to connect. And bond over common interests.
If you do that, and if you are consistent, and always pushing yourself, hear what @acidyo has to say:

The idea is simple: Involve yourself in the process. Have fun while doing so. And engage with like-minded people. Just be true to your heart.
Heck, in my one month of stay here, I have found some amazing friends here.
And what happens when we surround ourselves with friends taking us higher?
We all know the answer to that.
---

---
While everyone else is focused on something else, you now have the keys to your success on Steemit.
Regardless of the tiny crash...
Drop in rewards...
You now know the best time to Steemit...
Which is NOW!
Question is:
Are you ready?
If YES, let me know through your comments below!
Cheers,
Sid
---
PS: It took me a while to write this post. Perhaps over 12+ hours...
That graphic thing took the most!
SO if you enjoyed this post, do consider sharing your thoughts, upvoting and resteeming.
And if you still wish to be lazy, and complain, be a total mess, then a good bud @steemitqa has some suggestions for you: