SteemThat is an external community that is set up to help (new) Steemians grow. They've already helped a lot of people, but now they need your help.

SteemIt Has A Steep Learning Curve
Let's face it, when you just start out on SteemIt, everything is a little overwhelming. SteemIt has a steep learning curve and it requires quite a lot of dedication and time if you want to get the hang of it. Many people quit before they even started, simply because SteemIt is not like other social media or blog. It can take a while before you are familiar with how things work on SteemIt, and many people get lost in the overload of information that is provided.
If you're currently struggling with SteemIt, I suggest you go and check out the FAQ page. It contains loads of useful information on how to find your way around SteemIt.
(I've written a post about it a couple of days ago: ' The Ultimate Guide To SteemIt Covers EVERYTHING You Need To Know!)
SteemThat Training Camp
When I first joined SteemIt, I was really intimidated by the huge number of users. I didn't know who to reach out to for help. I was afraid to be making a wrong first impression by saying things or asking question that could be considered a stupid. Of course you can always get some help on the @minnowsupportproject 's Discord channel, but I found myself spending hours searching for answers to my questions.
In the beginning, I felt like a real outsider to this strong community, and I never thought I'd ever be able to fit it, let alone become part of that community.
And than I accidently bumped upon SteemThat, a community that resembles SteemIt and wroks together with it, but on a smaller scale. After I joined, I instantly found people who were willing to help out and answer every question I had. Because the community is a lot smaller, I wasn't as intimidated as I was on SteemIt.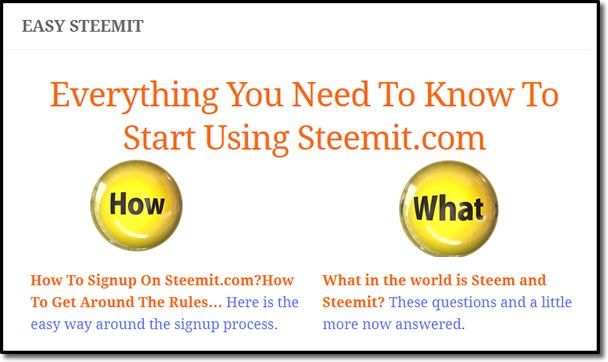 SteemIt's Little Brother


I guess you can see SteemThat as a little brother of SteemIt. It is website rich with features built around one simple thought, "Help Steemians Grow." It was founded by the SteemIt member @binkley and he surrounded himself with some other Steemians, included @anthonyadavisii, @bobinson, @retiredinsamar, @webresultat, @jmcgready and @fhstralow

On SteemThat, a lot of useful information on how to use SteemIt can be found. Also, a variety of tools are provided.
On SteemThat, I was able to interact with people who were experiencing the same thing I was, and we could help eachother.



The most important thing was that they made me feel at home there. Because the community is a lot smaller, it's easier to build op relationships with each other, and asking 'stupid' questions is not a problem, since the SteemThat community's main goal is to prepare people to enter the big, complicated world of SteemIt.




You can say it's like training camp. On SteemThat, you're also rewarded for your actions, just like you are on SteemIt. By contributing to the community, you can earn SteemThat tokens. These SteemThat tokens can be exchanged for the platform's own token that is called Steemish.
On top of that, you can repost your older SteemIt articles as blog posts, and promote your new posts in the 'Upvote Help' section. You can join different groups to interact with people that have the same interests as you, or you can create a new group about any topic you want.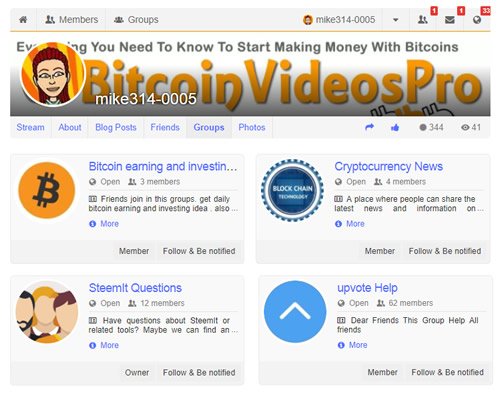 It's Time To Give Back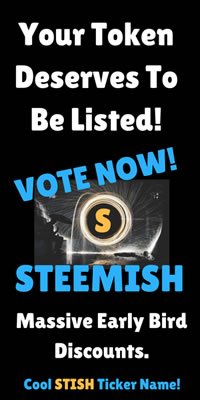 SteemThat is growing bigger everyday. At this stage, they're trying to get their token listed, so it can be exchanged and will increase in value. You can find out more about the Steemish token and read the white paper here


To get listed, they need to end up in the top 3 at this site.
Right now, they're in 4th place, doing better than EOS, but need to steal that 3rd place from TRON.
Their place in the list depends on how many votes they receive, so I'd like to ask you 2 things
Join SteemThat. For now it's still free, so you've got nothing to lose. I cant speak for other people, but for me peronally, it has helped to improve my experience on SteemIt. Again, you have nothing to loase and everything to gain.

Help the Steemish token to get listed. It'll take only 5 minutes of your time, and can make a huge difference for the guys behind Steemish.
Here's what to do:
Click the button below to go to the voting page:

Once you're on the voting page, you'll need to crate an account. this doesn't take up much of your time. To create an account, click 'Log in'.

Fill in the signup form and confirm your account.

Once you've completed your registration, go back to this page.

In the list of tokens, select the checkbox next to 'Steemish', then click the 'Vote*'-button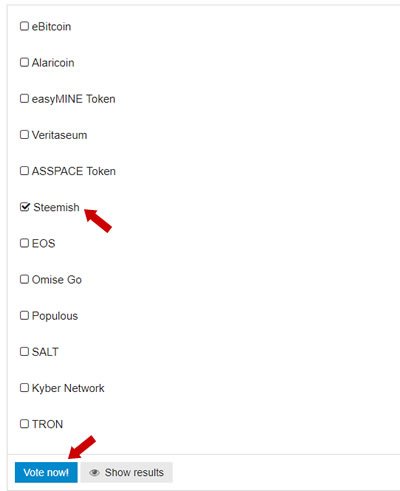 Go back to SteemThat and visit my profile.
Leave a message in which you tell me that you've voted for Steemish.
I will then give you an UPVOTE on your latest post
Hurry
You've got to hurry, though. The Poll will be closed on Sunday (01/28/18) 10:30 am PST. Make sure you've casted your votes before that time.



DISCLAIMER: The links to SteemThat in this post are my affiliate links. If you sign up for SteemThat through one of those links, I'll receive free SteemThat tokens.



Subscribe Ro RSS Feed | Subscribe To Newsletter
More Posts You Might Like


SteemIt Isn't About The Money... Not Anymore!
Forget Cryptokitties! Buy Donald Trump & Many Others Today!
The Ultimate Guide To SteemIt Covers EVERYTHING You Need To Know!
Are You Serious About SteemIt? Or Do You Want To Stay Plankton And Keep Earning Peanuts?
Top 5 Chrome Extensions To Make Life On SteemIt A Little Easier

Image Sources:
SteemThat