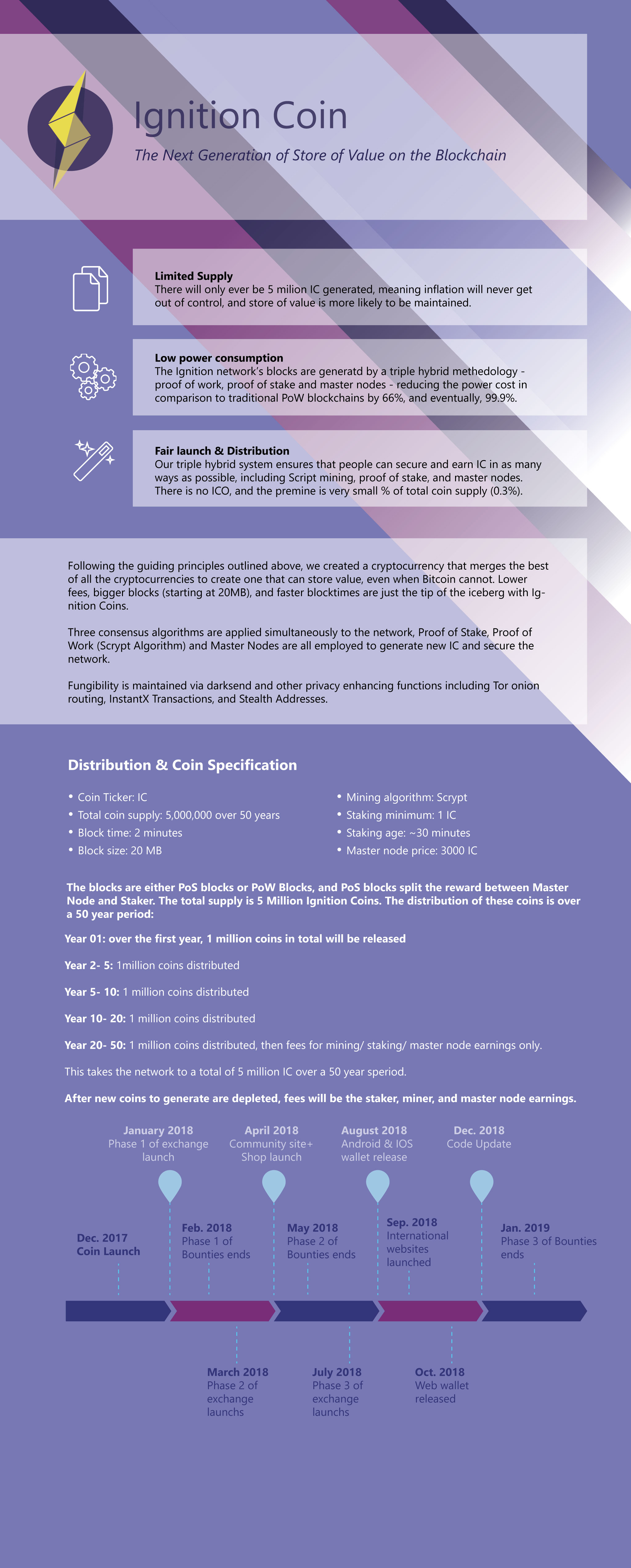 Exchanges:
NEW 1/5/2018 -- Crypto-Bridge DEX - https://crypto-bridge.org
1/4/2018 -- MasterNodeXchange - https://masternodexchange.com/markets/icbtc#
12/24/2017 -- StocksExchange - https://stocks.exchange/trade/IC/BTC
12/20/2017 -- CoinsMarkets - https://coinsmarkets.com/trade-BTC-IC.htm
We are in talks with several exchanges and hope to have several listings by January, as outlined in our roadmap below. Stay Tuned!
Mining Pools:
http://miningpool.shop
http://blockmunch.club
https://madpool.xyz
http://pool.cryptoally.net
http://www.lycheebit.com/
https://hashbag.cc
http://antminepool.com
https://tiny-pool.com
http://tiny-pool.com
http://bsod.pw
---
MasterNode Rankings:
MasterNodes.Online Ranking Page: https://masternodes.online/currencies/IC/
Faucets:
TheFaucet Online: https://ignition.thefaucet.online/
Resources:
Website: https://ignitioncoin.org
Block Explorer: http://explorer.ignitioncoin.org
White Paper: https://ignitioncoin.org/wp-content/uploads/2017/12/Ignition-Coin-White-Paper.pdf
Discord Chat Channel: https://t.co/ReRrHzaBXs
Github & Source: https://github.com/ignitioncoin
Developer Blog: https://www.ignitioncoin.org/index.php/blog/
Social Media:
Twitter: https://twitter.com/ignition_coin
Reddit: https://www.reddit.com/r/ignitioncoin/
Facebook: https://facebook.com/ignitioncoin
Bounties - We will be having 3 phases of bounties. We are currently re-working our bounty program, at the moment we have the following active bounty(/ies):
Bug Bounty - We always want to know about any vulnerabilities in the Ignition Coin Daemon and Wallet software. We will pay you 50 IC for any bug fix that is severe, and 5 per bug fix that is below severe priority.
Website: https://IgnitionCoin.org
Download Wallet
https://github.com/ignitioncoin/ignitioncoin/releases/
---
Discord Channel : https://discord.gg/Dj89CPM