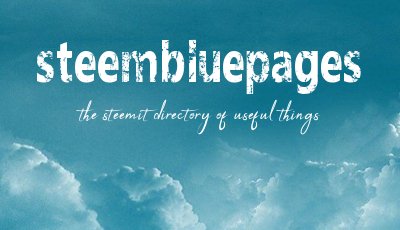 RESTEEM WINNERS:
Congratulations to last week's Resteem Prize winners, who each win an equal share of SBD!
RESTEEM BOUNTIES
You can earn a Steem Dollar prize reward simply by resteeming this post - please check end of post for details.
WHAT IS STEEMBLUEPAGES?
In our new @steembluepages, we try to list everything useful on the evolving Steem blockchain as regular weekly posts. We hope the @steembluepages will help add more context to the Steemverse, while highlighting the very best services, innovations, and resources to be found on the platform. The @steembluepages is updated every week, so make sure to follow us to stay informed of What's What and Who's Who on Steemit right now.
[SteemBluePages]

BEST STEEMIT BEGINNERS GUIDES
> How-To-Steemit: Simple Instructions For Steemit
> Steemit Help
[Main Listing]

ACCOUNT TOOLS
> SteemConnect - allows Steemians to sign in to 3rd party Steem apps safely and easily.
POSTING/BLOGGING
> SteemWriter - better than the clumsy Steemit post editor.
> Steemshelves - digital bookshelves for serialized Steemit posts.
CURATION
> Steemfilter - 'find quality new content on the blockchain'.
AUTO VOTING/CURATION
> SteemAuto
> Steem Voter
> AutoSteem
> Steem Automated
Tools for automating the Steemit experience.
STEEM ACCESS
> Busy.org
> Steempeak
Alternative interfaces for accessing the steem blockchain.
STEEM ON MOBILES
> Partiko
> SteemApp
> bSteem App
MICRO-BLOGGING
> Steemblr - the Steem alternative to Tumblr.
> Appics - based on the first steem Smart Media Token. A Steem-lite mobile app for the mainstream, and maybe, possibly, a Steem game-changer ...
CRYPTOCURRENCY
> Blocktrades - easily trade one crypto currency for another, including Steem.
> SteemValue - current value of Steem in many currencies.
COMMUNITY
> Steem Projects - the essential go-to for dapps, sites & tools created by the Steem community.
> Minnows Support Project - a support community that helps Steemit users to thrive.
> Steem Challenges - bringing together the most active challenges/contests on Steemit.
COMMS
> Steem.Chat
IMAGES/PHOTOS
> Steepshot - an evolving 'Instagram killer' for steem.
VIDEO
> Dtube - a most excellent decentralised Youtube clone and more.
> Dlive - video streaming and hosting on the steem blockchain.
> BitChute - Peer-to-peer video sharing platform.
> Viewly - experimental video platform powered by blockchain + peer-to-peer video sharing.
SOUND
> Dsound - decentralized platform for sharing sounds and music.
RADIO
> MSP Waves Radio - radio shows by the Minnow Support Project.
> Steemspeak - music & talk Radio.
SOCIAL DAPPS
> Parley - A discussion platform and crypto alternative to Reddit.
> dMania - Steem memes & lots of LOL.
CROWDFUNDING/SOURCING
> HyperFundIt - crowdfunding the Projects and Influencers you love!
> Fundition - decentralised crowdfunding + Team Collaborations
> Soliciting Power - delegate your SP to projects worth supporting.
> Utopian - an open source Steem economy supporting open source development.
E-PUBLISHING
> The Creative Crypto - a finely crafted, steem-powered magazine dedicated to all things creative on the blockchain.
> Dbooks - publish your book on the blockchain! A great idea, but lacking support from the community (apparently now moving to EOS: https://steemit.com/utopian-io/@feekayo/the-dbooks-project-is-switching-to-eos)
> Dcomix - decentralised webcomics.
> DNGO - publish audiobooks on the Steem blockchain.
> Wild Cosmos - creative Publishers of books and Graphic Novels using crowdfunds + ICOs.
> SteemFiles - enables users to buy and sell file downloads.
GAMING
> SteemGG - a platform for earning coin by publishing and playing indy games.
> SteemNova - epic multiplayer space strategy browser game. Win Steem by performing well!
> Steempunk-Net - earn by playing a steampunk MMORPG.
E-COMMERCE
> Steem Projects: e-commerce tools
> Steem Market - online showcase of ART for Steemians.
FREELANCING/GIGGING
> Steem Gigs - social network for freelancers.
> Musing - Ask Questions. Write Answers. Earn Cryptocurrency.
> What App - get paid for asking and answering quality questions (mobile dapp) .
ACCOUNT CREATION TOOLS
> Blocktrades (Buy New Account Page)
> BuildTeam
Buy instant anon Steem accounts.
POST PROMOTION TOOLS
> MinnowBooster - the @minnowbooster project is your "Swiss Army Knife" for the Steem blockchain.
OTHERS
> SteemMakers
> Steemit Design Resources
> Steemverse - view the Steem blockchain in 3D.
[End of Main Listings]
What's Next?
We'll be adding Advanced Steem links to the @steembluepages for more experienced users, plus a seperate community listing of VIP Steemians and their works. Follow us to make sure you don't miss the updates.
Have we missed something?
If you know of something that should be listed in the @steembluepages then let us know in the Comments. Likewise if you think something should be removed or modified.
Already Listed?
If you're listed here in the directory then please consider brandishing our 'As Listed' banner somewhere on your blog, so we can guide traffic to each other: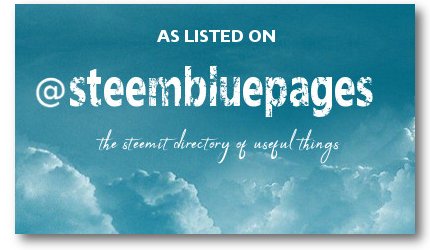 Resteem Bounty Prize
50% of the Author Rewards will be divided between 3 randomly chosen Resteemers of this post. Simply Upvote & Resteem this post to enter the prize draw!


@steembluepages
supports the following Steemit good causes:

@steembluepages created and maintained by @wildcosmos and @woman-onthe-wing for the benefit of the Steemit community. Please show your support by Upvoting, Following and Resteeming. 50% of Author Rewards will be divided between the Resteem Winners.