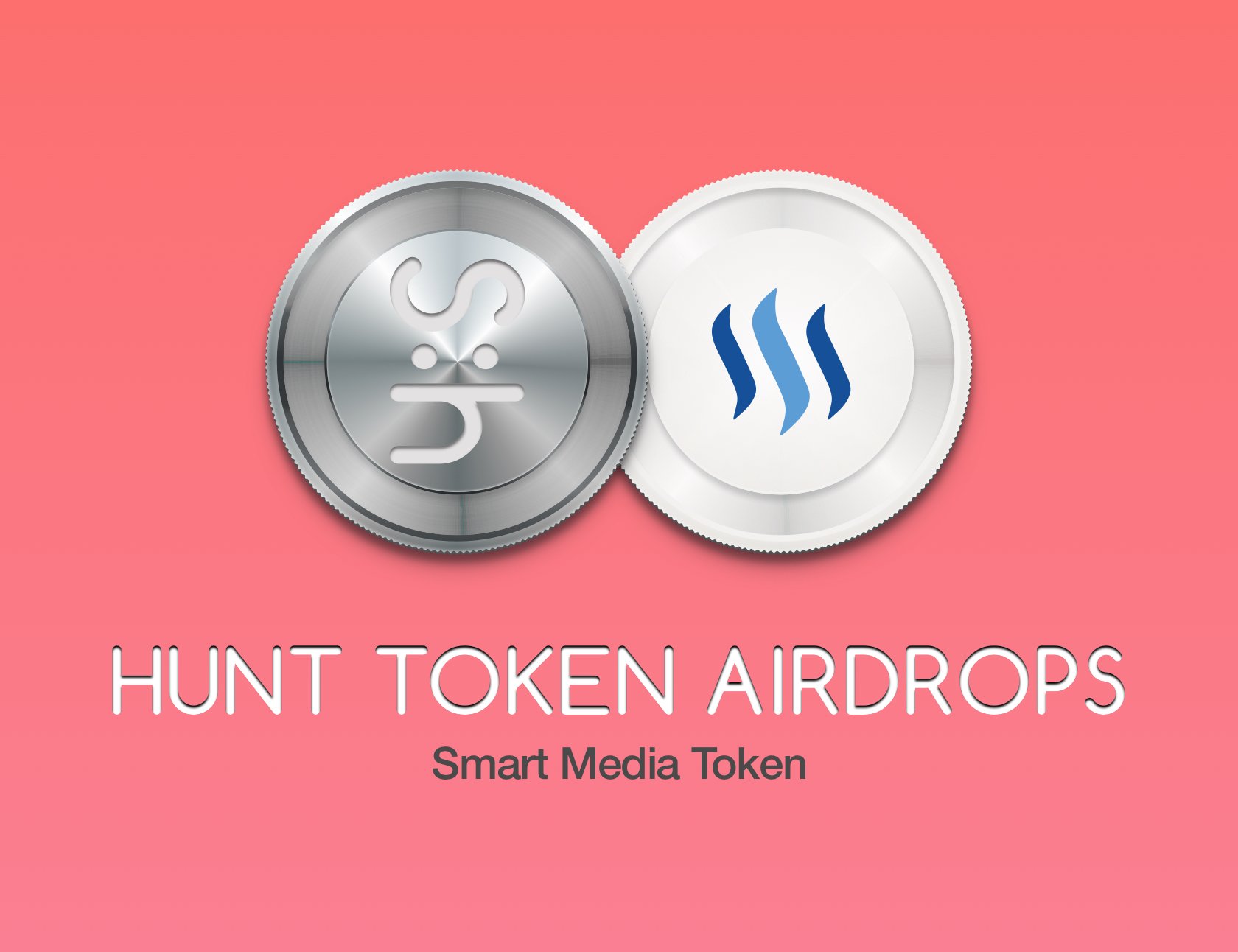 Hello Steemians,
We are running Steemhunt, a community-generated leaderboard that rewards people for sharing and upvoting cool new products, run on top of the STEEM blockchain.
Today, we are proud to announce our new HUNT platform and airdrop plan - the largest-ever airdrop for Steemit users.
Power of Product Influencers
Can you guess the similarities of the users who contribute to the following communities?
They are people who love to see innovative new products and be the first to discover them. They enjoy reviewing the pros and cons of new products, and most importantly, they never hesitate to purchase or help the makers if they think the products are cool and interesting.
Their word of mouth has far more impact than normal people. Their product reviews always help makers to become more innovative and make great products. Their initial purchase or use of the products become a strong stepping stone for the makers to successfully go through their initial market stage.
We call them PRODUCT INFLUENCERS
Steemhunt is creating a HUNT Token Economy for Product Influencers
Even though the product influencers are the core part of the communities mentioned above, like Product Hunt, most of the benefits go to the platform company itself. Of course this is a common problem of most content-based platforms. The Steem blockchain aims to disrupt this industry.
Steemhunt has initiated a daily ranking community for cool new products on top of the Steem blockchain. There are many people who share innovative products and compete with others on a daily basis. They are called Hunters.
For the first two months of our operation, 1931 products have already been hunted, and $5,024.15 SBD hunter's rewards were generated. You can see those products here in Steemhunt's Hall of Fame - https://steemhunt.com/hall-of-fame.
Now, we are trying to step forward. We are going to create a HUNT Token Economy, a decentralised token system to reward product influencers, help them buy innovative products, and help makers reach out to product influencers.
To create this economy, we are going to expand the current Steemhunt into three pillars:
[Steemhunt] - a community where hunters introduce cool new products
[Reviewhunt] - a marketing channel where makers suggest bounty missions for hunters
[Ideahunt] - a Kickstarter-like platform where makers run crowdfunding campaigns for hunters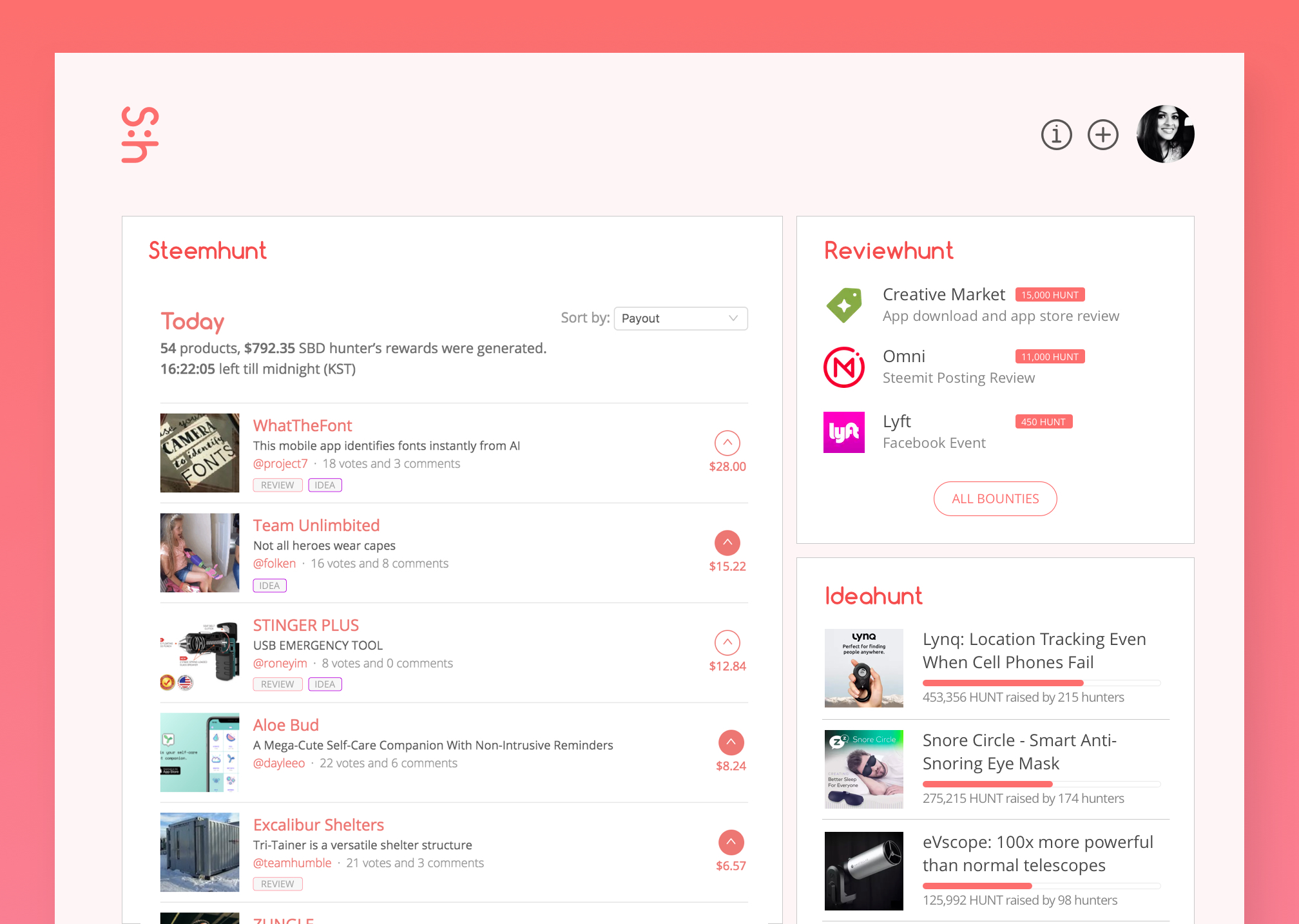 (Design Draft - It may be changed in the production stage.)
What is the HUNT platform?
As mentioned above, Steemhunt will expand into three categories - Steemhunt, Reviewhunt, and Ideahunt. HUNT tokens will be the main currency in the HUNT platform issued from the Smart Media Token platform. Here are more details how HUNT tokens will be circulated in the economy:
HUNT tokens will be issued based on the Smart Media Token platform (SMT) as soon as it is ready.
In Steemhunt, hunters get reward HUNT tokens for sharing and upvoting cool new products, which are competing on a daily basis.
In Reviewhunt, makers (or companies) are able to call the bounty missions for hunters by rewarding them with HUNT tokens. For example, makers can ask hunters to write a detailed product review on their blog or leave an app store review.
In Ideahunt, makers (or companies) can run a crowdfunding campaign by accepting HUNT tokens. When they run the campaign, their product can be also featured in Steemhunt.
The HUNT platform will create its own token economy using supply and demand mechanisms. First, hunters can collect HUNT tokens in Steemhunt and Reviewhunt, and use the tokens in Ideahunt by participating in the crowdfunding campaigns. Second, makers (or companies) can buy HUNT tokens to run the bounty marketing for hunters. Of course we have a plan to list HUNT tokens on exchange markets, but we also want to create our own independent token flow.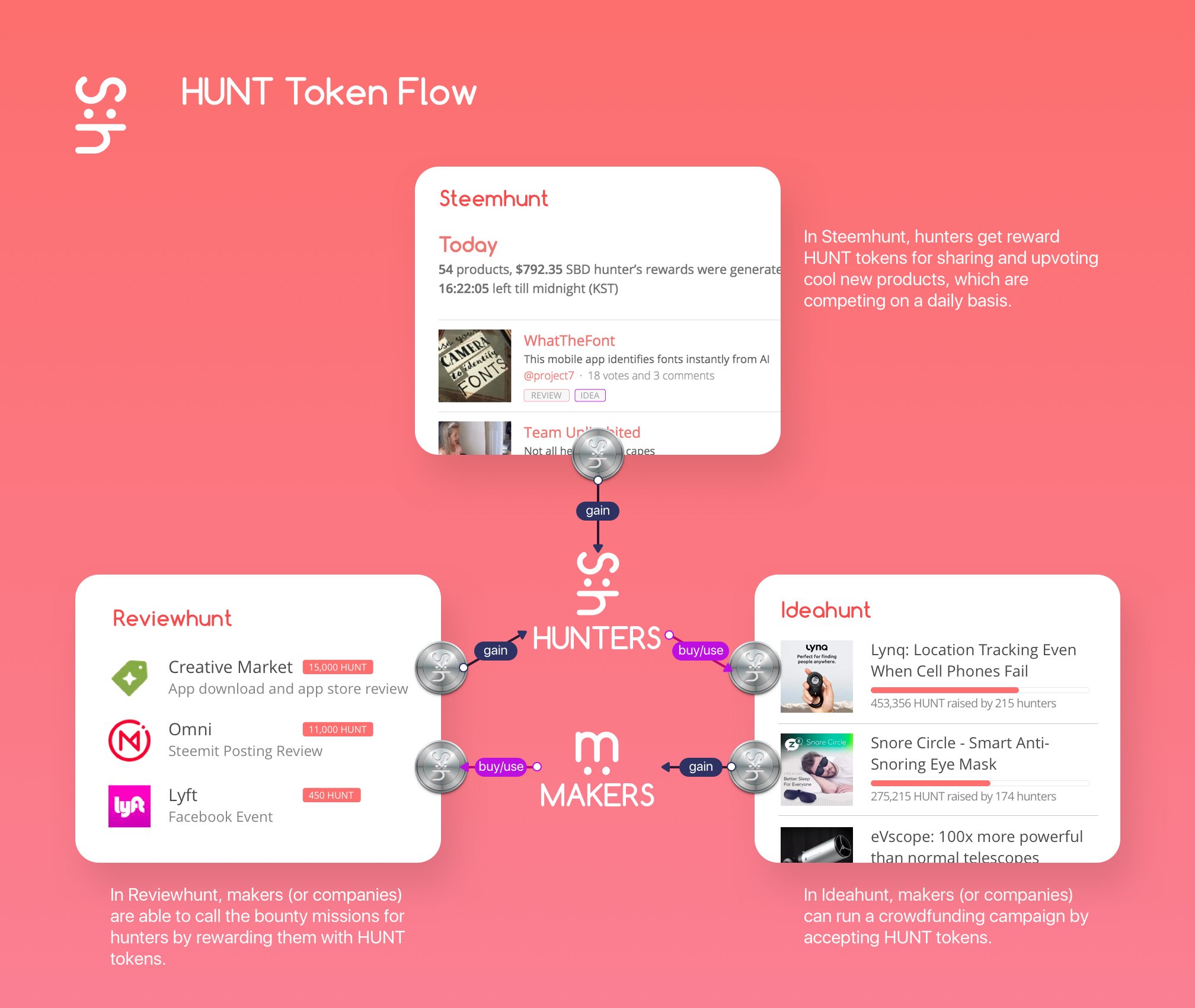 Largest-ever airdrop for Steemians by ERC20 tokens, to be swapped with HUNT tokens when SMT is Ready.
The most important KSF (Key Successful Factor) of the HUNT platform is to gather as many product influencers as possible and amplify our community activities RATHER THAN COLLECTING MONEY FROM INVESTORS. So, we won't run any public token sales. Instead, 50% of the initially issued tokens will be airdropped for Steemians so that the HUNT platform can invite many product influencers.
One issue is that we don't know when exactly the SMT platform will be ready, so we will create ERC20-based HUNT tokens first, airdrop them to Steemians, and swap with SMT-based HUNT tokens when it is launched later.
A total of 500M ERC20 HUNT tokens will be issued, and 250M tokens will be airdropped in the following ways:
100M tokens (20%) will be airdropped to Steemit users with 1:1 ratio to Steem Power until 100M tokens are claimed. This will cover about 50% of the total Steemit account.
150M tokens (30%) will be used for the bounty rewards for Steemhunt contributors. This airdrop will run for a maximum of 500 days with 300,000 tokens per day (We hope SMT will be ready within 500 days). For more details, check out the next paragraph.
Bounty Rewards for Steemhunt Contributors
30% of the tokens will be distributed for bounty rewards for Steem users who contribute to the current Steemhunt community. Everyday 300K tokens will be airdropped over a maximum of 500 days via the following four categories:
90K (30%) - Sponsors who delegate SP on @steemhunt
90K (30%) - Referrals (When a new hunter joins Steemhunt after being referred by a current hunter, both will be rewarded)
60K (20%) - Voting and Resteem of Steemhunt posts on Steemit
60K (20%) - Posting hunts and review comments on Steemhunt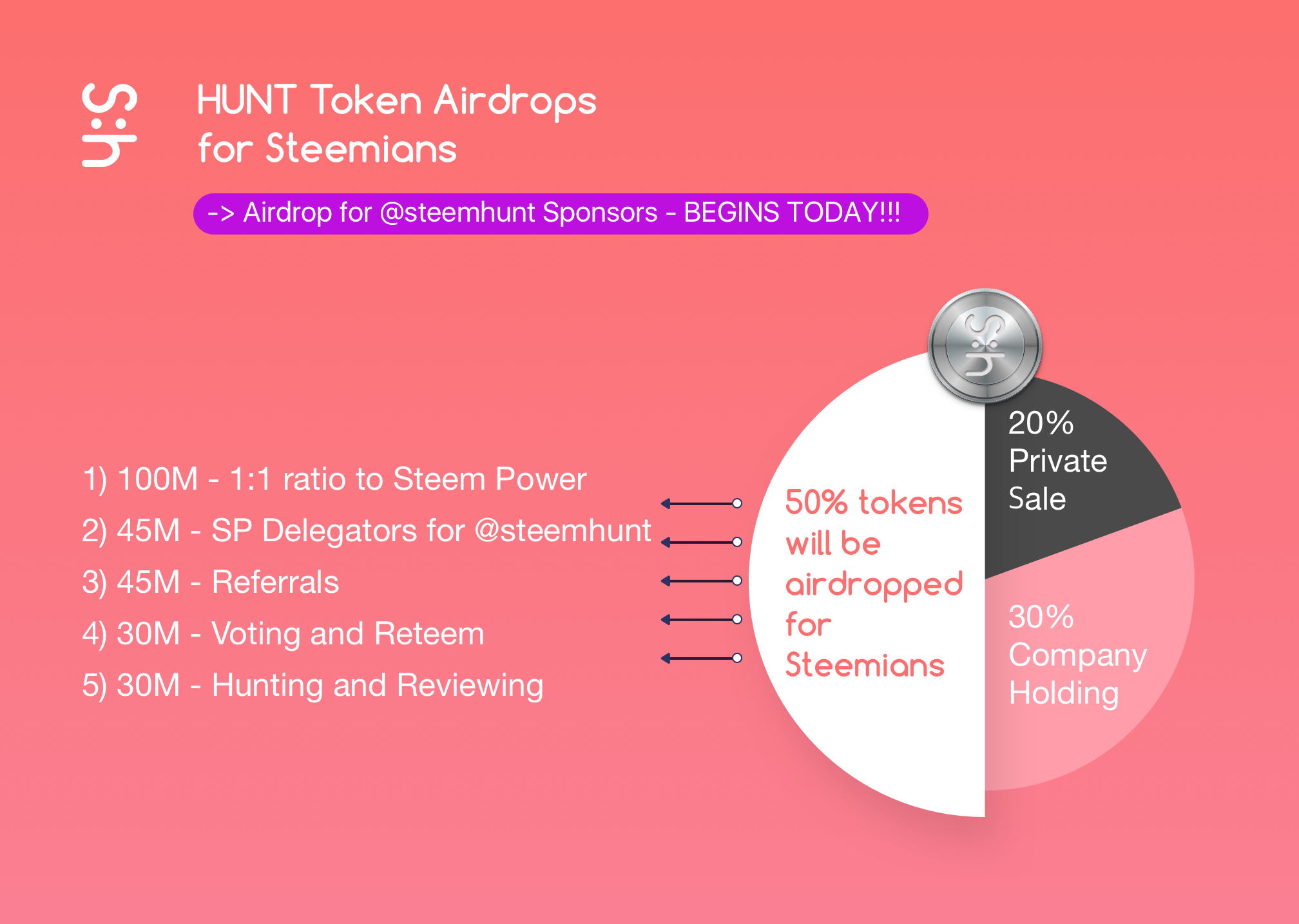 Airdrop Schedules
We are planning to begin the airdrop in the beginning of July, 2018 as soon as the ERC20 tokens, wallets, and token distribution website are ready. However, the airdrop for @steemhunt delegators BEGINS TODAY. We will keep calculating the weekly amount of tokens for sponsors, and add them on our sponsor's report. Once the wallet interface is ready, the accumulated amount will be given to the sponsors. Please check the next paragraph for more details.
Airdrop for @steemhunt Sponsors - BEGINS TODAY!!!
Steemhunt is running a Steem Power delegation & reward program, and so far @steemhunt has raised 22489.75 Steem Power from 14 delegators. Steemhunt is collecting 5% of hunter's rewards, and rewarding sponsors in proportion to the amount of SP they have delegated. For more details, please check this post: Introducing Incentives for Steemhunt Sponsors.
From now on, we will reserve HUNT token rewards. As explained above, the accumulated amount of tokens will be distributed to Sponsors when the ERC20 tokens and wallet interface are ready. Here are this week's STEEM rewards and HUNT tokens reserved for sponsors (the STEEM rewards are already sent to sponsors from @steemhunt.pay). 90,000 HUNT tokens per day are reserved for the sponsors, which amounts to 630,000 tokens per week.
(Thanks so much to all our sponsors! Your weekly HUNT tokens are already reserved for the airdrop!)
If you become a Steemhunt sponsor, you will be entitled to gain the reserved HUNT tokens since the week.
How to Delegate
You can delegate your Steem Power to @steemhunt by clicking the delegation button:
Or, you can manually input the amount of SP you want to delegate by changing the parameter of the URL.
https://steemconnect.com/sign/delegateVestingShares?delegator=&delegatee=steemhunt&vesting_shares=1000%20SP
Change '1000' to the number you want.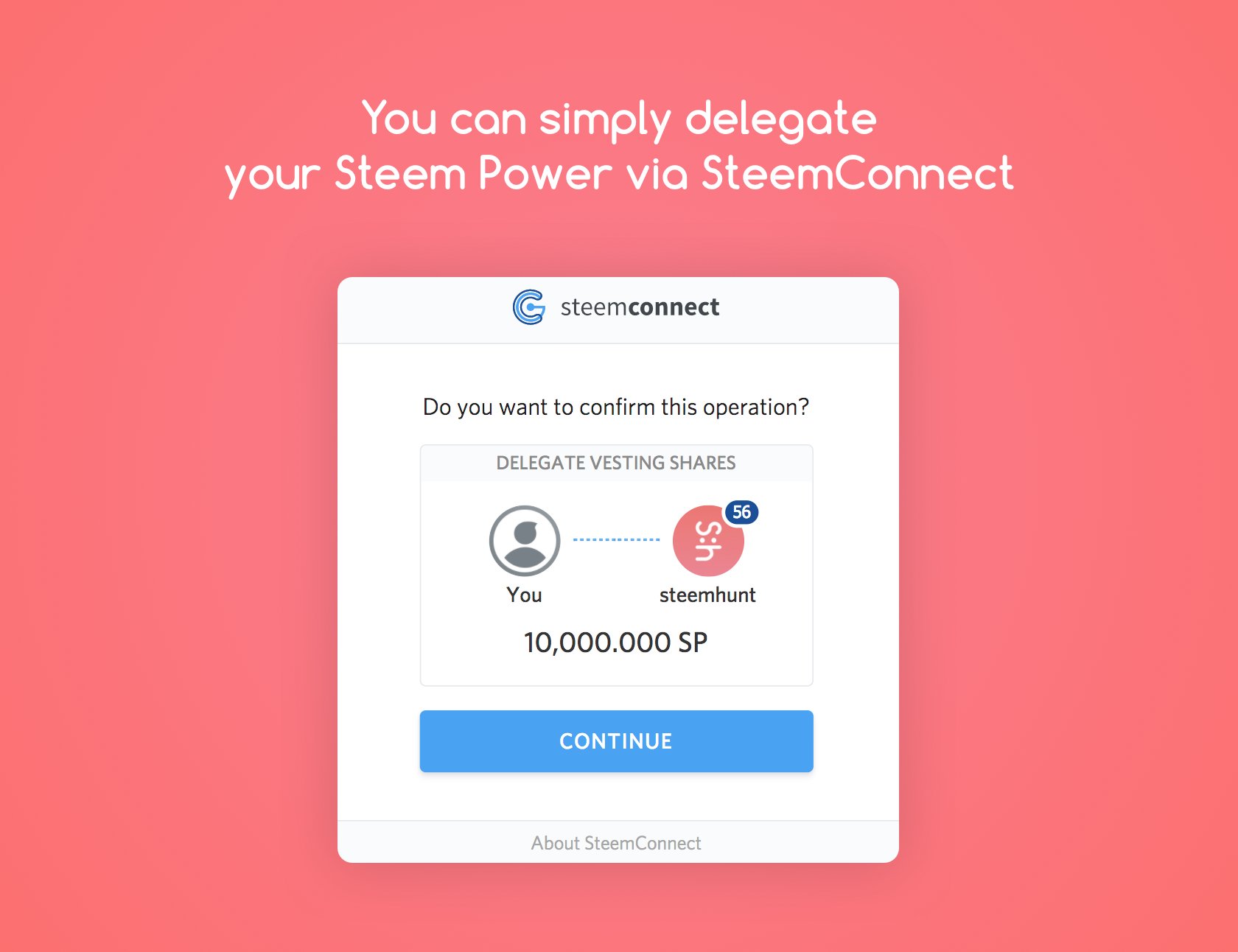 Coming Up Next
At the end of July, we will officially begin the HUNT Token Airdrop as soon as the following items are developed:
[Backend]
Token contract (Solidity)
Airdrop distribution with users' SP
Sponsor token distribution
Referral tracking
Voting bot - HUNT token integration
Token distribution after payout period
[Frontend]
Token website & white paper
Wallet: transfer (offchain -> onchain)
Wallet: transaction history
Relevant changes on steemhunt.com
To be updated, you can check our Github Issues here - https://github.com/Steemhunt/web/issues
Also, please follow @steemhunt account and join our chat channels:
---
Steemhunt
A place where you can dig products and earn STEEM.
Steemhunt.com