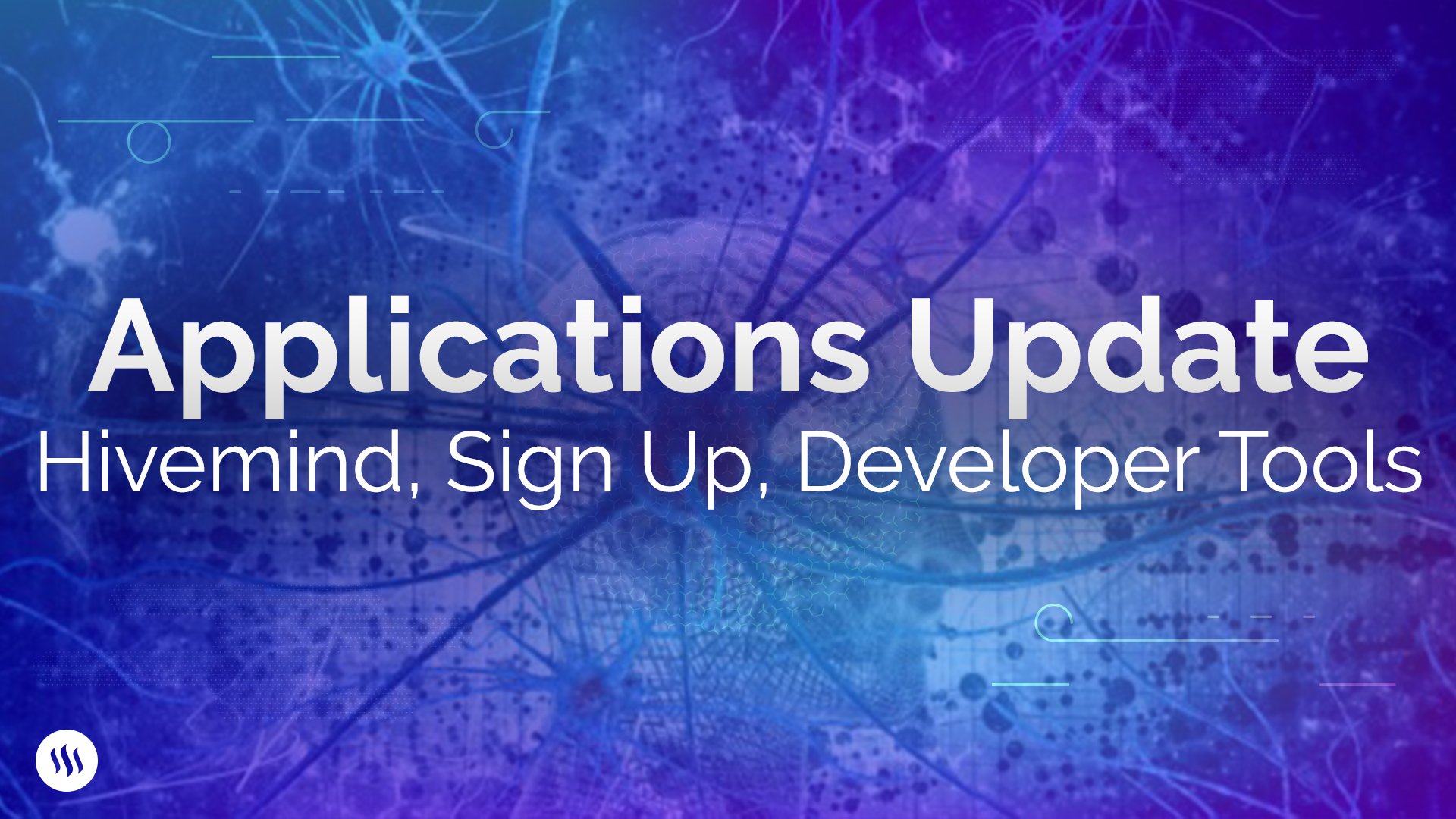 Today's @steemitblog post is brought to you by the Steemit Applications team. In this post, we highlight some of the projects we've been working on over the past few weeks.
Hivemind 1.0
Work on Hivemind 1.0 remains a major focus. Over the past few weeks, we have been heavily testing compatibility between hive and condenser. We have also committed significant resources to documenting the steps required for Hivemind integration, which will help community developers deploy and take full advantage of hive once it is ready.
Improving Sign-Up Approvals
The faucet admin system has been updated with new and improved tools for detecting patterns of abuse. This will help limit fraudulent sign-ups while simultaneously enabling us to accelerate the non-abusive sign-up requests of non-abusive users.
Improving Developer Tools
Work has progressed on developer tool libraries jussi and steem-python.
Jussi
Jussi is a critical piece of software for the Steem development stack. It is a "reverse proxy" service, which allows us and developers to map various API calls to different Steem blockchain servers to optimally distribute the load. It is a critical component that ensures the quality of Steem-related services remains high. It is especially useful for developers and node operators.
statsd support has now been added to Jussi. This will allow us to track data related to request process times. Caching has also been improved, which means that if data has already been queried, jussi will return it faster than ever.
Steem Python
steem-python is a library used by application developers to interface with the Steem blockchain. In the past, the command get_blocks would intermittently fail to return data. That issue has been resolved.
Condenser (steemit.com) Updates
Much of our work on condenser has centered around preparing for the move to React 16, a major update to the core library behind steemit.com. This will allow us to provide faster performance on both the client and server sides, handle errors better, and accelerate the addition of new features.
Improvements have been made to the copy on steemit.com. For example, we clarified the error message that shows up when a user's vote is to small. It now reads: Voting weight is too small, please accumulate more voting power or steem power. We also updated and clarified a lot of the wording on the wallet page.
We fixed a few minor issues, including the translate@steemit.com email not working on the FAQ page and the TOS/Privacy Confirmation window being presented to the user when they were trying to read the text, which was preventing them from being able to read the pages without accepting first.
One of our community developers (@eonwarped) also fixed a long-standing issue on the witness voting page, where the page would not accurately display the results of a witness vote after the vote took place. The vote button will now spin until the transaction has been processed on the blockchain, and update to the appropriate (voted or not-voted) icon based on the final state after the transaction has been processed.
Other Changes
The team has also worked on a lot of miscellaneous changes behind the scenes. For example, we recently updated the infrastructure that we use to deploy changes from our GitHub repositories to the live applications. This change will allow our engineers to safely deploy features more quickly, which will save them time and allow them to focus more on developing fun new features.
Most of the other changes are highly technical, so they are not included here. For those interested, you can see what we are up to in our GitHub repositories:
https://github.com/steemit/
Steemit is Hiring
As many of you have already heard, Steemit is hiring. If you're a talented software engineer who loves the challenges of building cutting-edge dapps for cryptocurrency (and especially for Steem), then we want to hire you.
More information can be found in this recent post or on our jobs site: https://jobs.lever.co/steemit.
Thanks for reading!
Steemit Applications Team