Coursework & Dissertation on STEEMIT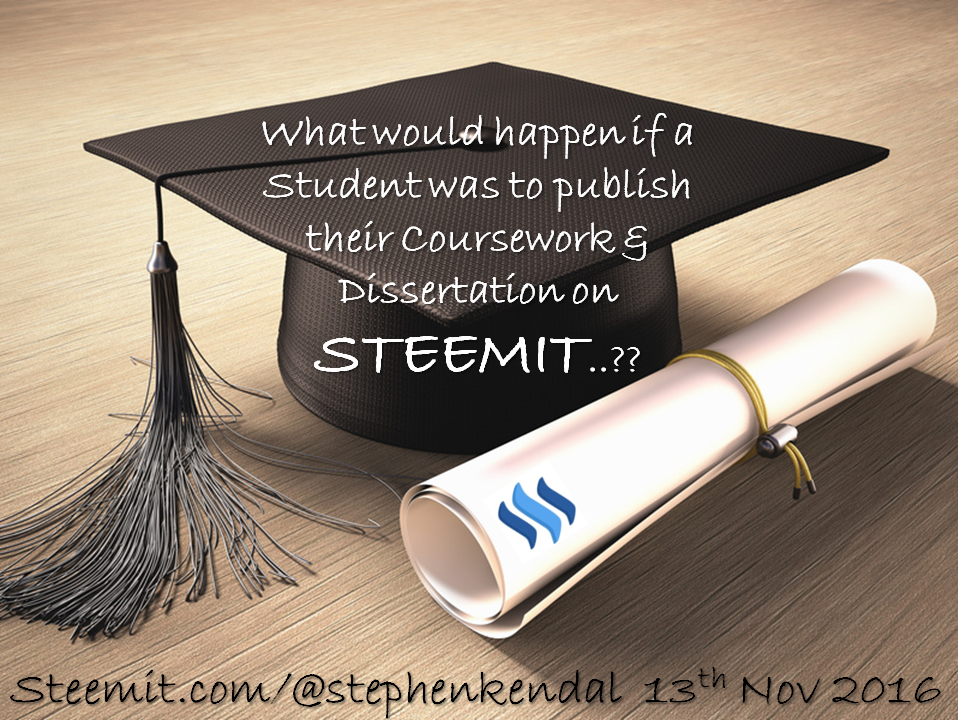 A simple question... "What would happen if a Student was to publish their Coursework & Dissertation on STEEMIT..??"
A very good friend of mine who I met 5 years ago and is in his last year of University studying Information Technology was totally blown away by the concept of STEEMIT when I first mentioned it to him 3 months ago.
His reaction of the BLOCKCHAIN being used to power a SOCIAL MEDIA SITE with the ultimate goal to create a TRADE-ABLE CryptoCurrency was a reaction of simple pure genius.
His belief even then that STEEMIT had the power to be totally UNLIMITED was matched with mine from that moment.
We first met when he was introduced to me by another close friend after I mentioned I was looking for someone to help me with a Data Mining problem that he ultimately solved.
From that moment we have worked closely together on various programming and technological solutions and are always bouncing ideas of each other.
It is a great combination we have as it combines over 30 years of Investment and Technological experience with the cutting edge Technological and Adaption of the current generation.
Trust me it can be very frustrating sometimes as I am from the old school and he like most of his generation works at a million miles an hour.
It was the suggestion that he made earlier today that gave me a EUREKA MOMENT..!!
What would happen if a Student was to publish their Coursework & Dissertation on STEEMIT..??
....or better still, what would happen if 1000's of STUDENTS were to publish their Coursework & Dissertations on STEEMIT..??
I am going to leave this with you to think about for a while and to think what would happen to STEEMIT if "The BEST of the BEST Students" were to upload all their FRESH CONTENT onto STEEMIT and its VALUE measured by the BLOCKCHAIN..!!
This really is an EXCITING CONCEPT..!!
Thanks for reading.
Stephen