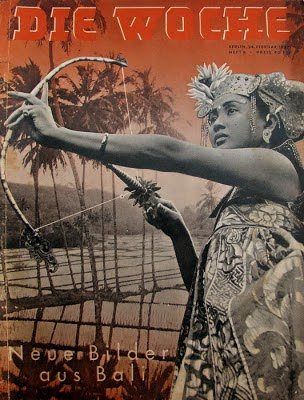 The charm of the famous Balinese girl Beautiful, Strong and Lugu. It is no exaggeration for me to judge the beauty of the women from this island. Face beauty is almost all owned by all women in the territory of Indonesia, but the strong question seems like the most powerful Balinese woman. How not, they are able to bring Banten / offerings weighing 35 kg and a height of more than 1 meter "above HEAD" while traveling across the village even on the steep mountain road.
Do you know? The Balinese Dancing Girl turned out to have been known for its beauty long ago even in the period before Adolf Hitler's NAZI leadership Era like the photos below in Die Woche Magazine Cover. Published Sunday, February 24, 1937, you can see photos of beautiful dancers with distinctive head ornaments that are very familiar and so familiar at least to Indonesians.
Photo of Balinese Dancers and views of rice fields and coconut trees! Yup, for this edition Die Woche did raise Bali as its main story, with the title "Neue Bilder wears out Bali" (Latest photos from Bali). Die Woche itself is a pictorial science magazine that was very popular in the Third Reich era and published weekly, it may be the same as the present era with Intisari or National Geographic magazine.
Here we can also know that Bali and its beauty have attracted the hearts of Europeans from ancient times, and this place has also become a favorite holiday location at that time. But the problem is that the problem is especially for me personally, is the female dancer who appeared on the cover is still alive or has she died?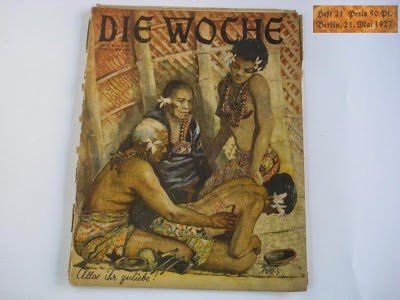 It should be noted that in some parts of Bali at that time, women were still bare-chested, and this was one of the factors of European interest that was always happy about things that smelled "unique and exotic". I do not know how many times the Nusantara, and especially Bali, appeared on the cover of Die Woche magazine, clearly there is also one edition of the magazine (May 21, 1927 edition, meaning before the Nazi era!) Which also includes a Balinese cover and women.
photo of Balinese girls today.