Kindly subscribe to my YouTube channel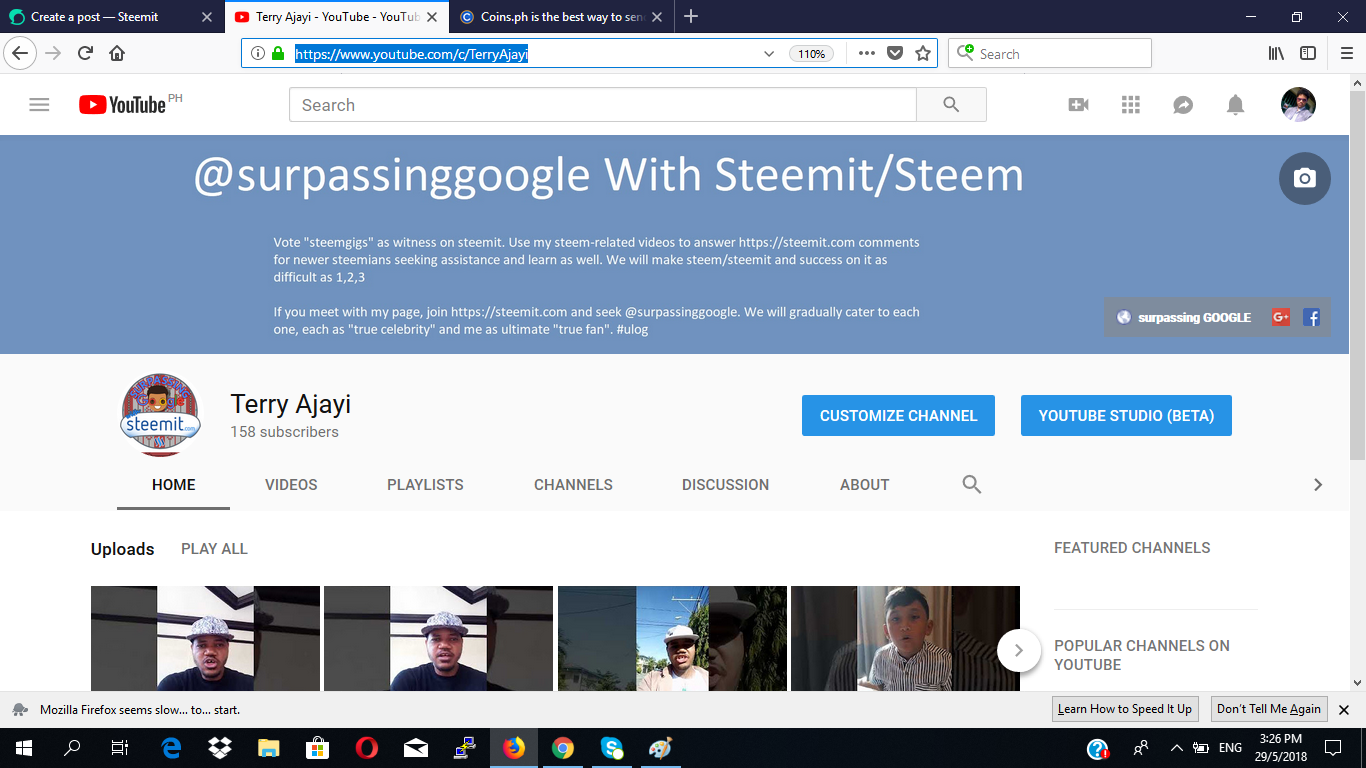 Here is a recent video. 
Please use this video as a comment response to inspire, celebrate, appreciate and commend ULOGGERs daily, who you have found to have done a fine ULOG as you curate #ulogs as "true fans":

If you relish "variety"; here are all the breeds of the last SteemGigs discord talk show (Sunday June 3):
1.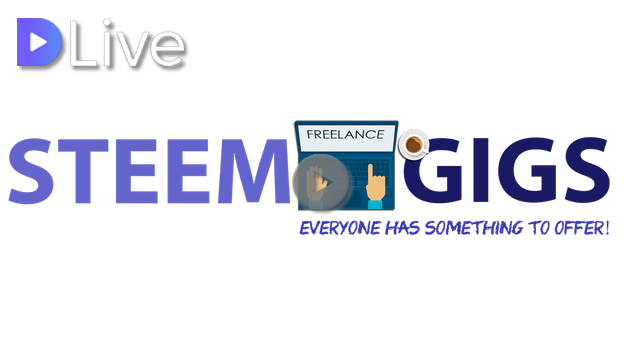 the above is more than 9 hours straight, of steem talk and play recorded by @ishanvirtue
2.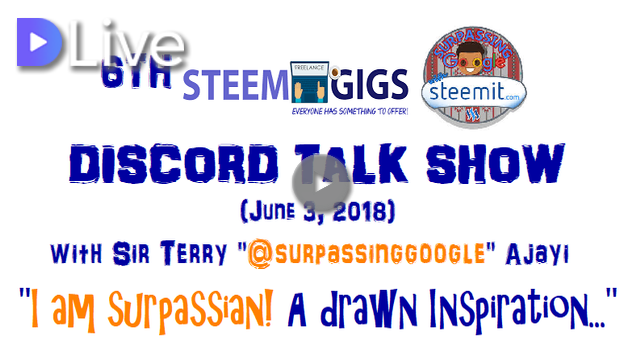 steem talk and play recorded by @phantum04
3.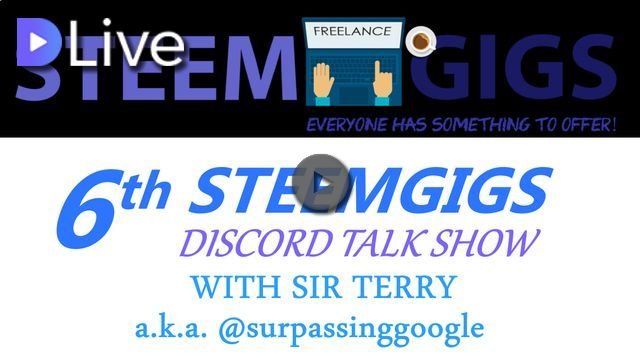 steem talk and play covered by @sn0white
Above are the unedited and edited versions of the SteemGigs discord talk last weekend. You have variety available, so that even the flaws are learned from.
Each week we gather like that to build "every noble dream". It is a gradual process but 9 hours straight of steem talk and play, is "time". 
We are putting in time and it's something. Time is dime.
Last talk had loads of moments, even Teardrops. It is historical! We have recorded close to 4 of these weekly SteemGigs talk shows where tears dropped. It is something!
These steemians gave way to these tears and this is where "value" lies. In the near future the teardrops SMT will reward these tears too (happy or sad); as "breakthrough" is very much involved and this will show; "light inside the tunnel".
We covered alot during the talk and there was play too. Loads of singing. Loads of talents. Loads of out-of-the-boxness and loads of attempts at out-of-the-boxness.
Yes, we had many talents on the show. 3 steemians came all the way, with two guitars and one ukulele to create and pass a vibe filled with love. They will join in again next week, so be there!
Do well to follow @edprivat and @quochuy and @darrenclaxton
Speaking of talents, i look forward to a time where each talent become SteemGiggers; "dream-builders", for there are many talents but a SteemGigger ("dream-builder") is something different!
When you are talented and "humanity is the brother next to you", you will build/take part in building many noble dreams conveniently or not. a SteemGigger ("dream-builder") is something different!
I got disappointed recently once again, which isn't uncommon is my journey. "Disappointment" is daily bread but it further strengthens my vimission. I face every heartache head-on, without outlet; and i use this unadulterated heartache to create beauty; more beauty, tons of beauty. 
I have teared many tears and teardrops SMT was born. 
More recently, i have been disappointed alot by people to whom i have been brother. Till date, steemgigs.org isn't ready and doesn't appear like a serious enterprise as a result and i bear the consequences non-stop but i tell you, all that i do is serious and the world knows it and there will be mountains of odds. 
No stopping!
I will use a few days to recharge a bit and go into decision-making mode next. In the meantime, i will work on the model for the ULOGGERS website and look to pull this website off (begin it) in a few days, instead of waiting till https://steemgigs.org get ready. 
The steemgigs.org talk show covered alot. The attendance per week is growing and the number of nations too. 
Last weekend, we had "Jamaica" in the room. Well, i wasn't familiar with many steemians from Jamaica altogether but now we have met @angelacs and she filled the room with her presence and awesomeness. She was also with a non-steemian friend/relative (in attendance), who gave us a feel of Jamaican Patois and well, now she is a steemian too as i was able to open her steemit account, earlier today.
Welcome @kizzionline from Jamaica
I was also able to help with opening the steem account for @faizazohaib, after a measure of "live" verification during the talk (with her brother). 
Our talks covered a measure of steem history too, like i always like to integrate into most of the talks. We spoke of the general overview of steemit's method of promotion, which appears to have always taken the more organic, even harder route, so as to involve "community", "everyone", "anyone"; putting us all in the mix. 
Though slow, i consider this a "key sign" as to where steem is headed.
I do see an "anyone" paradigm in their approach.
Also, we touched on steem's approach of tackling things like scalability etc first before mainstreamity etc and of how i see that, as a wise course of action in the long term. 
If the main destination, is that "anyone" is able to create, sustain and grow his community and that "there becomes thousands of gateways to the steem protocol"; then perhaps, tending to the steem blockchain's efficiency, capability, capacity etc first, is a nice route to take. 
In terms of marketing or promotion, i do think that steem has evolved overall, from where it used to be. I imagine our daily steem post to be the most powerful form of promotion, when we get to levels where we actually surpassing google to where every organic search query typed into google, provides a steem-related result, where steemit, busy, steemgigs, zappl etc. Now, imagine thousands of domains, all leading to the steem protocol, then perhaps, even google won't have monopoly of the internet etc
Heights of mainstreamity (especially in the still small world of digital currency).
Speaking of progress overall (steem's evolution) comparing matters now to the past, i do see progress. Hence in general, i like to take account of steemit's history in my measure of progress too.
I don't know how hivemind will be exactly and it hasn't been implemented till date but looking at things closely, it do believe that it is already possible to modify condensers to play out "community". 
I plan to experiment with that, using the upcoming ULOGS website. 
Being that there is a beneficiary model in-built on the steem blockchain and individual condensers can hold their own database and customize "look, feel, trending etc", then community-feature does already exists. (unconventional)
The part that may be missing may be capabilities to sustain and grow these communities, which i see SMT aiming at. 
Well, these are things that i just like to play out in my mind's eye.
My approach overall, is evolving the dream into states of spanlessness and on and on and on into an eventual set-state; so that when steem's is set to moon, the dream is set; else, where steem delays; use the set-dream to moon steem.
There is a lot that you will learn on these discord talks weekly and if you are there present, you would have been able to ask questions "live" and present projects etc in the midst of many other steemians. 
Our general theme is "dream building" on the SteemGigs discord server where "everyone has something to offer".
There is connection (and its impact), in "real life"; there is connection on the SteemGigs discord talk show. So join in next week.
See some additional details about a ULOG in relation to a VLOG below:
A VLOG can constitute a ULOG but a VLOG can't cover all dynamics of a ULOG.
So please, if you are doing a video about you or your environment or covering events in your day etc "anything that is freshly-created and created by you" and are uploading it to dtube, dlive, youtube etc kindly consider joining the trend #ulog and the movement represented by the now existing word ULOG.
Simply add #ulog or ULOG in title in place of VLOG and use #ulog and it is considered a ULOG.
Other newly existing words are ULOGGING, ULOGGER, ULOGGERS etc
Note that even a post on dsound can constitute ULOG, on its own or as part of a entire steemit blog post. 
A ulog is all encompassing (as it can contain each/all forms of media. A vlog is quite limited.
How about some additional information about a ULOG, in relation to a blog?
Well, for the most part (based of the general view) not everyone feels fit to be considered blogger. 
"Everyone/Anyone" can be Ulogger as the only requirement is "U" where U = you.
A Ulog is a grand movement. It puts "everyone" in the picture.
SteemGigs:
We are past 5,000 steemians on the discord server now and that, i consider progress. 
https://steemgigs.org is still usable and i especially implore us to try out: 
https://steemgigs.org/surpassing-google
If you have joined Steemit recently, where should you start?
I will now confidently say; "start by subscribing to my YouTube channel here and join the SteemGigs discord server here to be part of the weekly talk show. 
If i have not been able to tend to your DM yet?
Please don't hastily conclude about matters. Simply join in on the discord talk as well on the weekend and you can reach me on there "live". 
During these talks, however rough, i end up staying on there for 9 hours or more. 
Plus, subscribe to my YouTube channel as i could reach out to you using my videos directly or indirectly.
Each of my steemit posts as well, very much involve "YOU"
Join the weekly SteemGig talks!
This is the direct URLleading to the voice chat room for the talk:

Too, subscribe to my YouTube channel and let's go on a journey, up the testimonial harder route and let's taste how surprisingly simple a route it is!
Your Boy Terry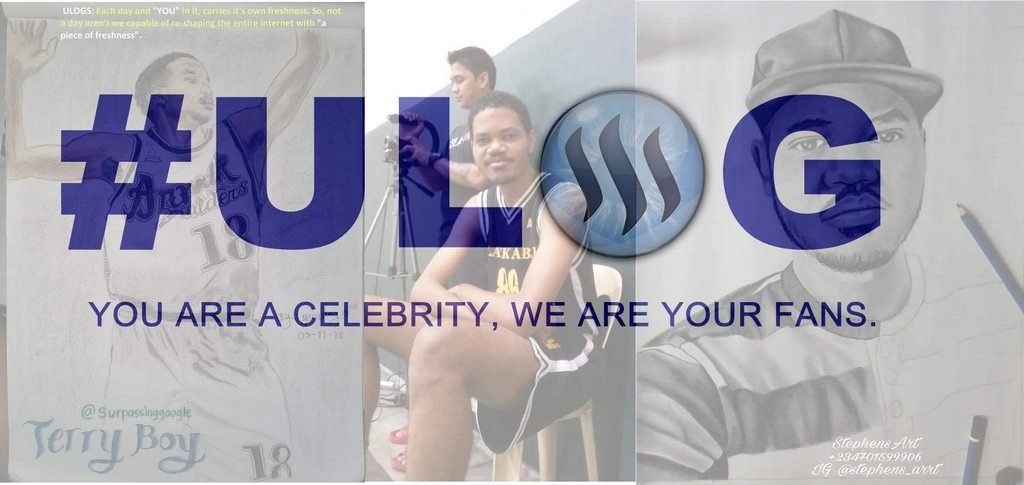 Important Notice:
Our most recently certified and verified ULOGGER is @jejes. Kindly visit her now to become her "true fans".
Also the concept of the ULOGS website is falling into place. Here is little insight into its model flow:

Further evidence that we are embarking on an admirable journey? Someone has quickly picked up the domain ulogs.com preventing me from getting it. So we will likely be on a .org once again.
This also happened when i started @steemgigs. A steemian quickly got steemgigs.com and offered to sell it to me months later but i was already on steemgigs.org
Quick Update:  
#ulog  generated more than 6,000 comments and 2029 posts within the first 6  days since the tag was born. Join in and become a ULOGGER today. 


We are seeking coders/developers to help, by  means of utopian.io or direct contributions. I would like to invite all  coders/developers, to show up on our SteemGigs development channel. 
Kindly visit and use our steem-based website today
https://steemgigs.org
Note that on SteemGigs, "everyone has something to offer". At the very least, you can update your profile on our website to open yourself up to more potential possibilities and improve your  general reputation even within the steemit community.  
To create awesome steemit posts, try our "un(dis)talented editor". 
Read our detailed FAQ & Answers  
 
You can use the divider that i used for your posts as well:  https://cdn.steemitimages.com/0x0/https://cdn.steemitimages.com/DQmZjQstnMTKFPUC2wWfTssa7cRXxCzvWMjzfvis6HkSbwn/divider.jpg 
I do need strength
Dedicating My Entire Steem/Steemit Journey To My Mum
If you want to support an extra witness and you support mine "steemgigs", it will be really helpful. 
To vote my witness, simply visit https://steemit.com/~witnesses and type in "steemgigs" into the first search box for witnesses or simply click Here to do it on one click! 
If you want me to make witness voting decisions on your behalf, simply visit https://steemit.com/~witnesses and type in "surpassinggoogle" in the second box for proxy.  

Let's Go!!!
Offer a service under hashtag "steemgigs". Attempt out-of-the-boxness on hashtag (untalented). 
Join the Steemgigs Community on discord: https://discord.gg/CGuPyyT  
"Everyone has something to offer!" Why not?