Please start by subscribing and liking the following:
Subscribe to us on YouTube: UloggersTV 
Like our Facebook page: https://www.facebook.com/UloggersTV
Kindly join the communities on Discord & Telegram
The Past!!!
Once ago, when i was a minnow i had a particular savings. I had started to establish the beauty of steem power during this time. 
At seven cents (steem), i hadn't fully established the beauty of steem power. I did, when it became 15 cents but at this time, i hadn't come to know much about "how to buy steem with fiat" etc or much about cryptocurrency in general. It took me many months to even start thinking about my steem wallet or how to use it. There was a lot to learn and few teachers or communities to teach these things; so i had to climbed the ladder first, by learning!
So, when the price of steem was around 15 cents, though i had established the beauty of steem power and i had the desire of using my savings to get some, there was need to climb the ladder some more, by learning.
I did some reading etc Some of my posts were question-filled etc. Etc
I found coins.ph (a remittance app from which you can buy steem with a bank account etc) and i joined and went through the verification process and became set to buy steem but time had flown some more. Steem was still holding at around 15 cents but alas, i waited a bit more. I was relishing the possibility of steem going back to 7 cents and i was going to wait a bit more but steem rose instead and got to around 21 cents or so. 
Being that i didn't have that much savings, i decided to wait for a few days thinking steem may get back to at least 15 cents again. I remember discuss that with someone in person and discussing it too, with another steemian on steem.chat, with whom i was asking if there was a way to buy steem off-market at a cheaper price; "more learning".
Hahaha, my savings was small and i wanted to maximize it. I was also inexperienced overall.
Days later, steem left 21 cents and jumped to 35 cents. Then, i decided to wait a few more days again, so that if steem got to around 20 cents, i can rush at it but it left 35 cents and quickly started to approach a dollar.
7 cents never happened again! Steem kept jumping and jumping till it became pretty unreachable for my small fiat savings at the time. 
Now, for those who had a bit more steem history than me, they may have valued steem during its low times; perhaps, even more than inexperienced me. 
They must have seen more of the beauty of SP at "earlier times", especially, with having seen steem at 4 USD and posts having earned up to thousands in rewards before i arrived on steem and they won't have had to do much intermittence etc in relation to have they would have approached "amassing Steem power" when it was 7 cents and when it was 15 cents and when it was 35 cents and even when it got to a dollar.
Applying a "real life" paradigm and you don't really need two testimonies of "a possibility", to know of the possibility of "this possibility"; you just need one! 
For those who had seen steem at 4 USD before me, that may have been all "the knowledge" that they may have needed to rush "steem" at a dollar etc. 
Well, in more recent times, we have seen steem reach 7 USD, so can steem touch 7 USD again? 
We may be able to answer better than those who arrive on steem today. 
Do we make this "knowledge" count; is another question.
I have bought steem since then; but never much or as much as i would have been able to buy with steem at 7 cents. 
At 7 cents; 500 USD (20,000 PHP) would have bought me more than 7000 steem power and 1000 USD would have bought me some 15000 steem power. 
Currently, to buy 15,000 SP, you will need more than 15,000 USD. 
Months ago, to buy 15,000 SP, you would have needed 105,000 US dollars
Notice, that i am talking about Steem Power here and not liquid steem. Recall also that i would usually say, that most of the INTEL necessary for success on steem, is find-able in its history and this history is an aspect that many who join steemit today amiss as they found steemit and forgot the ladder. 
At 7 cents (steem), you may have climbed that ladder!!! Earning wasn't that high then, there weren't many communities, there weren't many educators of steem, there weren't many curation guilds, there weren't many whales, there wasn't a delegation feature etc. There were many more bugs and many more flags etc. The conviction of steemians in steem and its future wasn't as solid then as steem was all new and it wasn't very close to sure if it would work etc
Climbing the ladder was a more popular route then and even a fun route. When the reward pool got empty for a month, people posted more. People used that time to truly find themselves using steemit. There were initiatives born to stir excitement and activity, even amidst the knowledge that the reward pool was empty and did i stay present on steem then? I so so so did!
Many did leave but did they really leave? It wasn't so easy to fully leave steemit then and now. If you were here in the past or are among those who arrived later but took the route of "learning about the history" first, you will grasp my small message better. There was something to steemit that didn't make people fully-leave. 
Yes, people would do posts about their intention to leave and all and then it was more welcomed to leave. Like i said their were many flags. So basically, there were people leaving because of too many flags and yes, very valid reasons but did they really leave? Many simply went into-the-box to come back out of it anew. 
Steemit did have something, then and now, that drew people back in and for once among the crypto-spaces in the world, steem is seen to have never really been about bulls or bears.
Steem power has many beautiful uses.
There have always been humans involved too and in the case of steemit, great "reputable minds" who are incessantly mining with their minds" and this holds a huge attraction.
So have many people taken breaks from steeming in the past? Yes and that is bound to happen regardless as we are not robots.
This will help you understand the now better.
If you joined steemit more recently, "climbing the ladder" is a more conscious effort. Especially, with a more visible evidence of higher payouts with the value of steem high, "climbing the ladder" is a harder route. 
But still a very, very, very fun route.
Now also established in the course of our discourse is; SP has so much beauty and is why i many times say, "Steem success isn't measured in bulls and bears" as SP has so much use apart from the "spending it" and the world will soon know it. 
Too, notice how looking at history or how, if you were here in steem's history, you will understand events now better and not be too perturbed by them. 
And perhaps, you will understand this question better; "if people are leaving steem, like you may think to be the case, will they not return?"
The truth is, many do return and for many reasons, one being the "steemit effect" and when they do return, things have proceeded drastically and all over again they feel misplaced and have had to beginning building again.
During these times in the past (when price was really low), was when i thought of @steemgigs and started out on a movement to have us create 5,000 steemgigs posts to highlight steem in new ways. 
I was still a minnow then too and one reason @steemgigs was thought of then, was "the lowered steem-based activity". I wanted steemians who went into-the-box at the time, to have means to stay present on steem while they were away and i thought, announcing their expertise in a post and joining the community on discord, will help us know them also for their expertise and proactively link them to task-requesters, inorder to keep them actively earning steem while they weren't actively creating content. 
This was all done manually, so as to keep and know "a real community". Yes, it was hectic but the true lovers of @steemgigs, didn't mind the rigor. We filled up a spreadsheet containing the expertise of as many steemgiggers as we could and steemgigs and freelancing began hence. 
Beyond that, several who join steem at the time found a quick home on the steemgigs community and started out their steem journey by offering their services (freelancing) as these once where not too-into-blogging etc and several went on to bigger things really quickly. 
More recently, with the price of steem appearing low, can you say it is a good time to have friends etc join steem? 
Looking at the history that i have tried to explain above, my answer is "YES".
Again, in these times is when ulogs.org and #ulog has been born, to making steeming as difficult as 1, 2, 3 and to tell as many people globally to join a home of uloggers on steem. 
Overall, when the price of steem was low, was when i joined steemit. During these times, the potential to earn wasn't "an all" because among other things, earning wasn't much of a possibility and this among other things, helped my "climb the ladder". 
In place of earning and all, i did "learning" and i exhausted all other possibilities besides earning and this led me to people, dream-building, innovation, opportunities, apprenticeship etc, things that are all ultimately earning.
So, are these times (low steem price), a time to tell others to join steem? 
"Among the perfect times" and it is very easy. Simply tell them of #ulog; the fun, simple art of #ulogging and https://ulogs.org
Ulogs.org has a sign-up page too, that leads them to steem-signup, so feel free to use https://ulogs.org to introduce them to steem.
Besides, in this short time, i have conceived of more ways of attaining virality through #ulog and one such way is by creating UloggersTV, that will bear forth and incite #ulogging activities from @uloggers globally, designed to appeal to the soft-spot of humans globally, drawing them in on steem not for the bulls or bears but for the beautiful shine and light that we emit.
Please start by subscribing and liking the following:
Subscribe to us on YouTube: https://www.youtube.com/channel/UCzI3Rjamg7zSe_o0BwSeIQQ 
Like our Facebook page: https://www.facebook.com/UloggersTV
On uloggerstv, we will have videos like the one below from certified & verified Uloggers globally, that we will look to bring to virality over time, introducing steem using the fun art of #ulogging.
I am thinking of many things in relation to steem growth but it is a gradual process and bound to be so, for it to be testimonial and solid. This things will play itself out and now even more easily by means of ulogs.org and in the nearest future through steemgigs.org etc
Now Back To Steem Power
Looking at human behavior and knowing of steem power and its beauty and of its long term beauty...........
What do you think happens now, that steem is cents again? Well, what do you think will happen if steem goes very low again? Do you think people will lose out on the ability to amass steem power? Do you think people who have lost out on the ability to amass steem power in the past, will lose out on it again? Do you think people who are inactive yet who know of the beauty of steem power, won't return to steem to amass steem power? 
And yes, steem power has many uses. 
Now, imagine steem with 1,000,000 real users etc. Now, imagine what steem power can do then. Now, recall this; 
At 7 cents, 500 USD (20,000 PHP) would have bought me more than 7000 steem power and 1000 USD would have bought me some 15000 steem power. 
Currently, to buy 15,000 SP, you will need more than 15,000 USD. Months ago, to buy 15,000 SP, you would have needed 105,000 US dollars.
Your Boy Terry
#ulog is a global movement
Kindly vote for the "steemgigs" witness. 
Dedicating My Entire Steem/Steemit Journey To My Mum
If you want to support an extra witness and you support mine "steemgigs", it will be really helpful. 
To vote my witness, simply visit https://steemit.com/~witnesses and upvote "steemgigs" or simply click Here to do it on one click!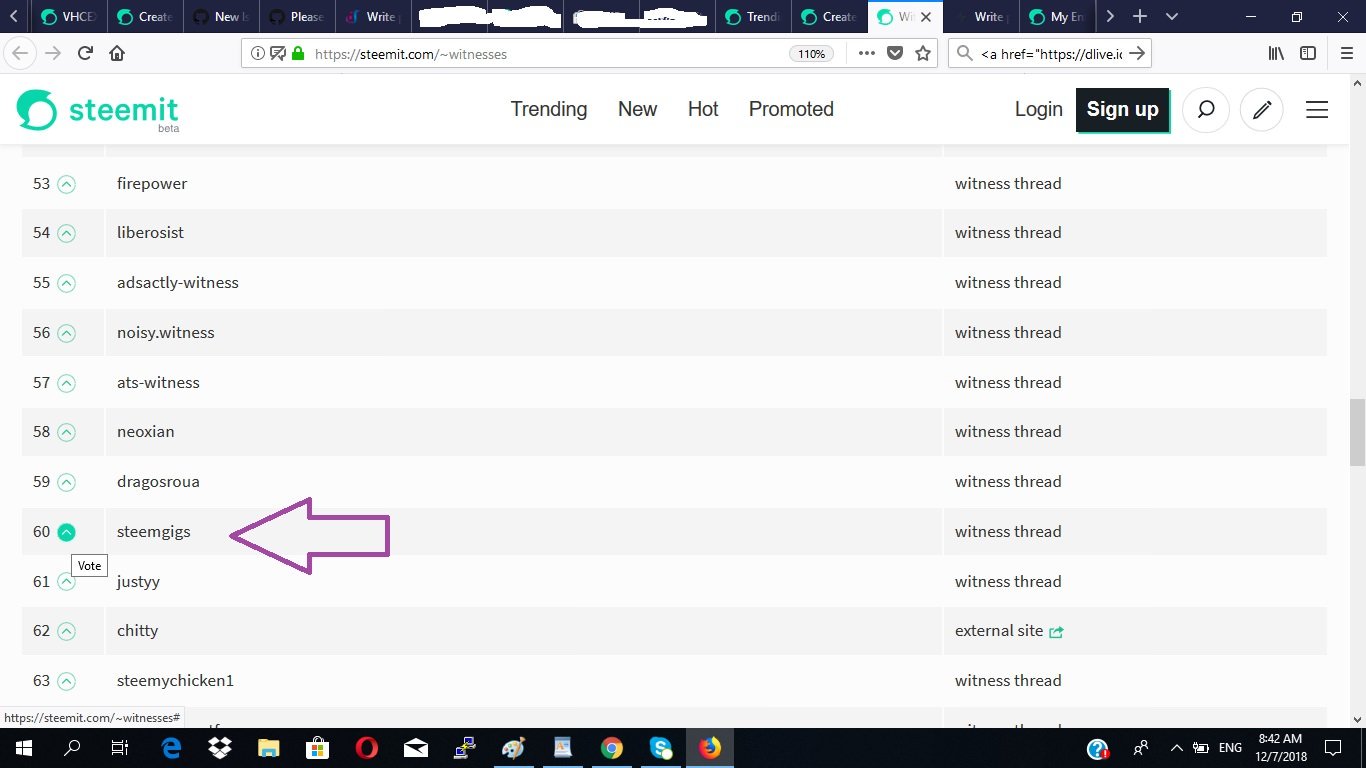 If you want me to make witness voting decisions on your behalf, simply visit https://steemit.com/~witnesses and type in "surpassinggoogle" in the second box for proxy.