When I first came to Steemit a little less than two months ago, it was quickly clear that I was going to want to buy in. I knew that I didn't understand the platform, but I knew enough to figure out that there was going to be value here if I put in the effort to gain the understanding. About that time I also discovered the idea of leasing delegation, and the @minnowbooster market to do that.
I really liked the STEEM:BTC price at the time, so it seemed like a good plan to buy in. I did not, however, just want to show up as a brand new dolphin with no idea what to do with his voting power. I had a very good sense of how much I did not understand about voting on the platform, and I really wanted my account to grow in stages so that I would have an easier time figuring it out without learning my lessons by rampaging over community standards. So I chose to sell six delegations with varying lengths, in hopes that as the voting power came back I would find good uses for it. I spent six weeks as a minnow, which I think was really important for my understanding of the community.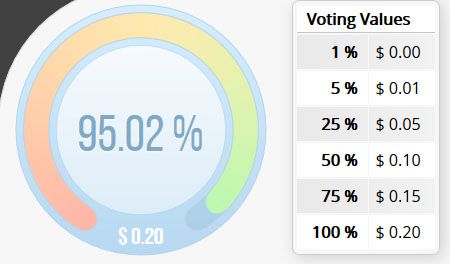 my voting power from steemworld.org
On Sunday the first chunk of delegation came back to me, and with this week's price increases, I now have a vote worth $0.20 in
Vote Value
. As expected, I had some ideas of what to do with it: I'm
supporting songwriters
in
Open Mic
, working to build the
Webcomics Contest
, and actively curating the
#printmaking
and
#letterpress
tags, not that the last ones have been much work.
I'm also giving out votes to reward content that I really like, mostly in arts-related activities. My estimation right now is that I'm spending about half of my voting power on rewarding the rest of the community and about half on selfish pursuits - voting my own posts, rewarding good comments on my posts, trying to launch
@zerocloo
's poker blog, and upvoting accounts like
@qurator
and
@steembasicincome
which will give me a return.
I'm not particularly thrilled with that percentage, and I have two methods planned to reduce it. One is that, as more of the delegation returns, a lot of the selfish uses will not grow as fast as the voting power does. The second is that I expect some of them will become completely unnecessary as I balance out my need for liquid rewards vs. SP, which should be just a few weeks away. On the other hand, hopefully the rewarding quality comments on my posts component will grow significantly.
I'm having moments when it's hard to find posts I want to spend voting power on. Because of the way I'm doing the Open Mic bonus prizes all of those votes go out on the weekend, so I expected it to be slow midweek, and it has been. Evaluating accounts for the Minnowbooster whitelist has led me to a bunch of good posters, but the nature of it means they're less likely to be high-volume. My hope is that as things go on my feed will become a continual source of content that I want to upvote for its own sake.
About half of my SP delegation now is either on week-to-week renewals or expiring on Sunday. So far I've been content to let the renewals go and collect liquid STEEM, but I do have the flexibility to increase my voting power if it turns out that I find a good use for it. So I'm feeling pretty good about where I am. I turned out to be right about the STEEM:BTC price, as I bought in at its highest point recently, leaving me with a nice return just in currency rates. And the longer I'm here the more I think that the platform can be an investment asset for me while I'm being an asset for the community.