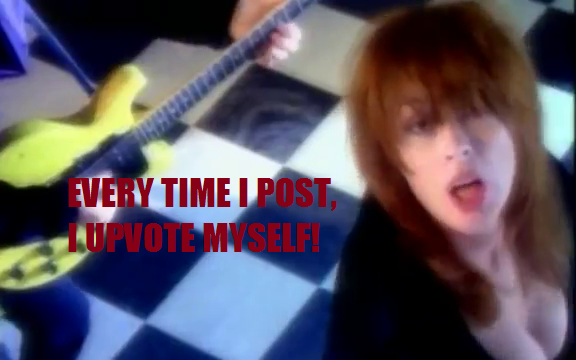 For those who do not recognize the reference I am making, I will introduce this piece of 1990s nostalgia:
This marker post for my promotion to Minnow III is belated for several reasons. I had originally planned to tackle the subject of self-upvoting with a fairly detailed mathematical analysis. Then, HF20 was rolled out, making any previous understanding of mechanics on the blockchain obsolete. As I waited for the workings of the new system to become clear, I was distracted by other projects and took a hiatus from posting on STEEM. So, without going into the numbers, here are a few quick points concerning the practice of upvoting ones own posts:
The effect is largely negligible:
Numerous updates (such as HF20) have seen to that. The value of your upvote is dependent on the amount of your mana and your undelegated STEEM Power. If, like me, you keep most of your STEEM Power delegated, the financial value of your vote will be miniscule. Even you do not delegate, the mana system severely limits the power of your votes over time. Those with extremely high STEEM Power level (i.e. Whales) can generate a nontrivial monetary value from a single vote, but, in order to accumulate such a supply of STEEM Power, they certainly would have to have used methods other than self-upvoting.
We can see you do it:
… and you'll look like a right twat, if you try to deny it. One of my favorite features of STEEM is the transparency of transactions on the blockchain. Those who want to replicate the financial success of certain posts and posters can easily trace the path which the money took to them. Once you know to look for self-upvotes, it will quickly become apparent that almost everyone has done it at least once. There is no need to be ashamed.
There are reasons other than the money:
In a crowded comment section, a vote will move yours upward. Since the various interfaces list votes in order of value, a self-upvote will automatically make a dividing line between those accounts whose vote is worth more than yours or less.
Previous Post in this Series:
https://steemit.com/steemit/@thebigwhitevan/plankton-i-soft-money-for-robotic-bribery