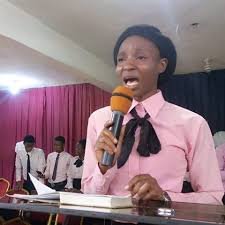 It was another Sunday service today, but it wasn't the normal Sunday as before. But thanks to God that really made today's Sunday another great one.
Having faced with a lot from the downvote panorama and for real it all rolled out to my face like a drama. Again it was really going out of my mind.
Yesterday, I woke up in the evening to see that a lot is up here on my blog, got mad with this just to be candid. But what really happened I can't still fathom it.
A friend assisted me with an ass images on art work 😂 but got surprised up here that it wasn't really his after I did a whole lot of references. But that is a byegone by now as I was administer to by a steemwitness @guiltyparties in the discord channel.
It was as if today will not come again, and felt I should be out of the system. But thanks to a lot of last minutes post that I've decided to give a check on even with the distress of heart.
I later got this light up from a post from @communitycoin that gave a write up revolving round the Croatian team and has earlier mentioned a guy's name "Kalinic" in the post that went out of favour in the team due to ego and I guess a self destruction mechanism.
I guess he only did that by viewing it as if Croatians will not even get to that stage at all, but He got the surprise. So do I felt bad and wishes to be out, but what do I gain nothing I guess,all the efforts for a good seven months will just famished in a twinkling.
Thanks to all that made it a worthwhile sacrifice to put me in order, so today's came eventually.
At the church service today, it was exactly what I ponder on throughout yesterday, the whole night and till the morning when I got a clip to the communitycoin post.
And again at the church service with a tag or theme as: "Human beings greatest needs" as we all know this, that our needs are unlimited, but we all hope to have most of our physiological needs met at once. Here, life comes with limitations, then we're encouraged not to limit our lives to the worldly limitations. Life is a lot of drama.
Now,as a playmaker, more devotion to steemit is therefore strengthen as a long term goal to be fulfilled with blood and thin. Seteemit is now more of physiological demand to me.
And finally my day got light up again, believing in what I believe on. God.
Thanks.
We'll meet at the top.