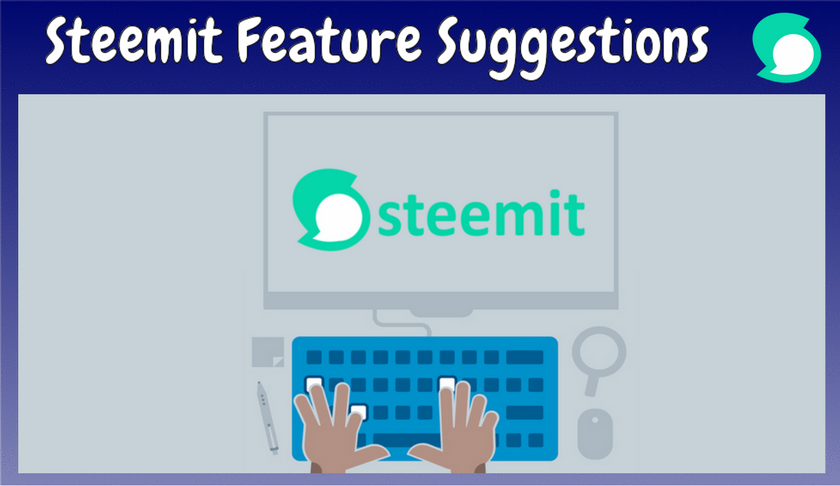 Steemit.com is a great website and improving all the time. Steem is also, as far as I am concerned in a league of its own when it comes to rewarding content creators.
Sites on the Steem Blockchain have some competition from other sites like Patreon, Ong.Social and Channels. Although these competitors have a different earning mechanism it is always a good thing to look at how they do things.
Most notably the latest earn-by-blogging site Channels.cc has some very interesting features.

One of the things that sites like Channels and Ong.Social do very well is the user-friendly way you are able to create your posts. Both sites let you easily compose your blogs on the site without having to resort to third-party editing programs or sites like stackedit.io (which I use for Steemit). Markdown will undoubtedly have its advantages but it is refreshing to be able to create your post in one go instead of writing something in an online editor and copy-pasting everything into the Steemit editor.
The reason why I say this is because I just finished doing a Channels.cc Statistics Analysis on the Channels.cc website. I also make these posts for Steemit but the difference is that my Statistics posts on Steemit takes much longer to compose then the Channels.cc counterpart. This has everything to do with the Channels.cc editor being more efficient than the Steemit editor.
Truth be told I never used the Steemit editor and can imagine anyone using that small window to work on their post.
That's why I am proposing that Steemit take a page out of Channel's and Ong.Social's book and introduce a more up-to-date editor that allows you to do all your work on the site instead of relying on other applications/sites.

The Channels' editor makes it easy to compose your posts and create nice looking layouts.

As I was saying I was working on the Channels Statistics post on Channels and one of the things that stood out compared to Steemit.com was the large amount of traffic generated from other Social Media Sites (referrals).
Now in a way this is not surprising because Channels has an option that allows you to share content on other Social Media Sites (Twitter and Facebook). Ong.Social has even more sites available for you to share your content.
The thing is that this sharing option generates a lot of traffic for the sites and because of the ease of using this option, more people are inclined to use it instead of going through the motions of cross-posting or copy-pasting links.
That's why I am proposing that Steemit introduces a share button that allows you to share your content on other Social Media Sites.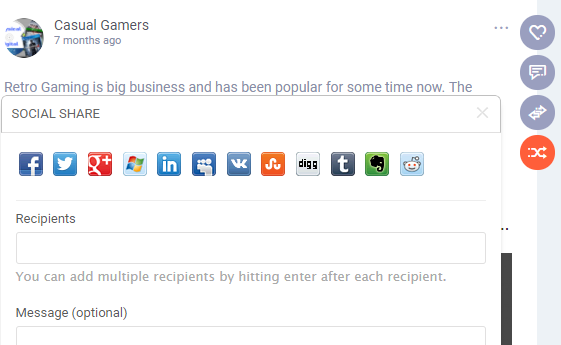 The Ong.Social Share options, their list of sites you can share your links with is quite impressive!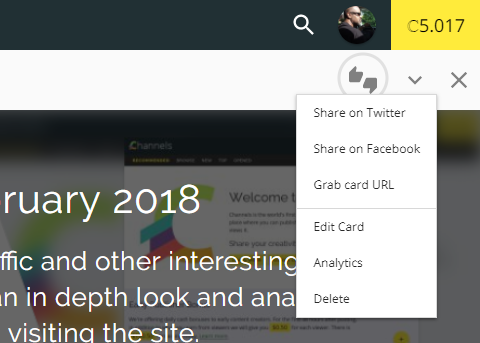 The Channels' share options, only Facebook and Twitter at the moment but undoubtedly more sites will be added in the future.

Steemit has a lot of things going for them but the competition is growing and is bringing along some interesting features. Some of these features are lacking from Steemit and might hurt the site in the long run. Some of the features like the content sharing and an up-to-date editor are not very complicated to implement and are things that could make Steemit grow even more.
Especially the not-so-userfriendly editor is something that has kept a lot of my friends from ever posting on Steemit. Steemit could gain a lot of new users if the editor was a little more newbie friendly.