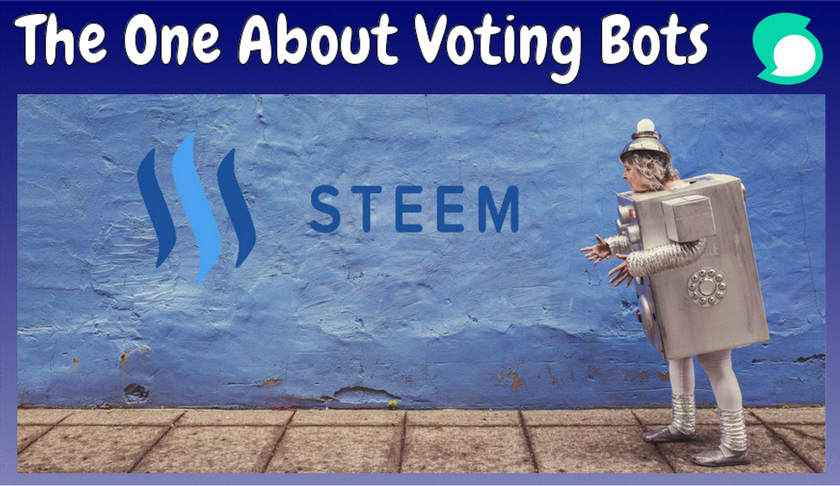 Voting Bots, a hot topic of debate. The popularity of voting bots has exploded especially since the arrival of the Steem Bot Tracker service. This service makes using the Bid-voting bids easy by introducing a user-friendly payment system (powerd by Steemconnect) and a clear overview of bids. With the Steem Bot Tracker service you get all the relevant info about the bots and even a suggestion for the amount you should bid to maximize your investment.

There are a lot of people who are against voting-bots and there are those who see the bots as an useful tool. Both sides have valid arguments to support their case.
A voting bot is nothing else than a well-funded account that sells its voting power to those who are willing to pay. In case you are unfamiliar with the Steemit voting mechanism I will explain in short how it works.
First there is the reward pool which consist of the newly created Steem created by the blockchain. The Steem in the reward pool is meant to be divided between the users on the Steem Blockchain (read content creators and curators). The people on Steemit in fact are the ones who decide how the rewards are divided by upvoting, the more Steem Power you have the more voting power you get. The amount of Steem Power you wield will decide how much of the reward pool you get to divide among your fellow Steemians.
The whole voting system is a well designed method of allocating the Steem among the users. The idea is that the better the content the more the author will be rewarded for their efforts.

Here is the rub, in the case of the voting bots there is no upvoting based on real curation but upvoting because someone pays for the upvote. In this case the naysayers have a point, money from the reward pool is bought by those who have the means to do so and not because the content was upvoted by other content creators/curators based on the quality of the content.
Is this a case of Reward pool abuse or not? Steemit has always given the users the freedom to experiment and try out new things on the platform.
One could say that if you have earned your Steem that you are free to spend it how you see fit. On the other hand Voting bots give those with large (Steem) pockets an unfair advantage over those who yet have to earn some substantial Steem.

This menacing evil looking bot is actually the leader of a rogue group of bots bent on world domination and threatening all that we hold dear. Don't be fooled by the smile...

But on the other hand. The use of an account as a voting bot is a very clever use of a Steemit account and it serves a purpose. One of the things that is very important on Steemit is visibility. When you submit a post on Steemit you have a week create as much exposure for your post as possible. To achieve this there are some great tools available like post-promotion on Steemit Chat, Discord, but also voting bots.
The best way to create momentum for your post is to get a spot on the trending page. To get on the trending page first you will need to earn a spot on the hot page. And to get on the hot page you need to get some upvotes shortly after you posted. A voting bot is a great way to get on the hot page. If your post can keep getting upvotes you will get a trending post. A spot on the top of the trending and hot pages will give your post a lot of exposure, people will see your post regardless of the fact if they are following you or not. Also people are more inclined to read hot and trending post to see what the fuss is about.

Voting bots are a tool to give your post that boost to get on the hot page or even the trending page (if you are willing to pay for it). It is always painful when you have created a top notch writeup to see it go unnoticed, so if you can promote your post by using a voting bot, you can get some more views (and hopefully upvotes for your post).
However there are some things to consider when using voting bots.
Are you using the voting bots to promote your post or earn Steem trying earn a little something, something?

Dropping a 100 SBD on a voting bot can get you on the trending page but is it really fair use of the service?


One could argue that voting bots have no place on Steemit and that accounts were never intended to be used like this way. On the other hand who are we to say that this is true, we don't really know what the creators of Steemit had in mind when they were laying down the ground works. Maybe they were creating an environment with a lot of freedom so that the users could use their creativity to come up with great new applications.
Whether you like it or not, voting bots are here and are not going away. Maybe with HF20 things will change but as far now we will have to deal with the current situation.

My stance on voting bots is that they are an useful promotion tool and whenever I use one it is not for getting more in return than I put in but only to boost the exposure of my post.
Although I am well aware that there are some that are exploiting the voting bots for things that are often referred to as "Reward Pool rape or abuse".
Voting Bots Malice or Miracle? Let me know in the comment section....