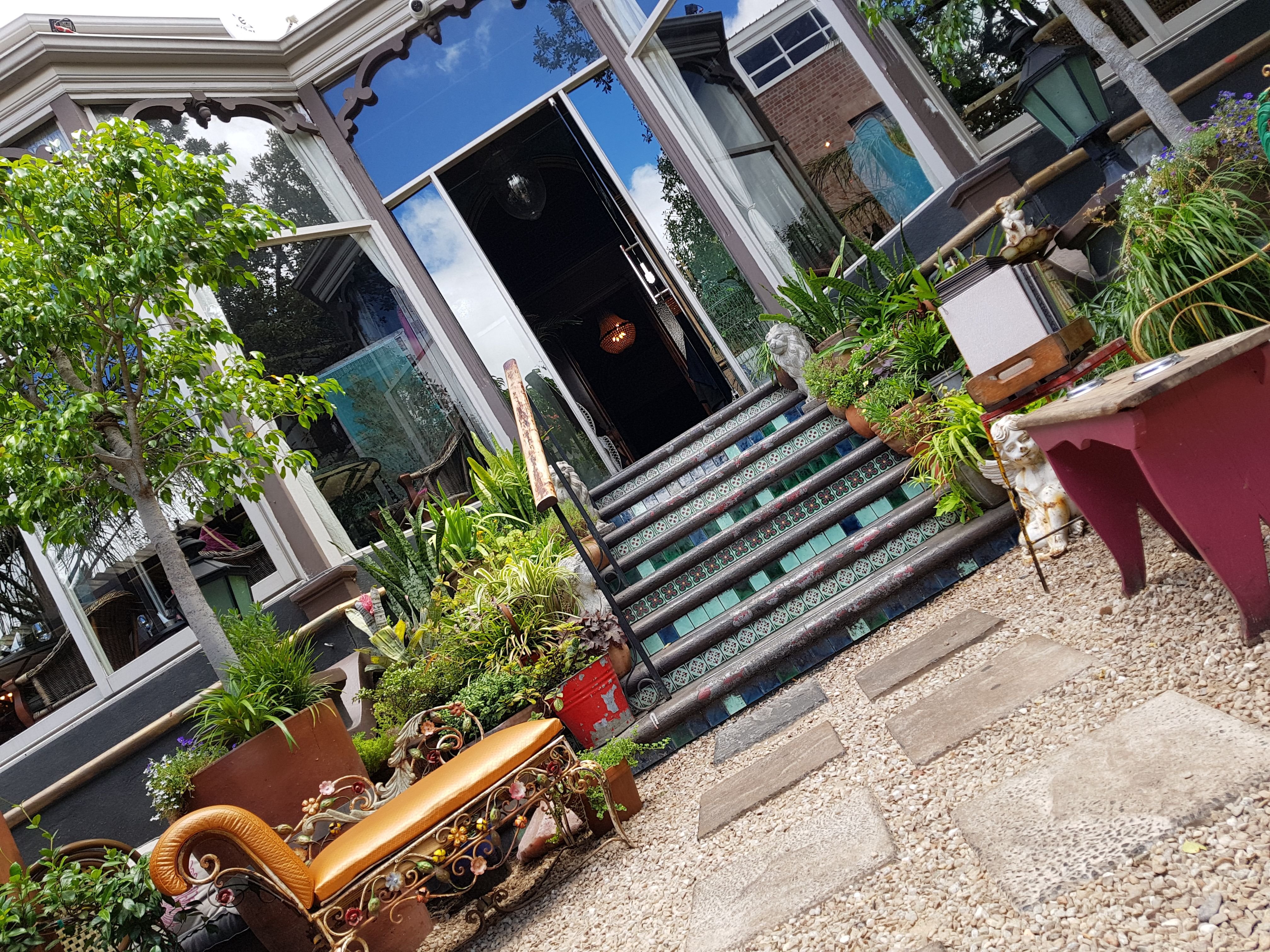 I discovered a TOTAL GEM
of a restaurant in Cape Town CBD.
It was the first time I had ever been to this restaurant,
and I have been trying to get back ever since lol!
We headed towards toward Kloof Street,
in the City Centre.
Kloof Street is always a total BUZZ of activity,
right from the bottom of the road stretching all the way up
towards our glorious Mother City mountains!
Honestly, there is NO shortage of restaurants to choose from,
so we selected a spot very quickly
......
I had no idea that this place even existed...
and the second we walked through the front gate,
I was in my "HAPPY PLACE" lol!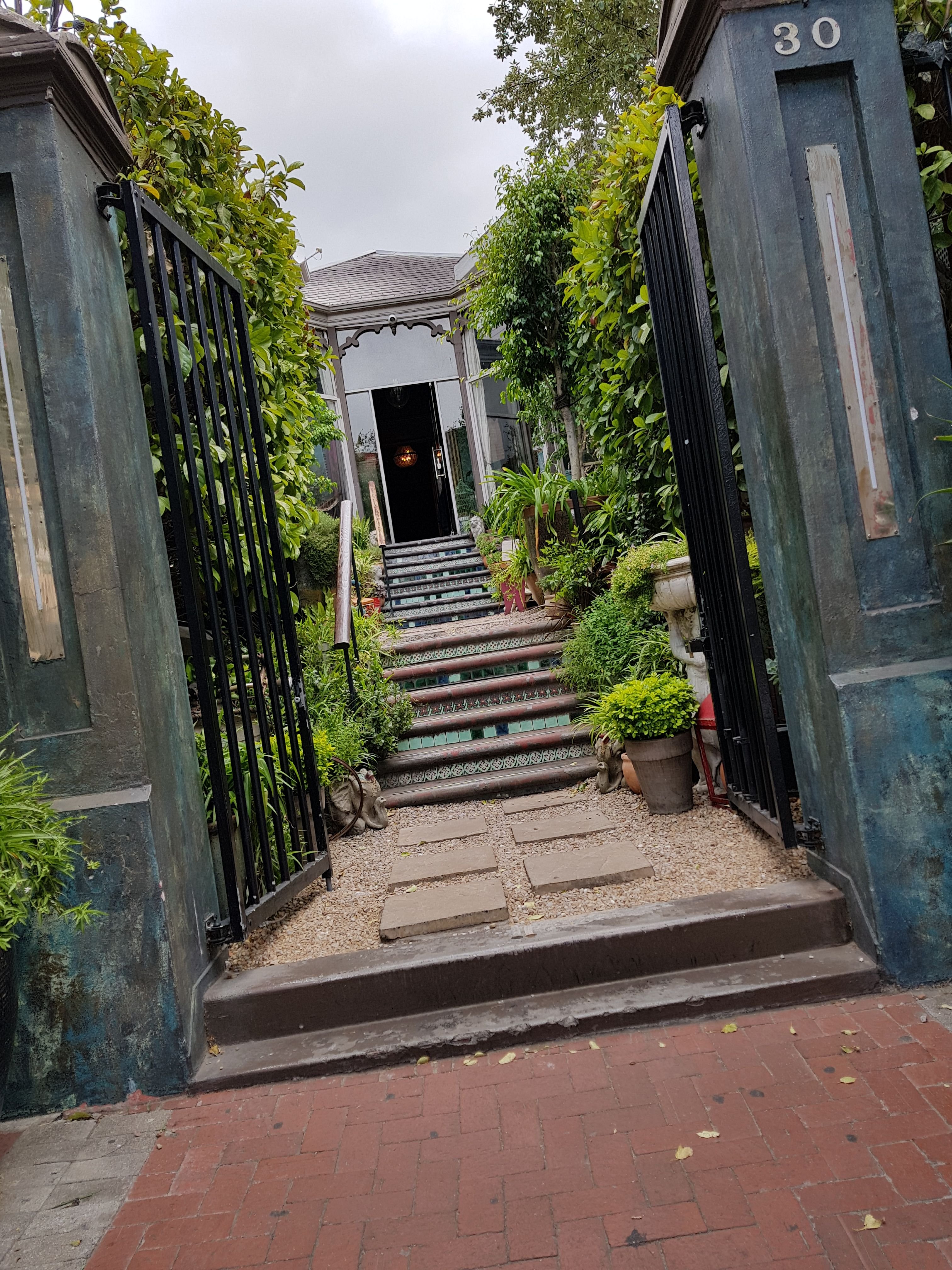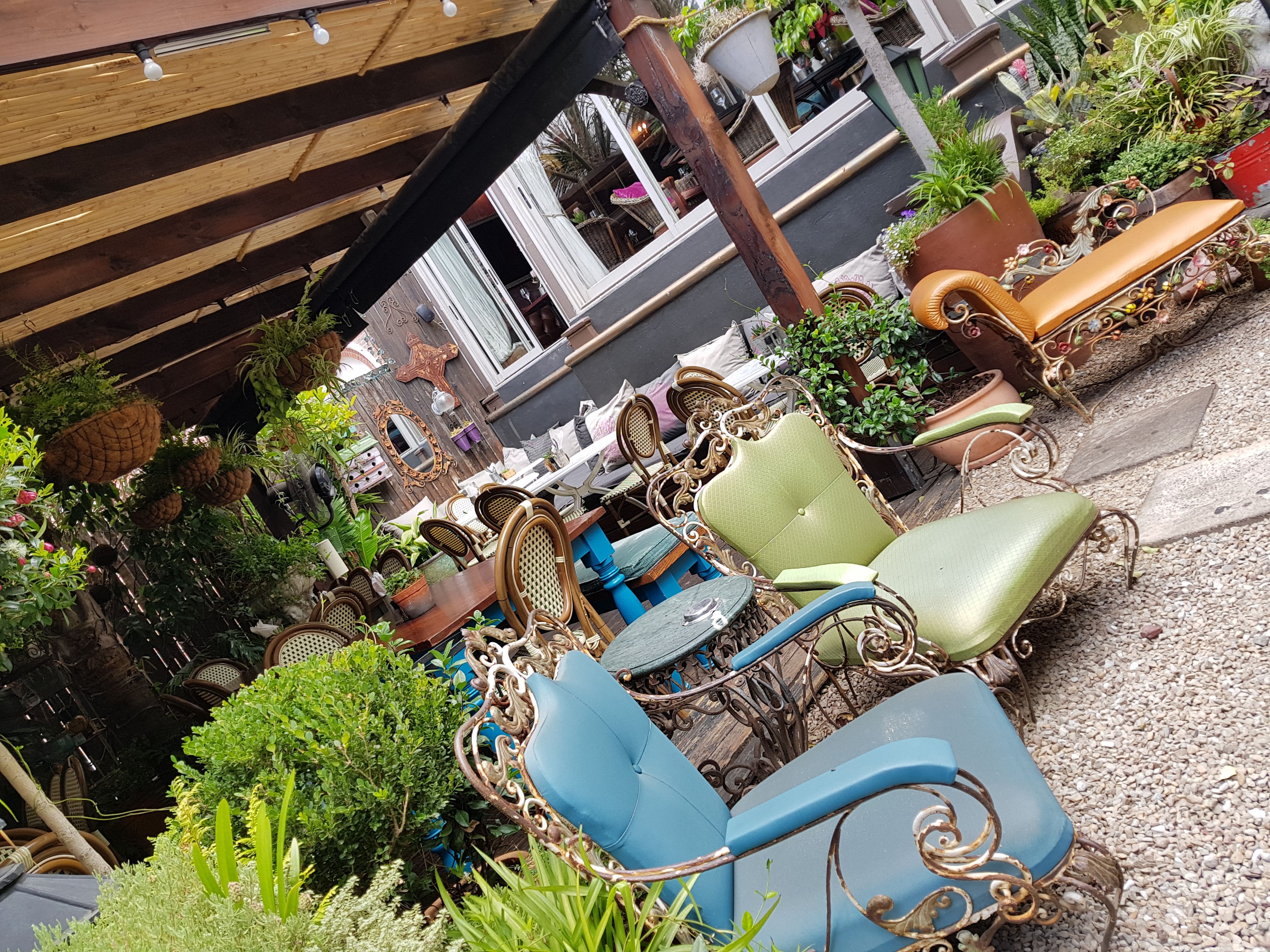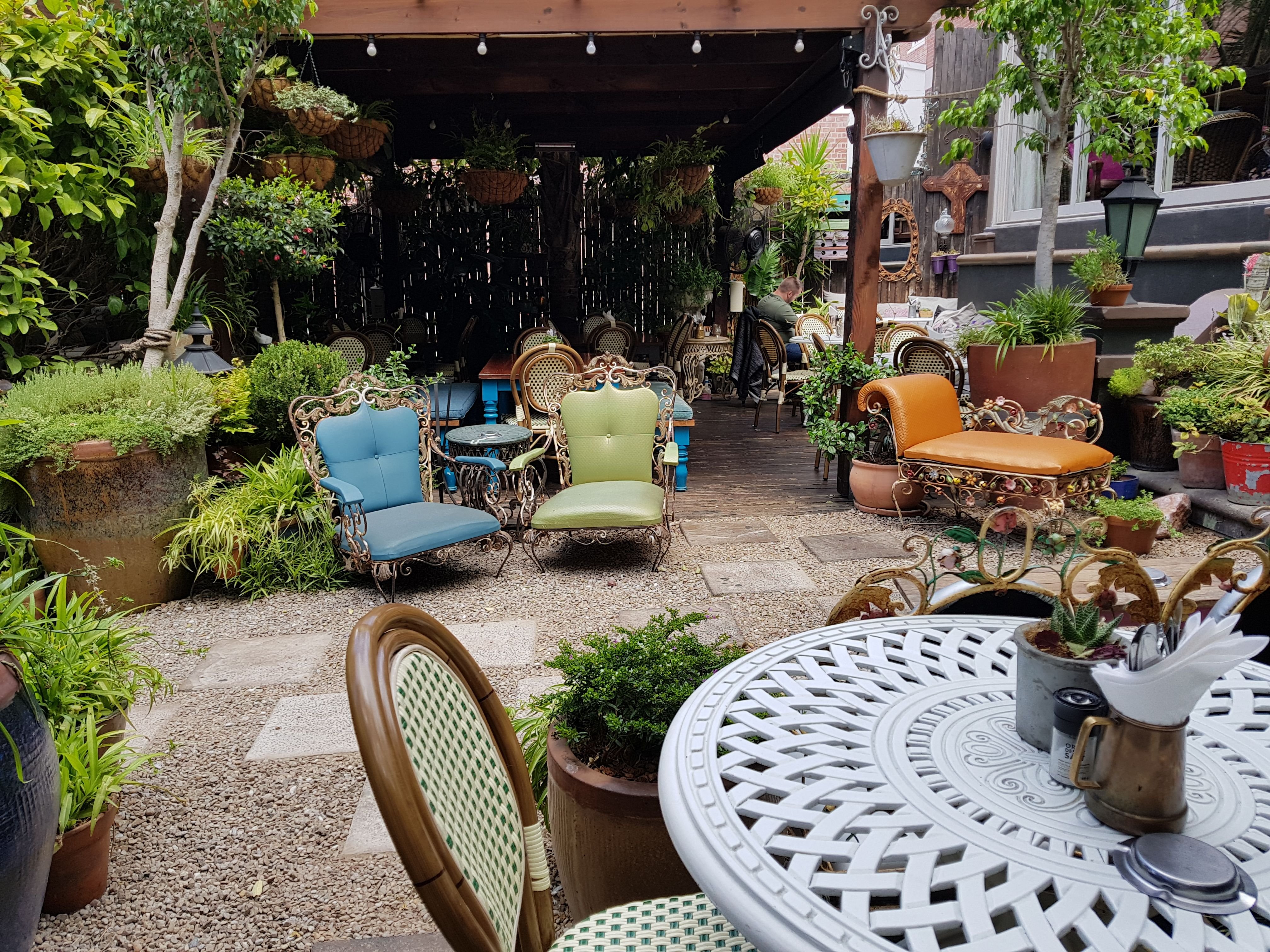 It was LOVE AT FIRST SIGHT!!!!
The place was absolutely EXQUISITE!!!
No matter which direction I looked,
there was so much character and detail to absorb.
as I LOVE this style of decor and aesthetics.
I felt like I had been transported into another world!
Truthfully, I think their site really says it best...
Beneath the pressed ceilings of this twentieth century Victorian house is a reservoir of design passion. From beautiful chandeliers to a suitcase-stacked bar, the restaurant is a visual feast for the diner with a curious mind and a wandering eye. Every inch of the house is archival, a memoir of a time or place that escapes the modern city around us. On balmy summer evenings, our garden is a retreat where travellers and locals meet to share tales over dishes. As the chill of winter sets in, curl up on the chesterfield couches of our library lounge or savour the glow of the dining room fireplaces.
Source
Once you have crossed the threshold of Kloof Street House,
you instantaneously forget about the chaotic
hustle and bustle just metres away!
I was absolutely blown away by its complete unique individuality
and I got "snapping" with my camera VERY quickly!
hahaha!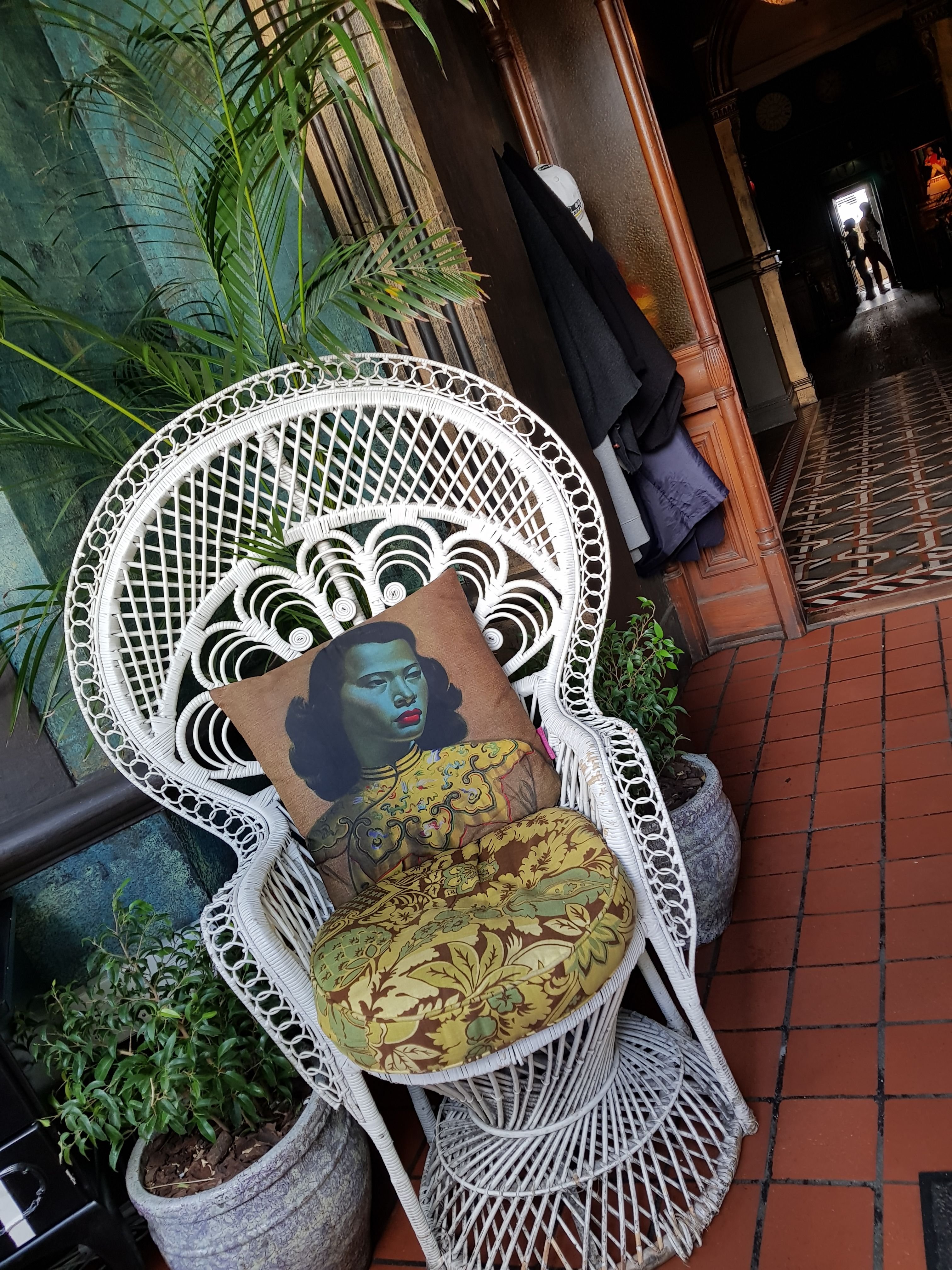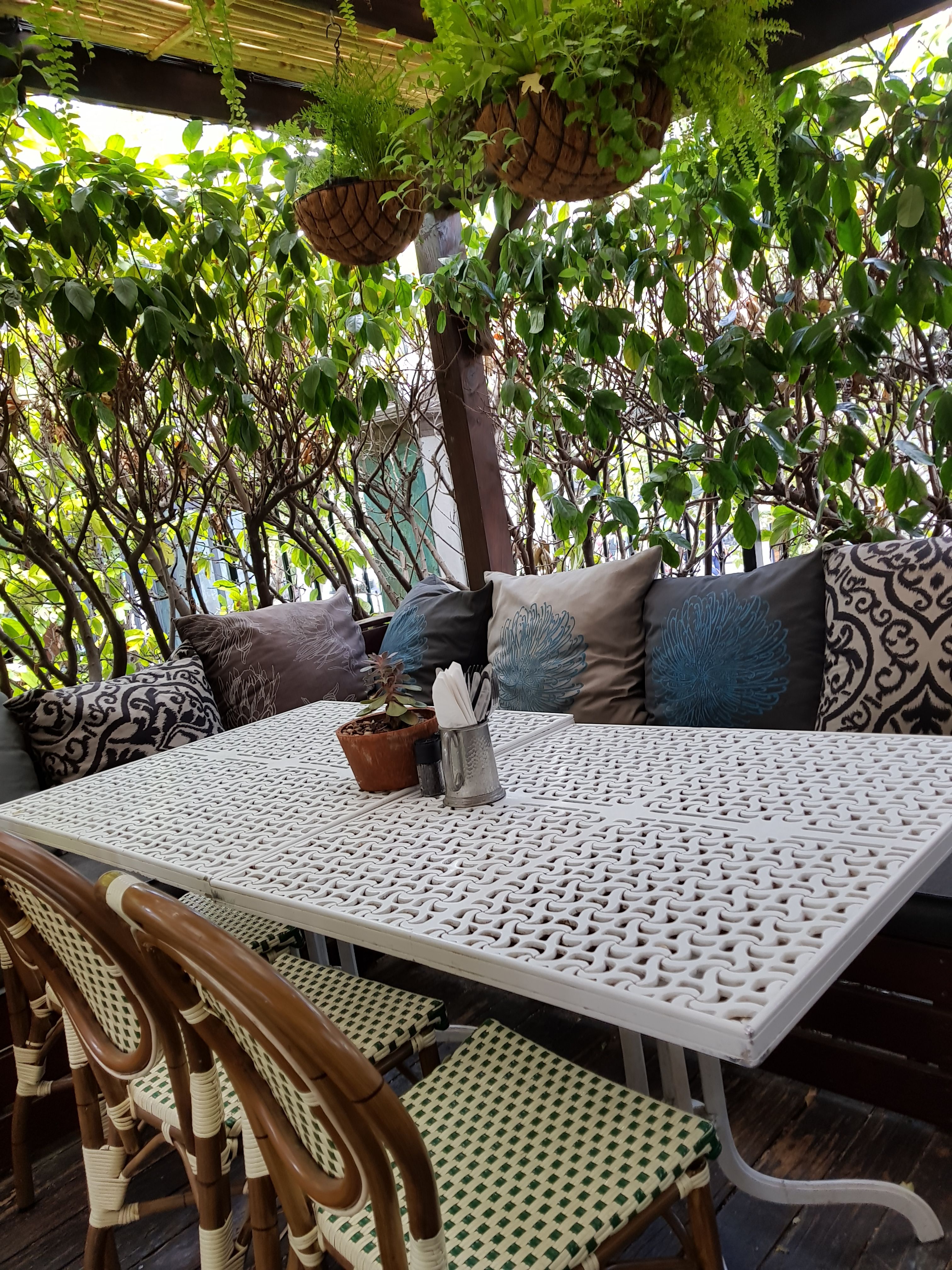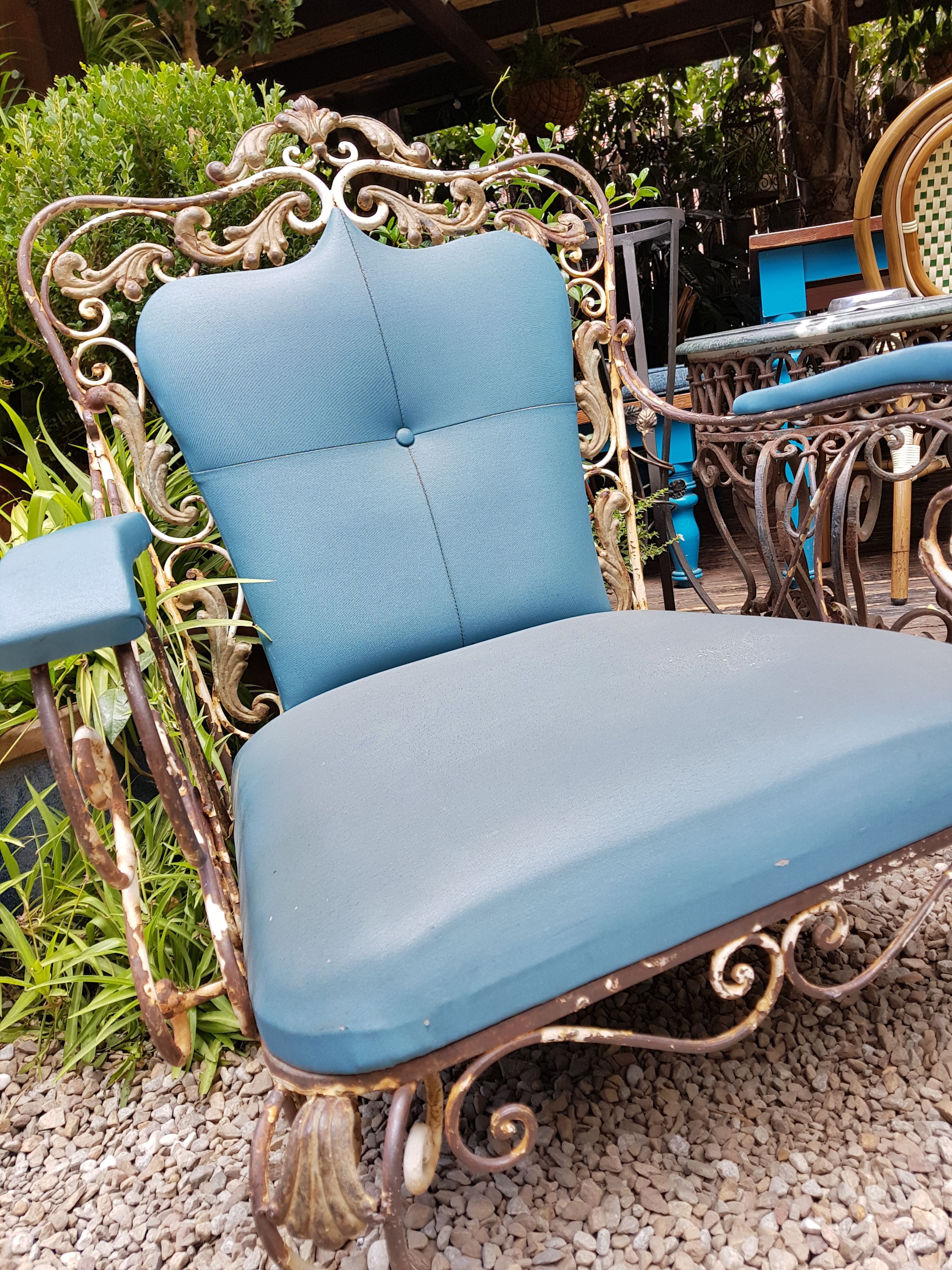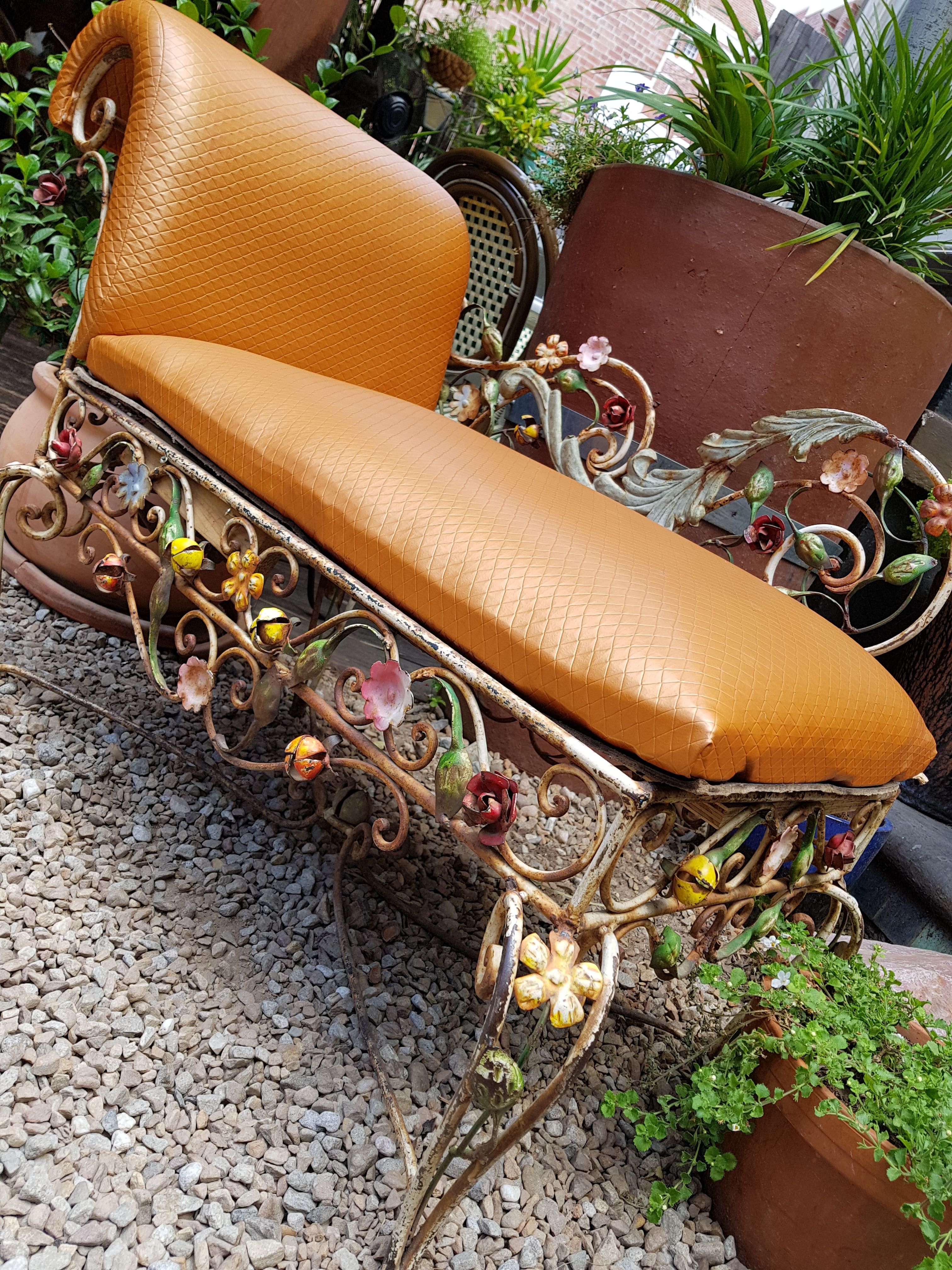 I have already bombarded you with photos
and we haven't even stepped inside
the restaurant yet... haha!
I literally spent about 20 minutes
wandering around outside
like a child lost in wonderland!
and when I did eventually get inside,
I was in for an even bigger surprise...
This place just got better and better!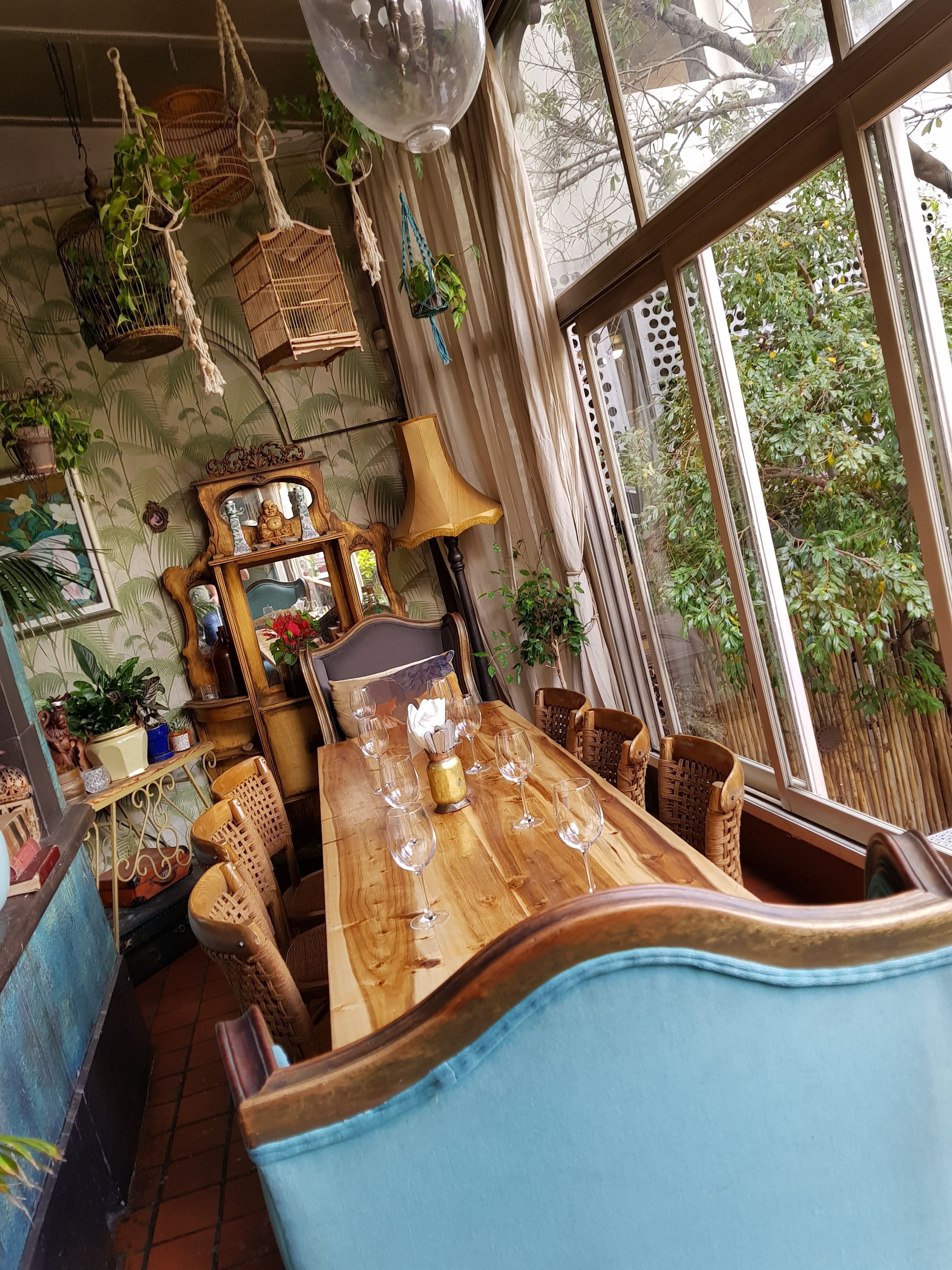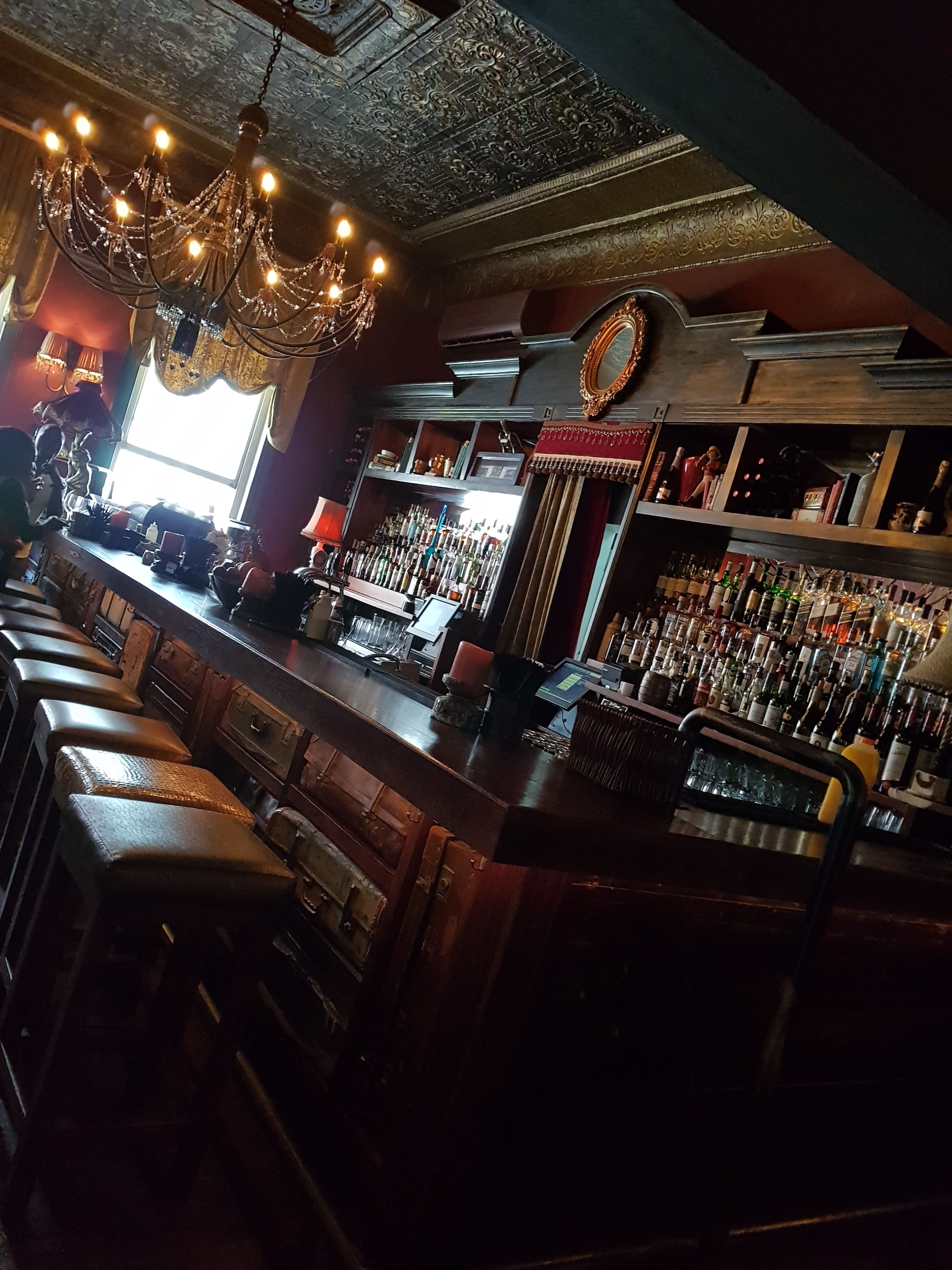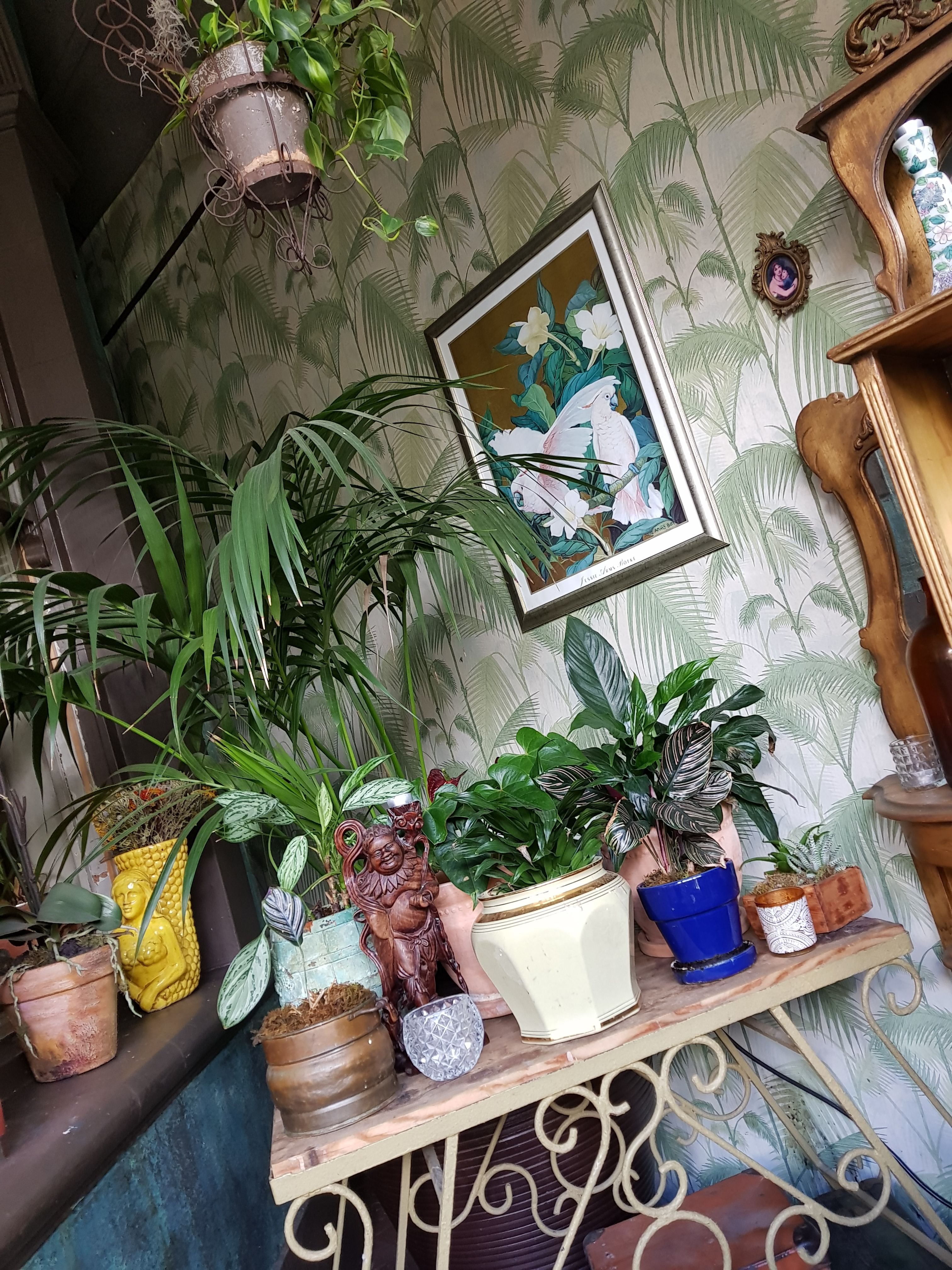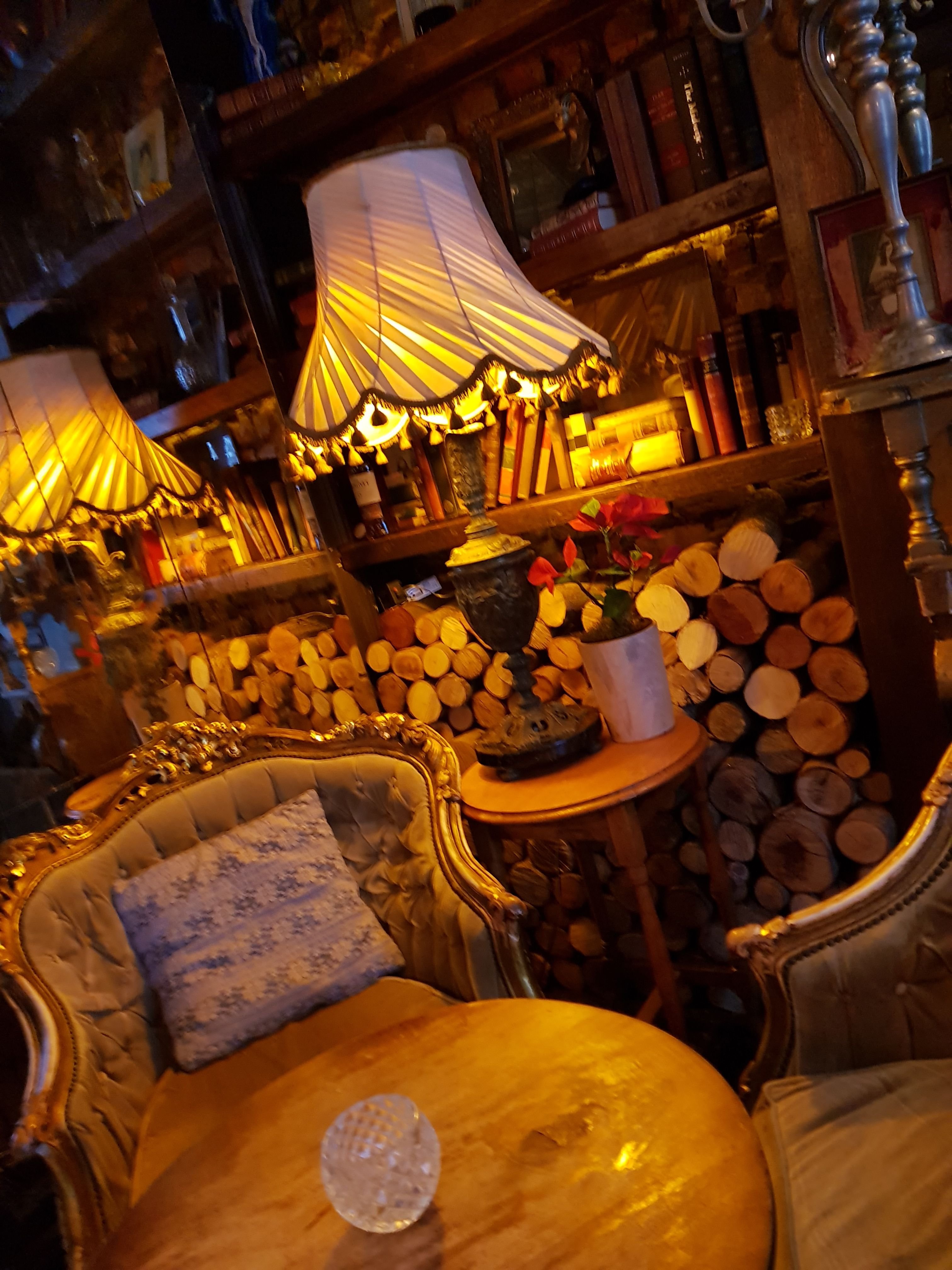 The restaurant itself is an old Victorian style house
and every single room in the house caters for guests,
each holding a unique charm...
and SO much to absorb and photograph...
I really could have gotten lost the entire afternoon,
to snap up all the amazing intricacy of this place!
The atmosphere is just so warm and inviting,
and we were exceptionally well received on arrival.
They had only just opened their doors,
so we were one of the first patrons to arrive,
but within 30 minutes,
plenty more started to stream in one after the other,
and that didn't stop for the entire time of our visit.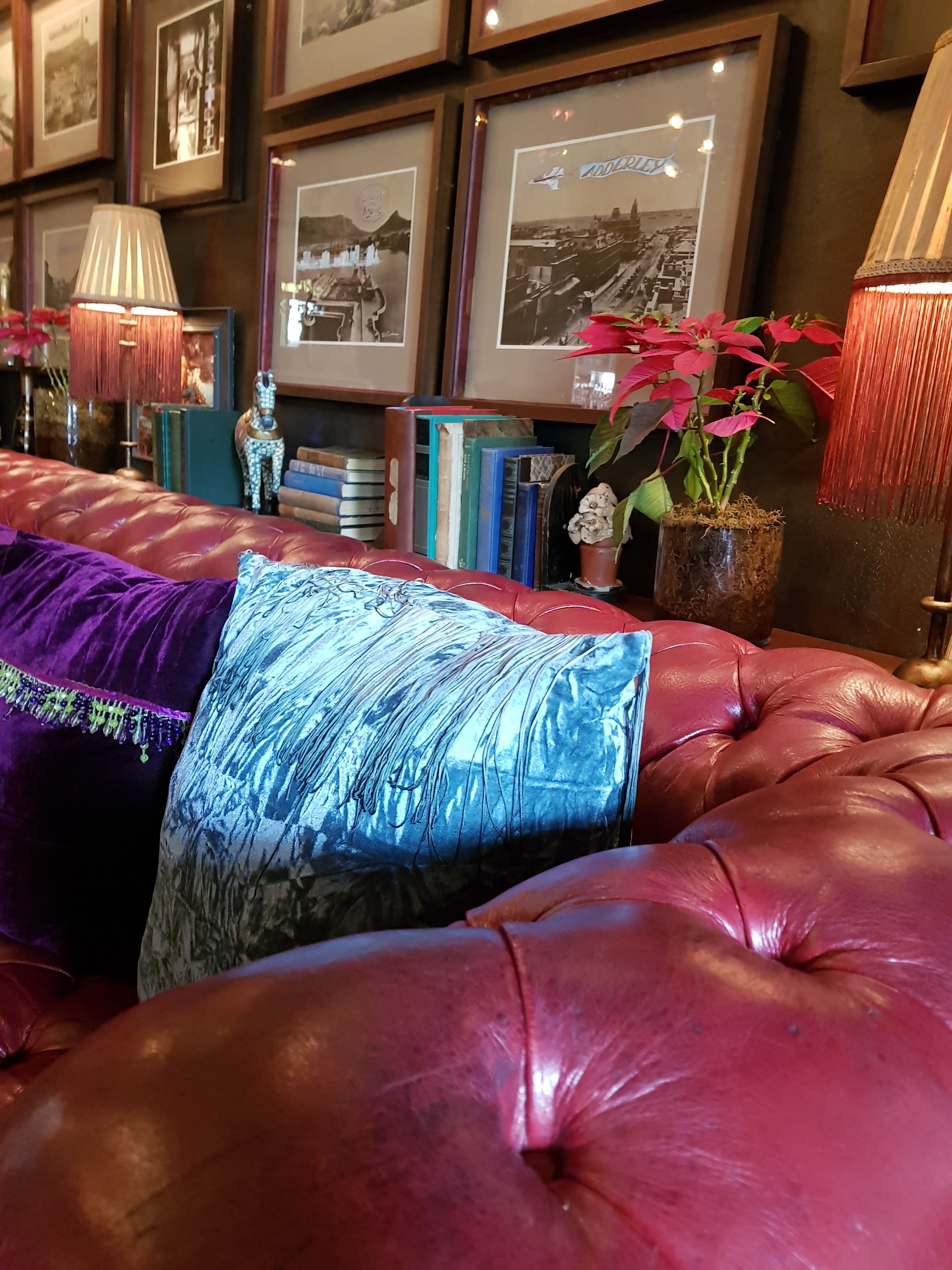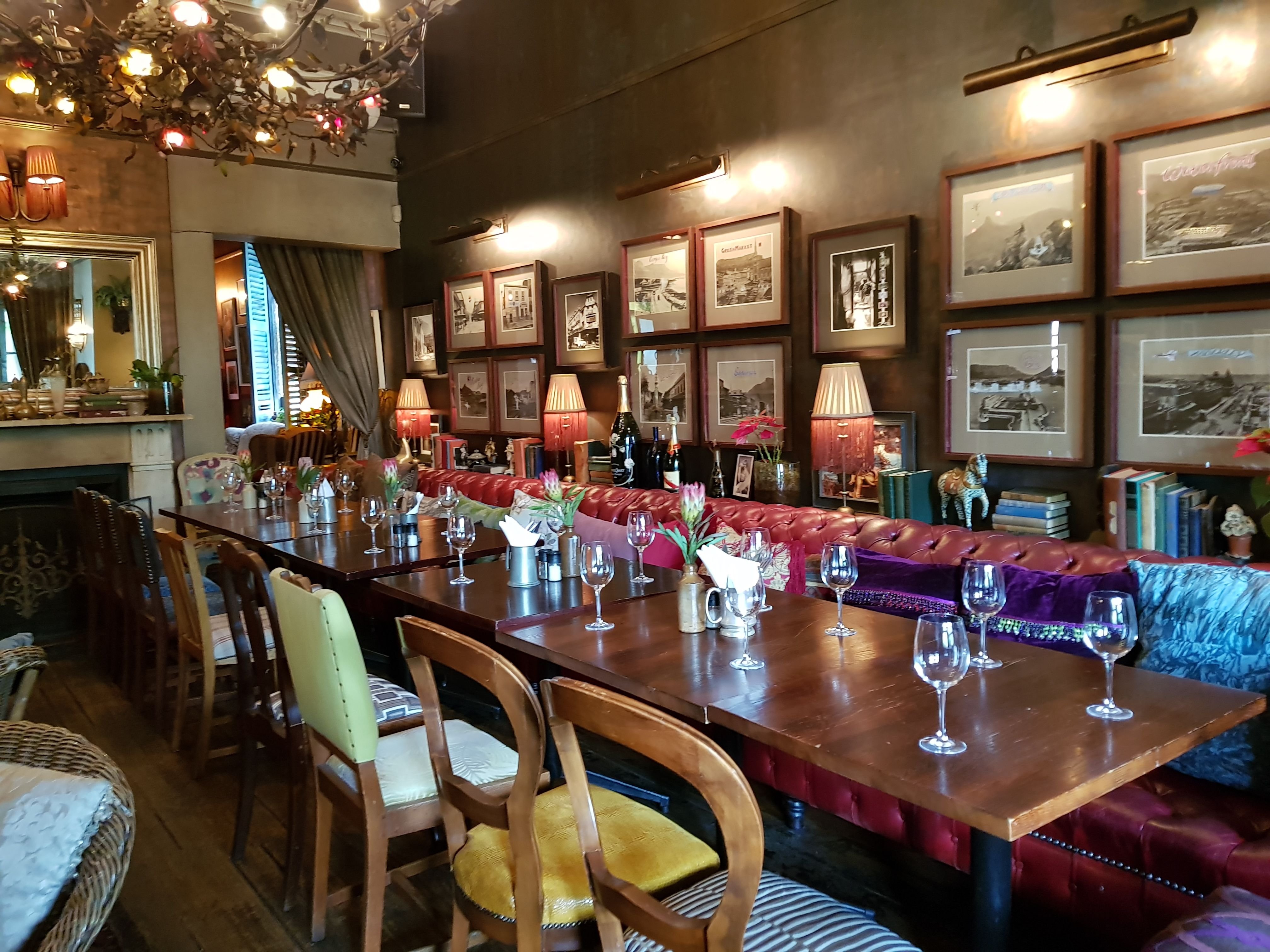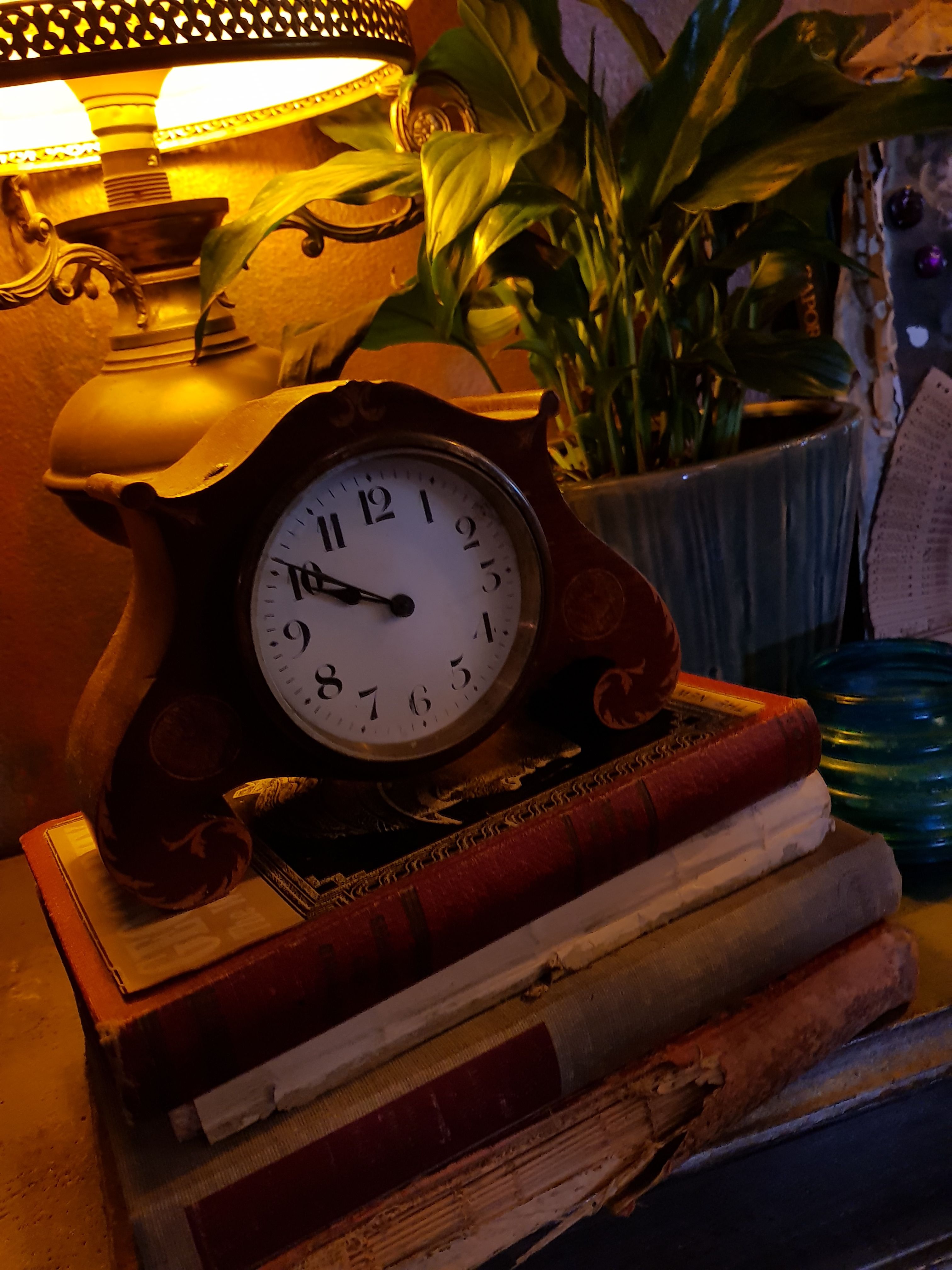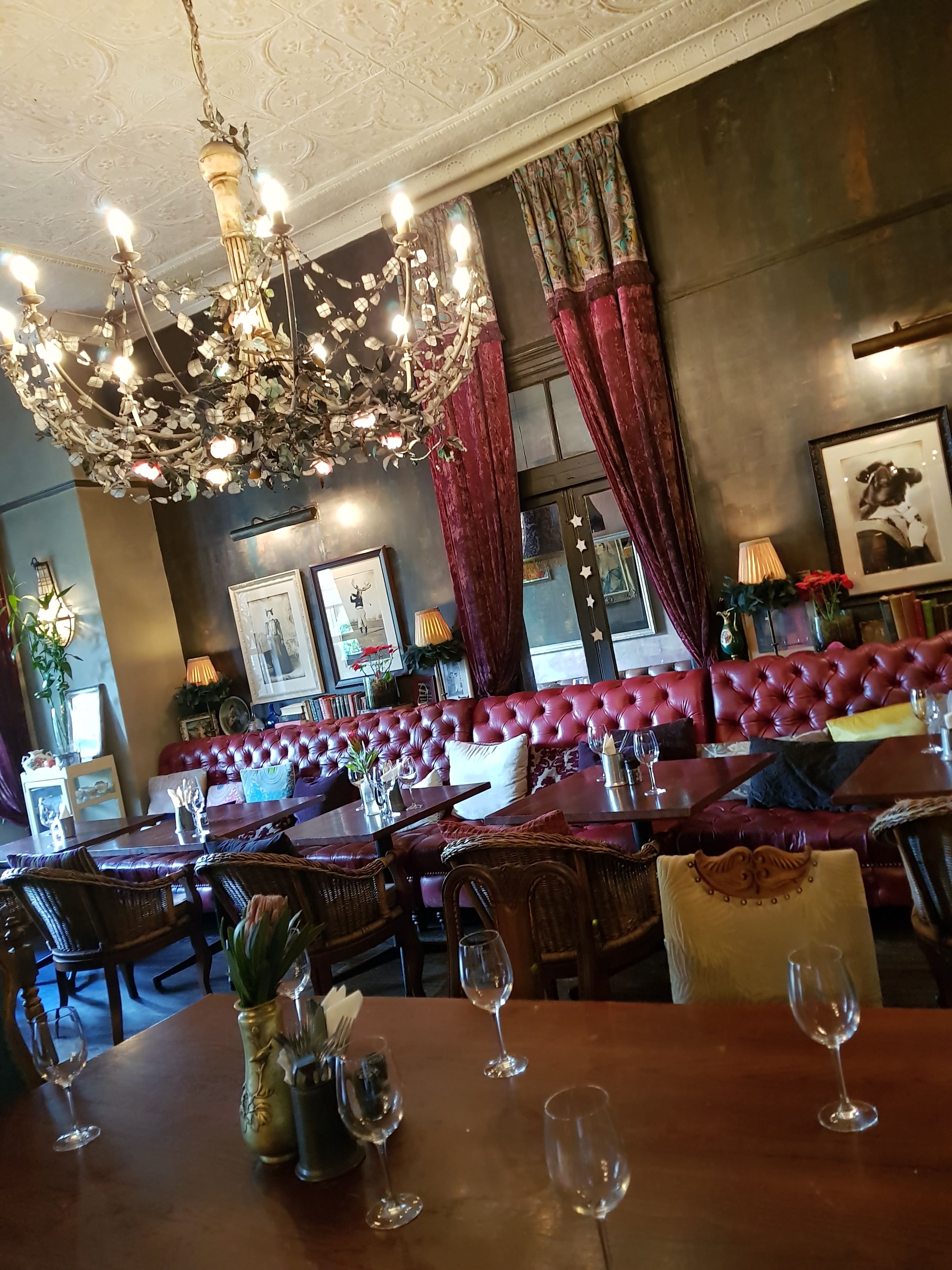 I could not have imagined a more ideal spot!
Initially, we were going to attempt to sit outside,
but the wind picked up and it started to drizzle...
Nonetheless, we ended up sitting on what I assume
was the original veranda of this majestic old beauty,
which is now closed in with sliding glass windows,
so you still get to enjoy the full visual experience
of what lies in front of you,
without having to endure the weather along with it...
The veranda where we were sitting,
was scattered with the most beautiful little
mosaic bistro style tables,
which was perfect for the two of us.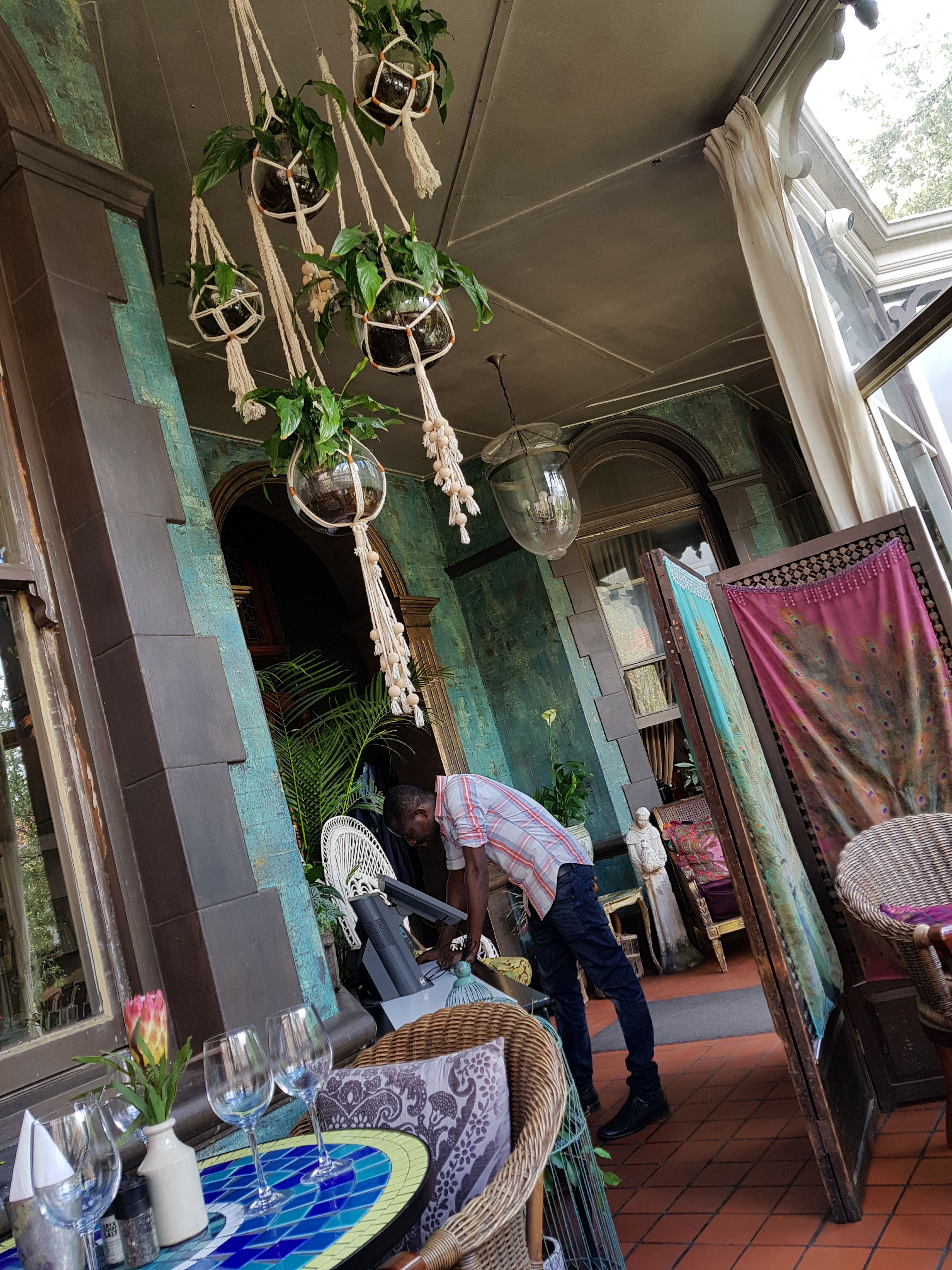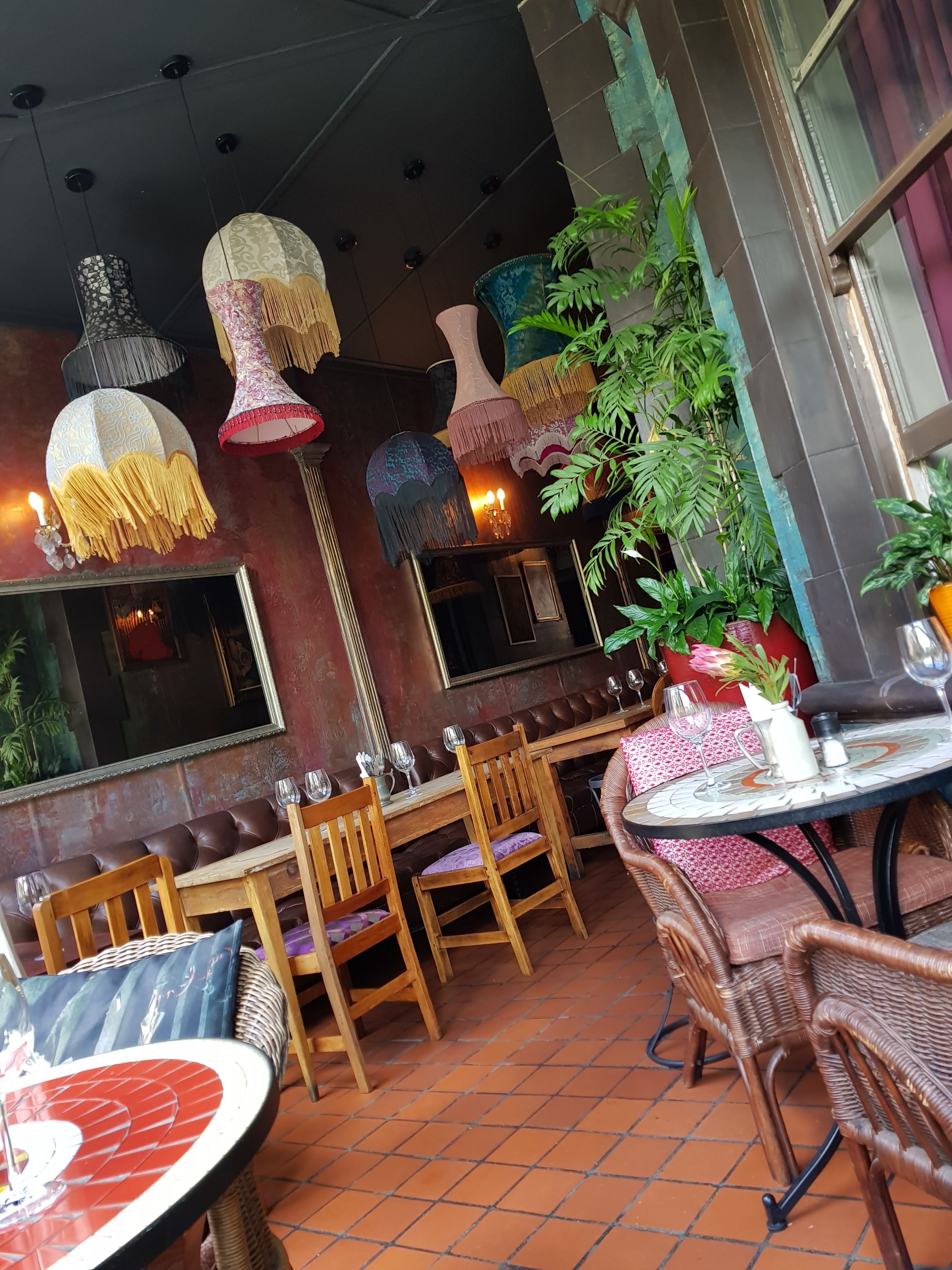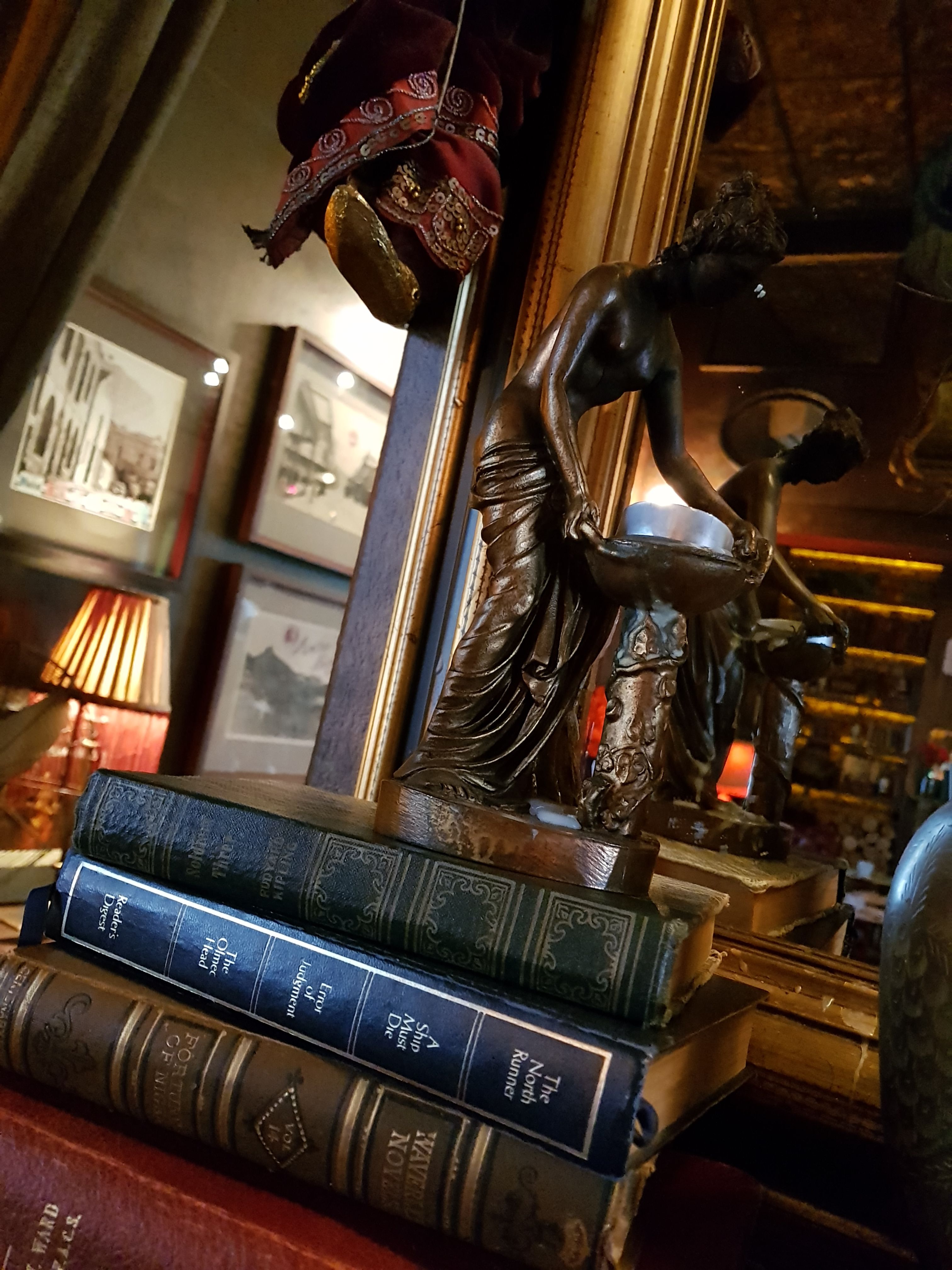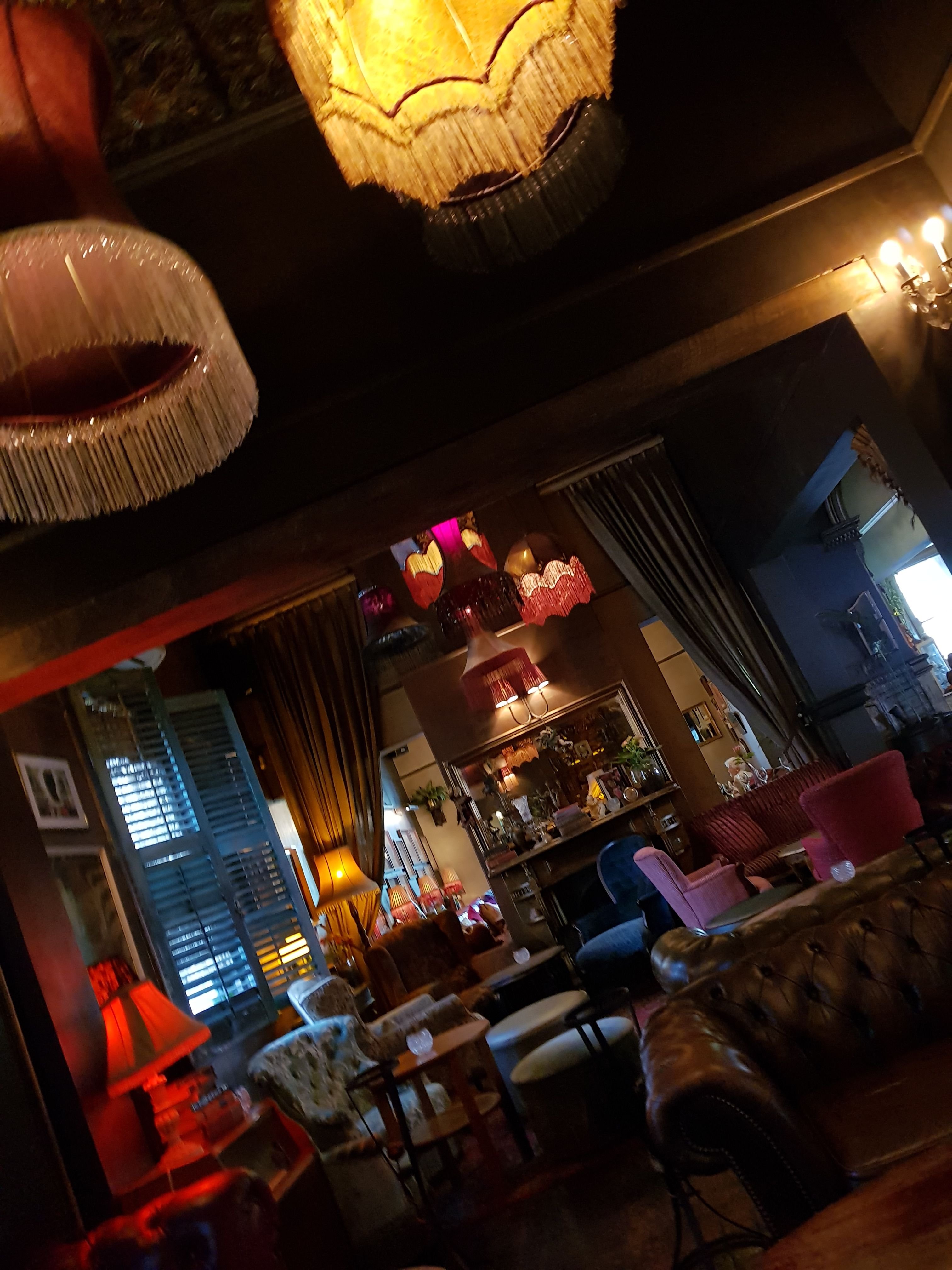 DRINKS TIME!!!, (obviously haha)
and honestly, we were blessed with what I can only describe,
as THE best waiter I have EVER had in a restaurant.
I forget his name, but -
He was absolutely SUPERB!
So then It was time to kick back,
enjoy the wine and browse the menu.
There was a traditional menu
as well as a two or three course lunch special menu.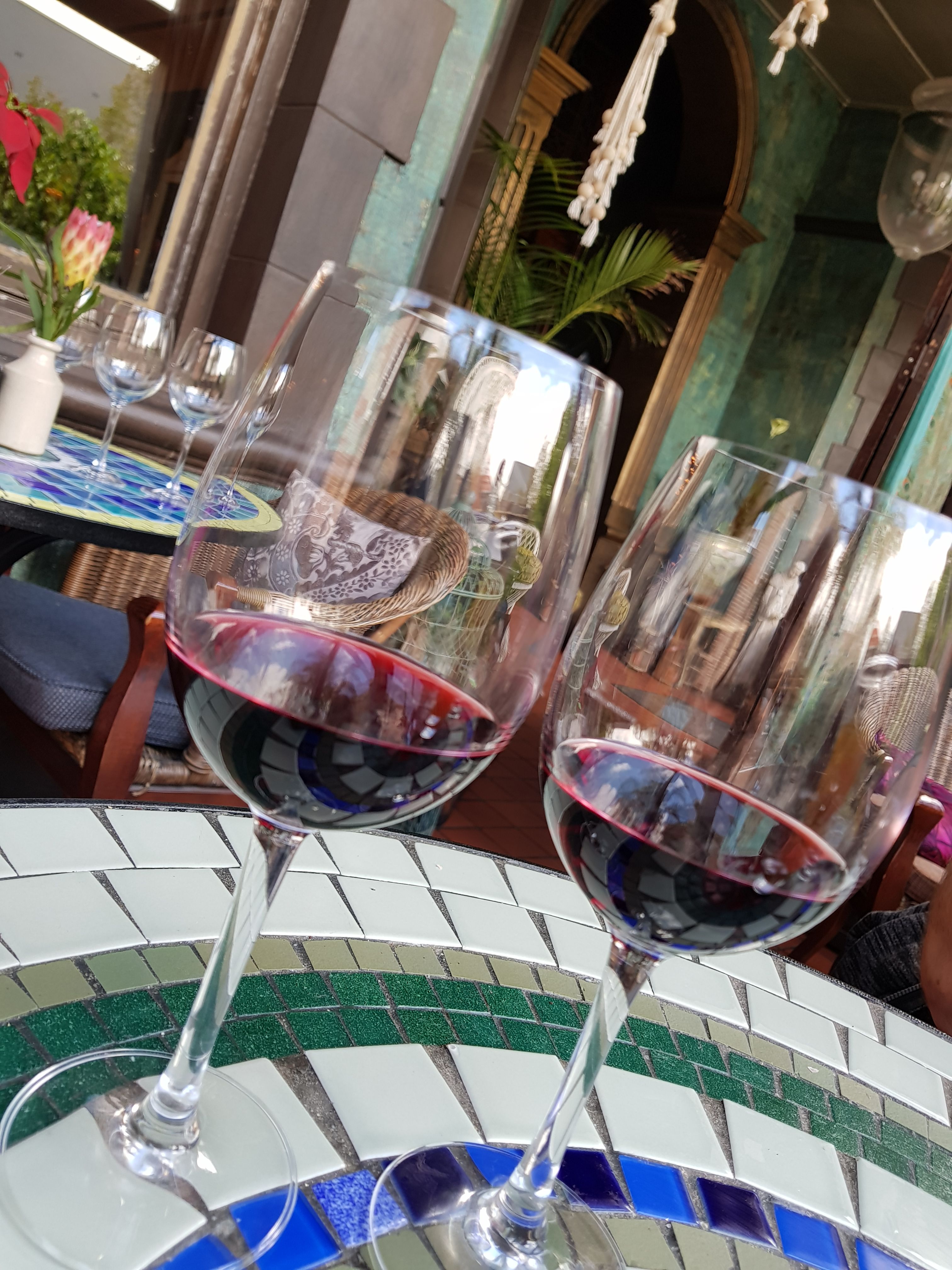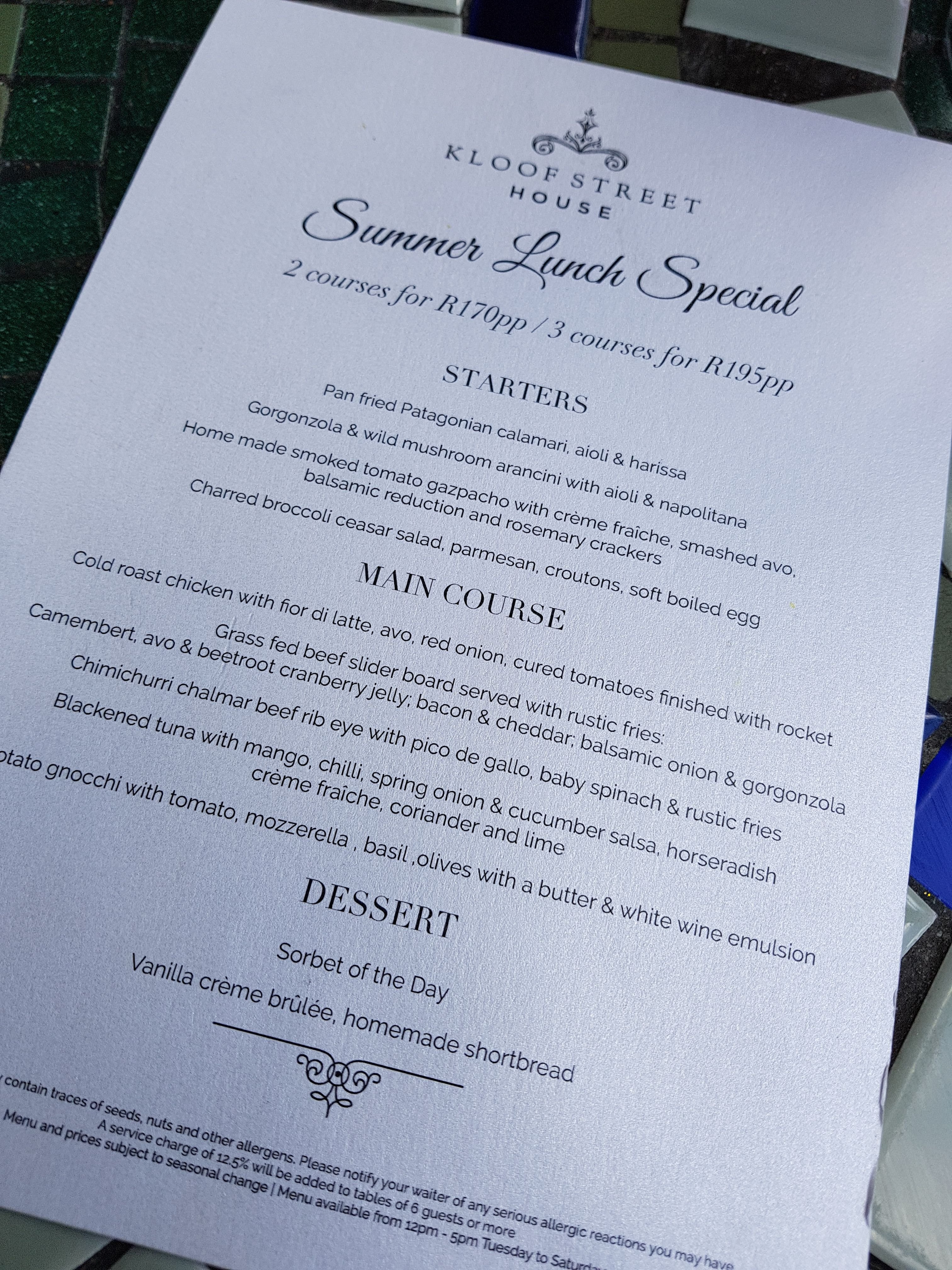 Dave ordered off the main menu and had the
Butter chicken curry served with roti, cucumber raita, tomato sambal and cailiflower mango atchar
and I decided to go with the two course special on offer.
The two courses I settled on were,
Chimichurri chalmar beef ribeye with pico de gallo, baby spinach and rustic fries
as my main, and then for dessert...
Vanilla crème brûlée, homemade shortbread
It was the most divine steak I have had in years!
Admittedly the chicken curry also looked fantastic!
(yes, yes, I had a sample of that too haha)
The main was more than enough for me,
so Dave got lucky and I donated my dessert to him... hehe
Although I had a teeny tiny taste and that too,
was simply delicious and the perfect completion
to an amazing meal!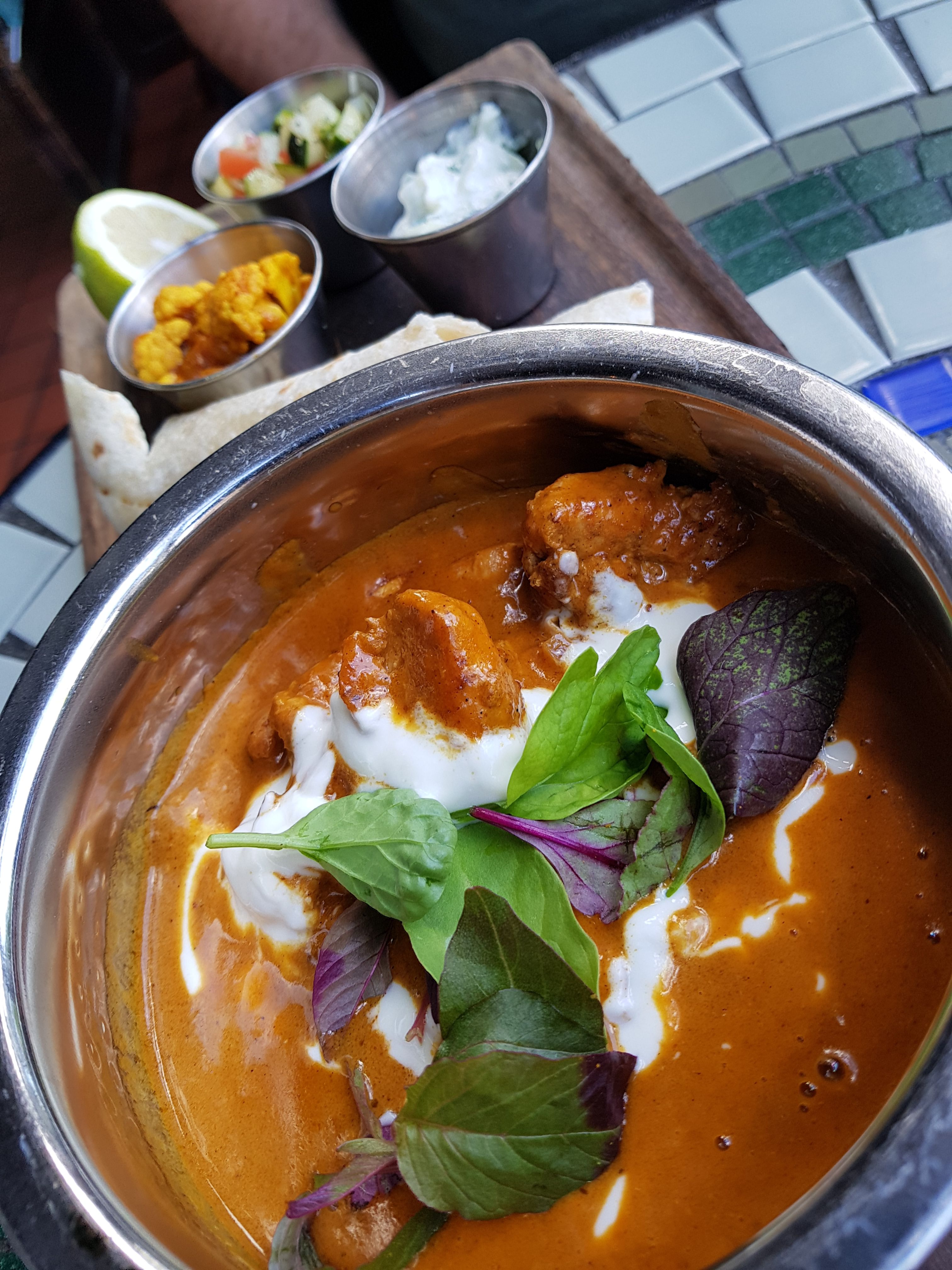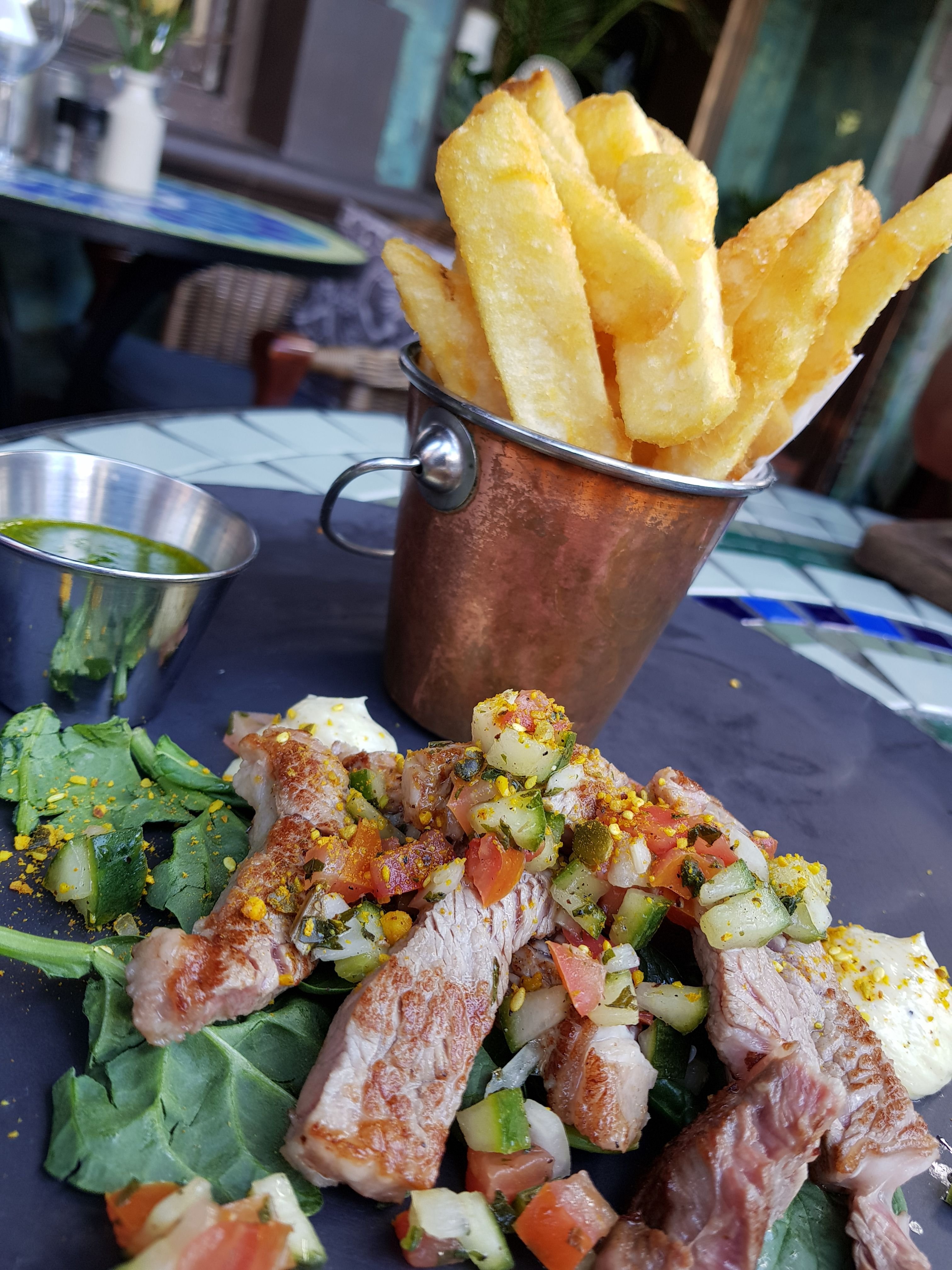 What a memorable experience it was!
What impressed me most,
was that the bill was approx. R500!!!
Here in Cape Town,
you can go to a very regular steakhouse or pizza joint,
and rack up a bill of R500 VERY easily -
and there really wouldn't be ANYTHING unique
about the experience AT ALL!
We got a fine dining experience,
with 5 star service,
food which was nothing short of artistry and
complete sensory heaven -
in an atmosphere and environment
never to be forgotten.
It really was TOTALLY worth it!
And I DOOOOO hope to visit again soon,
especially now that Summer is approaching,
because the garden is simply magnificent!
Until next time...
Much Love from Cape Town, South Africa xxx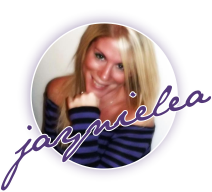 FOUNDER OF THE @STEEMITBLOGGERS


WHO ARE THE

The @steemitbloggers is a discord community of individuals who are committed to producing content which adds value to the Steemit platform. We are STRONGLY focused on supporting our fellow members individual growth as well as offering support to those that are new to Steemit and still trying to get ahead. We are a CLOSE KNIT community of individuals, each with our own strengths, passions and input, yet ALL willing to go the extra mile for our family members... WHY? - because, simply put - we CARE about one another and MANY HANDS make light work! - THAT is what FAMILY is about! - To infinity and beyond...
Interested in joining the Steemit Bloggers Community?

INTERESTED IN SUPPORTING CURATION INITIATIVES?
@theluvbug regularly supports the Steemit community with upvotes and resteems of great content which is really adding value to this platform, but in order to grow and be able to offer MORE SUPPORT, @theluvbug needs your help - with upvotes and resteems of the latest curation announcements on that profile.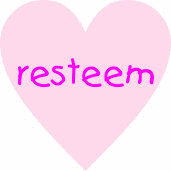 Oh, and if you wanna meet the
wannabe photographer in me...



Looking for some AWESOME Steemit Blogs to follow?
Check these peeps out...
@bengy • @thekittygirl • @janton • @wales • @claudiaz • @giantbear
There are way too many awesome bloggers to mention all at once,
so I will share different people at the foot of different posts.