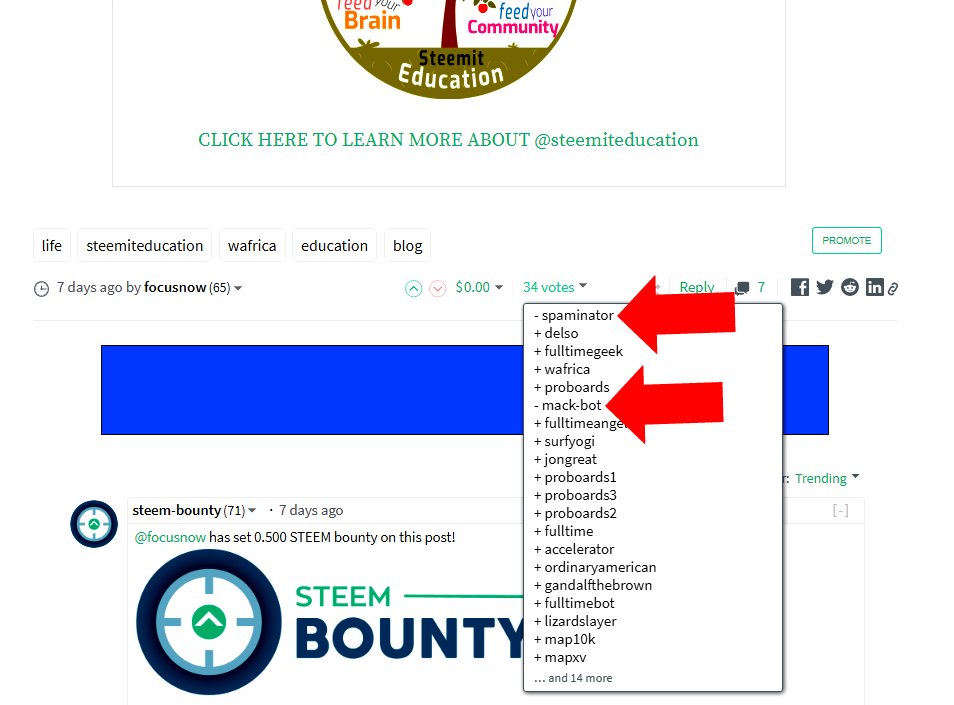 I feel obliged to make this post because I need to bring my stituation - and that of others - to the notice of everyone on Steemit. Maybe the community could help me with ideas on how to handle this awkward situation.
A friend of mine first noticed that @spaminator and @mack-bot downvoted my reply on his comments. When I looked at it, that was my first time of noticing it. I shrugged it off as a mistake and forgot about it. But to my greatest surprise, those 2 accounts started downvoting my posts too. From my observation, the two accounts are obviously owned by the same person. And I am not alone in this, when I checked the replies for those 2 accounts, their victims are many - innocent bloggers on steemit that make original articles. So why downvote people's posts when they were not spamming anyone or plagiarising content. Its really disheartening to see someone's effort go up in smoke just because someone has money to invest in Steempower. I cannot fight him on my own and all my pleas - like others - have fallen on deaf ears. I have no other option than to seek the support and suggestion of this amazing community. People that discourage the honest efforts of Steemians do not want the progress of this community and its really dangerous for minnows like us.
If nothing is done here, we will be forced to stop blogging here, but should I give up without a fight? Like I said, I asked him to let me know if I spammed or plagiarized in any way. No response from him other than to continue downvoting my posts. A lot of others that the two accounts downvoted also asked for a reason, but the owner has no reason to give.
So please, everyone, Whales, Witnesses and other influential people on this platform should look into this situation. If you look at my recent posts, I am on a campaign to onboard more people to Steemit. I hope to bring in more people and form a community to encourage and support new people. I make tutorials to teach them how to succeed on this platform. I want to see more activity here and a future where steem grows in value and Steemit becomes a household name. All these nice efforts and vision could be halted on its tracks by @spaminator and @mack-bot. The worst is that he will wait till the posts are few hours to payout, then he will downvote it, giving you no opportunity to make any earnings from that post. Isn't that the height of wickedness and inhumanity?


Call To Action
I need your ideas on how to handle this since appealing to the owner of those accounts did not yield results. If you can, please resteem this post to increase its visibility. Whatever efforts you make to help me - and many others - get out of this ugly situation is highly appreciated.
Thank you in advance for being here for us and supporting us fight abuse, intimidation and freedom of speech!
--- Charles.

My most recent posts downvoted by those two accounts.