First of all, I am extremely sorry for the delay in updating you all on the translation contest. It received an amazing response from the community and great support from the notable figures of Steemit. The motto of the contest was:-
 Let's break the language barriers. 
The purpose was to make Steemit education available in all major languages. I must admit that it was difficult for me to handle the overwhelming response from the community. The comment count on the post shows the 261 right now, which indicates huge interest in the activity.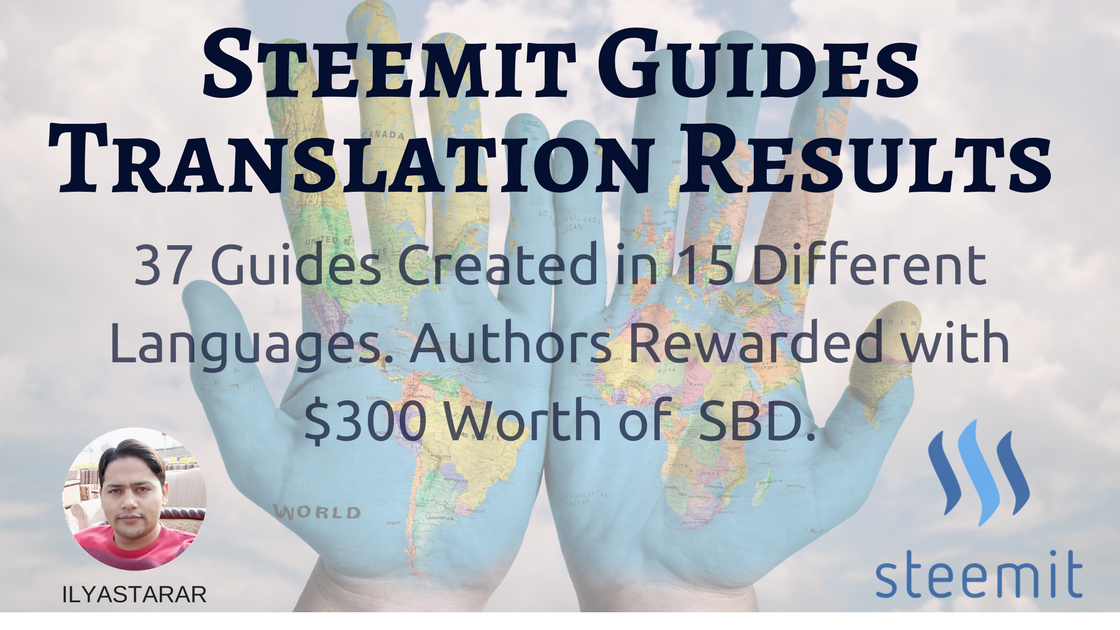 Image designed via Canva.com and background image is free to use from the inbuilt gallery. 
Translated Guides and Rewards for Translators
Moving straight to the results, let's see how many guides were created as a result of the contest and in which languages. As I list the translated guides, I will also add the author's name and SBD reward in brackets. If you have participated but not listed below, contact me in the comments with the link so that I can add your guide in this post and give you some reward for it.
I am listing all the translations language-wise to make them accessible to any one who is looking for a guide in a particular language. You are welcome to include the links to these translations in your posts to help your communities. 
In total, 37 guides were created in 15 different languages. Some people are working on creating more as well.
Bahasa / Indonesian Guides
Spanish Guides
Polish Guides
Hebrew Guides
German Guides
GINAbot installieren und einrichten - Kostenlose Benachrichtigungen für alle Aktionen auf Steemit.com (By @louis88 - 1.5 SBD)
Minnowbooster verstehen: Wie man den Minnowbooster nutzt – 7 Minnowbooster Services, die du kennen solltest! (By @infinityroad - 2 SBD)
Urdu Guides
Turkish Guides
Steemit'te Yeterince Ödül Kazanıyor & Diğerleriyle Etkileşimde Bulunuyor Musunuz? (By @nesibe.yildiz - 1 SBD)
Dutch Guides
Hoe je profielfoto te wijzigen - Steemit profielfoto meest recente uitleg 2018 (By @folkert - 1.5 SBD)
Croatian Guides
Arabic Guides
Hausa Guides
Russian Guides
Pidgin / Nigerian Guides
Cebuano Guides
Hindi Guides
Thank You for Participating!
I thank you all for participation. If any guide has been missed, you can let me know in the comments. I am sending your SBD rewards according to the effort involved and regardless of what you earned on the translation post. Some people earned more than $50, even more than $10o on their posts. If you feel that your efforts have already been rewarded through upvotes, you can send your rewards to @YouAreHope organization to help feed poor people.
It was an incredible experience for me to arrange anything of this magnitude! The rewards are courtesy of @transisto, @blocktrades (witness) and @reggaemuffin (witness) who voted the post generously to support the contest. I could not have done this alone. Thanks to these amazing people!