Hello friends of @steemiteducation, making my contribution to the task this week, today I present this post where I transported until my student time and compare it with the current one, evidencing great changes that have occurred over time. I hope you agree with me.
How has education changed since you were a child? Do teachers or schools do anything differently now than when you were young?
Our life is a cluster of memories, presided, almost always, by the school years. There friendships, likes and inclinations will be forged that will always be with us, but in the last years there have been many changes in the classrooms. The social, economic and political mutations are noticeable in that particular ecosystem that are the classes and the patio of a school.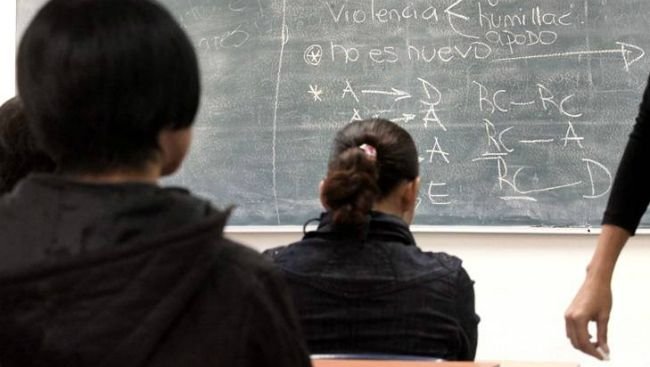 Imagen source
It should be noted that my student days were those in which the methods of the 80s were implemented, "more traditional methods", there were no technologies that we have today, they were more rudimentary classes, with fewer resources and other teaching methods, without However, in the same way, education was also effective since without doubt we as students acquired knowledge. My Basic education was in a private school while the Secondary school was in public schools, there is a certain degree of difference in these two types of education (public and private) however the objective pursued by teachers should always be the same, "impart knowledge "Just as there was and still is a difference in these two types of education, there are also many differences in the education that was taught in my time as a student and that which is taught today.
Today there are different trends or opinions on the education that is taught. One of these tendencies holds that before there was discipline in schools, a stricter education and that, unlike what happens today, students finished their studies "knowing". And what does it mean? Do not you learn today? Some of the most reluctant to the changes that education has experienced say that the methods that were used earlier made the students learn more, that today they are not sufficiently pressured and do not feel an obligation to study.
On the contrary, those less favorable to the pedagogical formulas of the school of the 80 seem relieved by most of the educational changes. "The teacher's role is changing and his role is to turn passive students into active students," they say satisfied. They talk about the end of the obsolete molds of traditional education and the introduction of critical and creative thinking in schools.
In any case, it is indisputable that the ecosystem of classrooms in schools has changed. Of course, the basic concepts do not. Children are still children and share characteristics and inclinations appropriate for their age. Before or after. But the environment, the forms of relationship between the young people and between them and the teacher, have varied, as well as the relationships between parents and teachers.
We will remember how we were and compare it with the present:
Exit class covered with chalk dust:
It all depends if one day you had to go out a lot to the blackboard. It was assumed that the teacher had to get upset and leave with the wool sweater and red beak collar covered in the dust that came off the bad quality chalk that was used in school. It could even happen that an educator had problems with chalk allergy. What are you going to do! He spent the day sneezing and avoiding writing on the blackboard. They were occupational hazards. But, and when the one that had to be filled was the student? There was no choice but to do it!
Fortunately, with the emergence of new technologies, the electronic board has arrived. Thus, students grow and are trained in a 2.0 environment and the 'teacher' allergic to chalk is not leaving the pituitary through the corners.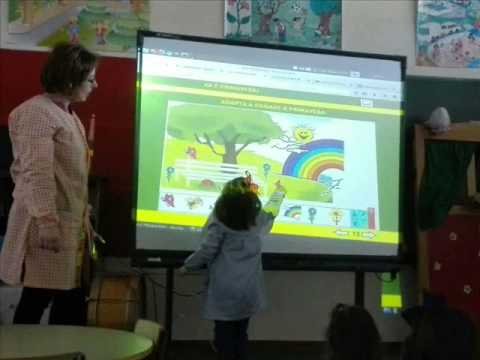 Imagen source
High platform:
Now education is something of actors who interact on the same plane. Teacher and students are at the same level, they share. Before when you and I went to school, especially if you went to a private or arranged school, the teachers were perched, like anchorites, to a watchtower that was about 30 centimeters above their students.
They scrutinized the evolution and growth of the students with a clear and panoramic vision of the classroom. It also helped him to know who was speaking, who provoked an uproar or who wandered. Ultimately, as always there was some madman who was dedicated to impart justice from the almost divine heights, the platform served as a position of infallible sniper to throw chalk or directly the draft to some wayward student. And on top of that, after hitting him in full 'colodrillo', he would say: "Gutiérrez, you fool, bring me the eraser and do not throw it away again, I'll tell the cleaning lady".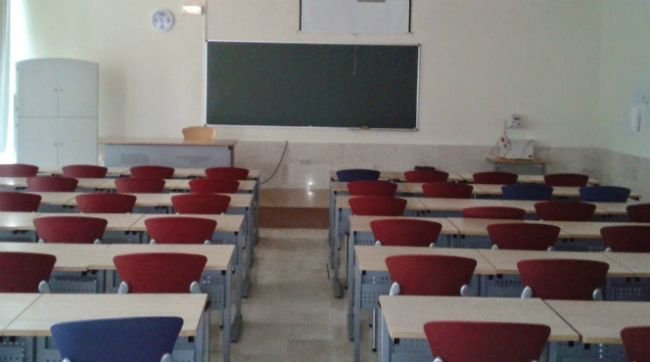 Imagen source
Teachers who gave physical punishment:
Physical aggressions and punishments? Nowadays they are unthinkable, but 30 years ago it was our daily bread with a teacher. As is. In public schools there was more moderation in this regard, of course. And everywhere there were educators ahead of their time who imparted knowledge under other principles such as love and pedagogy.
But others ... oh! With others it was nonsense. He never touched me, but there were some comrades who gave him the rule in his hand because he was making a fuss in the middle of class.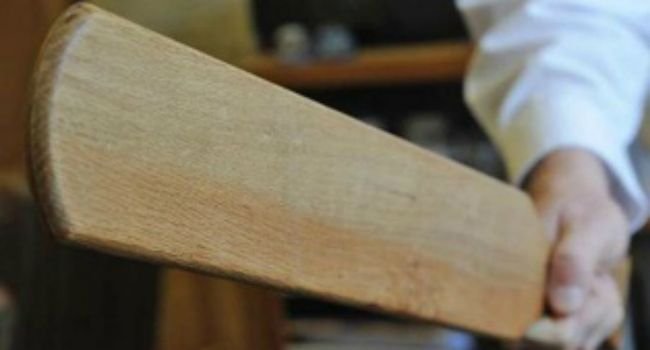 Imagen source
Class expulsions:
And then there was a bouquet of chosen by classroom who was deprived of learning. How? Very simple: They were more restless, they talked to others, they got bored and they were not attentive to the teacher's or teacher's explanations. What was the result? Day after day, without too much exception, they were expelled from class. In that way it was impossible for them to follow the same progression as the rest of their classmates.
The logic says that it should have produced the opposite. At least the current logic: If it cost them more, if they got bored, if they were more restless, they would have to dedicate a little more attention to them than to the rest of the classroom. In short, everything contrary to what we were used to.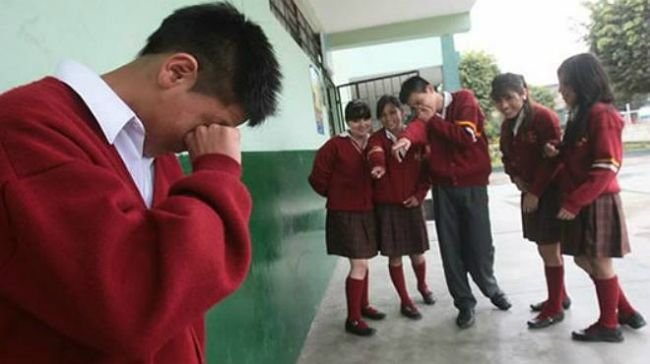 Imagen source
Write 100 times I should not throw papers on the floor:
It was assumed that by force of mechanically repeating the same mantra after copying it like an automaton in a pastern, it was possible that you memorize it and comply with the spirit and lyrics of the litany. Believe me if I tell you that it did not work. I had classmates whose parents refused to have their son perform such a punishment.
Nowadays this practice does not happen, it is already proven that they do not have any effect on the students and this has been left behind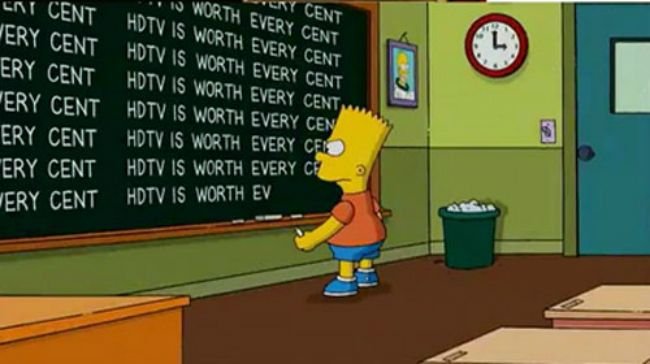 Imagen source
Relationships of respect to the teacher:
It is true what is always said, the faculty was respected more before. Years ago, when there was a drop in a student's school performance, the tutor took the parents who, with a funeral face, worried and angry with their offspring, arrived at the tutoring of the school as the turkeys arrive on Christmas Eve. The 'papis' chewed the tragedy and their children suspected that something bad would happen to us.
At present, things have turned around. How can it be that my son does not give up? 'Armed' with that question, the parents come to the tutorial ready to abroncar the teacher who 'is only able' that his son gets a 4.5 in mathematics. This is life.
But it's still worse when tutoring is triggered by your child's misbehavior. "How dare you tell me that my son behaves like a vandal?"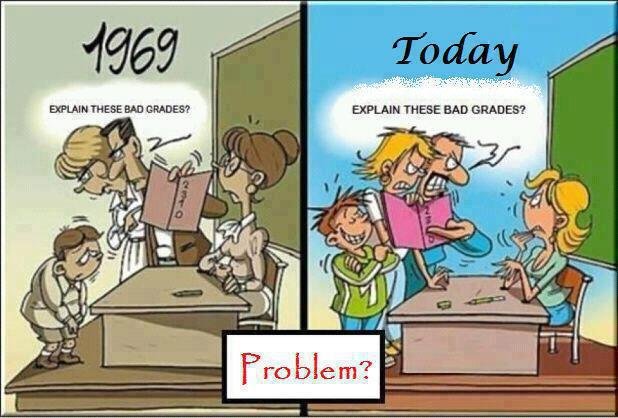 Imagen source
There is less homework:
One has the feeling that before, in schools, they sent more homework to do at home. The educational methods and the pedagogy also evolve by fashions, like almost everything in this life. It is true that it depends on the school in question, but children currently have less homework.
Duties and exercises are carried out much more in the classroom and time outside the school is more devoted to other training activities than purely academic ones, such as sports, for example.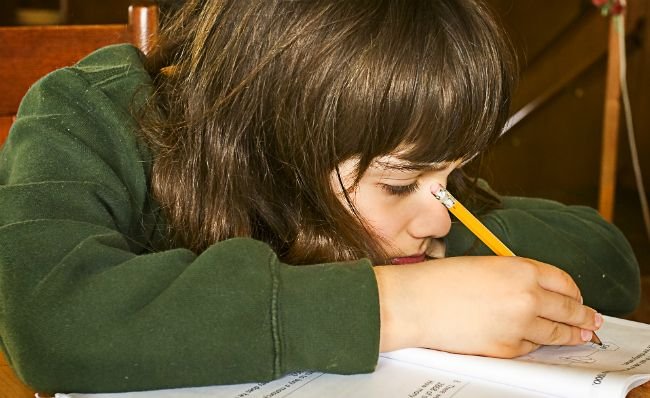 Imagen source
Undoubtedly there have been many changes in education since we were students until now, these changes have been positive and negative in the same way, there are things that used to work better and not today, as well as others that changed in favor of the good education and the best performance of students. The important thing is that we are aware that education is the fundamental basis in the life of any person and that we as educators have a high level of responsibility in this regard so we must try to go to the forefront with the methods and structures of the teaching to fulfill our role in the best possible way.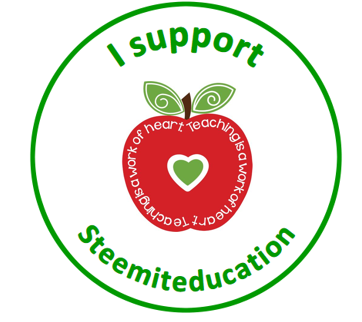 Thanks for visiting my bog and I hope you in my next post !!