I found a video of Bill Gates saying our teachers need extra feedback in their classroom.
That does make a lot of sense to me.
We do not always know how many children really understand what was taught and for that reason this idea he has make a lot of sense to me.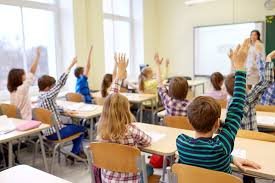 [Image source](url)
Thinking of Rugby players and other sport people they all tape a game and watch it after the game.
In this way they can see some mistakes and some good moves that they can tell the team what to do.
That is the way that they teach their team and it really works.
Teachers do not have that luxury and in this he does explain how one teacher tapes her class so that she can watch it later.
We have so much technology today that make this easier and why not just use it.
When all teachers do this, some teachers who find that their explanation is not working for everyone can look at the method that someone else is using.
For all you know that is all that is needed to make the children who do not understand get a better idea.
We all make mistakes and sometimes we can fix them in this way.
I was really impressed and being a teacher myself for many years I can see that this will really work.
I hope teachers talk and think about this trying to help their students as well as each other.
I really hope you agree and that you find it helpful.
Have a wonderful day from me here at the Wild Coast.
[courtesy of you tube](url)