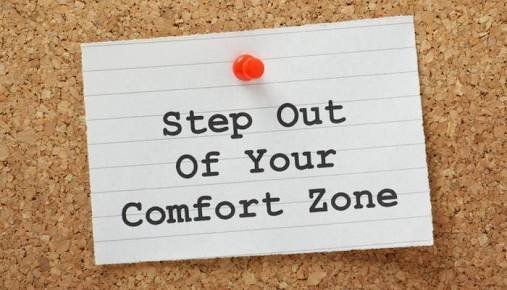 source
STEPPING OUTSIDE OF YOUR COMFORT ZONE CAN BE BUILT UP LIKE A MUSCLE...THE MORE YOU DO IT, THE EASIER IT BECOMES
Gone are the days people placed more Value in CERTIFICATES, other than what one can practically offer.
The pursuance of CERTIFICATE wrecked many destinies, many people with good skills dumped it for school, just because they wanted to get a degree. The preferd couldn't get them fulfiled after acquiring it. What a waste.
Think Beyond certificate...
Think about have a cash flow..
BY continuing TO STEP OUTSIDE OF YOUR COMFORT ZONE, YOU BUILD THE CONFIDENCE TO GO AFTER YOUR GOALS WITH VIGOR AND NOT LET ANYTHING HOLD YOU BACK
STEPPING OUTSIDE OF YOUR COMFORT ZONE CAN BE BUILT UP LIKE A MUSCLE...THE MORE YOU DO IT, THE EASIER IT BECOMES
We all want progress especially in the Financial aspect of our lives...
We all want to achieve more
We all want to earn big
We all want to live comfortably
We all want to travel out and see other shores of the earth
We all want to sleep in a comfortable bed
We all crave for good food
We all want quality education
We all want good health
Etc etc etc
Yes the list is enormous
To achieve these and more, YOU NEED TO PUT YOURSELF IN AN UNFAMILIAR SURROUNDINGS ESPECIALLY IN TRYING THINGS WE HAVE VOWED NOT TO TRY
NOW HEAR ME AND HEAR ME WELL AS I CLOSE HERE
👇👇👇👇👇👇👇👇
Change is the only constant thing in life... If you refuse to change and cling to your comfort zone, that POVERTY CAN CONTINUE TO BE YOUR BED AND WILL GROW TO BECOME YOUR TOMB....
Untill you deal with those self limiting believes, you will continue to find yourself on a treadmill running faster but heading nowhere
Don't say God forbid🙆‍♀
It's not by saying but by dealing with it
By breaking out
By Just saying I CAN
DEAL WITH THE ENEMY WITHIN YOU... AND GUESS WHAT!!!!
YOU ARE YOUR GREATEST ENEMY
NOW LADIES AND GENTLEMEN, QUICKLY RELOCATE BEFORE YOU SUFFOCATE
Your reality is a reflection of your expectation...💃💃💃💃💃💃💃💃💃💃💃💃💃💃💃💃💃💃💃💃💃💃💃💃💃💃
You may have high expectations in your head but feel inside you don't believe you can go much further than where you are currently....
You want to move forward but a voice keeps warning you of the dangers that lie ahead and that belief that you are a failure or you will not succeed...
POVERTY IS MINDSET.
To a man with a poverty mindset, every information that can liberate him is either too good to be true or it's down right a scam.
The money is just around you, work on your mind and you'll see it. Believe me, you can do this.
GREAT MINDS
Credit: image source
I appreciate all my sources of inspiration and help on steemit. Thank you all
Thanks for reading my blog @unicorn3221 and do check back for more inspiring updates.