It's the ides of April and the ides is the time for my contests. Yes, expect contests from me every 15th day of the month! This is the third time I am hosting a contest and I am again so excited. I came up with the idea to make this contest while I was watching Taylor Swift's music video on "Look What You Made Me Do." Awwww. Feisty! I'm not a Taytay fan but whatever, I liked the title, so here am I adapting it in my Steemit contest. Nope, I'm not gonna let you sing Taytay songs nor am I gonna ask you about your failed relationships that made you crazy. (LOL) This contest is simple and this is about being here in Steemit and being over the top in making things work here. Don't be shy, please be proud and confident of your Steemit weird tricks on your sleeves. Impress the world with your realness, weirdness and authenticity.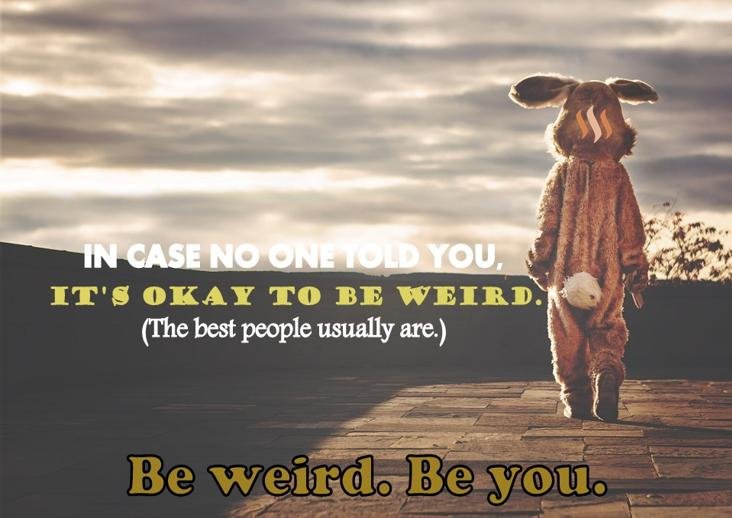 Source: Pixabay
Who May Join: Steemians anywhere and everywhere.
Deadline: (7 days) from now until the deadline on midnight of Monday, April 23, 2018 (Philippine Time) (GMT+8)
Contest Rules:
This is a writing/blogging contest.
Write about the weird, strange, unusual, one-of-a-kind, life-changing things you've done for Steemit.
It could be anything from how you spend your earnings, what you do for a post, how far you've gone to promote the platform, etc.
The blog post must have a minimum of 100 words.
We love them pictures of course, show proof of your Steemit sacrifices, please. (LOL)
I give you freedom with the format and whatever forms you want to use to present the idea but be sure to consider the things I mentioned above.
Be weird, be over the top, but most of all, just be YOU.
Impress the people in the platform.
Refer as many Steemians as you can to do this contest.
You may or may not upvote this contest post but upvoting will help me give more rewards to everyone who will join.
You may or may not resteem this post but resteeming will give this the exposure it needs to succeed.
You may or may not follow me, but I will appreciate it if you do because I need more Steemit friends.
Leave the link to your post as a comment to this post so I will know you have an entry.
Use "steemitmademedo" as the first tag for your post.
Prizes:
1st prize = 5 SBDs plus 1 *steembasicincome share
2nd prize = 3 SBDs plus 1 *steembasicincome share
3rd prize = 2 SBDs plus 1 *steembasicincome share
All entrants will get a fraction of the final SBD payout of the post, with an amount lower than the 3rd prize. NO ONE LOSES because we build winners in Steemit!
*What is steembasicincome? Steembasicincome is a social experiment, an initiative to give Steemians far and wide across the world "basic income" in the platform. If I sponsor you a share, I get 1 share as well and we both get upvotes for life from the SBI bots on our good content posts. I like this service because in this way I can help give upvotes through SBI service without exhausting my own VP and in essence it shows how helping can be very rewarding for the helper, too. Please check out @steembasicincome to know more about the awesome service they offer.
The Judge:
The judge will be me, le @mermaidvampire.
Criteria for Judging:
The above instructions should be followed - 10%
Impact of weirdness, strangeness in the story- 60%
Impressive WOW factor plus formatting - 30%
Why am I doing monthly contests?
I'm doing this because I think this is one of the best ways that I can help my fellow Steemians. With contests, they can be motivated to join and share and win some SBDs. This can also be made a prompt so they can blog about something and earn for themselves. This can make them active and stay in the platform. I get to have more engagement which is really fun and worthwhile. I gain followers and friends and it's good to bump at each other once in awhile in Steemiverse. And many other reasons that is beneficial for the Steem community. I am inviting everyone to join contests and make contests. Contests are an awesome way to promote humanity in this platform because in this way, we get to know each other and our inner selves. Our works are our selves bleeding out in our writing, pictures, art, in however form we express ourselves.
Keep steeming and keep shining!

by
@surpassinggoogle

Join the house of cool bunch Steemians right here in #steemitachievers!
Follow @steemitachievers.
Join the amazing Pinoy Steemian crypto-heads in #steemitpowerupph!
Follow @steemitpowerupph.

Please support @surpassinggoogle as a witness by voting him here and type in "steemgigs" in the first search box.
If you want to give him witness voting decisions on your behalf, on that same page type in "surpassinggoogle" in the second box as a proxy.
Support his other brainchild projects like #untalented, #steemgigs, #teardrops and #steemsecrets. Thank you!