The name of the game is 2 truths 1 lie and the rules of the game are simple.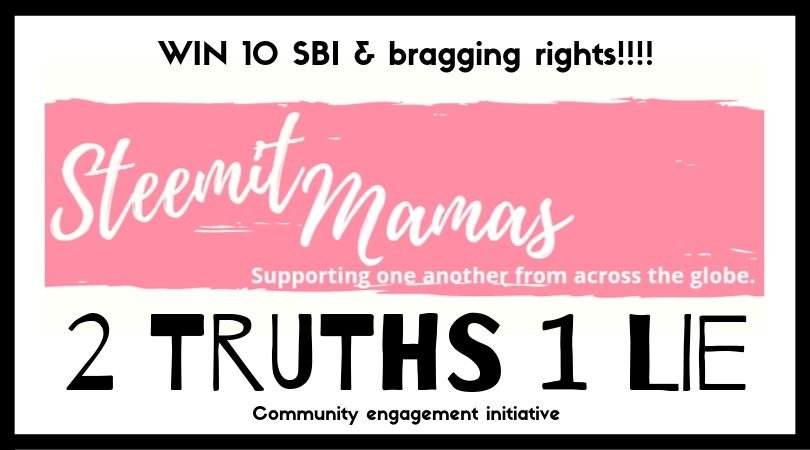 t's time to play a little game and as a bonus, you can walk away winning SBI and be the blogger featured in next week's game!

Rules
3 statements are provided about a featured Steemitmama. Two of them are true and one of them is false.
The statements are given in random order and correct statements can be found and confirmed on the featured bloggers' account.
Contestants who are playing all have to guess which of the 3 statements are false by simply commenting on this post.
No upvote or resteem is required but greatly appreciated to help our Steemitmamas community account grow, so we can continue to give back to our community even more.
The person who guesses correctly will claim bragging rights win SBI and be featured here next week.
In the event there is a tie the winners will be selected by a random number generator.
You do not need to be a member of the steemitmamas community to join in this weeks competition, but if you are a mum, step-mum,grandmother and haven't popped over to visit us be sure to click on the Steemitmamas banner to join us in our discord server. We cannot wait to connect with you!

Remember to read the 3 statements carefully to get your hands on the 10 SBI!
Lasts weeks entries gave me a little of a chuckle. Many people found the post announcing the sex of @vincy's baby so they knew she had known the gender of her baby. But because the statement had read:
I don't know the gender of my baby and keeping it a surprise until delivery.
Many people had answered incorrectly even though they knew which statement was a lie becasue they hadn't read the statements properly....
Making last weeks winner @crosheille with her answer
Okay so I have read and found that she is craving hamburgers this round and she found out early that she is having a boy. I didn't read far enough see anything about the hair but I'm guessing it's true.
So the #3 statement is the lie because she does know the gender. 😃
Big congratulations to you!!
This weeks featured author and fellow @steemitmama, @crosheille, Creator of #NeedleWorkMonday and curator for #steemitmamas who is also a homeschooling mum of 5 and is certainly one busy lady both on and off the blockchain.
Check out her blog to find out which of the following statements are a lie.
Which of the following statements is a lie?
1. I have been a consignment shopper for three years.
2. I do not believe in the benefits of natural medicine.
3. The producers of Legal Death - In Drugs We Trust are friends of the family.


Be sure to visit @crosheille's page if you need a little helping hand to get your hands on the SBI and most importantly the Stemmitmamas bragging rights, and while you are there be sure to follow her to keep up to date on her new blog posts.
Let the games begin and good luck to all our contestants.

Lots of love @mumma-monza xo


Are you a mom, expecting mom, stepmom, an adoptive mom or grandma? If so we'd love to have you join us! We're a Fun Lovin' Supportive group of Mamas sharing our everyday victories and trials as we live this thing called Life. Please click on the banner below to join us on Discord!




All images created using Canva visit https://www.canva.com if you are looking for easy to use free design software for your blog.