This is my entry for the #steemitsandwichcontest week #40 by @jaybird.
This is my Cod Fish with Asian Slaw Sandwich.
I totally missed last weeks "Spring theme" sandwich. I had plans on making an entry that included strawberries, spinach and basil. My local grocery store had NO strawberries or basil soooooo...my plan was totally thrown off base. It was going to be a spring roll and I am not sure @jaybird definition of sandwich. I don't want to venture too far off the "sandwich" basics.
On top of that, my husband was sick and we just had a lot of "life" going on. So this week I plan to make two sandwiches and this is the first.
This is a breaded fried cod fillet with an Asian slaw and wasabi mayo sandwich. Served with a side of potato chips with a drizzle of sriracha mayo.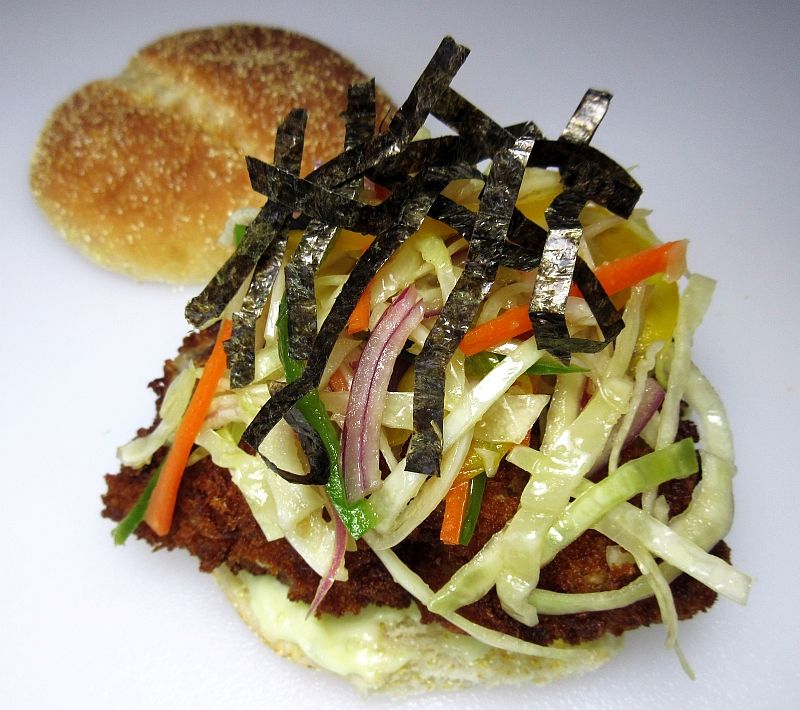 INGREDIENTS:
Cod fillet cut into sandwich size pieces
Strips of roasted seaweed
Rolls
Seasoned Flour:
1 cup flour
1/4 tsp. salt
1/4 tsp. black pepper
1 tbsp. Old Bay Seasoning
1 tsp. garlic powder
1 tsp. onion powder
*Mix above ingredients
oil for frying
egg wash
panko crumbs
Dip cod fillets in seasoned flour, then egg wash, then panko crumbs.
Fry each side for 2-3 minutes depending on thickness of fillets.
Asian Slaw:
1 bag of shredded cabbage
1/4 cup each julienne carrots, bell peppers, red onions and seeded jalapeno
3-4 minced garlic cloves
Sauce: 2 tbsp. light soy sauce, 1 tbsp. rice vinegar, 1 tbsp. sugar and 1 1/2 tbsp. sesame oil
Wasabi Mayonnaise:
1/4 cup mayonnaise
1 tsp. wasabi powder
pinch salt
*Mix above ingredients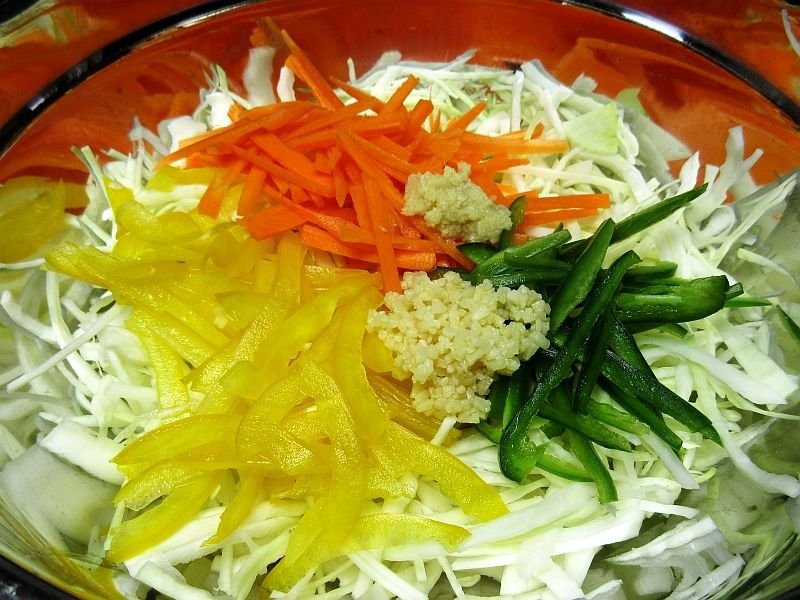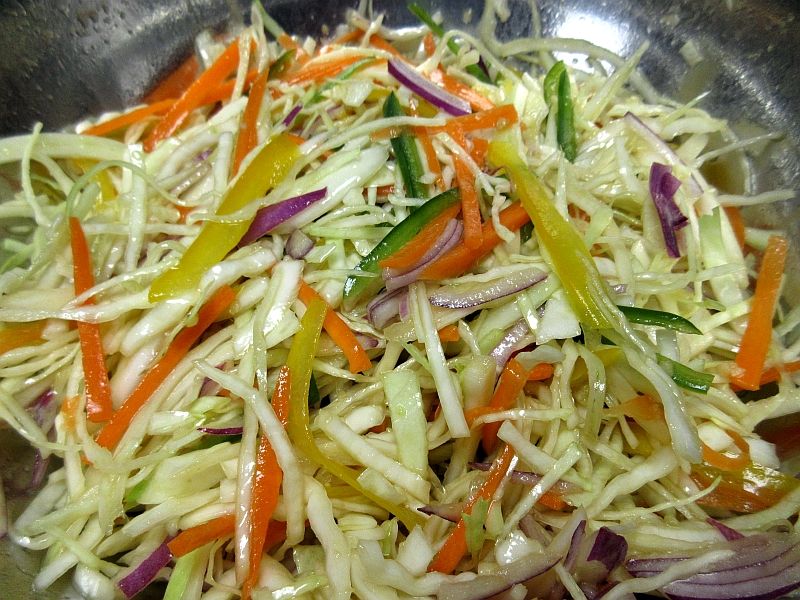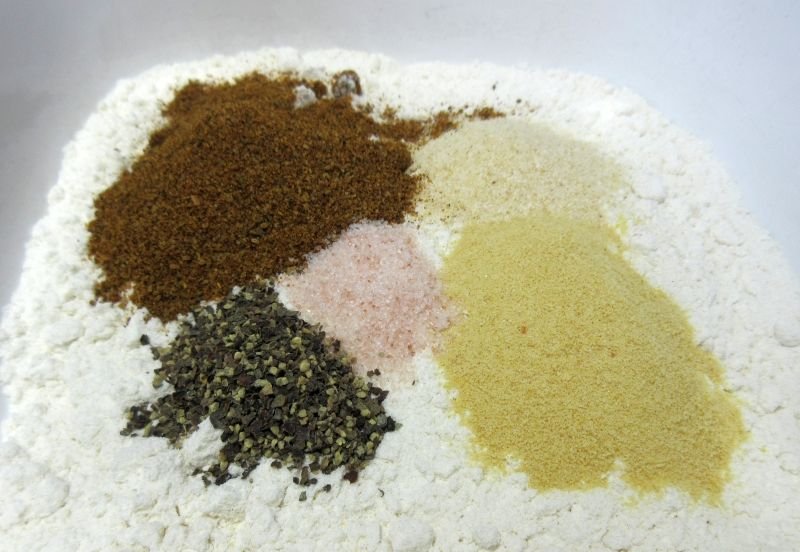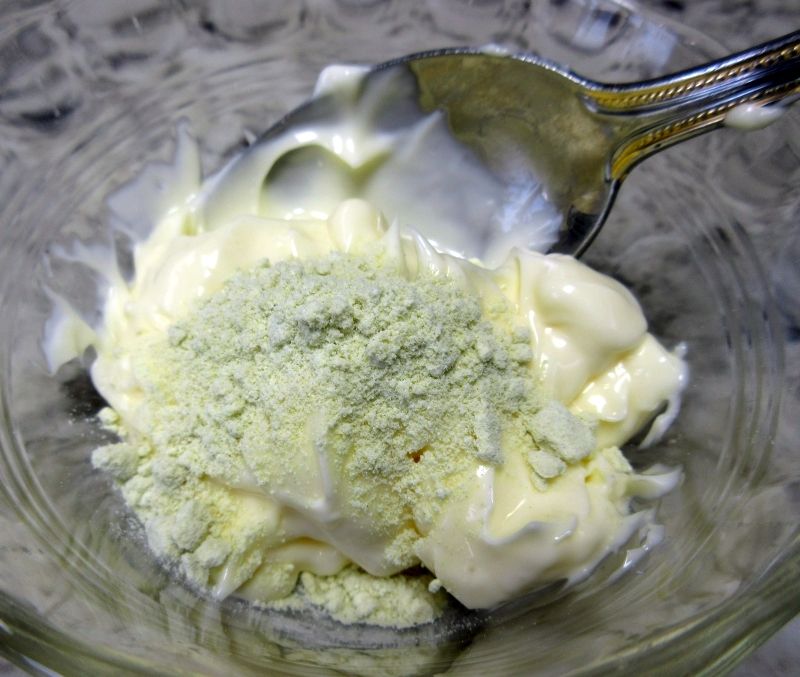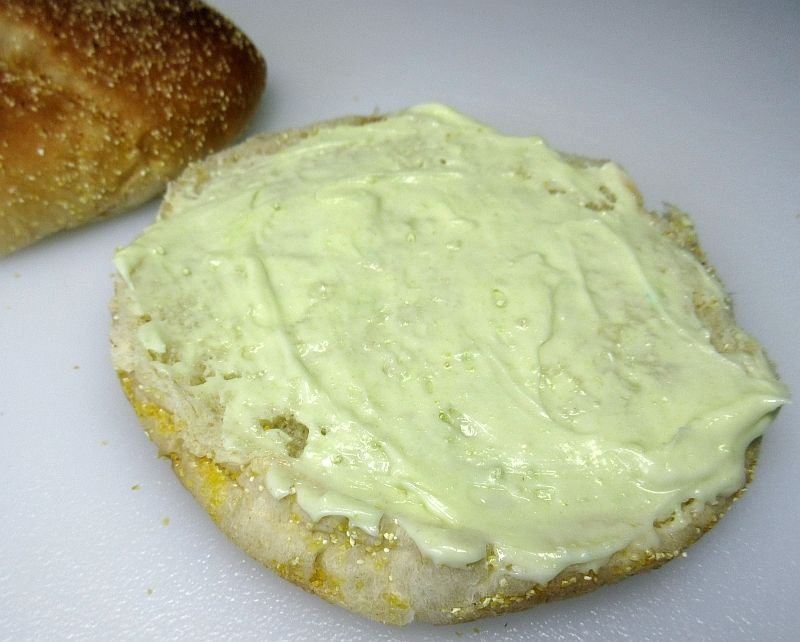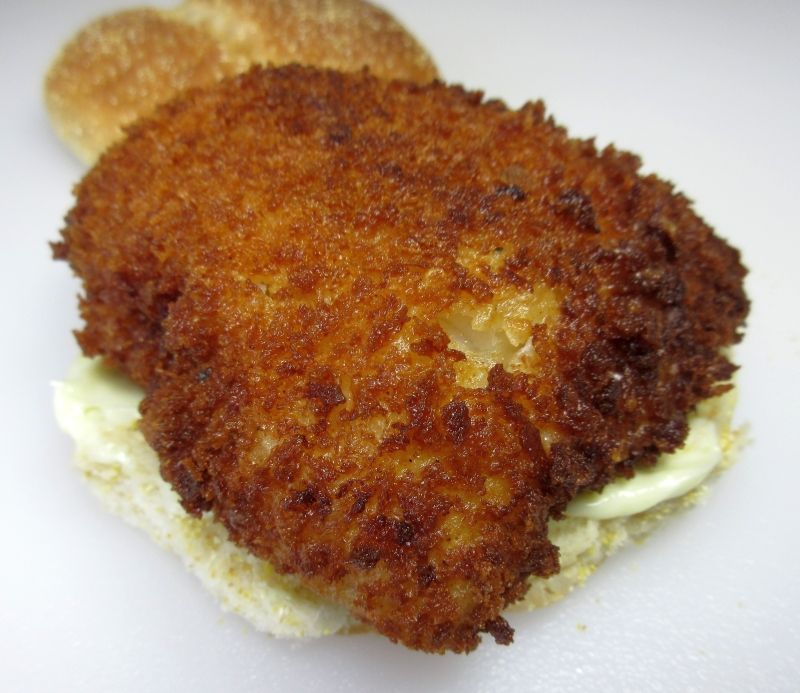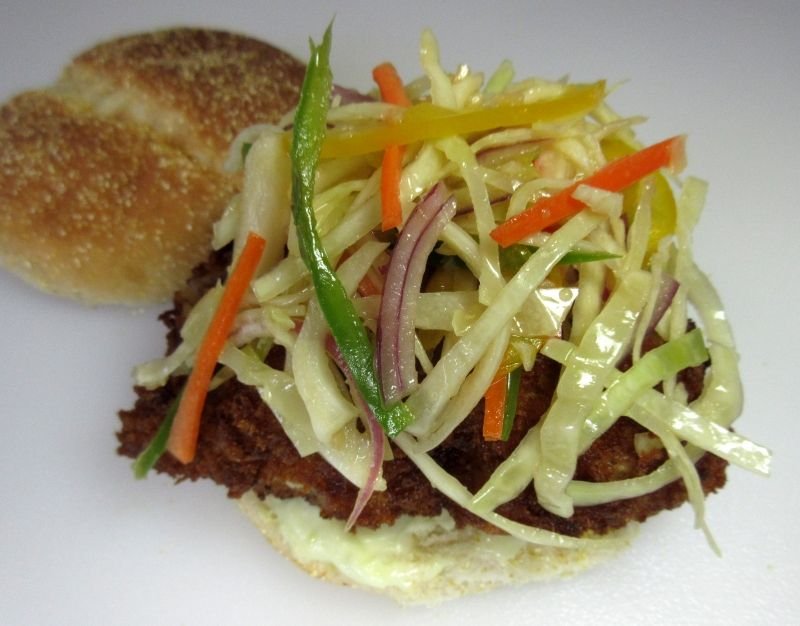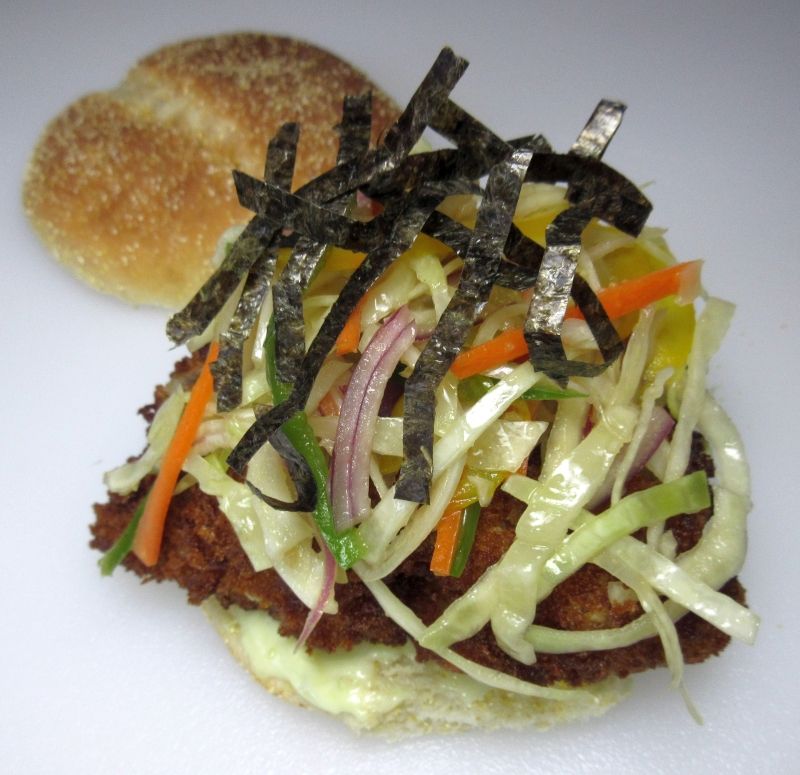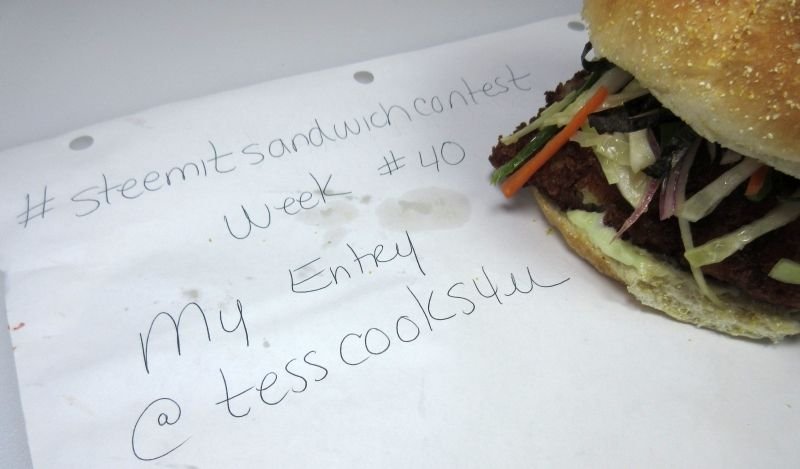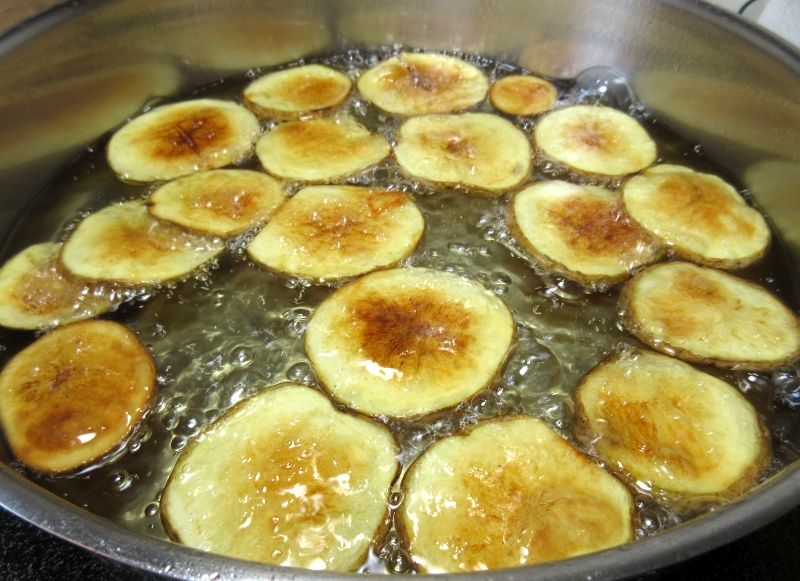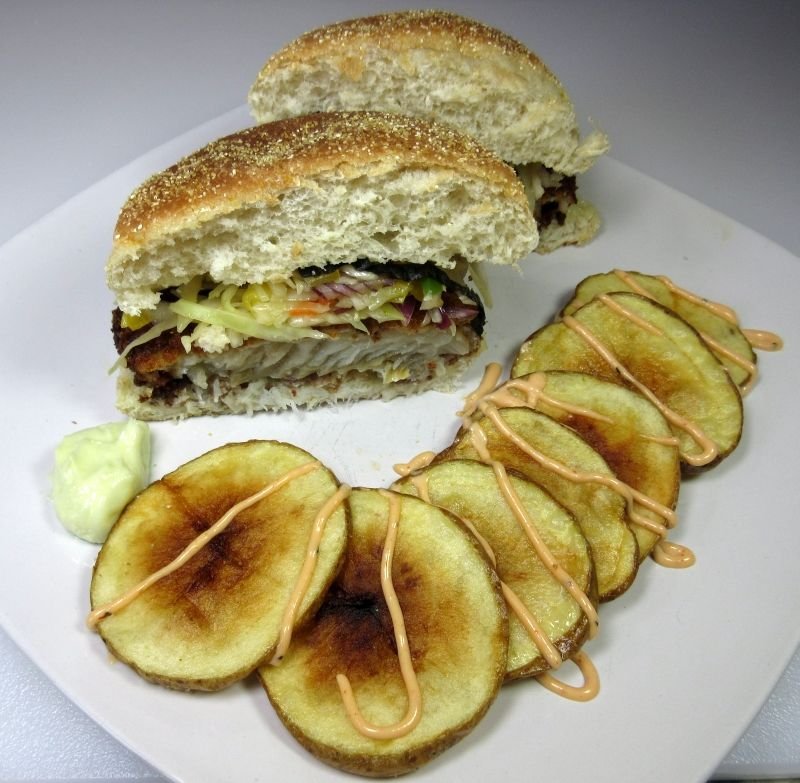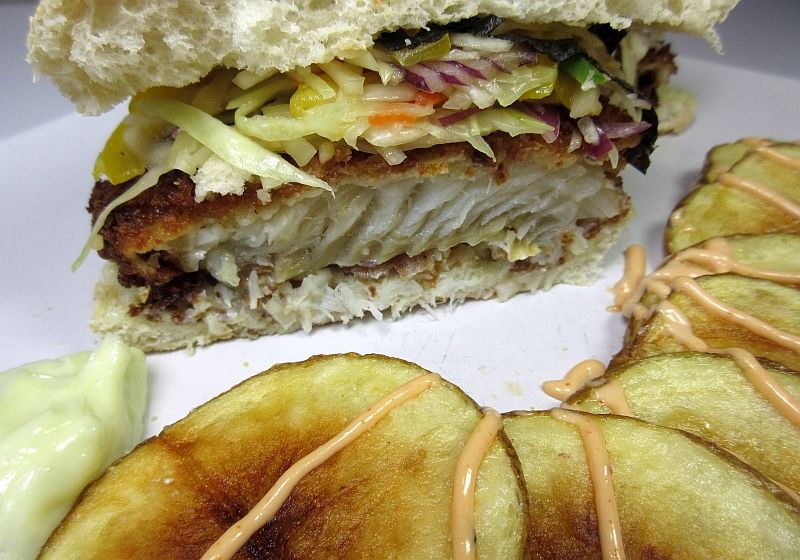 Follow TESS COOKS4U on Social Media:
WEBSITE ~ TESS COOKS4U AMAZON STORE
EMAIL: tesscooks4u@gmail.com

All images, videos and content are my original work.
Taken with Canon PS SX670 HS.
Please ask before borrowing. Thank you, Tess.

Please UPVOTE and FOLLOW me. Thank you and have a wonderful day.

Much Love, Tess :)