Welcome... To a 100 day journey into the poetic minds of the @steemitschool writing community!
---
---
---
Ah god... This is tough. Just started working with a friend doing very long days, staying at friends houses in between shifts, finding it very difficult to find a space and time to just sit and write these.
It's been a crazy few weeks... Definite inspiration for writing. Just gotta find the time and space to do it!
I have loved this competition so much and it's been so rewarding... but damn I'll be relieved when it's finished now!
With Love
Hart Floe Poet
♥
---
---
---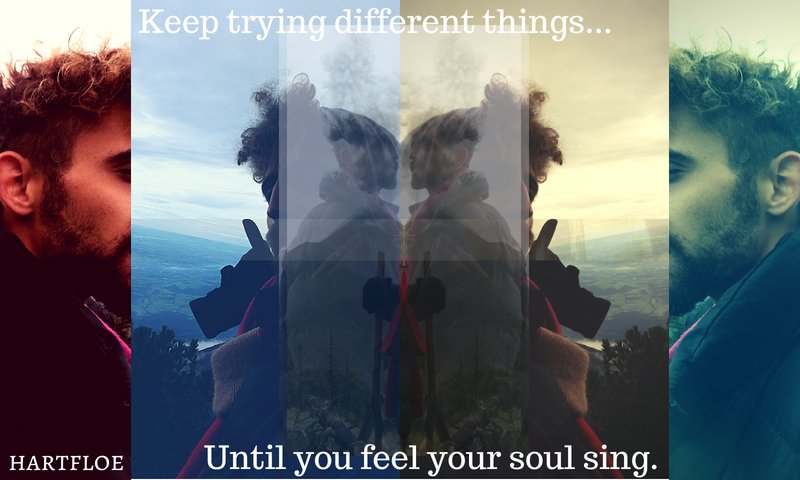 ---
---
---
The Definition of Insanity
Try something new

If you want a new you
Just keep on sampling different things
Until the time comes when you feel your soul sing
Tingling
Knowing
Excitement
Passion flares
Release of cares
Worries wash away
As you step into the break of a new day
What do you say??
Will you find the courage to jump
So that you can fly away
Or will you stay
Here
Doing the same old thing
Expecting the same results but..
Things never change..
You're the only person in your life
That can make it rearrange
It's strange
That so many choose to settle for a life that doesn't fulfill them
Or choose a job with so much stress that over time will kill them
Or staying with a partner who really doesn't feel them,
Hiding the true them
So that they don't lose them
But…
What If?
What if you really did just decide to make a change right now
Without knowing how
Things will work out
Just have to
Remove the doubt and know you'll never go without
And from within you can
Create Anything
So,
Stop creating the same old struggle,
Get back in touch with your heart,
And give it a cuddle
Apologize for getting everything in a muddle
And not fully remembering the hearts piece in the puzzle
The fact that the heart does much more than pump blood
Through every moment,
Of every-day,
The ever-thumping thud…
But the heart has a spiritual function as well as a physical function.
See the heart is the part that connects you to…
Let's say your truest self…
Your highest-self,
Your loving-self.
It takes you to an intelligence that is imbued in you,
That would naturally choose,
Not to abuse,
Or hate,
Or kill,
Or destroy...
But to..
Deploy -
Your deepest love and compassion...
Gift the whole world with your fiery passion.
Show them what it means to live in truth with your heart,
Maybe,
Just Maybe,
You'll inspire them too,
To Just Start.

---

---

---

---

---

---

Thank you as always for reading :)

With Love
Hart Floe Poet
♥

---

---

---

All entries and images are created by me on each day as required by the rules. Loving the need to create every day to be part of this… it's so rewarding!

Please make sure that you join the -

Steemitschool Discord Channel to stay in touch, get involved, take classes and workshops, improve your poetry, post your submissions and do your bit to become a part of the community there... Let's make this extra special by coming together!

All images were created by me on Canva. All photos used in construction of images are my own. ♥