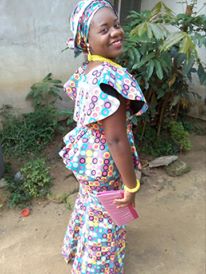 My name is Patience Friday, am the first child of the family, a beautiful lady. I studied Library science in the university and am currently self employed.
I joined steemit a short while ago and much to my chagrin. My brother has been blogging on the steemit blockchain for a while now and also tried to introduce it to me, but to no avail. It was when i saw adjustments to his life, most especially independence, i decided to give it a try. Am sad though that i didn't join earlier as Steemit is already adding much to my life.
It has touched different periphery of my social life, my Business, my Education, my Finances. Through steemit, i have meet new people, getting to know and involved in steemit community building.
Being a lady is not an easy task, especially in the country i come from, Nigeria, which is ruled by muslim oligarchs; transferring the doctrine of female repression to both christians like myself and muslims who would love to be liberals we are mostly at the receiving end of so many negativity including joblessness (here it is believed a lady isn't supposed to work, thus depriving them of financial freedom) sexual harassment, and rape etc. The long journey to seeking independence seemingly had ended with my discovery of steemit though i initially treated the idea of joining steemit with non-chalance. Everyone wants to be independent (financial independence i think is the most important), I hate asking for a lot of things like money (this makes me feel lesser of a human being, i strongly believe in equality)
I did not grow up in a wealthy family, and being the first child of the house it was hard to request for a lot of things; infact, it was always a "no" as i was always told, "we are going to buy for you younger sister, or if we buy this for you, what will she get" . It was really difficult and frustrating because I had to embolden myself when i went out with friends but wasnt really able to contribute.
Earlier stated, steemit has touched different aspects of my life, thus:
BUSINESS COMMUNICATION
Steemit has offered me a platform for free advertisement and as result of this, i will be building up a multi-agro business. I have a base in various agricultural projects like Aquaculture, poultry and green house food crop production. Our recessing economy is trying to diversify it economy by cutting dependence on oil and turning to agriculture as a means of leverage. Having a multiple business outlet wouldn't be a bad things. Steemit have accelerated my plans to own multiple business outlet as it has provided the needed funds. I have discovered agriculture is not trending on the steemit platform, this offers an opportunity as i intended to take a leading role
EDUCATION COMMUNICATION
I joined steemit for the money, it was all about the money. As i grew on the steemit platform, i learnt quality content was the magic. This lesson reshaped my focus and engineered me to reduce my frequency of blogging, instead, i spent more time doing research about a topic of interest and write something qualitative about it, .
This has had a major impact. As a student, i had always had difficulty disciplining myself to study, even in my job, i found it difficult sitting one place; afterall, work is not always around, so i spend most time outside my place of job. I participate in a whole range of contest, including fiction, peoms, short stories etc this has helped educate me as i participate with my dictionary by my side and googling a whole lot of idiomatic expression. This has had effect on family and friends as i tend to also educate them. Steemit has expanded my knowledge base, and now i feel more intelligent.
FINANCES COMMUNICATION
I earlier seemed to downplay the importance of money in my education communication, seemingly attributing importance to quality contents. Please money is also very important, but it is good to note that quality contents gives you the much needed money. Steemit has done what other social media platform can, but has refused to do. Unfortunately, this is not happening at all.
Steemit have sure lifted the financial burden i was caring as well as the one i placed on my fiance, family and friends and this has had a positive effect to my life; i no longer depend on my fiance, parents and friends for cash, this in turn have lifted financial burden on them. I have been able to sustain my business and infact taken it to another level. Financial restraints is now a thing of the past. As you can see, this has given me freedom and has prevented me being pathetic etc A poor man has no voice, a poor lady has no name. Steemit is gradually giving me an identity and certainly, my new found identity will trend, worldwide.
LIFE COMMUNICATION
Steemit have certainly had an enormous impact on life. I used to be lazy and lacklustre but steemit, have caused a turn-around. I no longer have the time to flare up rather, i sit down to think as much as i can to do something qualitative enough. I thank steemit for a reversal to this unprofiting way of life. Steemit have given my life a direction. I have gone a great length to spread steemit to my husband to be, family, friends, neigbours and strangers and whole lot of people, including my employees.
This has led to socialization, friendships and exposure. Poverty prevents socialization depending on the personality. I always stayed behind in decision, keeping in mind i wasn't going to contribute anything substantial to the project discussed. Steemit has gradually given me an identity, a voice etc and there isn't going to be a stop.
Furthermore. Today, i can boldly say that there is a turn around many areas of my life.
Many aspects of my life have changed positively and i can boldly say that steemit is responsible for it.
Thanks to @dobartim for this good project.
Thank you very much
Please follow @dobartim and join the contest here https://steemit.com/steemitultimatechallenge/@dobartim/steemit-ultimate-communication-challenge-8-weeks-win-up-to-2000-sbd-week-1.