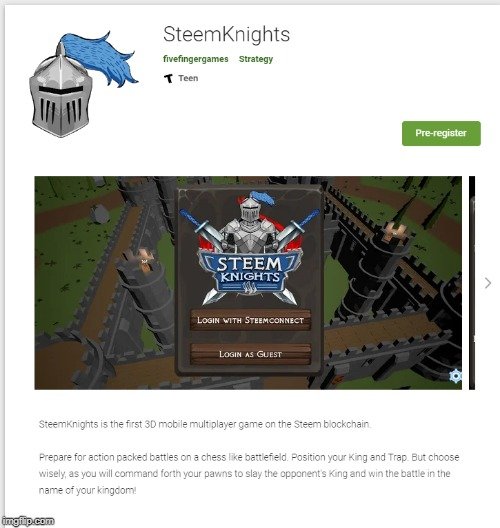 That's right your eyes don't deceive you. The first ever 3D Steem Blockchain game (SteemKnights) is available for download in the Play Store. The downloadable version can be downloaded on your Android, PC or laptop. What's that, You Don't Like Downloading , No problem as there's also the option to play in browser.
Currently the game uses Steem Connect to connect your blockchain account to in game play. Steem Connect has become a trusted and reliable option for Dapps users when doing various activities on the Steem blockchain.

As noted above SteemKnights is the first ever 3D Steem Blockchain game. It utilizes the RPS (Rock,Paper,Scissors) principle for in game play. The game is played on a Chess/Checkers like board and we have three ways of attacking our opponents.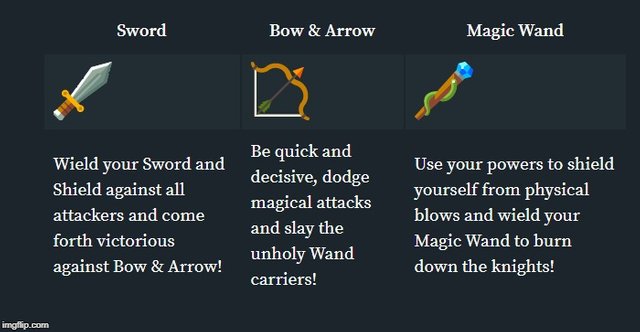 This game has just launched in Beta mode so hurry and sign up and start battling today. Doing so will give you the distinguished claim of being able to say,"I was among the first to play a 3D Game On the Steem BlockChain".
The founders of this game are currently running a promotion where they intend on giving out 1000 Free Steem . Instead of giving this away in one lump sum they wisely decided to give the 1000 Free Steem away in batches of 200 Steem over a 5 day period.
What's the catch/How do I get some of this FREE STEEM?
No catch at all, this is a free gift from the founders to those who decided to play their game. Of course you can't earn any of this
FREE STEEM
without signing up first so go ahead and click --->
SteemKnights
<--- to get signed up today. Remember this added 1000 Steem that is given out will be given out within the next 5 days so the sooner you sign up the more Free Steem you could earn.