Bitcoin can be the safest bet but potential gain (according to my assumption) in next two years is 3X which is around $30K.
On the other hand, if so called altcoin bull run returns after BTC's ATH, then Steem can too break ATH too. Then at $8 a Steem, Steem's gain will be at 50X.
Now, we have seen how high LEO can go on FOMO. During ATH of Steem, if LEO can reach at least 0.5 Steem, then its gain would be 120X from current price point.
Therefore, LEO has the highest potential gain after Steem and BTC.
The only question is the which case the most possible. Off course, probability of BTC's case is the highest since all the news and talk is with BTC. But gain is also limited.
Now, Steem at current price of 15-16 cents can be bargain of a lifetime.One may ask why?
Think of when Steem hit all time low of 7 cents during April, 2016. It was a chaos, @dan left and Steem was at 100% inflation rate.
Now Steem is stronger than ever. It has one of the highest number of DApps and most successful DApps in the cryptoworld. The setback related to rewardpool almost found a solution in EIP. Though SMT has not arrived yet, but SCOTs with @steem-engine is flourishing.
As SMT developments are finally get progressed, SMT is definitely on the horizon this time. The biggest difference between SMT and SCOT is that SMT can added to major exchanges where Steem has already been there.
Moreover, given the large number of active and die-hard Steemians, there is threshold that Steem can dropped further. It could be 14 cents, or at worst 10 cents. It can't dropped to one cents due to this number game. Therefore, downside from this price point is very low.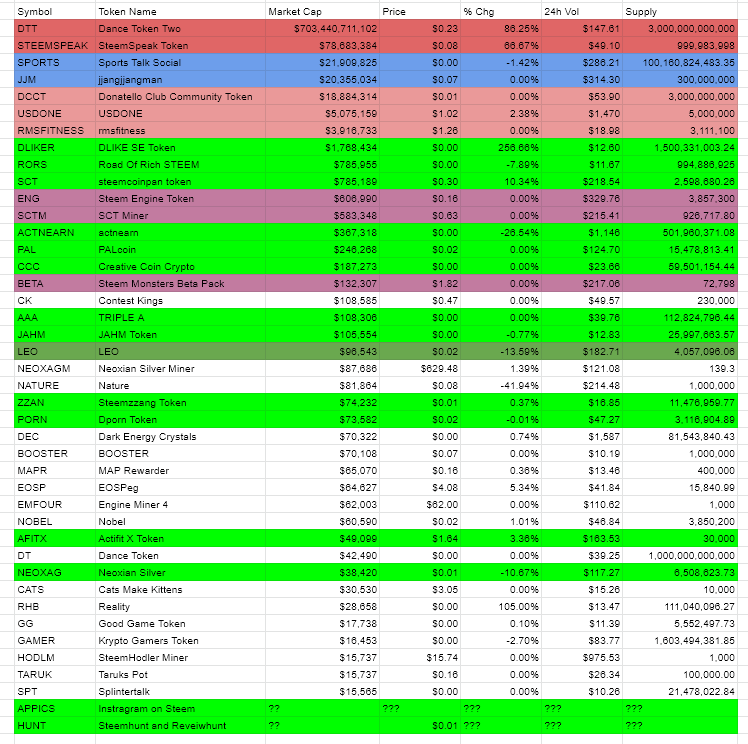 Now, there are more than 50 tribes and more than 200 SE tokens. Some has unrealistic marketcap due to supply and liquidity issues. However, looking into the tokens LEO is one of the best maintained tribes with development, involvements and sinks. It is a tribe for investors after all who understand how to HODL too. Therefore, there is a good chance it will see more growth in its marketcap.
Recently, its marketcap went up as high as $1M momentarily. If it keeps growing and Steem breaks ATH again in the next altcoin bull run, then 60X gain is not impossible.
However, there is a good chance that LEO's price can fall in Steem if Steem price goes up in fiat. It happens to Steem all the time against BTC. To get out of Steem's trading pair, when SMT will be finally released, then LEO can be piggy backed on an SMT to be listed on external exchanges such as @binance or @huobi. It will bring large number external investors and reduce dependency on Steem's pair.
LEO probably has the highest gain potential and so does the highest risk. However, given the low price of Steem and low marketcap of LEO (less than $100K), downward correction possibility is quite low.
Finally, it depends on the investor's mindset to achieve asymmetric growth such as 60X vs 3X. For me, personally investing $1000 in LEO or $5000 in Steem rather than buying any BTC is risk well worth taking.
Disclaimer: This opinion is not a financial advice, it my personal perspective and opinion. Please seek professionals for financial decisions.
Thanks for reading.
@dtrade
Cryptominer, trader and blogger since 2013