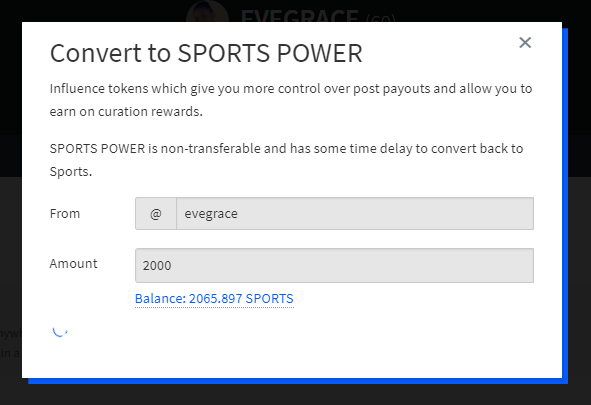 I am @Evegrace, a lady, whose life has been full of stories, not just ordinary stories, but stories that touches humanity.
Many times , I have teared, but in all, I have been made stronger and stronger each day passing.
I am thankful to God specially for the gift of life which gives me access to every other blessing that life avails me.
Today, I am so encouraged when I see myself walking out of fear and grips of uncertainty to make a viable investment as this. It gladdens my heart that I am growing, certainly growing.
For these few months I have been on Steem blockchain, I have dedicated them to encouraging people who are at the verge of giving up with life. I had similar thoughts but today, I am growing stronger.
I am continuously making these investments in SPORTS token because I see a growth in the future. That growth will help me to power my @Blesstheorphan project.
You see, I hjave done virtually nothing in the past. I keep praying that these investments will yield something big.
In all, I wish to join forces to curate my love community @Steemchurch with my SPORTS investment in the meantime.
SUPPORT MY STEEM PROJECT
@BlessTheOrphan project is targeted towards children and teenagers who have lost either or both parents and are going through difficult times to survive. The affected will receive relieve materials including food, clothing and educational support from @BlessTheOrphan project in a bid to help them survive.
Moreover, the vulnerable girl-child (even with both parents) will be considered in this project. While I grew up, I had been hurt because I had no one to talk to nor be concerned with my worries. I know the pains such girls go through and @BlessTheOrphan project will be a coverage for them. In this part of the world, some girls are so neglected that some rarely have access to the basic woman's need such as sanitary wares. #BlessTheOrphan project will be a coverage to such.

Friends, Beatitudes (HEARTs) is for all, Be a part of this Blessing...
---
---
---
---
Hey! to you trying to give-up, wait yet a bit. Your sorrows and troubles are not the end of you. You will smile again. Jesus is the bright and morning Sun. He will lighten you day.

I hope you'll engage my post with your comments, upvotes and resteems. Thank you.