Posting & browsing from the https://steemleo.com interface is one of the most important things you can do to support the #steemleo community. That's why we have instilled the @leo.voter program to upvote content that is posted directly through the SteemLeo interface.
These weekly reports will track the progress of increasing the amount of activities we see from our community's interface which has direct correlations to the LEO token economy through Ad burns, BAT rewards and other factors.
tldr;
Posts & Comments from https://steemleo.com have been growing significantly since the leo.voter program started
There are over 300 posts a day using #steemleo, but only 30-37 posts a day which are directly from our interface. This means we have a lot of room to grow with the existing Steem community and with the external world of authors out there
@leo.voter now has 238,424.21 STEEM POWER
Activities Overview
The following is a chart, featured in the weekly @leo.stats report that shows the all-time activities related to the SteemLeo community: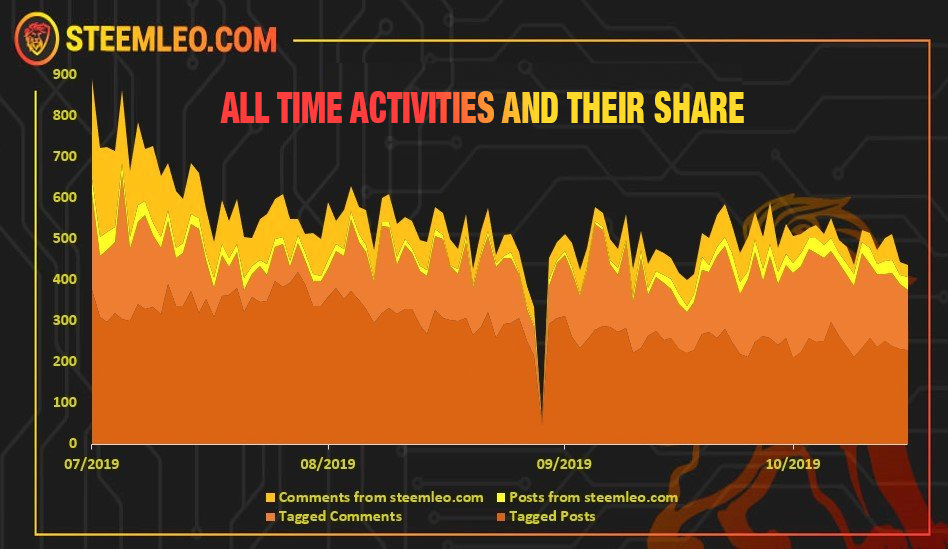 Our goal is to grow the lines that represent #1 and #2 as that means that more people are actively using our interface.
As you can see in the chart, the yellow line (layer 2) has been growing thicker in the past few weeks. This is largely due to the incentives program initiated by the @leo.voter account to upvote content that is made through our interface.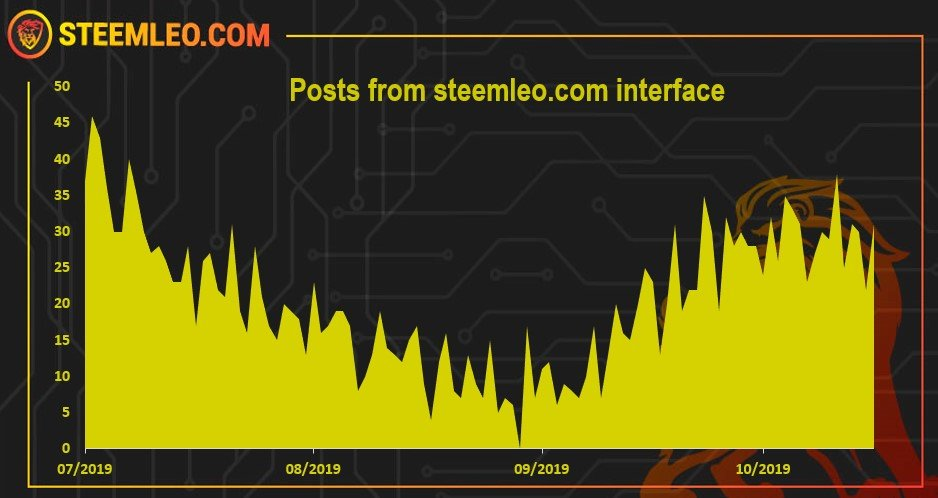 There was a lot of hype at launch and many authors used our interface. It slowly dwindled down until finally, we launched the @leo.voter program. Now we're seeing a nice trend upward and are sustaining levels that are close to the original hype. Again, our goal is to see this trend reach greater heights.
We are right in the range of 30-37 posts from the interface each day. Compared to the 300+ daily posts with the #steemleo tag, we've got a lot of room for growth within the Steem community. Couple this with new authors coming in from outside of Steem, and these numbers could skyrocket -- bringing the ad revenue along for the ride to the moon.
Current STEEM POWER Held By @leo.voter
The leo.voter account accepts delegations from STEEM POWER holders in exchange for a daily LEO token distribution that comes out to an 18% APR (calculated based on the bid-ask average from the DEX).
When I started writing this report, we haad 147,116 STEEM POWER held in the @leo.voter account.
Then, we received another large delegation before I finished the report. Now, @leo.voter has 238,424.21 SP in total (26,624.56 native + 211,799.66 delegated to us).
All of this SP goes toward rewarding users who have posted from the interface. The scale of the upvote varies depending on the quality of the post according to our posting guidelines.
The recent jump in our SP held by this account has provided a significant increase in our ability to reward native content. We are in talks with other large SP holders and the amount of SP utilized by @leo.voter continues to grow. We are also using it to rapidly claim account creation tokens. Across all the official SteemLeo accounts, we have over 1,500 tokens available. If you'd like to claim an account for free, just message us on Discord.
Receive Upvotes From @leo.voter
From the report, you can see that only about 50 unique authors are taking advantage of the massive upvotes from @leo.voter. If you'd like to receive these upvotes as well, all you have to do is post from our interface with original content that is related to finance/investing.
Not only will you receive more upvotes from large SP holding accounts, you'll also receive more LEO author rewards as you get the "Written from SteemLeo" badge next to your posts. This badge is a signal to the entire SteemLeo community that you are supporting the growth of the platform by posting content natively from our interface.

all of our LEO author/curation rewards on this post are permanently burned from the token supply
#steemleo - A Next-Generation Community for Investors

Post from https://steemleo.com and earn additional rewards from the SteemLeo community:
Chance to get featured in The Daily Leo and earn beneficiary rewards
Upvote from our native content curation account --> @leo.voter
Support the LEO token by viewing ads on our site, which are used to buy LEO and send it to null