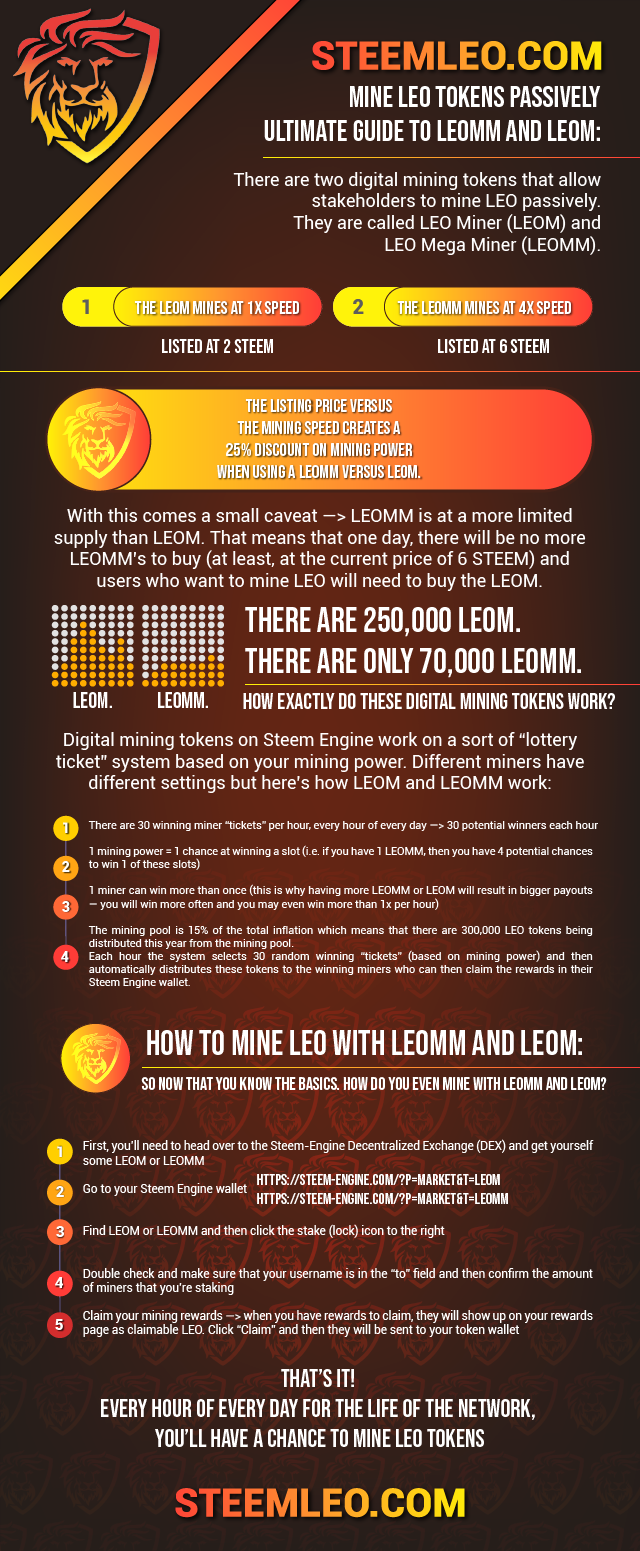 There's been an influx of questions about the mining tokens, LEOM and LEOMM since our launch.
We figured that there was no better way to explain it than by making the end all-be all guide to our mining tokens. An infographic that will simultaneously blow your mind and give you one of the worst cases of FOMO you've ever experienced.
The infographic above explains it all. But here is the written version along with some mining statistics:
Guide to Mining LEO
There are two digital mining tokens that allow stakeholders to mine LEO passively. They are called LEO Miner (LEOM) and LEO Mega Miner (LEOMM).
The LEOM mines at 1x speed.
The LEOMM mines at 4x speed.
The LEOM is listed at 2 STEEM.
The LEOMM is listed at 6 STEEM.
The listing price versus the mining speed creates a 25% discount on mining power when using a LEOMM versus LEOM.
With this comes a small caveat —> LEOMM is at a more limited supply than LEOM. That means that one day, there will be no more LEOMM's to buy (at least, at the current price of 6 STEEM) and users who want to mine LEO will need to buy the LEOM.
There are 250,000 LEOM.
There are only 70,000 LEOMM.
How Exactly Do These Digital Mining Tokens Work?
Digital mining tokens on Steem Engine work on a sort of "lottery ticket" system based on your mining power. Different miners have different settings but here's how LEOM and LEOMM work:
There are 30 winning miner "tickets" per hour, every hour of every day —> 30 potential winners each hour
1 mining power = 1 chance at winning a slot (i.e. if you have 1 LEOMM, then you have 4 potential chances to win 1 of these slots)
1 miner can win more than once (this is why having more LEOMM or LEOM will result in bigger payouts — you will win more often and you may even win more than 1x per hour)
The mining pool is 15% of the total inflation which means that there are 300,000 LEO tokens being distributed this year from the mining pool.
Each hour the system selects 30 random winning "tickets" (based on mining power) and then automatically distributes these tokens to the winning miners who can then claim the rewards in their Steem Engine wallet.
How to Mine LEO With LEOMM and LEOM:
So now that you know the basics. How do you even mine with LEOMM and LEOM?
1). First, you'll need to head over to the Steem-Engine Decentralized Exchange (DEX) and get yourself some LEOM or LEOMM
https://steem-engine.com/?p=market&t=LEOM
https://steem-engine.com/?p=market&t=LEOMM
2). Go to your Steem Engine wallet
3). Find LEOM or LEOMM and then click the stake (lock) icon to the right
4). Double check and make sure that your username is in the "to" field and then confirm the amount of miners that you're staking
5). Claim your mining rewards —> when you have rewards to claim, they will show up on your rewards page as claimable LEO. Click "Claim" and then they will be sent to your token wallet
That's it! Every hour of every day for the life of the network, you'll have a chance to mine LEO tokens 😉
Current Mining Token Statistics:
Special thanks to @gerber for working hard to pull the data from the blockchain and make these charts about the mining tokens on Steemleo!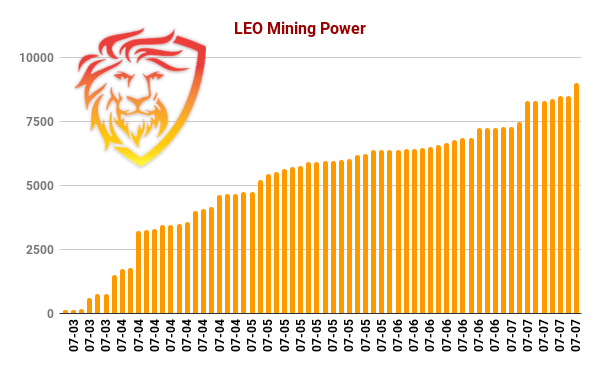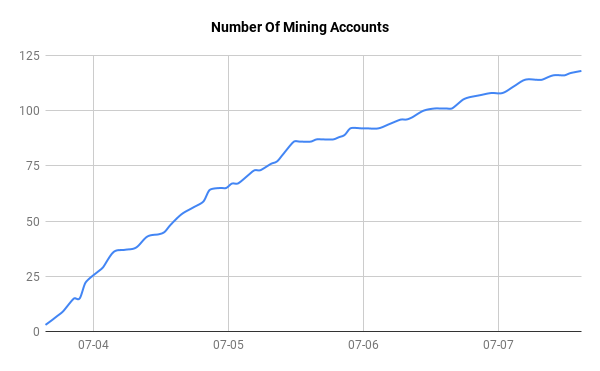 Another thank you goes out to @flauwy for redesigning and optimizing our divider :)
#steemleo - A Next-Generation Community for Investors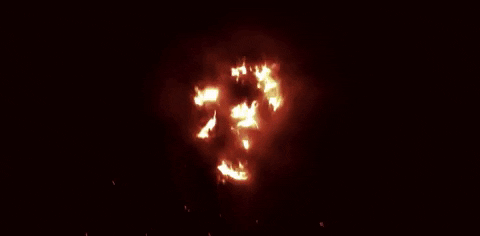 Steemleo -- Blogging Platform
LeoTube -- Video Platform
LeoPeak -- All-In-One Interface