Hier geht's zur deutschen Version!
Hello Community
Today I want to tell you about my experiences at the Steem MeetUp in Aachen.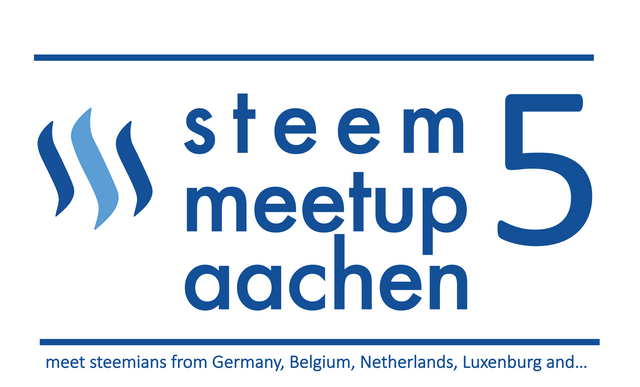 Arrival:
It was a long journey for me to Aachen which took over 7 hours. It started at 11 o'clock in the morning in the tram to get to the main station and already here there was the first incident. There was a rail break and my train had to make a detour. Fortunately I reached my destination faster with it and still had time to buy something to eat.
From here I continued with the Regional train to Mainz where I changed then into the IC to Cologne. The problem was the IC had already in Mainz 10 min delay and I had only 9 min change time in Cologne. Because the train hadn't caught up any delay, I had to wait then in Cologne for the next train, it drives luckily each hour. When I was in this train I only had to get off in Aachen and walk to the office of @detlev which was not too far away from the train station.
Das MeetUp:
The MeetUp:
There I met some Steemians who were already eating, drinking and talking. It was only the Dutch missing who had gone to the hotel to deposit their stuff.
It was nice to see again some familiar faces like @shortcut, @arcange, @sorin.cristescu, @detlev, @sunsea who cooked us super delicious food, @soyrosa and not to forget @reggaemuffin and @suesa.
But it was also nice to meet a lot of new people, whether from Germany or the rest of the world. Greetings to @achimmertens, @pundito, @brittandjosie, @brudaj, @jga, @senzenfrenz and @smartiot.
Also funny @reggaemuffin and I were once again confused.
Image from
@senzenfrenz
.
After everyone was there @detlev started the barbecue and I opened the beer barrel that I brought with me, some people will already know it from the Steem Fest. There was also Dutch beer which @pundito brought along which him that was also very good.
@detlev then served us some super delicious Cevapcici, some Nürnberger, some self-marinated chicken pieces, grilled vegetables and grilled cheese.
.
Presentations:
When we were finally fed up and everyone had a beer, we sat down in the meeting room and @sorin.cristescu started his presentation about the problem of storing images on steem, which forces Steemit to sell a lot of steem. He suggested creating a storage market on Steem so that these Steem remain in Steem ecosystem and is not sold.
Here the link to the video
When he was done, @suesa came next to briefly tell us about Utopian and what's going on thare, then she talked about her story on Steem, to end with some current problems of Steem, such as the communication between Steemians.
Building on that, there was @reggaemuffin's presentation introducing us to the @buildteam's new project, tokenbb a forum on the blockchain. After that he tells us more about all other projects his team is working on like dlease and about the buildteam token.
Here the link to the video
The last person to pass was @arcange, with who I devoured the nibbler on the table during all the previous presentaions. He presented @steemitboard and gave us a special badge that his designer had developed for us just the day before. Many thanks to him.
Here the link to the video
The End:
After all the presentations we continued to discuss the different topics, but it was getting late and the people were going home until there were only a few left. We then put the rough stuff away and then @reggaemuffin, @suesa and I went with @detlev to his place because we all stayed there overnight. There we guys drank some more beers and talked a bit more until we got too tired and fell into bed.
That was the first day of my trip to @detlev. I spent the whole weekend afterwards there, learn more about what happened the next days in my next posts.
Thanks for reading and also thanks to @detlev for organizing this MeetUp.
---