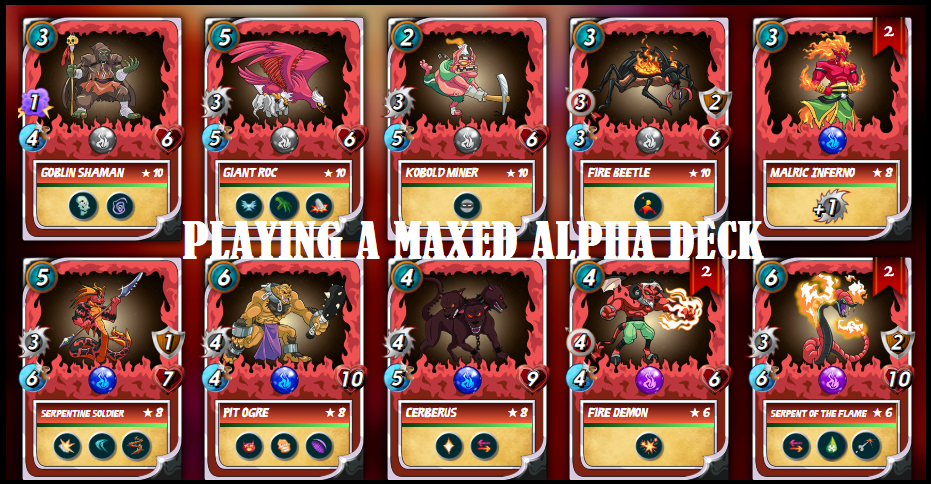 ---
This post is actually overdue
I wanted to write this much earlier, but life got in the way. I didn't do much the past week, and Steemmonsters was played only for the quests. But my week started pretty sweet talking about Steemmonsters. One morning I found a notification from Gina, from @holoz0r. Then I remembered that I entered his raffle to play a maxed alpha deck until the end of the season. Could it be that I won? I was super happy to see my name as the winner, and I hoped to get out of the Gold league quickly so I could use the alpha cards to their max abilities. Unfortunately I only got into Diamond yesterday, and today I finally had some time to play more battles.
This is what happened: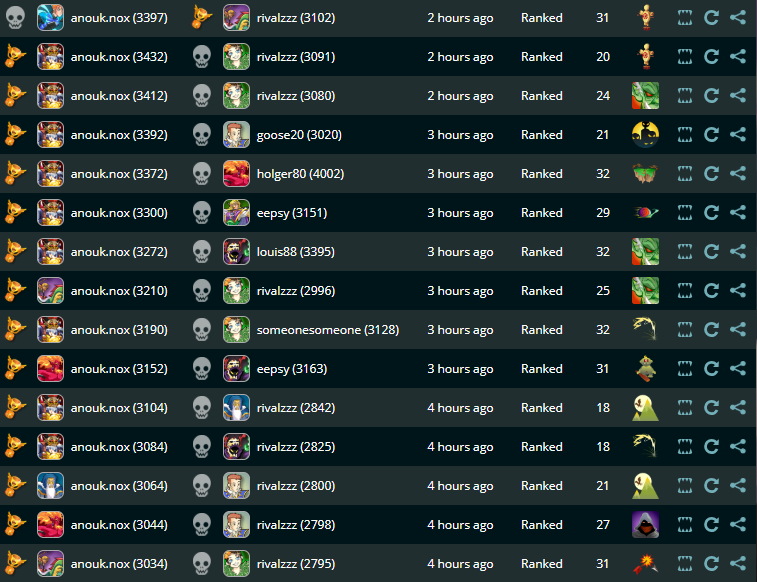 So not only I ranked up to Diamond 2 pretty quickly, but I also bumped into Diamond 1. The last battle I played I lost, but I'm only 3 points away from getting back into Diamond 1. At the moment, I'm at rank 97 but probably I will be pushed out of the top 100 pretty quickly when I won't keep playing today. No problem for me, I'm just enjoying playing the maxed alpha deck from @holoz0r until the season ends.
---
2,5 days left to play the maxed deck, maybe you can win his next raffle!
While I keep enjoying the cards for the next 2,5 days until the season comes to an end, you can enter the raffle to be the next lucky person that plays this wonderful maxed alpha deck! You only have to send 0.2 STEEM to enter, and what I love about this raffle, everyone has the same chance to win. Only one ticket per account is allowed, so it's not pay to play here. Not that many people have entered the raffle yet, so I want to take this moment to promote his raffle and hope that some more people enter this time. He could easily choose to rent out his complete deck on Peakmonsters, but instead he's giving other players the chance to play the game with a maxed deck. You can now manage your way through the Diamond league, but also enter Alpha only tournaments in Gold or Diamond league!
---
What are my thoughts after playing this maxed Alpha deck the past week?
I have to admit, that some of my fire and water monsters are maxed already, but I only played with a maxed fire summoner so far. Now I had the pleasure to play them all with a maxed summoner, which made me realize that some cards are pretty awesome when they're maxed out. I also have to admit that I really had to adjust my thinking while playing alpha only tournaments, I'm pretty used to using the neutral cards, which aren't available during the alpha only tournaments. But it's worth to try them, as the chance of winning something is bigger compared to the all cards allowed tournaments. Having this deck for the past week has actually made me realize that I will slowly get rid of quite a few beta cards, to replace them for the alpha versions of them. But not getting rid of my neutrals :) I love them too much!
---
A big thank you is in place!
Thanks @holoz0r for giving me (and others) this opportunity, I will take care of your monsters for the next 2,5 days until you pull back the delegation and soon delegate them to the next one. I hope by sharing your raffle in this post, more people will know about your raffle and enter it.
---
See you in the battlefield!
~Anouk