Hello Steemians
I hope you're having a great day!
I've got 6 cards for completing a daily quest.
Let's see the whole pack.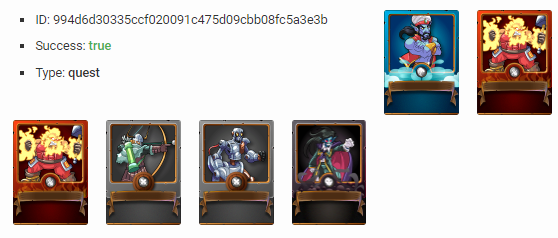 I can't say a lot about these cards as I know very little.
So I'm taking help from "lore" of steemmonsters.com to show a proper details about these cards.

SEA GENIE
The Sea Genie simply waits quietly in his dark, deep lair at the foot of Maka Peak. He is the only resident of the Cave of Mysteries, a powerhouse of magical force. The Genie was first summoned hundreds of years ago, and now he is prisoner to the ΛZMΛRÉ summoners, doing only their bidding and little else. Source of Image & Details.
My opinion about SEA GENIE:
It looks like the genie of Aladin.
So cool, right?
Although there is not any summoner like Aladin in water splinter.
Yeah it's of water splinter and I don't play with water splinter.
I had this card with high level and then sold/converted it when I stopped playing with water splinter.

EXPLODING DWARF 2X
The aptly named Exploding Dwarves are newcomers to the Splinterlands. No one knows from whence they came; the Dwarves simply emerged from the Molten Mountain caverns a decade ago, quickly reproducing and settling across the Burning Lands. It is best to keep distance from them (especially when they are exploding). Source of Image & Details.
My opinion about EXPLODING DWARF:
I never did found it helpful, don't know why. I've seen many players using it in many matches and it did fantastic job. But i just don't find it helpful.
So I normally sell/convert this card.

HIGHLAND ARCHER
The Highland Archers live in the mountains that surround the Life Splinter. They were trained by the Centauri Bowmen of Anumün, and migrated from Lyveria several generations ago. The Order of the Silver Shield does not interfere with the Archers' simple existence high in the mountains of Khymeria. Source of Image & Details.
My opinion about HIGHLAND ARCHER:
It's a nice card for neutral.
For 3 mana; it gives a good support to the team when it is in a higher level.
I didn't like this card at first sight but now I like it as it's a helpful one.
Sometime it becomes a great asset and other time it doesn't.
I can give it a ranking of 7 out of 10.

RUSTY ANDROID
Several Lyverian farmers reported seeing a strange blue light rushing down from the sky one evening and landing with a crash in the fields. Later that evening, a strange metal-skinned device calling itself Rusty Android was making friends with the locals in the tavern. Source of Image & Details.
My opinion about RUSTY ANDROID:
Honestly... I was so excited after I got my first rusty android when the reward card arrived newly.
I even submitted a blogpost about it and made it higher level for me.
But I didn't find it helpful so stopped using it and I sell/convert every single rusty android that I get.

VAMPIRE
Some Dark Eternals choose to turn their back on the Dark Codex, giving in to the temptation of Soul Harvesting. It is a disgusting and archaic practice that takes over the soul of its practicer. Eventually the Soul Harvester becomes addicted, needing to feed off living souls to survive. This is the birth of a Vampire. Source of Image & Details.
My opinion about VAMPIRE:
In one sentence... I hate this card.
It's a total massacre.
Although it helped me in a match long ago as far as i can remember.
I had it with higher level and then I sold/converted it.

If you're interested in playing steemmonsters game then you should start it.
Here is the link of official websites which is also my affiliate link.

Some Earning Tips
Get Some Extra Cash doing tasks on Clixsense.
Click Here - Registration Page
See this post for the entire process
Use @Partiko App to get some extra rewards.
Click Here - Partiko in Play Store
Use @Share2Steem to get some extra rewards.

"About Me""
Generally...
I'm a Writer (I write poems+short stories), Traveler (I travel whenever I get free times and resources as it's a part of my life actually), Photographer (I love it too much) and Designer (Currently I'm the lead designer of a private company).
As a steemian...
I'm a curator of @onelovedtube, @Helpie, @tipu, @bdcommunity, moderator of @actifit and support member of @steemitbd.
Yeah I 'm trying to be a successful steemian.
I am available at discord...
My Discord ID: ashikstd#5058
Find me on..







That's all for now. I'll come with an interesting post again.
Hit the upvote button if you like this photo and leave comment if you wanna say anything about this post or my any other posts.
Please support me to keep having more of my works and you can follow me, so that you can see my future posts and you're always welcome to my blog.

"Be Good, Think Good and Do Good"