Great news everyone! It has been a few days since season 4 started and I have already reached the Gold I level.
I am guaranteed to receive 45 limited edition cards and there are still 7 days left to climb the ranking. The higher I go the more cards I stand to receive at the end of the season!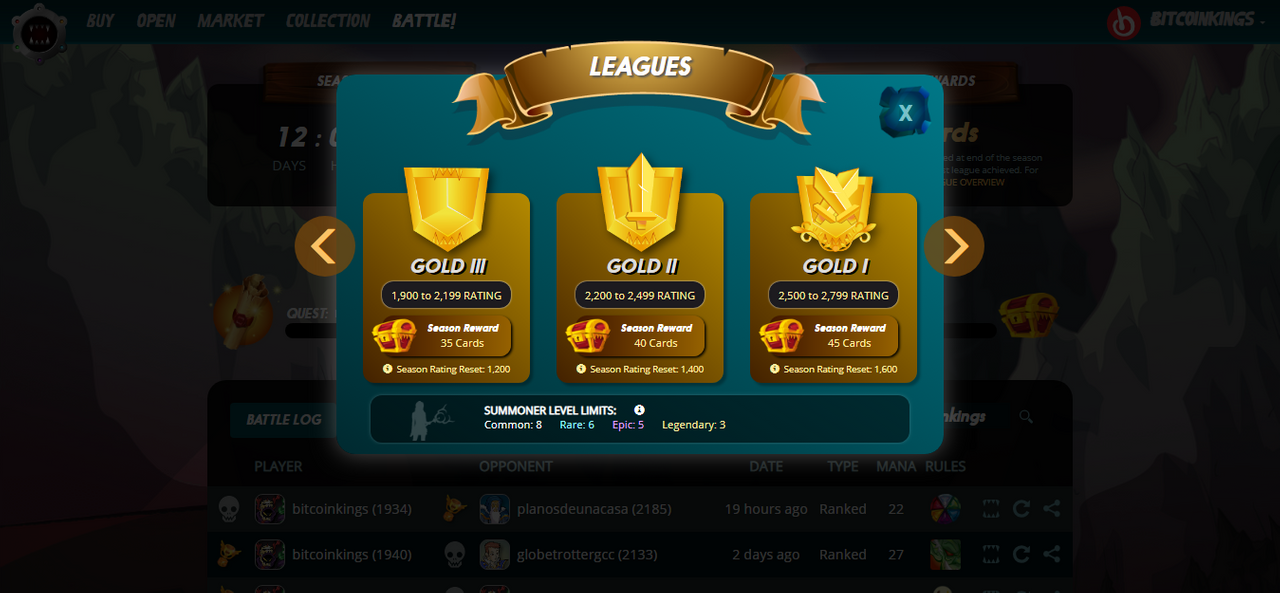 I also think its important for new members to understand that the higher you go the stronger your opponents will become. At some point during the season you will have to get a stronger team if you want to progress to the Champion level.
When I first started I faced similar challenges and because of that I decided to level up my monsters in order to progress to even higher levels. Luckily for me I bough quite a number of alpha cards from the marketplace when the alpha booster packs were sold out.
This was the only reason why I managed to level up my death team.
Read all about my experience with @cryptomancer in this article: Bought 7 Steem Monsters Alpha Booster Packs from Cryptomancer
Get Your Starter Set Now
If you're interested in playing the game but you don't have the cards then you might as well
buy a starter set for $10
through the Steem Monsters project.
Limited time offer: Join my Discord server and pay only $7.50 for a starter set. Join Bitcoinkings server!
The starter set will include 30 pre-defined cards and a brand new Steemit account with enough resource credits for a few battles.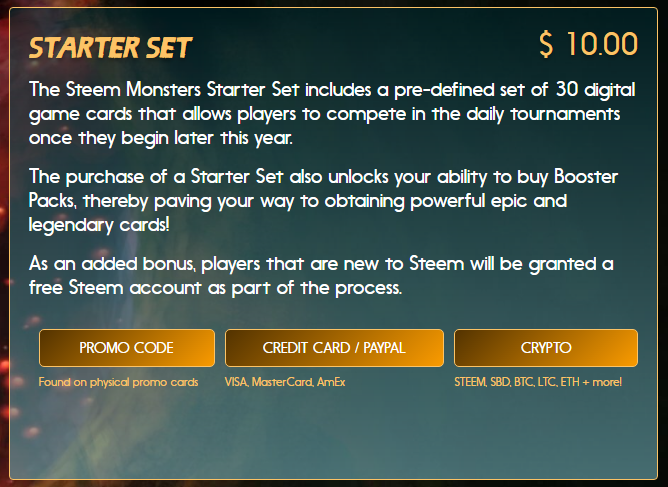 Steem Monsters Battle Playlist
Check out the latest battle preview playlist if you are interested in learning more about Steem Monster. The playlist will be updated on a regular basis now that the new season has started. Subscribe to the playlist:
https://www.youtube.com/playlist?list=PLIzPCrhIYTlz4P_eGKMVqoTkRsiXd8ys_

Please follow @bitcoinkings for updates and don't forget to share some crypto love:
Bitcoin - 1G6U91jqH6CBEqeywpWnXQjNYeefcH91eL
Ethereum - 0x7aDe9b3810544Ec0c86E47C157f337acc35BDFAD
Litecoin - LPBJ5uCKb7zEz62arARDCRzHEfHz7o7YoS
DigiByte - DFtWh9xbJeEn3jgtyGmTuZdeJmarEPGxnn
Just in case you haven't read my previous post: Steem Monsters: Earned 25 Beta Booster Packs For Reaching Champion II During Season 2!