Poker has a bad beat jackpot where if you have an amazing hand (like 4 aces) and lose to an even more amazing hand, you get a bad beat jackpot (usually $1 is taken out of every pot for weeks on end and goes to fund the jackpot). Well I think this one below deserves the 1 million DEC jackpot (please post a better one if you have it). This was the round of 8 in the wealthy gambit, Earthquake/Healed out rule set. Here were the lineups: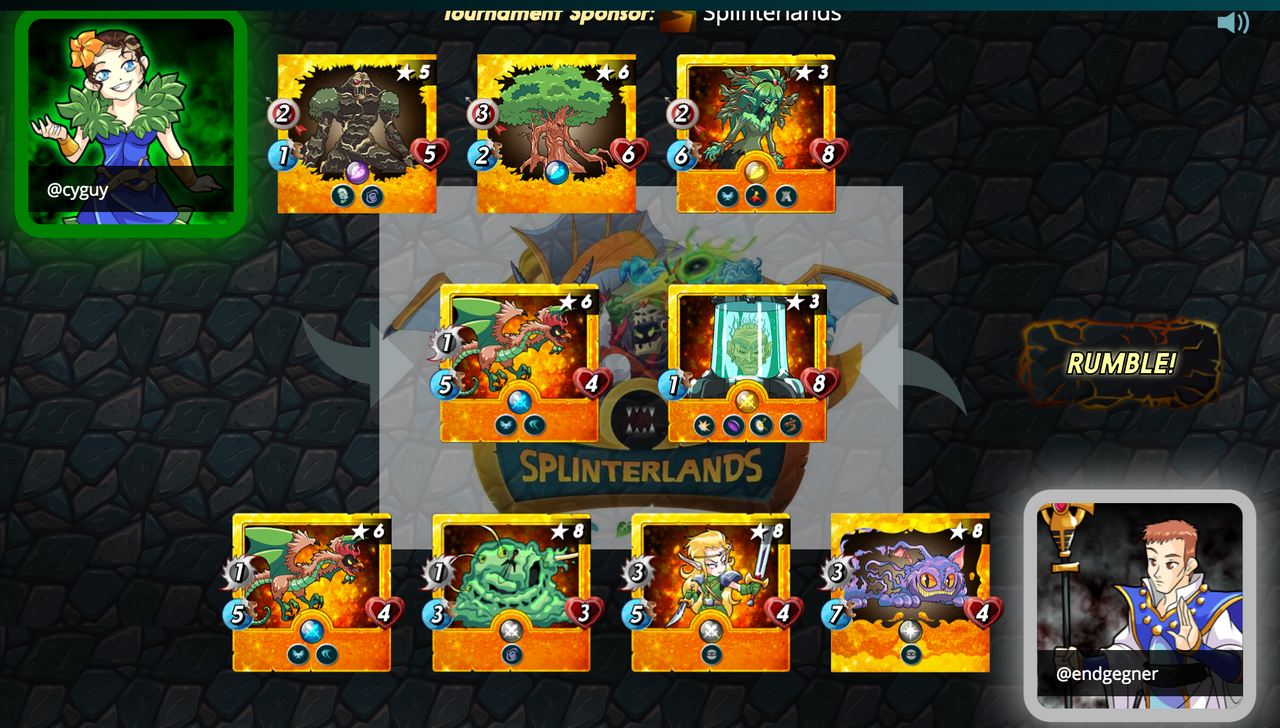 I felt good about my chances. All I needed was feral spirit and elven cutthroat to miss my Spirit of the Forest (SotF) twice and succumb to the earthquake and I was set. This is highly probable, as I understand it SotF has 5 for speed and flying, elven with his 4 for speed has a 65% chance to hit (25% chance to miss due to flying and 10% chance to miss due to speed difference), and feral spirit with 6 for speed has an 85% chance of landing a hit. What gives SotF a big edge is she has 9 health and 2 armor, so they need to land 4 hits on her and realistically only have 2 round to do it before their Lord A falls in the tank position. There is roughly a 30% chance they land 4 consecutive hits on SotF (0.650.650.85*0.85 = 0.3). They end up only landing 2/4 and we quickly end up in the following scenario: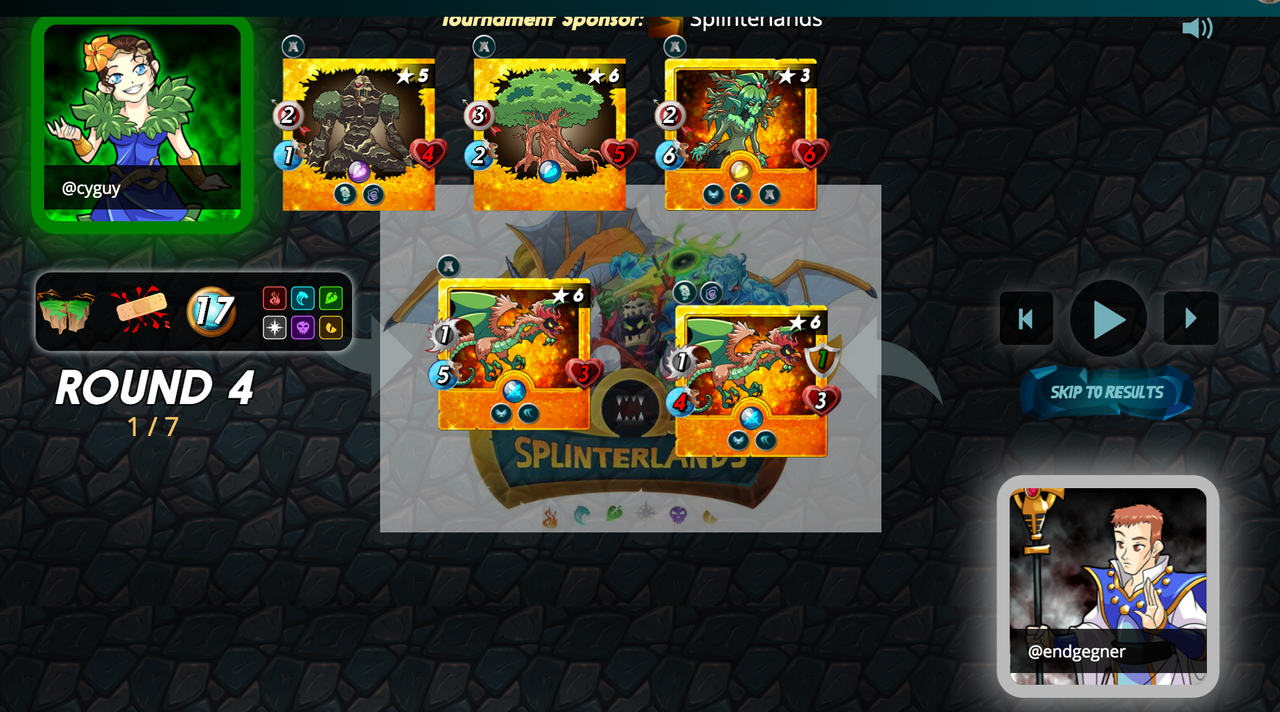 At this point, I am looking up how much DEC I get for moving onto the next round, counting my chickens before they are hatched while patting myself on the back.
Just from a coc vs. coc standpoint, I would probably have a 40% chance to win, since I am down 1 armor but up 1 speed. I have swamp and earth elemental as well, but they are slow and chances of hitting the coc are low 20% for Swamp (1 speed vs. 5 with flying and dodge), and 30% for Earth (2 speed vs. 5 with flying and dodge), I would need 2 hits from Earth or 3 from swamp, or a mix which there is only ~10% chance of Earth and Swamp taking care of things for me.
BUT I have SofT! She is 6 speed vs. 4 speed with dodge (flying cancel out), so by my calculation, she has a 95% chance of hitting (20% speed advantage - 25% for dodge), goes to 85% once swamp dies and coc speed increases. So I think I have a 40% chance of coc winning on his own, 10% chance Swamp and Earth could do it, and 98% chance SotF can land a death blow in her 2 shots (after coc loses armor), the chances of one of these scenarios or a mix of these scenarios and me winning has to be >99%.
How does it end? Well based on the title you can guess. My coc lands 1 shot, swamp misses both, Earth misses both, SofT misses last 2 for the kill. Here is the full replay
https://steemmonsters.com?p=battle&id=38d7b3aff82dd64d34d14ad796d6b47b4863b46d&ref=cyguy
Please confirm my understanding of chances for a dodge. And post your bad beats below.
I will harass aggroed about getting a DEC bad beat jackpot that is awarded at the end of every season.
Also on my wish list is a live odds or winning graphic like in Poker games on ESPN. I suspect mine was 80% at the beginning and was 99.9% for a bit.