Hey all,
I wanted to share a mistake I made so you can avoid it. In the recent past, I've been able to purchase cards including some on cooldown to combine into the card I'm leveling without any penalty. However, today I attempted to level a Mischevious Mermaid that I only had 1 copy of to start with. I bought myself 5 new Mischevious Mermaids including 1 that was on cooldown assuming it would act the same as when you merge one with an already leveled card. When I combined the cards I was disappointed to find my new level 3 Mischevious Mermaid was unplayable for 5 days. I was really counting on that card to get through my daily quest to win 5 Water Splinter games and now that feat is going to take me much longer.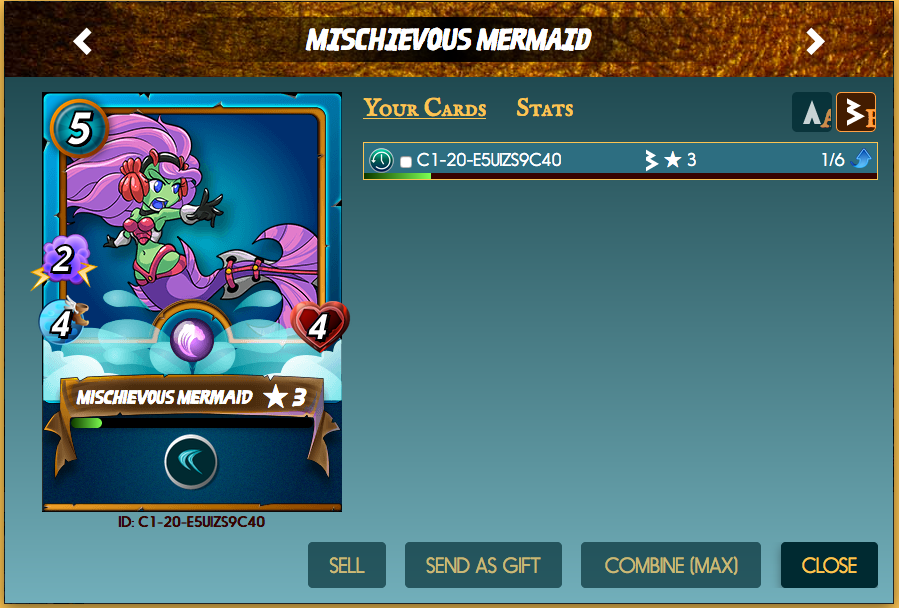 I'm not sure if this was the intended way for the cards to work when combined or not but please take this in to account and avoid making the mistake I did. I tend to stick with what STEEM I have for buying cards so I simply can't spare the STEEM to buy enough cards to get a new card up to par for my quest. Looks like I'll be working my way through this one without the Mischevious Mermaid at all now.
If anybody understands how the card combination process is designed to interact with cards on cooldown feel free to interject here to add some clarity, otherwise try not to repeat my mistake!