Hey all,
I'm running a 10 day test to see if I can get an ROI on opening Steem Monsters packs. I purchased 10 packs and I'll be showcasing one of the opened packs each day for the next 10 days. In order to determine the value of the cards within the packs, I'll be looking at the Steem Monsters marketplace for the lowest price on the day that I post the pack. I'll then keep a running total value of cards on the days they are presented and compare it to the cost to purchase 10 packs to determine the ROI associated. Pending the results, I may extend this experiment after these original 10 posts.
Day 10/10
For anybody following this thread, I apologize for the delay between day 9 and 10. I was on a weekend hunting trip and found myself mostly off the grid. Here's the final Result:
Divine Healer - $0.09
Tyrus Paladium - $0.34
Silvershield Paladin - $0.12
Peaceful Giant - $0.15
Serpentine Soldier - $0.12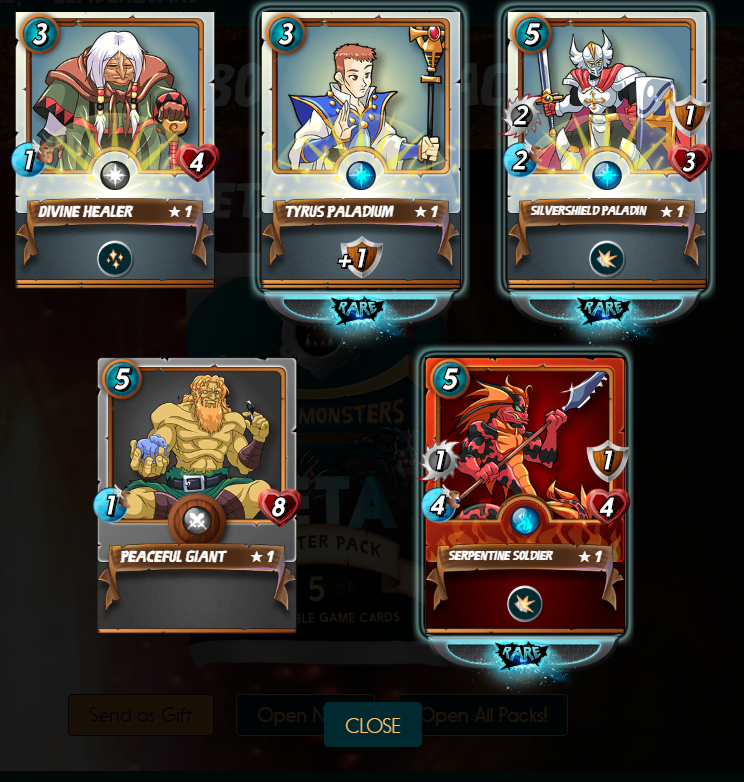 Total Value of Cards Day 10: $0.82
Pack Cost: $2.00
Net Gain/Loss: -$1.18
ROI: -59%
Total Value of Cards to Date: $12.69
Pack Cost: $20.00
Net Gain/Loss: -$7.31
ROI: -36.6%
So there we go, the original 10 days have been completed and I've taken a net loss of $7.31 (-36.6% ROI). I would not normally recommend repeating an experiment that ended in a loss like this. However, in this case I feel as though my sample size of 10 packs was not large enough to give the booster packs a fair shake. I'm considering running another 10 packs. I'll take a day or two to think about it and we'll see.
For anybody that's been keeping an eye on this, what do you think? Do you think buying packs is nearly always going to return a negative ROI unless you get lucky with the perfect Gold or Legendary cards? Do you think with a large enough number of packs the ROI will start to even out or even possibly trend towards profit? This experiment indicates that buying booster packs is similar to buying a scratch ticket where you're most likely to take a small loss, but maybe you guys have had a different experience? Let me know in the comments if you have thoughts on this!
Want to know what all the buzz is about? Check out this post from the Steem Monsters team to learn how to play and use this link to start playing Steem Monsters today*.
*link above is an official affiliate link from the Steem Monsters website, it will kick back a small incentive to me if you make purchases in the game at no additional expense to you