Hey all,
I'm running a 10 day test to see if I can get an ROI on opening Steem Monsters packs. I purchased 10 packs and I'll be showcasing one of the opened packs each day for the next 10 days. In order to determine the value of the cards within the packs, I'll be looking at the Steem Monsters marketplace for the lowest price on the day that I post the pack. I'll then keep a running total value of cards on the days they are presented and compare it to the cost to purchase 10 packs to determine the ROI associated. Pending the results, I may extend this experiment after these original 10 posts.
Day 9/10
No dice here, 1 more chance:
Goblin Sorcerer - $0.07
Rexxie - $0.05
Silvershield Warrior - $0.04
Fire Beetle - $0.05
Malric Inferno - $0.27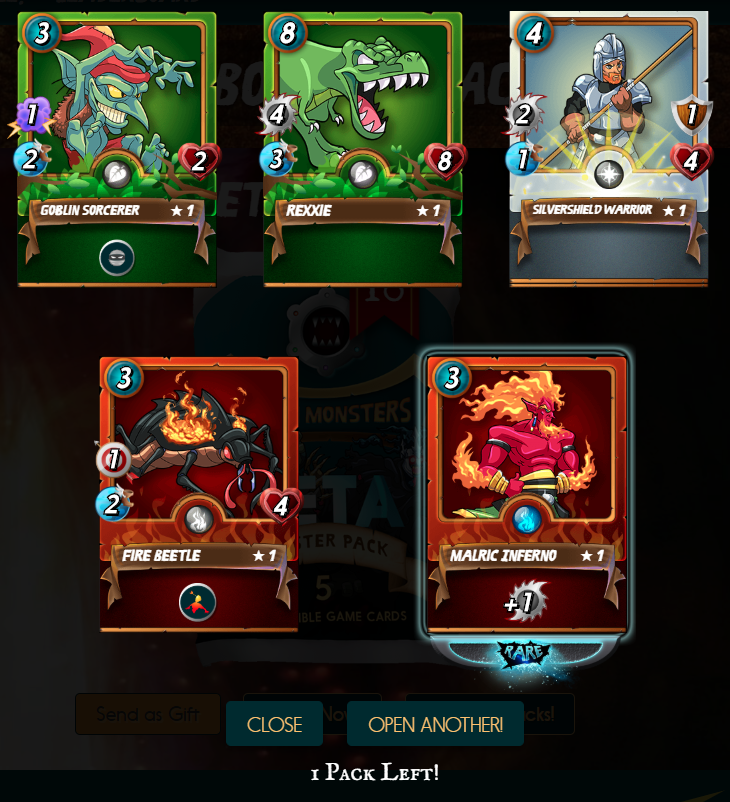 Total Value of Cards Day 9: $0.48
Pack Cost: $2.00
Net Gain/Loss: -$1.52
ROI: -76%
Total Value of Cards to Date: $11.87
Pack Cost: $18.00
Net Gain/Loss: -$6.13
ROI: -34.1%
Want to know what all the buzz is about? Check out this post from the Steem Monsters team to learn how to play and use this link to start playing Steem Monsters today*.
*link above is an official affiliate link from the Steem Monsters website, it will kick back a small incentive to me if you make purchases in the game at no additional expense to you