Hey all,
I'm having a blast with season 3 of Steem Monsters. For those who have not been in the loop, check out this article from the team that outlines the new changes. The most noticable changes are below:
You can see your opponents previous teams prior to picking your team to help you pick a competitive team. (red box below)
Rules and mana cap vary on each individual battle instead of being universal for a couple days at a time. (blue box below)
A timer has been introduced to make sure that your opponent does pick a team in a timely manner (yellow box below)
Algorithms have been updated to better match-make users within the same league.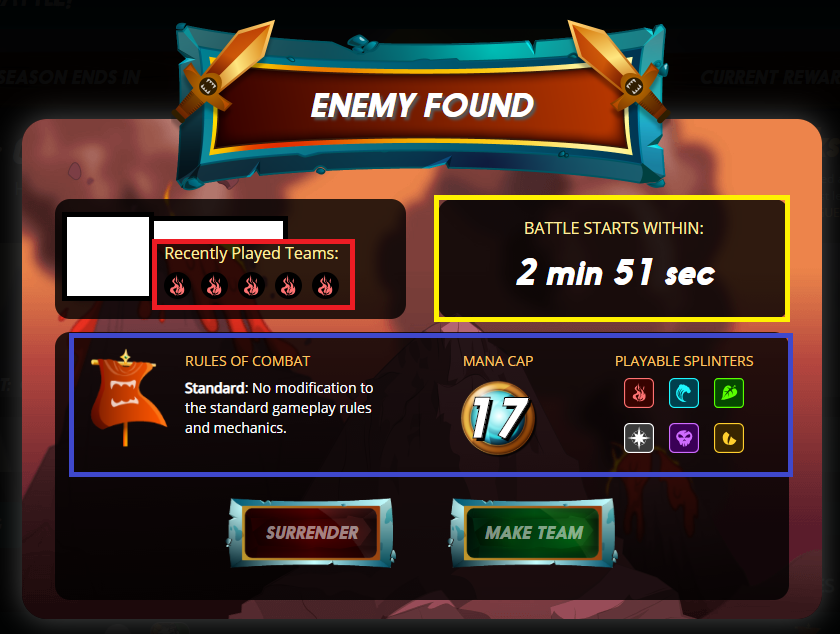 The UI for the newly implemented features looks pretty slick and everything has been operating smoothly for me so far. I'm very impressed with the team on this one and it gives me a lot of confidence in this project. This combined with the 10% Steem Power incentive for making pack purchases have helped keep Steem Monsters valuable while Bitcoin and all other cryptos are struggling.
So far, others have seemed to have positive feedback on this new season, if you haven't tried the new changes yet I highly encourage it!
Want to know what all the buzz is about? Check out this post from the Steem Monsters team to learn how to play and use this link to start playing Steem Monsters today*.
*link above is an official affiliate link from the Steem Monsters website, it will kick back a small incentive to me if you make purchases in the game at no additional expense to you