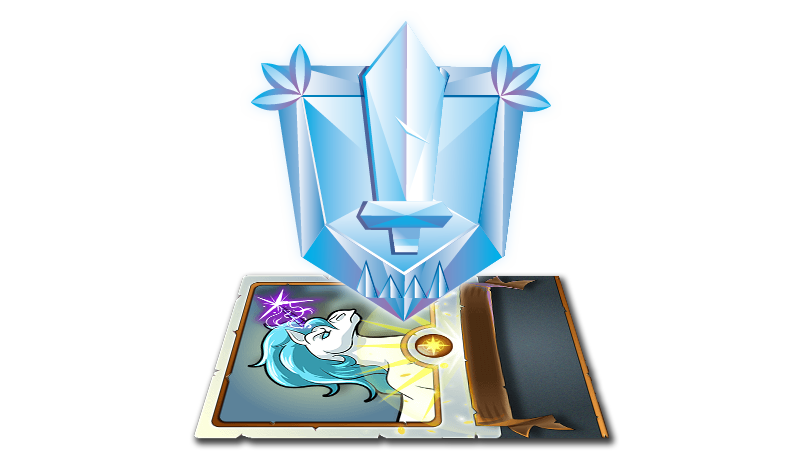 I found a Unicorn,
...and I sold it right away!
I'm currently playing Diamond II League and yesterday's 15 rewards cards generously revealed a Legendary Unicorn, nice!
A brand new Legendary, I knew it would probably go for a decent price on the markets while it was still fresh. So, I sold it immediately to @johndoer123 via @peakmonsters, for a whopping $8.00 (26.647 STEEM).

In all honesty, I don't think this card will hold value for long. The other Legendary Reward Card - Lord Arianthus - already goes for less than $2, and that's for a Neutral-Splinter Legendary, which should have more intrinsic value than a Life-Splinter equivalent.
Keeping track of my SteemMonsters-Profits, it's looking quite well:
  -26.597 SBD
 +201.819 STEEM

Since my last update I didn't have any expenses for new cards but I've been consistently selling off all gold foiled rewards I've received. That, and now the unicorn, has brought me almost 70 STEEM throughout the past three weeks, pushing my STEEM "balance" up to 200 STEEM in "profits".
That Unicorn was a really nice card, and I'm actually a little bit saddened that I don't get to play it myself now, but as I mentioned, I'm sure I'll get one back, either as a reward or for cheaper on the markets...
I'd love to hear from you, though, @johndoer123, what was your reasoning for making that purchase? Are you speculating for gains or were you just really really eager to play with a Unicorn?!
see you on the battlefield
or on the marketplace