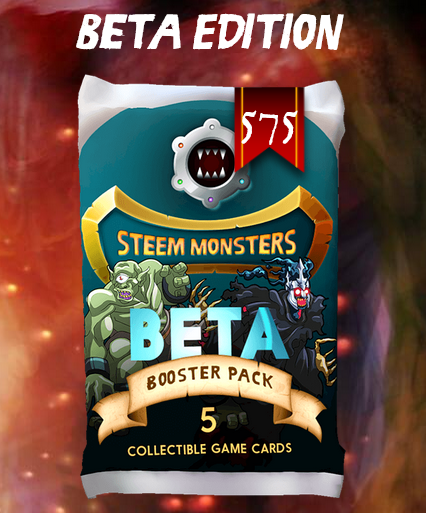 about 4 months ago i bought my 1st big batch of beta booster cards
i bought the 500 pack which gave me 75 extras for free.
amazingly my original plan of trading nearly all of them to other players for market equivalent cards worked and within a week of buying them i had traded all 500 of the original and kept 75 for myself to open. i had a lot of new cards that i got randomly from people wishing for another chance at a big booster win and made a lot of people happy that otherwise didn't have the funds to buy more but had plenty of spare cards lying around.
last time i did this all 100% in the discord channels but since I'm doing things a little differently this time i figured i would open this up to be a bit more visible.
now I'm not expecting to trade all of these for cards like last time and im certainly not expecting for them all to go poof in a weeks time that was a special time in sm that made it exceptionally easy for people trading packs and everyone was doing it.
however i am excited that booster packs are now tradeable and sellable officially as steem-engine tokens. which is a big step in allowing people to feel safe that the packs they buy hasn't somehow been presorted for all the good ones.
so here is my offer to the steemmonsters community.
i will be selling beta booster pack tokens in groups of 50 and 100(or more) directly to anyone that wishes to buy them at the price of $1.7 usd equivalent in steem/sbd all you have to do is comment below or contact me on the steemmonsters discord as QuantumNachos#8872
please be willing to trade me the steem 1st if you are not a maverick or i do not personally know you.
if however you wish to trade enough cards to me at the market equivalent of $1.7 usd i will gladly trade packs to you that way as well. however i do not wish to trade booster packs for gold or alpha cards currently(unless they are maxed alpha)
you can contact me on discord for trades as well. please be willing to trade me the cards 1st if you are not a maverick or i do not personally know you.