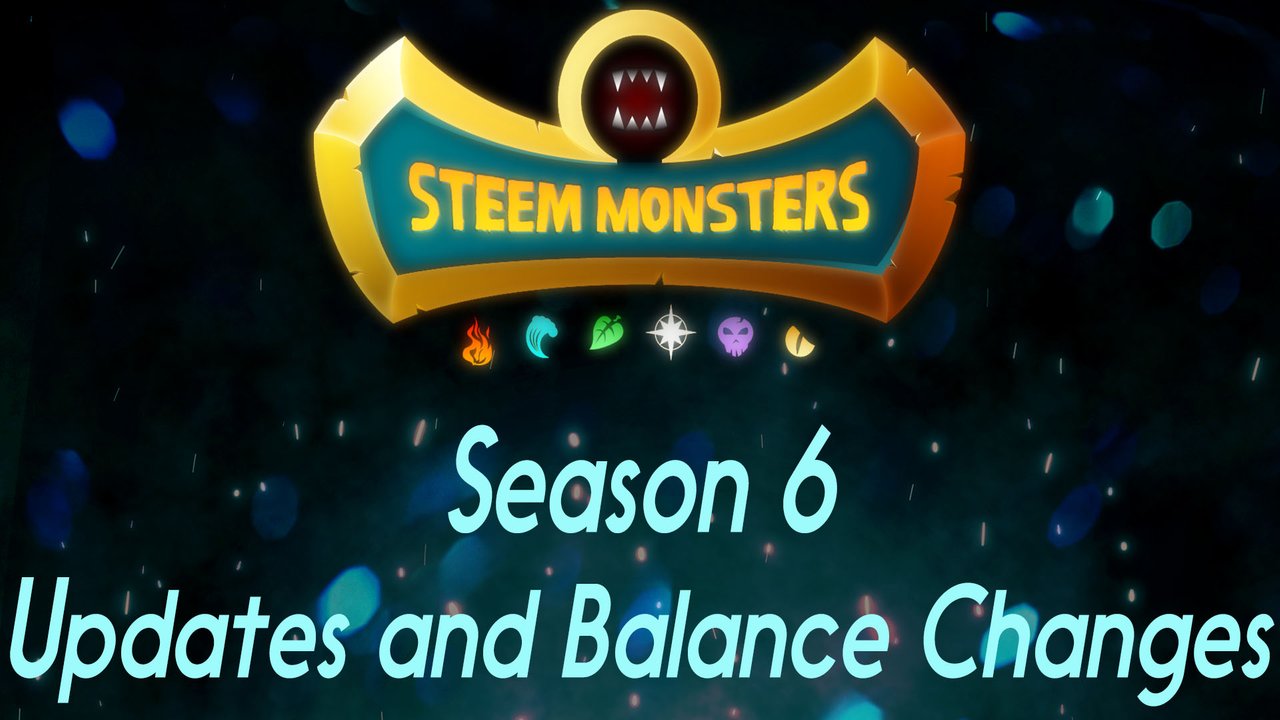 Season 6 is going to shake things up in the world of Steem Monsters! Between some balance changes, a new ability that will make some previously underplayed cards more useful, higher mana caps, and the new reward edition cards being released, it may seem like a whole new game!
Read on for more details about what's in store and start getting your collections ready!

Balance Changes
As we have mentioned numerous times in the past, keeping the game balanced and fun at all levels of play is of the utmost importance, and is ultimately what drives the value of the cards.
We do our best to get the balance right the first time, but with such a complex game and a constantly growing list of cards, there will always be some things that we don't catch and that need to be adjusted later.
The following are the list of card balance changes we plan to put into effect at the start of Season 6 in approximately three days. We will continue to evaluate the cards and gameplay to see if any future changes are necessary, and we always welcome your input as well!
Rexxie - Mana cost reduced to 7 from 8. Rexxie is pretty much the poster child of the game, so we want to see him played more!
Hydra - Reduced Health at lower levels. The high health plus the Heal ability is OP at lower levels of play.
Sacred Unicorn - Reduced Health at lower levels. Same reasoning as for the Hydra above.
Royal Dragon Archer - Reduced Ranged attack at lower levels. Three Ranged attack damage with Snipe at level 1 was too much, especially since he is typically paired with Selenia Sky.
Vampire - Mana cost reduced to 5 from 6.
Grumpy Dwarf, Minotaur Warrior, Giant Roc, Silvershield Warrior, Spineback Wolf - Each of these under-utilized cards will be gaining a new ability called "Reach" which allows them to use Melee attack from the second position on the team. Some of their other stats will be adjusted downwards to compensate for the new ability.
Minor Adjustments
Serpentine Soldier - Adjusted stats so that there is an increase at each level.
Spineback Turtle - Adjusted stats so that there is an increase at each level.
Crustacean King - Adjusted stats so that there is an increase at each level.
Gold Dragon - Reduced Magic attack to 3 from 4 at level 3. This was what was intended and was a typo on initial release.

Expanded Mana Caps
Many of the new Reward edition cards being released have relatively high mana caps. That is on purpose as we will be increasing the range of mana caps available for battles. For season 6 we will start by increasing the maximum mana cap to 32 from 27 starting at the Gold league.
In the future we may increase this even further, and also potentially decrease the minimum mana cap below 15. We hope that this will provide even more variety in the battles and allow a more diverse set of cards to be played in different situations. It should also make many of the legendary cards, which typically have a high mana cap, more playable.

Reward Updates
As we're sure most of you know, we're currently giving out a lot of reward cards. On one hand, this is great, because we like to be able to reward our players, but on the other hand it lowers the value and scarcity of the cards.
On top of that, due to the fact that we don't have a ton of players playing at all levels of play at any given time, it's currently too easy for automated bots with very low level cards to get into Silver league or higher, and farm the rewards.
As a result, we feel that it is necessary to reduce the number of Reward edition cards that can be earned for quests and at the end of each ranked play season, especially in the lower leagues.
The new rewards for each league and tier are as follows: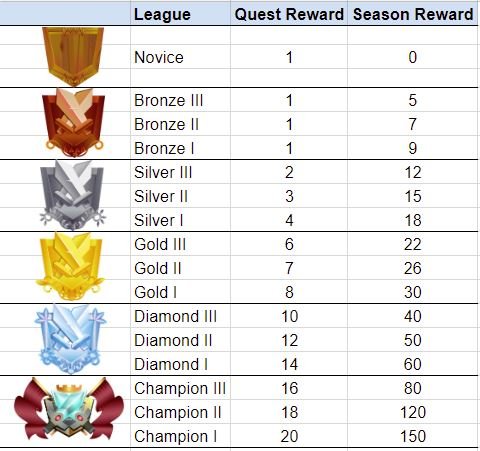 Before you start lodging your complaints, please take a look at this post which calculates the expected value of the daily quest rewards at each league based on current market prices: https://www.steeve.app/@cryptoeater/how-much-can-you-expect-to-earn-from-daily-quests
That is a LOT of value being returned to players right now on a daily basis, and it's real value that you can actually get on the market, not theoretical value. Additionally, we expect that the value of daily quests might ultimately rise as a result of these changes.
Even though players will be earning fewer cards on average, that means that the market price of the cards (especially the new ones being released daily) are likely to increase, making the overall value potentially even higher than it is right now.

Power Up Promotion Ending
The power up promotion we are currently running where 10% of the value of all card pack purchases are returned to the purchaser as Steem Power was initially scheduled to end at the end of 2018. We have obviously kept it running for longer than that, but we wanted to let everyone know that the promotion is scheduled to end on January 18th, approximately one week from today.
If you've been thinking about boosting your collection, now is the time to pull the trigger and take advantage of this great deal before it's too late!

Thank You for your continued support!
Steem Monsters Contact Info: