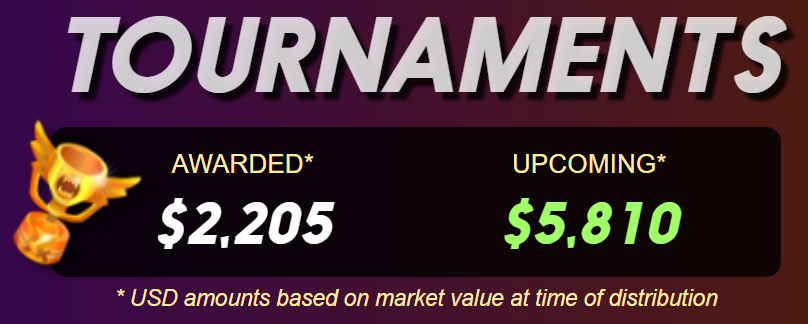 For immediate release- Steem Monsters, a blockchain trading card game built on top of the Steem Blockchain recently released an update that included "automated tournaments." In the first week alone the game has paid out $2,200 to players. Games sponsored by Steem Monsters and by players are scheduled to pay out an additional 5000-6000 USD worth of cards, steem, and SBD over the next two weeks.

About Steem Monsters
Steem Monsters is a trading card game. Unlike many mainstream card games that went digital Steem Monsters is built on a blockchain and the cards are non-fungible tokens. They're tokens, on a blockchain, that you own in your account. Play the game for a while and when you're done you can sell the cards back to other players on the market.

Different levels
Steem Monsters has a neat mechanic to the game. You can combine cards to make more powerful ones. When you play in matches and tournaments though it's broken down by how many rank points you have. So, you're matched with people that have a combination of card quality and game skill that's around your level.

Scarcity
Because the cards are being combined all the time to make more powerful cards to be able to enter higher prize pool tournaments the cards are under constant compression.
The alpha edition of 300,000 booster packs containing 1.5M cards total has sold out. It's been condensed down to under 400,000 cards! It's still shrinking a little every week.
The beta edition is nearly half sold out with 480,000 booster packs remaining. When it sells out the beta edition cards will only shrink in circulation.

$1600+ in Tournaments every week
The Steem Monsters team has committed to putting out $1600 in tournaments every week.
Currently, the scheduled tournaments are the following-
MWF there are 6 automated tournaments a day for 100 USD in prizes
T/Th there are 3 automated tournaments a day for 100 USD in prizes
Sat/Sun there's 3 Tournaments a day 630 USD in prizes
That's $1760 in prizes that Steem Monsters puts up!

Decentralized Tournaments
One amazing thing though is that Steem Monsters isn't the only group that puts out tournaments. Others use it as a way to advertise to the Steem Monsters Player Base. So, if you scroll through the tournaments list you can see how other companies and projects are sponsoring tournaments to bring awareness to what they're doing. It's bringing the total over $2000/week that players can earn!

Getting started!
Steem Monsters is a game where you can spend thousands of dollars playing at the highest levels, but you can very easily be a casual gamer. You can get a great novice level deck with one of every card for around 50 USD by purchasing cards off the market. You can have a diverse set of cards at Bronze/Silver for around 250 USD.
Keep in mind this money isn't really "spent." It's staked. You own the cards. So, you can buy a card, play steem monsters for a while, earn rewards, and when you're done with the game you can sell it back. You didn't really spend the money... you just parked it in the Steem Monsters ecosystem for a while!

Coming Soon
Now that tournaments are released we're looking to deliver card delegation. Players can get access to cards cheaper than ever by renting them and card hodlers looking for a passive income can buy cards and rent them out. Stay tuned for that soon.
We're looking to build an in-game currency too! We call it Dark Energy Crystals. We're designing it after the steem rewards pool. You'll get DEC when you win matches and how much decays a little with every win and regains some over time. You'll be able to spend it on customization of things in game, bonus loot, expansion items, and even votes from the @steemmonsters account with ~400,000 SP on it. This should start over the next few months.

Steem Monsters where you earn crypto while playing is a hit!
Don't miss out! There's tournaments around the clock and players ready to collect, battle, and trade. Join in on the fun or miss your shot at rewards!

Thank you for your continued support!
Steem Monsters Contact Info: